The Grind
J.R. Smith gets serious about golf (and school), Tiger Woods honors an important anniversary and a delivery man earns his PGA Tour card
Welcome to another edition of The Grind, where we are contemplating our mortality after the USGA's latest announcement. Golf's governing body really had to announce where the 2050 U.S. Open will be? That's three decades from now and there are so many questions. Is the winner even alive yet? Will I even be alive then? Will Merion Golf Club even still be around? I guess it's pretty inland, but you never know with all this coastal flooding! So, thanks a lot, USGA. As if I don't have enough to worry about. Anyway, here's what else has us talking this week.
Kevin Kisner: THIS AIN'T NO HOBBY! What a finish for the straight-talking Georgia Bulldog, who finally overcame his playoff struggles to win the Wyndham Championship.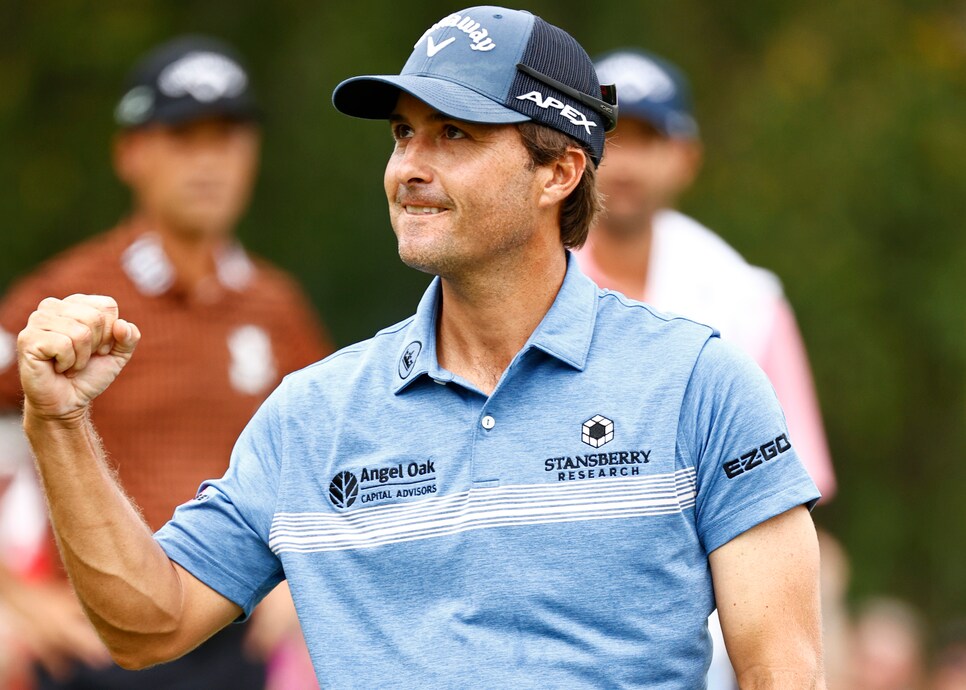 Chesson Hadley: Incredibly, the craziest part of the Wyndham Championship wasn't the six-man playoff, but whether how one man earned the final spot in the FedEx Cup Playoffs. Hadley needed a 62, a missed short putt by Justin Rose on the final hole and, oh, yeah, the FIRST HOLE-IN-ONE of his life!
Talk about coming up clutch. The drinks Bojangles must have been flowing Sunday night. Oh, and the tears. The sweet, sweet tears.
Ryann O'Toole: Speaking of good timing, O'Toole was considering retiring at the end of this season. Instead, she won her first LPGA title at the Women's Scottish Open in her 228th career start. "I still feel like I'm in shock, and the tears are going to come later when things die down," O'Toole said moments after her long-awaited maiden victory. Speaking of big life changes …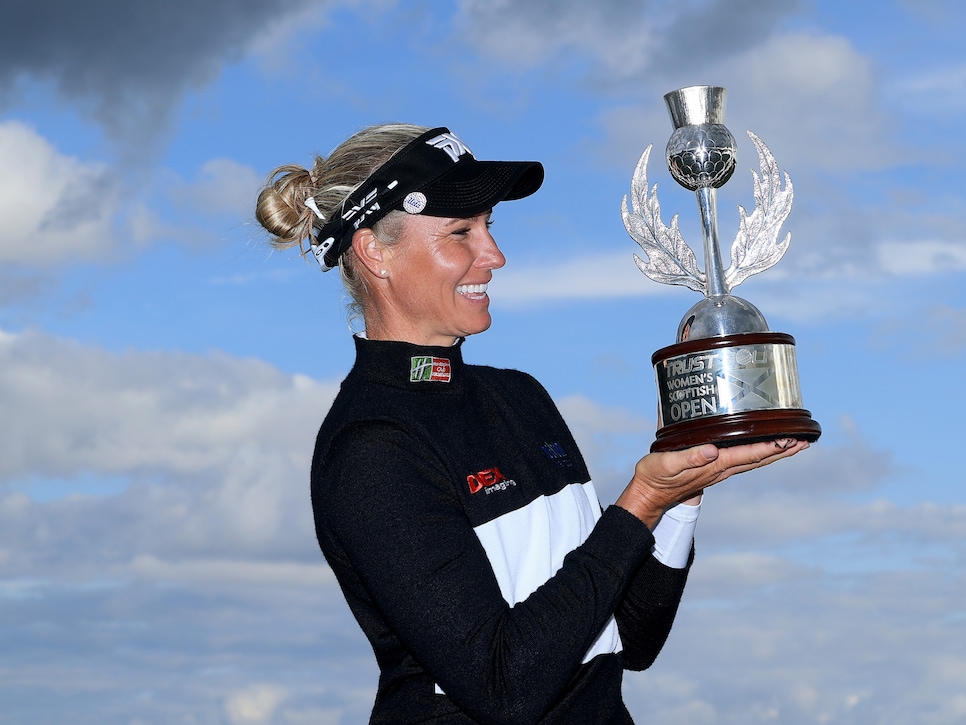 J.R. Smith: A longtime Grind favorite, Smith is finally going to college at age 35. And he's taking his golf clubs with him. The former NBA champ who went straight to the pros from high school is hoping to make the school's golf team—if he's ruled eligible that is. Please, NCAA. Do the right thing. For once.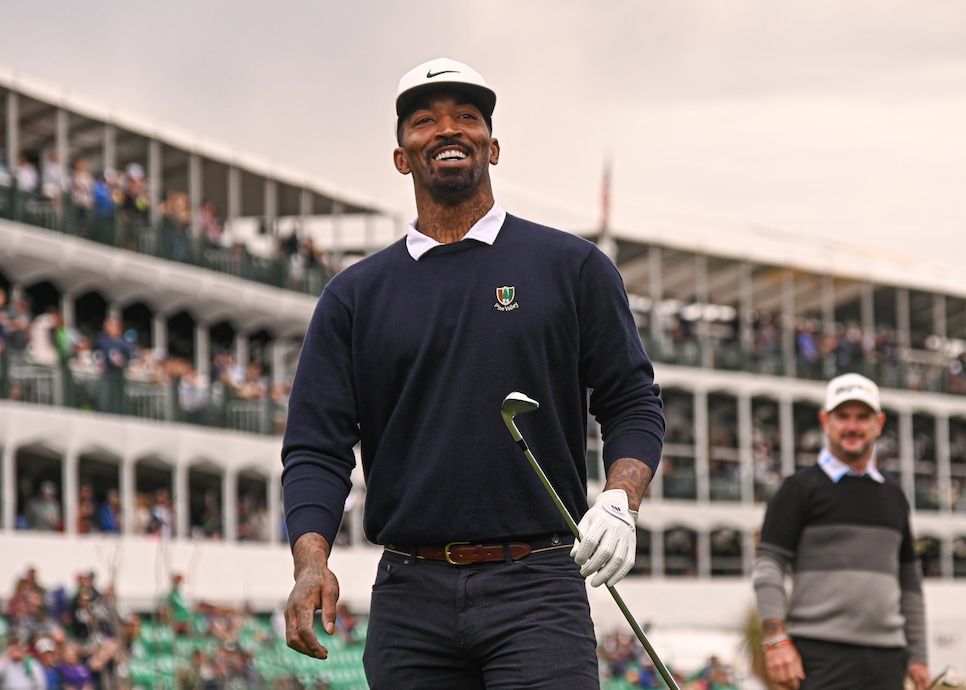 Smith's avid love of golf—and the Pine Valley pro shop—has been well documented, but even if he doesn't wind up playing, we applaud his going back to school. And if he does wind up playing, well, he'll just have to be more careful about keeping score.
Adam Scott's brutal miss: The Aussie's putt for the win at the Wyndham was tough to watch:
That being said, people piling on Scott for being a terrible putter are being way too harsh. Scott actually has ranked in the top 50 in strokes gained/putting the past three seasons, including 20th this season. Meanwhile, Russell Henley ranks 80th and he has his phone send him a reminder every day that he's a great putter. Henley also didn't exactly come up clutch on the greens late either. So hang in there, Adam.
Then again, Oakmont kind of opened itself up for this when it removed all the trees on the property. I actually don't mind golfers coming up with creative ways to play a course. Good golfers, that is. I'm more worried about safety if weekend hackers try to pull off this kind of stuff where I play. Oh, congrats to James Piot, a fifth-year senior at Michigan State on winning the championship.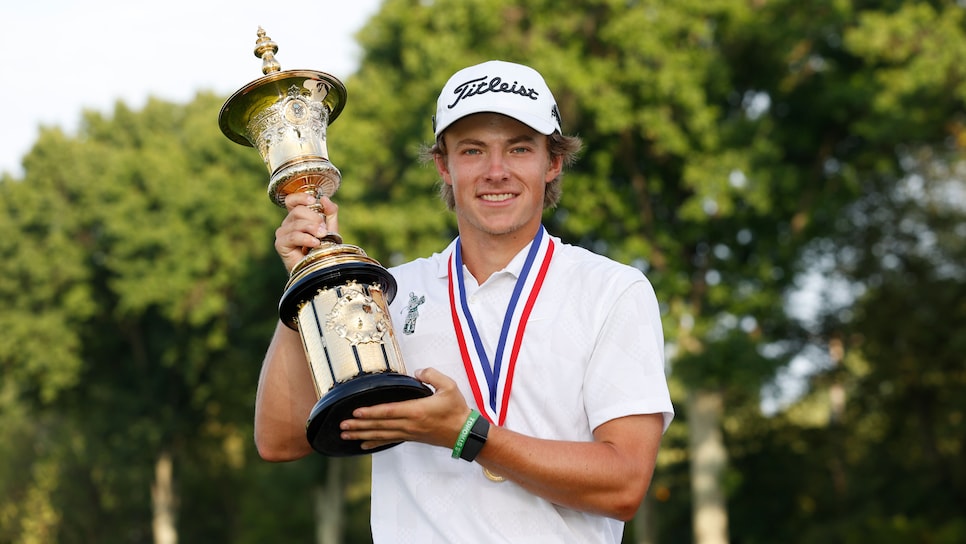 Piot will be 50 when the U.S. Open is at Oakmont in 2049. Something to shoot for, young man!
Rickie Fowler's season: Quick, someone conduct an anonymous player poll to find out who the most overrated golfer is. That did the trick to get Fowler motivated ahead of winning the Players Championship in 2015, and now he needs something to get back on track after not qualifying for the FedEx Cup Playoffs for the first time. That's right, Rickie Fowler didn't finish the regular season in the top 125. Crazy. You're supposed to lose your golf game after you have a baby, not before!
The PGA Tour heads to Liberty National for The Northern Trust, AKA that one that's not The Northern Trust Open, AKA the opening event of the FedEx Cup Playoffs, AKA that one that won't be the opening event of the FedEx Cup Playoffs starting next year. Liberty National is that course that was built on a garbage dump with spectacular views of the Statue of Liberty. Sadly, it's also the site where Tiger Woods crumpled to the ground in pain, setting off years of back issues. Although he still nearly managed to win that week:
What a legend. Maybe he'll invite Rickie over to watch the playoffs.
Random tournament fact: Liberty National was the site of another Tiger Woods close call in 2009. That's when the Jersey City course hosted the PGA Tour for the first time and produced an all-time upset victory for Heath Slocum, who entered that week as the 124th seed (out of 125) in the playoffs, but beat Woods, Ernie Els, Padraig Harrington, and Steve Stricker by a stroke.
RANDOM PROP BETS OF THE WEEK
—The No. 124 player (Scott Stallings) will win this week: 300-to-1 odds (Actual odds)
—I will still be working for Golf Digest at the 2050 U.S. Open: 3,000-to-1 odds
—Gary Player will still be able to do more pushups than me in 2050: LOCK
That's David Skinns, who as you can tell from reading Monday Q Info's caption, became a pretty unlikely winner on the Korn Ferry Tour on Sunday at the Pinnacle Bank Championship. And now this guy who was recently making deliveries was delivered a PGA Tour card. Talk about moving on up!
Love his story, and love those shiny tour cards!
VIRAL VIDEO OF THE WEEK (YOUNG LEGENDS DIVISION)
Check out this minor league baseball player who used Masters walk-up music and brought a caddie with him to home plate:
Hope this dude gets the call to the big leagues soon, because that was awesome.
VIRAL VIDEO OF THE WEEK (OLD LEGENDS DIVISION)
TaylorMade shared video of its players, including Tiger Woods, attempting the "Happy Gilmore" shot while wearing Happy's Boston Bruins jersey. Clearly the footage is from before Tiger's February car crash, and was held to celebrate the 25-year(!) anniversary of this classic movie. Good lord, I'm old. In any event, enjoy:
Miss you, Tiger. Miss you every day.
VIRAL VIDEO OF THE WEEK (OLDER LEGENDS DIVISION)
Doug Barron provided the best victory celebration—and post-round interview—of the season after winning his second PGA Tour Champions title at the Shaw Charity Classic:
The luau dance. The repeated "WOO"s. The fact he didn't know why he was bleeding. Just a tour de force performance. But yeah, that one NSFW line was the best part.
"I was too cheap to go buy a putter, so I looked in the basement." —James Piot on the $60 putter he used to win the U.S. Amateur. Dig his style.
THIS WEEK IN PUBLIC DISPLAYS OF AFFECTION
Pat Perez designed a room just to show off his beloved shoe collection:
Good for you, Pat. I have trouble enough getting my wife to let me hang any golf stuff in our house.
THIS WEEK IN ME GROWING FORCING THE GAME ON MY DAUGHTER
The first round of mini-golf with my 3-year-old is in the books and it was (mostly) a success! Although, we're going to really have to work on this grip because someone's been watching too much Bernhard Langer: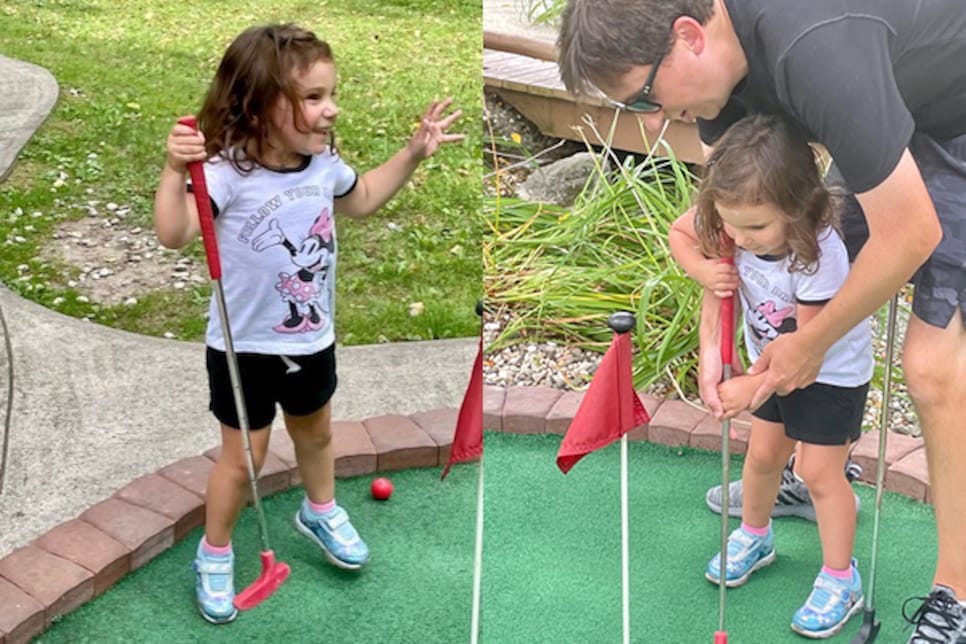 We may need a rules official, because it looks like she's anchoring.
Matthew Wolff missed the cut in Greensboro and still managed to make $1 million for winning the season-long Aon Risk Reward Challenge. It's good to be a PGA Tour pro these days. … But Collin Morikawa continued to one-up him (and just about everyone else) by winning $2 million for finishing first in the season-long Comcast Business Tour Top 10. And he didn't even play in Greensboro with that on the line. Again, it's good to be a PGA Tour pro these days. … And finally, congrats to Golf Channel's Shane Bacon for finally making his first hole-in-one:
The aceless club gets even lonelier, but at least Shane is a great player and not some lucky dope.
RANDOM QUESTIONS TO PONDER
How much is Pat Perez's shoe collection worth?
Is there a magic putter in my basement?
Will I make a hole-in-one before the 2050 U.S. Open?