PGA Tour
Kevin Kisner fixes a personal jink by winning six-man playoff in Wyndham Championship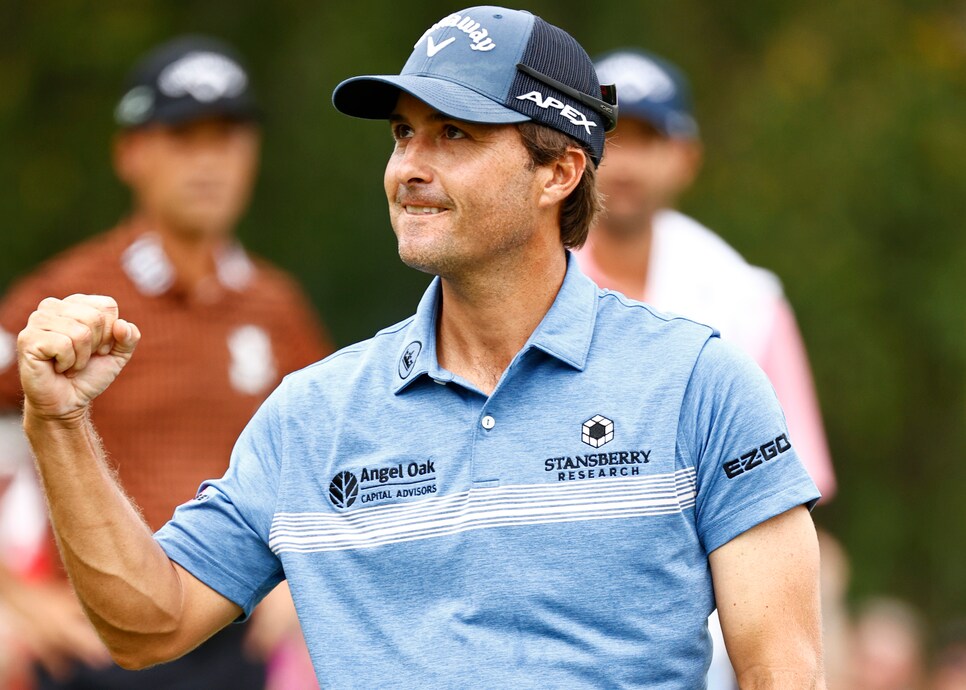 Kevin Kisnercelebrates his birdie putt on the 18th green to win a playoff in the Wyndham Championship.
Jared Tilton
GREENSBORO, N.C.—It was a study in how quickly things change, and how important results in professional golf exist on a razor's edge. Adam Scott stood over a four-foot birdie putt on the first playoff hole, everyone seemed to believe it was dead straight, and when he made it, it would send all five of his opponents—a number that tied the PGA Tour record for the largest playoff ever—home with nothing to show.
Narratives unfolded. It would be redemption for Scott, who spoke earlier in the week about his difficult 2021 season, and how being stuck in or kept out of Australia, depending on how the quarantines operated, limited what he could accomplish and affected his mental state negatively. This is someone who was stuck between two countries operating with very different codes.
File all this under "stories that won't be told," at least in any depth. Why? Because Adam Scott missed that putt, the victory that seemed so tangible vanished into thin air, and all six players returned to the 18th hole again, where this time Kevin Kisner hit a pinpoint approach, waited around while everyone else made par or worse, and then did what Scott couldn't by holing his four-foot birdie putt to win the whole thing.
What might happen now? Perhaps Kisner, now with four career tour victories, will go on to win a playoff event and use this confidence to reach the Tour Championship in Atlanta (he moved from 65th to 29th in the FedExCup standings with the win). Maybe he'll get a Ryder Cup captain's pick, since wins look so much better than just coming close. It's not crazy to believe this could have a transformative effect on Kisner's career, and at the very least it has changed the complexion of what he admitted was a tough year. And a few minutes earlier, when Scott stood over his simple putt, none of it seemed possible.
"It's a fickle, crazy game that we play," Kisner said. "The line is so thin between reward, success and jubilation, to just being distraught leaving here. It's just a crazy wave of emotions."
Starting the day at 11 under, it didn't seem especially likely that Kisner would contend for a victory, short of shooting an outrageous number, but Russell Henley gave the field a break by shooting 71 after leading each of the first three rounds. Henley's brutal bogey on the 18th hole, when he missed a five-footer to make the playoff, completed a nightmarish round and continued this season's mini-curse of players who have led wire-to-wire after 54 holes failing to win the tournament itself—Henley joining Harris English (Memphis), Louis Oosthuizen (Open Championship), and Sam Burns (Genesis Invitational) in this unfortunate group.
Henley was the only player in the top 35 to shoot over par in the final round, and with him out of the way, a crowded leader board clamored for purchase on a day when the leaders teed off just after 9 a.m. in the hope of avoiding late afternoon thunderstorms. Several players had a chance to win with birdie on the final hole, but in the end, none could deliver the winning blow, and six players—Kisner, Scott, Kevin Na, Branden Grace, Si Woo Kim, and the unheralded Canadian Roger Sloan—eventually found themselves deadlocked at 15 under. (If Henley had made his par putt, it would have set the PGA Tour record for the largest playoff ever. As it is, it was only the third six-man playoff ever.)
With Scott's short-putt gaffe, all six players made par on the first playoff hole, and it was Kisner who emerged from the pack to take the win.
"I was fortunate enough to have a perfect number into 18," Kisner said, "and hit a really good shot and have one of those putts you really want to have to win the golf tournament."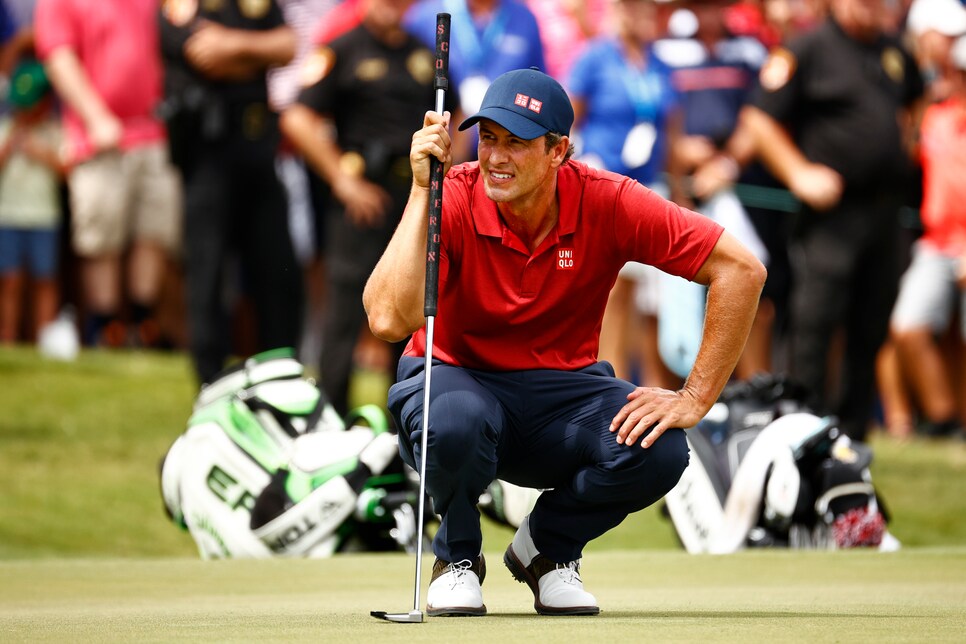 Adam Scott of Australia prepares to putt on the 18th green on the second playoff hole.
Jared Tilton
Kisner, 37, has a strong match-play record, including a title at the 2019 WGC-Match Play when he beat Matt Kuchar in the final, which made it so strange that he had an 0-5 record in PGA Tour playoffs before this week. He joked with his caddie Duane Bock before they began that they were doing themselves no favors in that department with a six-man playoff, where the odds of winning were so low, but it turned out to be his day.
"I haven't played great this year, and I haven't been in a great position to make the Tour Championship heading into the playoffs," he said, "so I knew this week I needed to jump up the board and lock up especially the BMW in the second week to have a shot at East Lake. That's a huge goal of mine every year to start the year and that means you had a heck of a year, and it sets up the following year every time you make it. You can't win it if you're not there."
Inevitably, as a strong match-play golfer and now a victor in mid-August, Kisner will now face tons of questions about the Ryder Cup, and captain Steve Stricker will face tons of questions about him. Kisner chuckled Sunday when the topic came up and gave a diplomatic answer.
"Here we go," he said. "I said, 'How many Ryder Cup questions are we going to have?' Who knows, man? I've never been picked before, so I'm not going to go out there and jump on a limb and say that I'm going to get picked this year. I love Stricker, he's a great friend and great guy. He'll do what's best for the team and the country."
Kisner has more left to prove, and he knows it, but he also knows this was an enormously important result, and he probably wasn't getting into either the Tour Championship or the Ryder Cup without a win. The fact that he leaves Greensboro with a trophy is a testament to great play under pressure and perseverance, but it's also a testament to the strangeness of golf, and how victory can materialize—or vanish—when you least expect it.