Race to the playoffs
In tour bubble drama, Justin Rose suffers KO and Chesson Hadley aces the final test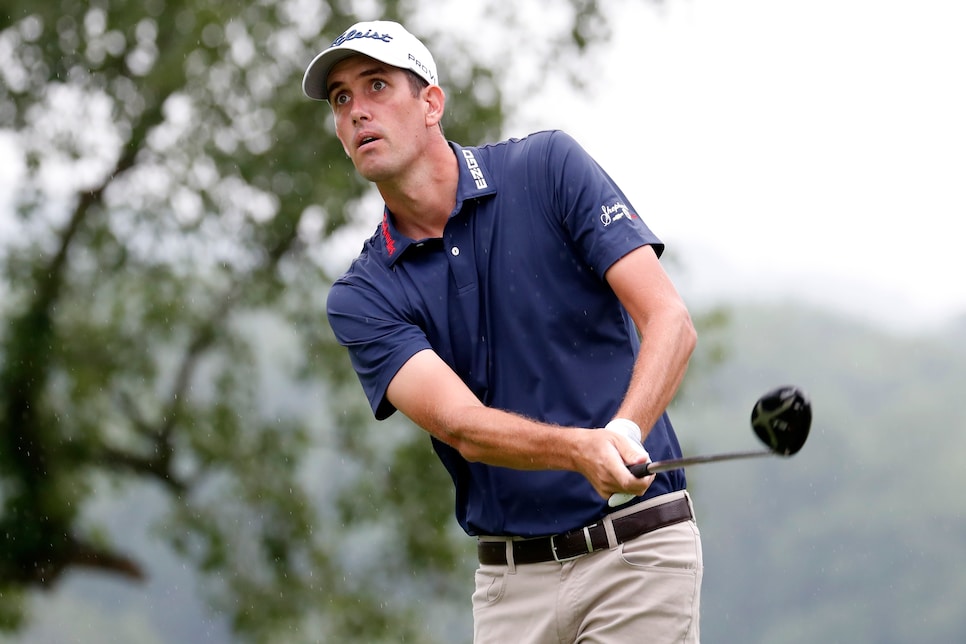 Chesson Hadley, shown hitting a shot in the John Deere Classic, finished 125th in the FedEx Cup standings.
Icon Sportswire
GREENSBORO, N.C. — What if someone told you that a PGA Tour event finished with a six-man playoff, and that wasn't even the most exciting part of Sunday's final round? What if someone told you that Chesson Hadley and Justin Rose were locked in one of the most dramatic duels of the season, but neither of them was on the course, and that their fates would be decided by Branden Grace and Tyler McCumber, neither of whom won the tournament?
Absurd as it all sounds, if you had any experience with PGA Tour golf, you'd nod knowingly, sigh deeply, and maybe even allow yourself a small, world-weary smile. "Ah yes," you'd say. "The Wyndham."
Here at sweltering Sedgefield Country Club, in the final event of the PGA Tour's regular season, the greatest drama centers on the bubble, where various types of fate are constantly being decided in golf's wildest Sunday, from FedEx Cup Playoffs berths and full status in the following season for the top 125 to the inglorious battles of the lower echelons—the fight, for instance, to finish inside the top 150 and at least retain conditional status for next season, or to sneak inside the top 200 and qualify for the Korn Ferry Tour Finals.
The day's best story, as it turned out, was the unexpected clash of Hadley and Rose. Hadley came into the week 132nd in the standings, and his most notable result of the season was a mini collapse at the Palmetto Championship, when he bogeyed the final three holes to lose by a shot to Garrick Higgo.
After three rounds of the Wyndham, there was no indication that Hadley would threaten the top 125; at four under, he had performed competently but not exceptionally. Then Sunday came, and all hell broke loose. He made a hole-in-one on his seventh hole, gave an impromptu leaping celebration that he later compared to a "flying baby giraffe," and suddenly realized he had a shot to do something incredible. After a front-nine 29, Hadley made two more birdies on the back, avoided bogeys and finished with an eight-under 62. When the dust had settled, and he checked in with the PGA Tour's Tom Alter in the scoring area, his position had improved to …
126th. One shot outside the bubble.
The good news was that there weren't many players behind him who could send him farther down the line, but there were likely only two—Roger Sloan and Rose—who could fall behind him, and both contending for the win on a packed leader board.
Hadley, who is so tall and rangy that he gives the impression of being all bones, wept in his interview with Amanda Balionis after the round, speaking about how much he loved his job, how he cared "deeply," and then making fun of himself as an ugly crier and an awkward jumper. He had calmed down by the time he joined the rest of the media and was suddenly in a jovial mood as he bantered with a tour media official.
"My first comment is John Bush is interviewing me for the first time, like, ever," he joked, referring the official. "He's at every event and every time he's always looking for somebody else, but today he's got me. So it's a pleasure to have you ask me some questions, Mr. Bush."
He fielded questions admirably, despite the fact that he was on the outside looking in. When asked how different it would be to finish one spot outside the playoffs, and one spot from securing full status, he took the opportunity to rib the questioner.
"That's your question?" he asked. "How different is it? It would suck, right? I mean, to have [Palmetto] happen and then have today happen the way it did, and then still be ... that would suck.
"I'd love to get on a plane to go to New York," he added, referencing next week's first playoff event, the Northern Trust Open. "But I've got a flight booked to Boise [the site of the Korn Ferry Tour Finals] too. Man, I would love not to get on that [New York] flight."
He went on to say he had a bottle of single vintage cabernet from the Alpha Omega winery in California waiting for him, and that rather than stick around to live and die with every shot, he would just drive home to Raleigh, NC, less than an hour away.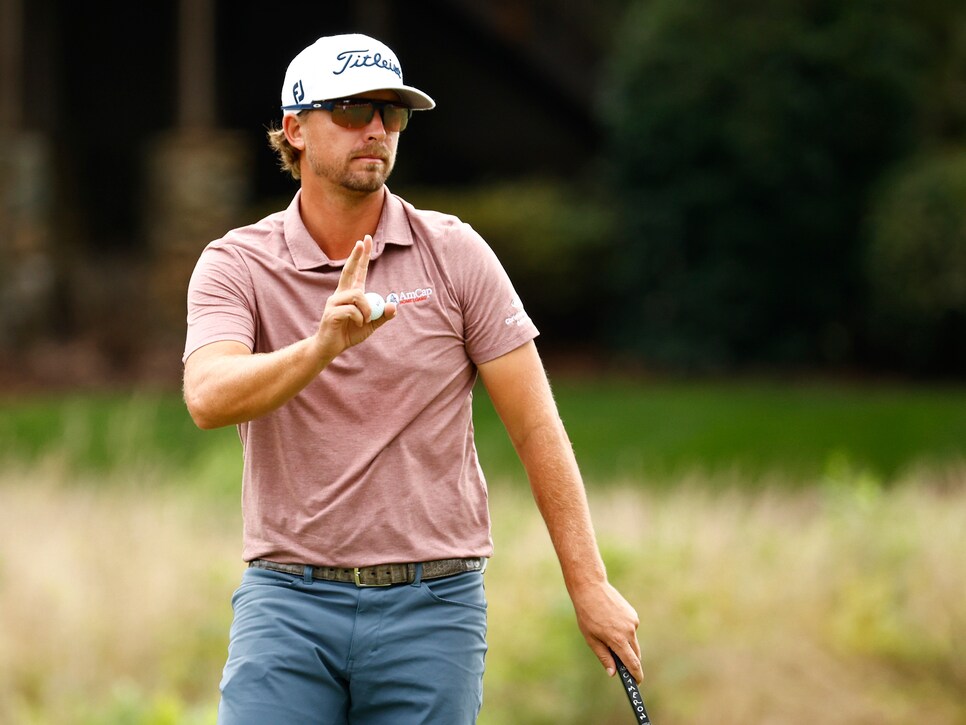 Roger Sloan waves on the seventh green during the final round of the Wyndham Championship.
Jared Tilton
Roger Sloan didn't help Hadley, making birdie on 16 and 17 to reach the six-man playoff. With a surprise chance to earn his card and perhaps win a tournament, Sloan wasn't going to let it slip away. He eventually lost to Kevin Kisner like everyone else, but his performance was plenty good enough.
It was Rose, oddly enough, who gave Hadley his taste of hope. He came in needing an incredible performance to move from outside the bubble and earn a playoff berth—and show Padraig Harrington some form for a potential Ryder Cup captain's pick in the process—and for 67 holes, the Englishman did just that. Then it all unraveled—a bogey on 14, three straight birdie putts missed inside 15 feet, and a final blown par putt on 18 of just six feet sent him spiraling down the standings. When he strode off the course, clearly frustrated, Rose had fallen two points behind Hadley.
But Sunday at the Wyndham is never over until the very end, and things can get mathematical in a hurry. Alter, the czar of the scoreboard, is a little like Dr. Jacques Bailly of the spelling bee or George Shea of the Nathan's Hot Dog Eating Contest in that he shows up once per year for a very specific purpose. He's the one charged with informing the players of their fate, and he was the one communicating with Hadley and Rose. As it happened, when the final group came to the 18th green, bogeys by Tyler McCumber and Branden Grace would have reversed their fortunes, placing Rose over Hadley. McCumber obliged, hitting a strikingly poor putt from 68 feet to set up a bogey, but Grace made birdie to reach the playoff, and the result was set:
Hadley in at 125, Rose out at 126.
When Hadley reached Alter and heard the final result, Alter said the golfer was "thrilled" and allowed himself a celebratory scream.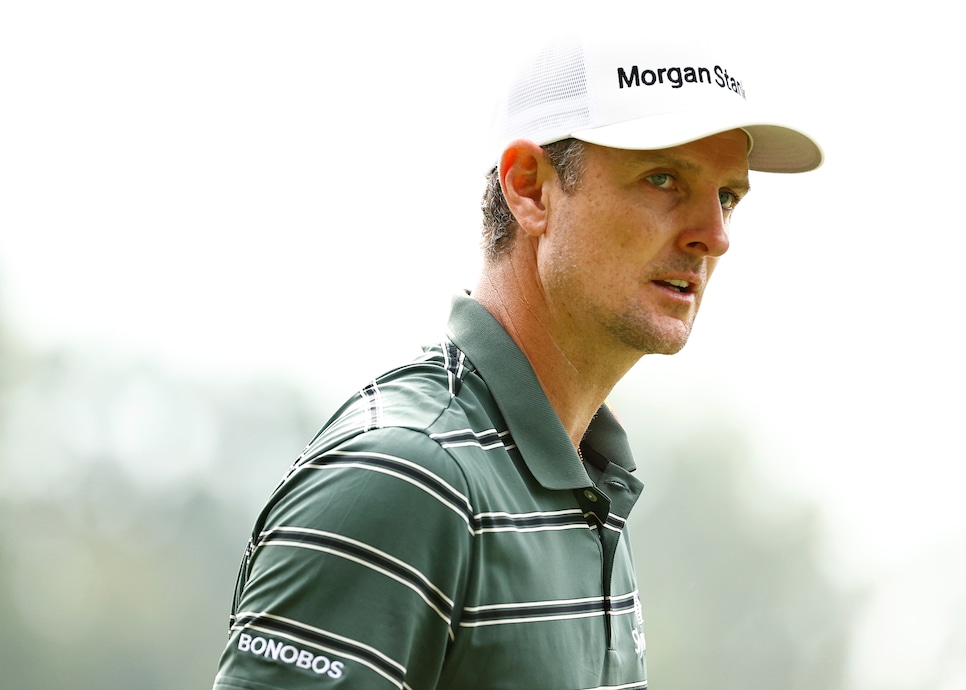 Justin Rose walks off the second tee during the final round of the Wyndham Championship.
Jared Tilton
When the day finished, Sloan (who climbed from 132nd at the start of the week to 92nd in the end), Scott Piercy (from 126 to 116) and Hadley fought their way into the playoffs at the Wyndham, while Ryan Armour, Patrick Rodgers and Bo Hoag missed the cut and fell outside the 125 bubble.
Kiradech Aphibarnrat and David Lingmerth did enough to move inside the top 200, while Aaron Baddeley and Jim Furyk fell outside that threshold (you get the sense that this will bother Baddeley more than Furyk).
Anirban Lahiri was one of the players who managed to hang on to his top-125 status, which was particularly relieving after a year when quarantines and the COVID-19 virus—he lost 15 pounds in 11 days, and wasn't back to full health for two months—and even the Olympics cost him plenty of chances to earn points.
"I've had a gun to my head for 60 days now," Lahiri said of the pressure to hang on to his card. "I'm happy that at least for the foreseeable future what opportunities I get are in my hands and not something that I have to wait and hope for."
Brice Garnett also came through narrowly, tying for 51st to finish at No. 123, and he marveled at how the pressure affected players.
"Guys are told they're going to get their job taken from them," he said, "and they do miraculous things out here. Nobody wants to leave ... having a full-time job next year is just a total weight lifted off my shoulders and my family's shoulders too."
Garnett's family is in the process of moving to a new home in Valdosta, Ga., which is plenty stressful on its own, and he's one of the players whose names you may not hear on a weekly basis, but for whom the struggle to stay afloat is intense and terrifying. To perform under those conditions will never get the same press as actually winning, but in some ways, it might be more impressive. If nothing else, it's worth a glass of good wine, a flying giraffe leap, and maybe even a primal scream.