Hot under the collar
Energy drinks, baby powder and plenty of gloves help tour pros make it through brutal Wyndham heat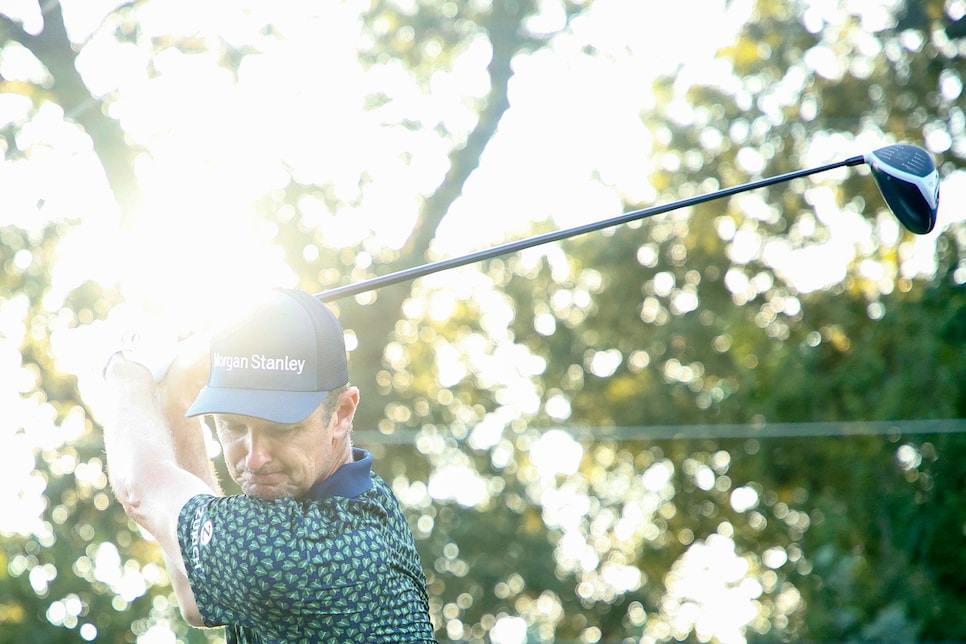 Justin Rose plays his shot from the 11th tee during the second round of the Wyndham Championship.
Jared C. Tilton
GREENSBORO, N.C. — Adam Hadwin looked mad, but mad in that exhausted, beaten-down way where he knew that his anger was ultimately directed at something so powerful that any frustration he felt, or vented, was ultimately impotent. Adam Hadwin, born and bred on the prairies of Saskatchewan, was mad at the heat.
"I would not wish this on my worst enemy," he said, hat pulled low as he hugged the shade near the scoring room on Saturday at the Wyndham Championship. He had just carded a third-round 66, good enough to surge into the top 15 with one round to go, which felt downright courageous under the circumstances. His brain, though ... his brain wasn't registering anything but the heat.
"It was the only thing I had on my mind the last three or four holes," he said. "You just stay upright, get through the round, and figure it out after that."
It's not like he didn't know it was coming. With temperatures in the 90s and the heat index over 100 for the third straight day—not to mention the punishing humidity that rarely dips below 50 percent and that ratchets up into the 90-percent range when the heat subsides, creating a stagnant, muggy bog-like feeling that seemingly never goes away—Hadwin knew he had to prepare, and like many of his fellow golfers, he drank Pedialyte with water in an attempt to hydrate. How did that work out?
"It's not enough," he said, and with that he trudged off to find air conditioning.
"You see this?" Denny McCarthy asked, pointing to the small space of light gray fabric at the bottom of his pants, near the foot. "This is the actual color of my pants."
He didn't need to say the rest: Every other part of the pants was a darker gray, from belt to below the knee, soaked through with sweat.
"I sweat a lot to begin with," he said, "so these, these are tough rounds for me. You gotta be really mentally tough. I switch between two or three gloves, I keep a thing of baby powder in the bag, I'm putting baby powder in the gloves, I'm icing my hands to cool them off every tee box, wiping with a towel, asking my caddie to give me a towel before every shot, and even the ball in my pocket gets soaked."
Along with all these rituals, McCarthy estimates that he drinks 15-20 bottles of various fluids within the round itself, from water to Gatorade to Pedialyte, much of it mixed with Liquid I.V. And those are just the physical elements. McCarthy confirmed the suspicion that it's far easier to become angry and frustrated during extreme weather, and staying calm after a bad shot or a tough break.
"If you lose it, your mental fortitude for a hole or two, this course can jump up and get you," he said.
Russell Henley, the leader heading into Sunday, struggles like McCarthy with keeping his hands dry, but he doesn't resort to baby powder.
"I just wipe my hands on a towel," he said, "and if the towel's dirty, I get mad at my caddie."
Electrolytes are a common solution for almost everyone who commented on this story, with brands like Pedialyte, BioSteel, Liquid I.V., LivPur, and All Sports being name-checked specifically, along with various other mysterious concoctions kept in packets for readily mixing with water. As Kevin Kisner said, "You can't just have water." Nor is the hydrating solely on the course—over and over, players emphasized the need to hydrate far in advance, and immediately after losing water due to sweat.
Just as important? Don't spend longer than necessary outside.
"You don't warm up as long and definitely don't practice after so you can rejuvenate for tomorrow," Kisner said. "With a quick turnaround now for the morning"—tee times will be early on Sunday due to bad weather forecast in the afternoon—"there will be a lot of fluids tonight to get ready."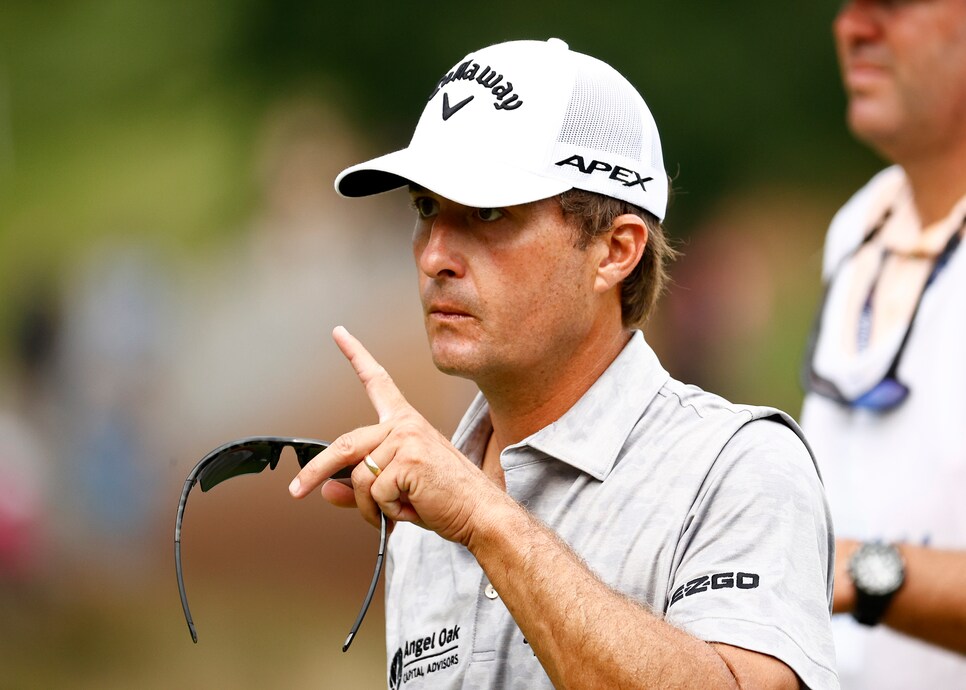 Kevin Kisner waves as he walks off the 18th green during the third round of the Wyndham Championship.
Jared Tilton
And if you think the players have it bad, marching for around five hours in extreme heat, imagine being a caddie tasked with carrying that player's bag. Mookie DeMoss, a former player at the University of Georgia, happens to be caddieing in his first full PGA Tour event this weekend after Keith Mitchell's usual looper tested positive for COVID-19. Mitchell called up his old teammate and childhood friend as a last-minute replacement. On the range Saturday, Mitchell and DeMoss were laughing about the old Nick Saban story, where he ran a summer camp and had this advice for his players: "It's hot outside. It doesn't need to be said again."
Yet as the hours passed, they couldn't help talking about the heat. By the 18th tee, they had each chugged huge amounts of water and were shocked at how much they were sweating. When DeMoss tried to read his yardage book, he found that he had sweat through his back pocket, and the edges were soaked and in danger of falling apart. By the end of the day, DeMoss was putting Greensboro up there with a PGA Latinoamerica Tour stop in Cancun and the 2015 NCAA championships in Florida as the hottest places he'd ever played.
Cole Pensanti caddies for Kiradech Aphibarnrat and has been on the bag for LPGA stars like Lizette Salas and Danielle Kang.
"I've been in worse," he said, showing a stoic resistance to the heat. "It's pretty bad today, and there's no breeze, which makes it worse. Overall, I give it an 8.8 out of 10 for the worst I've ever been in."
What was the worst? According to him, Malaysia. According to Kisner, Erik Van Rooyen and several others, the answer is also Malaysia. Brian Vranesh, who caddies for Si Woo Kim, gave Tokyo a nod, while Tyler McCumber name-checked the Puntacana Resort in the Dominican Republic. In the continental U.S., answers ranged from Bradenton, Fla., to Omaha, Neb., to the Barbasol in Alabama.
Aphibarnrat, a native of Thailand, has struggled through hot weather for his entire life, and his key battle is with the mental side of the heat.
"Everyone wants to stay as calm as possible," he said. "When you make a little mistake, they tend to just pop up in your head because the temperature really heated up and you didn't concentrate as much as you can do. I did it today. I missed a putt, and I wanted to be done, I wanted to walk off the golf course."
Amazingly, Aphibarnrat named Greensboro, this week, as the hottest place he's ever played. Perhaps it was the recency bias—he had just emerged from the cauldron—but he insisted on it, and added that it wouldn't surprise him if a player or caddie passed out.
Van Rooyen, coming off a win at last week's Barracuda Championship, and no stranger to intense heat as a South African, has a simple formula for coping: "Get sweaty. Eat good. Drink good."
But it was Van Rooyen's perspective on the mental aspect of the heat that was the most profound, at least in its brutal wisdom. When asked if it made things more intense, more frustrating, and led to more bouts of anger—in short, is it easier to get pissed off?—he only shrugged.
"No," he said, "it's pretty easy to get pissed off anyway. That's the honest truth. Golf is already at the max."