OAKMONT, Pa. — Underestimate James Piot all you want. It's been happening pretty much all of his golf life. At 5-foot-9 and a wispy 153 pounds, he doesn't have a classic player's build. He wasn't recruited by a college golf powerhouse, following then in his older brother's footsteps at Michigan State. And of the final four players competing at the 121st U.S. Amateur, he was ranked the lowest in the World Amateur Golf Ranking (86th).
But Piot, a 22-year-old from Canton, Mich., with an impressively efficient swing and a nice-sized chip on his shoulder, is the one having the last laugh on all the doubters after closing out a 4-and-3 semifinal victory over Nick Gabrelcik on Saturday.
Guess who will be playing in next year's Masters and the U.S. Open?
"He doesn't look the part, but the kid is nails," said Michigan State head coach Casey Lubahn. "He's just tough. It's like he's been climbing up this sand hill his whole career, and that process, you climb a little and you fall back down, that's how you get tough."
Of course, Piot's week isn't done yet at Oakmont Country Club. In Sunday's 36-hole championship match, he'll face Austin Greaser, a 2-and-1 winner over Travis Vick in the other semifinal, the Havemeyer Trophy up for grabs along with the chance to add your name to the legendary list of USGA champions at Oakmont. But advancing out of the semifinals in the USGA's oldest championship has its own unique brand of pressure, given the spots in 2022's first two majors that come as the reward.
When Piot arrived at MSU in the fall of 2017, Lubahn told him he thought a good goal for his first year in East Lansing was to try to win Big Ten freshman-of-the-year honors. Piot's response? "Don't you think that's aiming a little low?" Instead, he was focused on being an All-American.
And that's just what he did, earning honorable-mention honors this past season. Indeed, for those not paying attention, Piot's résumé is sneaky good. This is his third time qualifying for the U.S. Amateur. Last year at Bandon Dunes, he was the No. 2 seed out of stroke play before falling in the second round (this year he earned the No. 31 seed).
This past spring, he posted a win and six more top-10s for the Spartans, including at the Big Ten Conference championship and NCAA Regionals. He set the school's single-season scoring mark (71.3) and became the Spartans' first individual qualifier for the NCAA Championship since 2002. He was a winner in the state amateur event back in Michigan in July, and two weeks ago he reached match play at the Western Amateur.
Piot's semifinal win was a microcosm of his game overall—controlled off the tee, sharp with his irons and comfortable around the greens. Tied with Gabrelcik after eight holes, Piot proceeded to win the ninth, 10th and 11th with two pars and a birdie. That his opponent was struggling with his putter didn't hurt, but Piot made sure that he used that to his advantage.
"Yeah, it definitely felt like he just didn't have his best today and it was … you know, you always want a good battle in golf," Piot said. "It definitely felt like there wasn't as much pressure as previous matches where he seemed like he was a little out of sync with the putter and definitely took some stress off my shoulder."
The satisfaction with having come this far—despite what others might have predicted—was evident in Piot's voice
"I've always had high goals," he said, "and that's been something that has driven me from Day 1, and they're paying off now."
Mind you, Piot enters the championship match the likely underdog once more. After all, Greaser, a 20-year-old rising junior at North Carolina, is on a bit of a heater of late. In July, he shot his competitive low score of 62 in U.S. Amateur qualifying. Two weeks ago, he advanced to the semifinals of the Western Amateur, losing to eventual champion Michael Thorbjornsen.
No. 82 in the OWGR, Greaser admits he was slightly intimidated by the large crowds that gathered to watch the competitors under sun-drenched skies—fans jumping at the chance to finally walk the course after a week's worth of rain kept them undercover in the clubhouse.
"I never had to maneuver through a crowd going down one fairway like I had to," Greaser said. "I've never experienced anything like that. It was very nervy. I think I was nervous from start to finish today, most nervous I've ever been. It's a new atmosphere for me. ... But I don't think I'm ever going to feel not nervous when you've got this much on the line."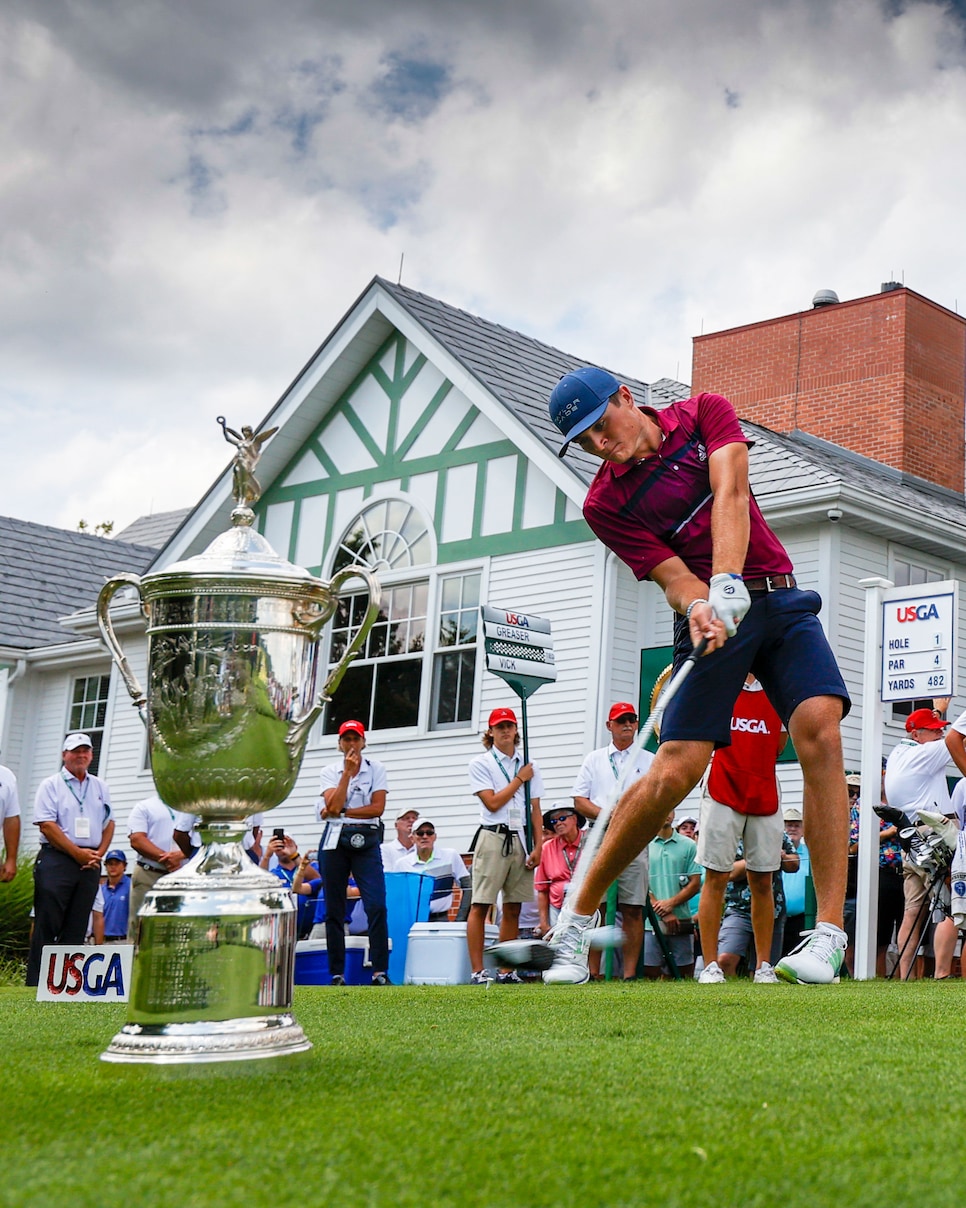 Austin Greaser hits his tee shot on the first hole during the semifinals at the 2021 U.S. Amateur, the U.S. Open trophy placed by the tee acknowledging that they were playing for an exemption into next year's major at The Country Club.
Chris Keane
Calming him though was knowing roughly 30-40 in the crowd were part of his own personal rooting section, double the previous day as the four-hour drive from his home in Vandalia, Ohio, didn't deter those hoping to root him on.
Greaser eventually managed to settle down, but the match was anything but steady, an up-and-down affair that saw just three holes halved between the two.
While Vick, a 21-year-old University of Texas junior, had a 1-up lead after the 10th hole, Greaser turned the match in his favor over the next four holes, winning three with birdies and one with par.
Greaser's play has been steady and efficient all week, the cut driver he decided to play almost exclusively off the tee 15 months ago becoming a significant weapon in terms of length and accuracy. Case in point: on the par-4 14th hole, playing 355 yards, Greaser ripped a driver that flew just short of the green and settled 30 feet from the hole.
"It looked like he had an extra gear," Vick said.
When Greaser closed things out on 17, it became the fifth straight match in which he hasn't had to play the home hole.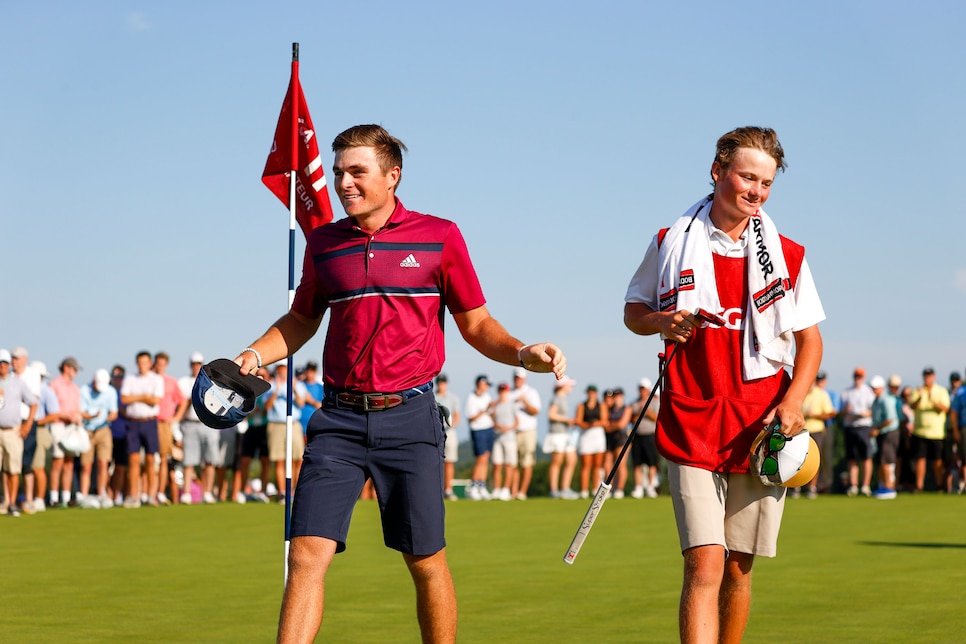 Austin Greaser walks off the 17th green after winning his semifinal match against Travis Vick.
Chris Keane
The news of his invites to Augusta National and The Country Club for the 2022 U.S. Open hadn't settled in just yet, but he said he'd wait to think about them both until after Sunday. There was still something more to accomplish.
"I just want to stay in the present the best I can," Greaser said. "I want to focus on tomorrow, try to get, you know, maybe a couple hours tonight if I can sleep at all, and get some good food and be ready to go at No. 1."
He'll be facing a fighter in Piot. One who won't leaving Oakmont without putting up a fight.