Rub of the green
Being on the wrong side of the draw was a very real thing at this year's U.S. Amateur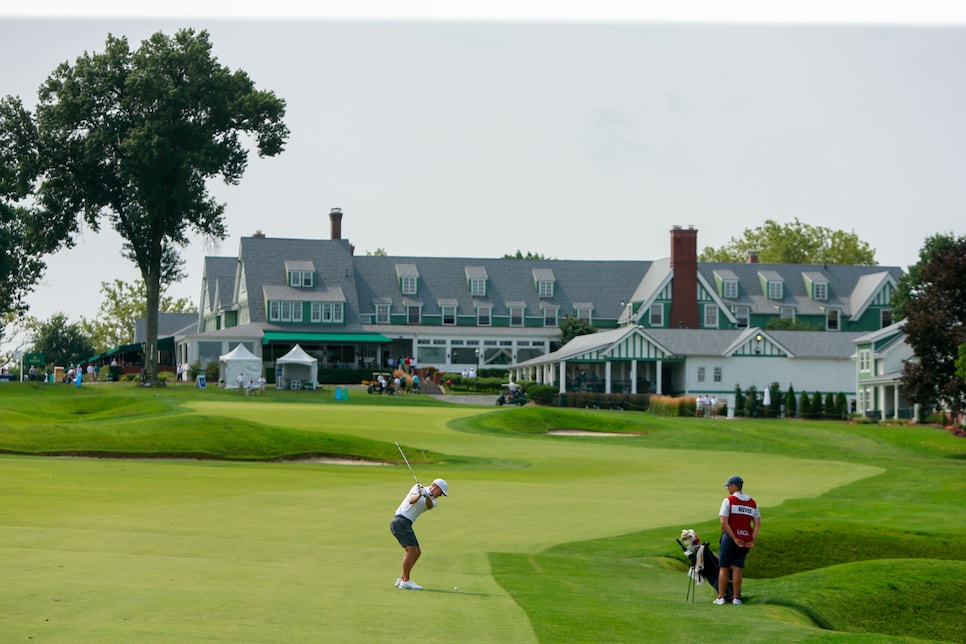 Oakmont on Monday (scoring avg. 77.16) was a lot more difficult than Oakmont on Tuesday (74.97).
Justin Aller
OAKMONT, Pa. — The Open Championship is the tournament most commonly associated with the notion of being on the "right" and "wrong" side of the draw. But the 2021 U.S. Amateur can stake its own claim on that front.
Specifically, if you happened to be among the 78 golfers randomly assigned to play your Monday stroke-play round in the afternoon at Oakmont Country Club, where warm but windy weather left the historically difficult course particularly brutish, your chances of advancing to match play were severely hindered.
A bit of a primer for those not familiar with the format at the U.S. Amateur. With 312 players in the field, two courses are required to get everybody through 36 holes of stroke-play qualifying. In addition to Oakmont, which will be used exclusively for the match-play rounds, the USGA used Longue Vue Club a few miles down the road to help with stroke play.
Suffice it to say, Longue Vue Club is a bit more scorable than Oakmont—honestly, almost every course in the U.S. is a bit more scorable than Oakmont. On Monday, 41 of the 78 golfers who played Longue Vue broke par, with the par-70 course averaging 71.69. By comparison, only one of the 78 golfers at Oakmont broke par (Cole Sherwood with a one-under 69), and the overall scoring average was 77.16. The high scores can be attributed to the near-90-degree temperatures and a steady breeze drying out the course on Day 1.
Come Tuesday, however, when golfers reversed courses, a storm blew through the area that delayed play almost four hours and changed the complexion of both tracks. For those playing Oakmont in the afternoon, a previously firm and fast course became more playable after the rain came through. Green speeds close to 14.5 on the Stimpmeter had dropped to closer to 13.
The rain delay prevented the second round from ending on Tuesday, but when it did come to a conclusion on Wednesday morning, Oakmont's second-round average was only 74.97.
"It was different for sure," said Mark Goetz, a 23-year-old from nearby Greensburg, Pa., who earned medalist honors with scores of 64 at Longue Vue on Monday and 68 at Oakmont on Tuesday/Wednesday. "I hit a wedge into No. 1 that stuck and rolled three feet down. You couldn't hold that green in the practice round."
With more wet weather along the way, it would seem that Oakmont has already played its toughest. Unfortunately, that doesn't do much for the guys who saw it at its worst.