Amateurs
On to the U.S. Amateur semifinals, Austin Greaser has picked the perfect time to play the best golf of his life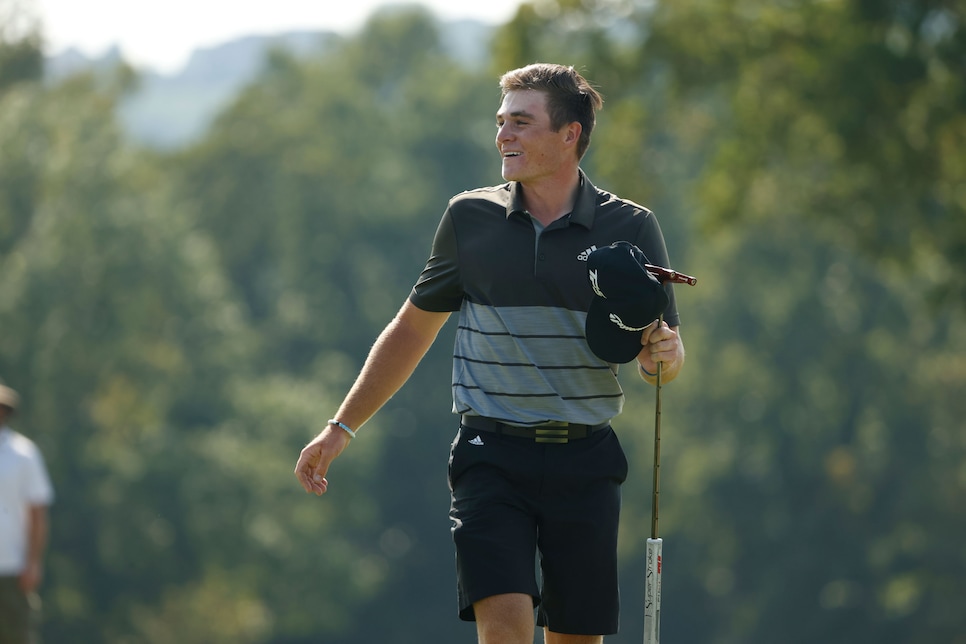 Austin Greaser is all smiles after winning his U.S. Amateur quarterfinal match Friday afternoon at Oakmont.
Chris Keane
OAKMONT, Pa. — If you didn't know this was a big moment in the young golf career of Austin Greaser, all you had to do was listen. As the 20-year-old University of North Carolina junior rolled in a six-footer for birdie on the 17th hole at Oakmont Country Club to win his quarterfinal match at the 121st U.S. Amateur, the cheers from the nearly two dozen friends and family ringing the green told you everything.
There was mom, Lisa, and dad, Michael, and twin brother Bryon, a few high school pals and his girlfriend, some aunts and uncles and cousins, a few he only met this week. Everybody was exchanging hugs and high fives, with a few sighs of relief in between. Greaser's hometown of Vandalia, Ohio, is roughly four hours from Oakmont, close enough that nobody wanted to miss Greaser's time in the spotlight.
What they watched was the continuation of an August odyssey that's seen Greaser's game shine and his confidence soar. It started two weeks ago when he advanced to the semifinals of the Western Amateur, a tournament he described as the best of his golf career. Until this week at any rate.
Indeed, his impressive driving and sneaky good short game traveled well from Illinois to Pennsylvania, where he'll face Texas standout Travis Vick in the semifinals on Saturday, with a spot in the Masters and the U.S. Open on the line.
Joining them in the semifinals are Michigan State's James Piot, a 3-and-1 quarterfinals winner over Matthew Sharpstene, and North Florida's Nick Gabrelcik, a 1-up winner over Davis Chatfield.
"I'll just riding the wave man," Greaser said. "Golf is so up and down, and right now it's up for me. I'm just trying to enjoy it and take advantage of it and just make it last as long as I can. I feel like my swing is really in a good spot right now. It's got a lot of good feels, and my head's in a good spot and the putter's in a good spot. So, match all those things up and we're playing some pretty good golf."
Greaser's record in USGA events is mixed. He reached the quarterfinals at the 2019 U.S. Junior—this week he's been wearing the wrist band given out to competitors that week, the red, white and blue colors having worn off the rubber. "It brings me good memories," he said.
But in his two previous U.S. Amateur starts, 2019 at Pinehurst and 2020 at Bandon Dunes, Greaser was well below the cutline to make it to match play. That changed with rounds of 69 at Longue Vue and 70 at Oakmont in stroke-play qualifying, earning him the 24th seed.
In the 12 months since Bandon, Greaser says the biggest improvement in his game hasn't been with his swing itself, but with his mental game. It was something he first began seeing this spring with the Tar Heels. He had three top-10 finishes in his four starts prior to the ACC Championship, where he finished fifth. From there, he had a top-10 at NCAA Regionals and helped UNC reach match play at the NCAA Championship.
During that period, Greaser said he learned to relax more, accepting that not every putt is always going to fall.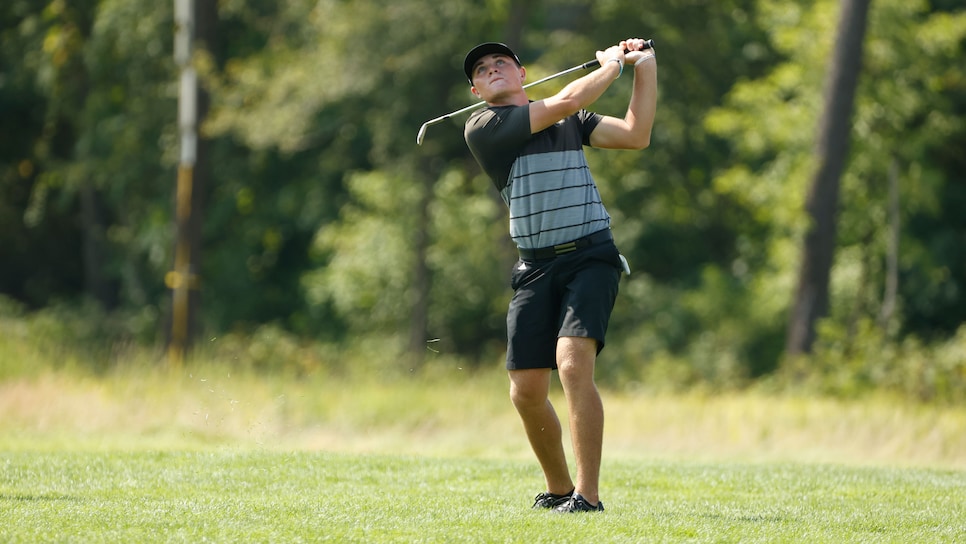 Greaser hits his third shot on the 12th hole during the quarterfinals at Oakmont.
Chris Keane
The mental strength has come in particularly handy this week at Oakmont, where fickle weather has interrupted play the three previous days, created lots of long days at the course.
Greaser needed two days (Wednesday and Thursday) to close out his opening-round match against Bo Andrews, 2 and 1, thanks to a four-hour delay on Wednesday. Luckily, he closed out his second-round 3-and-2 win over Xavier Marcoux on Thursday afternoon before bad weather cut things short that night for several other Round of 32 matches
It meant Greaser didn't have to get up early for his third round on Friday to finish Round 2, leaving him fresh for his match against college rival Jacob Bridgeman of Clemson. A 6-and-4 victory help set up the afternoon clash with Ross Steelman, a Georgia Tech transfer trying to become the third straight Yellow Jacket to win the Havemeyer Trophy.
But Greaser had other ideas, jumping out to a 3-up lead through three holes. Once more Greaser's steadiness off the tee, a staple of his game, stood out as he avoided Oakmont's brutal fairway bunkers. Once on the green, a hot putter also allowed him to make more than his share of birdies.
Still, Steelman didn't go away, cutting Greaser's lead to 1 up with a birdie on the par-3 13th. But when both players hit it into a greenside bunker on the par-3 16th, Greaser saved his par while Steelman didn't, stretching the lead out again.
Greaser's tee shot on the drivable par-4 17th landed just short of the green on the right side of the hole, while Steelman blew his drive left of the green in the rough. Both players hit their second shots to within eight feet of the hole, Steelman making his birdie roll to put pressure on Greaser, who lived up to the challenge
"He's been this good, he just had to believe he's that good," said Michael Greaser, who first took his two boys to a course when they were 5 years old. "Now it's starting to come around, and he's realizing he can play."
And the timing couldn't be more perfect.