PGA Tour
Webb Simpson had a crazy finish to a wild back nine in Wyndham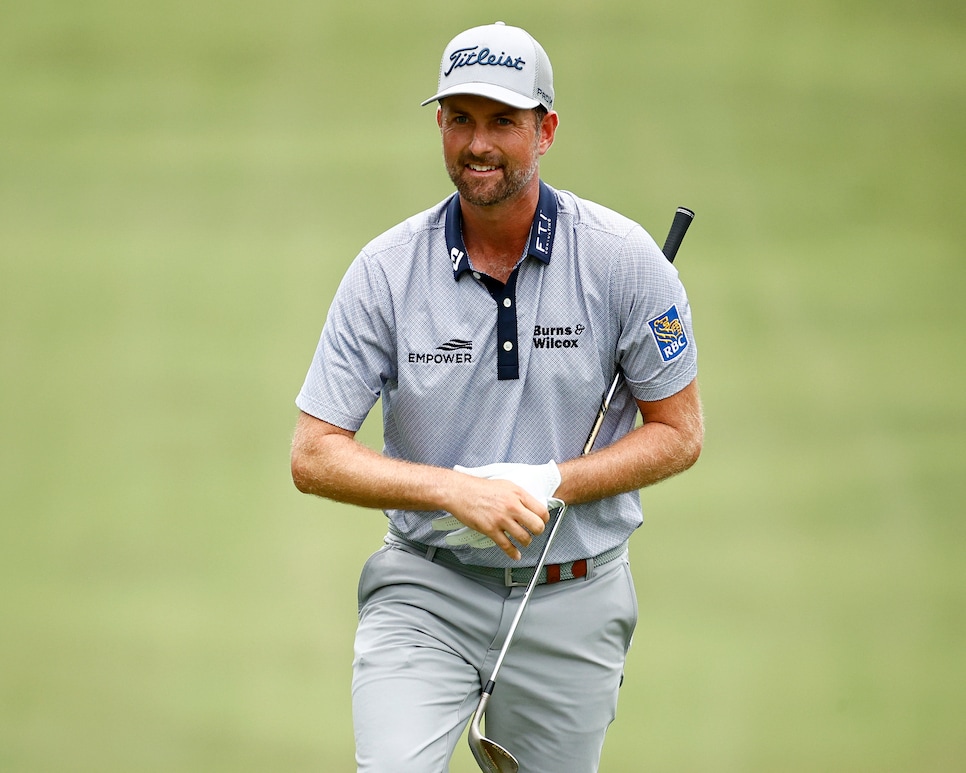 Webb Simpson reacts after chipping in for par at the 18th hole.
Jared Tilton
It's well-documented how much Webb Simpson loves the Wyndham Championship. We need no more evidence than he and his wife naming their third daughter Wyndham. (More heartfelt, of course, than saying her namesake is a hotel chain.) The Wyndham marked Simpson's first victory on the PGA Tour in 2011 and going into Saturday's third round of this year's tournament at Sedgefield Country Club in Greensboro, N.C., Simpson had a remarkable streak to protect.
Simpson shot 16 consecutive rounds in the 60s in the Wyndham in notching four consecutive top-three finishes, and this week the North Carolina native started 65-65 to get into contention again. Eighteen straight under-par rounds anywhere deserves big kudos.
But on Saturday, Simpson found himself fighting to keep the streak alive in probably the craziest battle with Sedgefield he's ever had. He made six birdies in the round but also suffered three bogeys—and then made one killer blunder—a triple-bogey 7 at the par-4 14th when Simpson fluffed a greenside bunker shot and left it in the sand.
The card for the last six holes of the round: birdie, double bogey, birdie, bogey, birdie, par.
No one can say that Simpson dwells on his misfortune, that's for sure. And that was clear on his final hole, where he made a par that was hardly routine. He left his approach short on the uphill slope in front of the 18th green, and when his pitch wasn't strong enough, the ball rolled back nearly to his feet.
This was when he displayed a lesson for all of us. Obviously frustrated, Simpson stepped up to the ball and was quickly going to hit it. Then he stopped … and took a breath … and looked at the shot again … and then took his swing. And the ball took a couple of hops and bounced into the cup for par. The crowd responded with a cheer as if he'd made birdie.
"It was a perfect ending to a very weird day, very frustrating day," Simpson said. "I had the position to shoot four, five under again and just didn't get it done. Just frustrated, but it's always nice to birdie 17 and par 18."
The 60s streak? It ended with Simpson signing for an even-par 70 that put him at 10 under total and five shots off the lead of Russell Henley.
"We're going to go work on the range right now," Simpson said. "I clearly have a left miss right now that I want to go work out. I don't know exactly why I can't get it out of my system, but hopefully 30 or 40 balls will help."