Wyndham Championship
Webb Simpson has work to do to make Ryder Cup team and fill a big hole in his career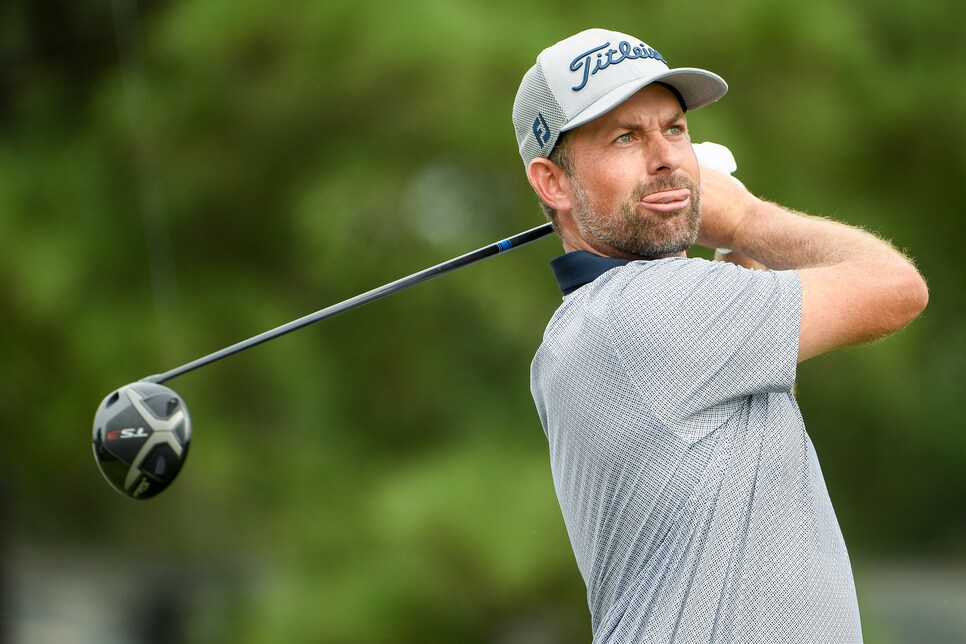 Webb Simpson sits 13th on the Ryder Cup points list.
Tracy Wilcox
Nobody in professional golf is quite as associated with the Wyndham Championship as Webb Simpson. Not only was he born and raised near Greensboro, N.C., in nearby Raleigh, and not only did he go to college at nearby Wake Forest, and not only does he live in nearby Charlotte, but the tournament itself has played an integral role in his career. This is where he won his first PGA Tour title in 2011, and on Wednesday morning he spoke about the emotional moment when his late father presented him the trophy on the 18th green. This event has been so important to him, in fact, that he and his wife named their third daughter Wyndham.
In 2021, though, as he prepares to tee it up once more, he's got more than just this week on his mind. Simpson currently sits at 13th in the Ryder Cup standings and is one of several players in the running to get one of Steve Stricker's six captain's picks. Unlike a few other elite players of his generation, Simpson had the misfortune of missing the 2016 Cup at Hazeltine, when the Americans were victorious, which means that his career record stands at 0-3, with losses at Medinah, Gleneagles, and 2018 in Paris. When asked if this represents a hole in his resume, Simpson was emphatic in his belief that it's unfinished career business.
"I've been 3-0 at Presidents Cups and 0-3 in Ryder Cups," he said. "Sitting at home in '16, it was a bittersweet feeling, I was so bummed not to be there, but I was so happy that we won. I remember watching all the coverage even after the tournament just to see how excited they were. I remember feeling like I would love to have that experience at least one time in my career. It would be one of those things where I feel like if I was on a winning Ryder Cup team, I would kind of check that off the list because I've never experienced it and it would be an amazing feeling and accomplishment."
Simpson knows he has work to do. Due to the pandemic, the situation is odd this year in that Stricker has more captain's picks than any other captain in Ryder Cup history, and only six automatic qualifiers. A look at the current standings seems to hint at a few players outside the top six who are locked in, including Jordan Spieth, Harris English, and—you would imagine, based on his match play history—Patrick Reed. After that, things get more ambiguous, and Simpson is among a crowd of perhaps seven or even eight players vying for three spots.
"I'm telling myself every day that I need to have a good run here—Memphis, this week and next few weeks to make that team," he said, "so there's definitely motivation there for me to play well."
At last week's WGC-FedEx St. Jude Invitational, Simpson finished T-15 in one of his strongest recent results and believes he's on the path to a strong late run that could help his chances.
"Two great rounds, two not-so-great rounds, but as a golfer you can fake it for a little bit and I don't feel like I was doing that last week," he said of Memphis. "I feel like we are really on the right track ... we saw a couple of things we haven't seen this year. For example, my approaches to the greens in my career typically have been most consistent. That's been the weakest link this year and last week I had a much better week in that category."
Simpson is not remotely a controversial figure in golf, but if there's one moment that veered into controversial territory, it came in 2014 before the Gleneagles Ryder Cup when a series of last-minute texts he sent to Tom Watson seemed to have the intended effect of earning him a captain's pick, apparently at the expense of Bill Haas, who was not chosen. On Wednesday, Simpson spoke about that incident, and how things are different this year as he finds himself in a similar position.
"Would I do that again?" he asked. "I don't know. I was so, I guess, anxious about making that team in 2014, and maybe it was good and bad that I texted him, but in that moment I felt like I don't know Tom as well, I don't know if he knows how much I want to make this team. Stricker and I have texted, but I haven't sent that text like I sent to Tom. I think he knows how much I love team events. But also, I guess getting older, playing these events more, I've realized Stricker's going to pick who he feels is the best team for that week and I trust that."
And if there's anything Stricker knows, it's that like him, Simpson is a great putter, who even in a relatively down year remains among the top 15 putters on tour. That's always a useful skill when it comes to the Ryder Cup, and while Simpson knows he has something to prove in Greensboro and the weeks to come, it's also likely that he's got an inside track on one of the final picks.