Proving a point
James Piot's comeback U.S. Amateur win is for all the little guys no one believed in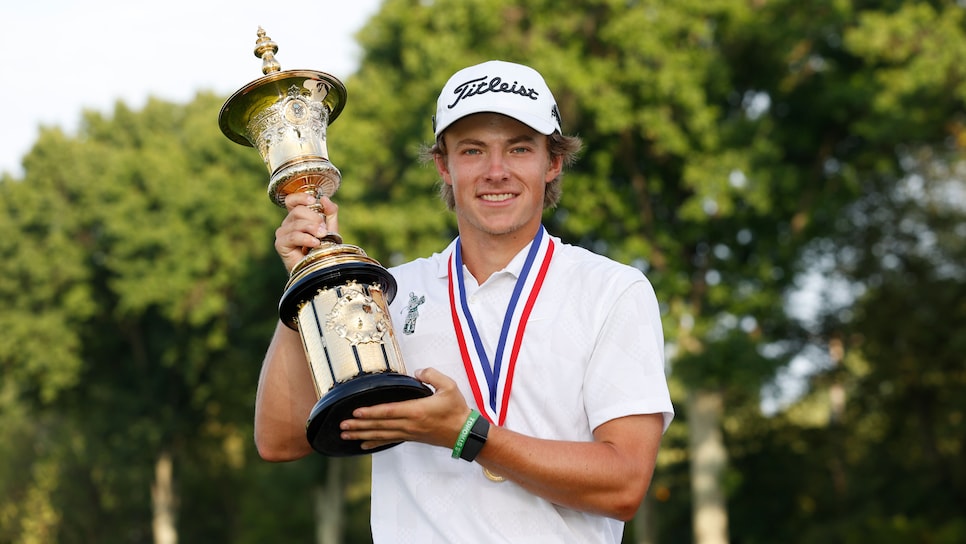 OAKMONT, Pa. — It's hard to describe the expression on James Piot's face when he held the Havemeyer Trophy for the first time behind Oakmont Country Club's 17th green late Sunday afternoon. Let's call it something between shock, exhilaration and awe, as the newly minted U.S. Amateur champion, a 2-and-1 winner over Austin Greaser in the 36-hole championship finale, stared for a few moments at the most impressive piece of golf hardware he'd ever laid his hands on.
"I was just trying to see if it was real or not," Piot said when asked what was running through his mind as he gave the trophy that first long look.
It was definitely real, the hard-earned result of years of trying to prove people wrong. Yes, you can come from Canton, Mich., with its only eight-month-long golf season, and still be a damn good player. And you can be 5-foot-9 and 153 pounds and still stand tall.
"It's the greatest feeling in the world. I mean, as an amateur it's the best thing you can do," Piot said of the win. "It feels phenomenal. Shows the hard work I've done is paying off."
In all likelihood you'd probably never heard of Piot before catching a glimpse of him this week at the 121st edition of the USGA's oldest championship. The 22-year-old fifth-year senior at Michigan State was ranked No. 86 in the World Amateur Golf Ranking, good but not elite. He wasn't a member of the U.S. Walker Cup team last May at Seminole Golf Club. He qualified for the U.S. Am last year at Bandon Dunes, even earned the No. 2 seed, but didn't get past the second round of match play.
It's easy, then, to say some unknown wound up walking off with the most prestigious title in amateur golf. And, maybe, technically, you'd be right. But don't mistake unknown for fluky or undeserving.
"I know what people think, by the way he looks and all. He doesn't look dynamic or powerful," said Michigan State men's coach Casey Lubahn. "But you can't see his heart."
It's the heart that showed on the back nine at Oakmont, when it looked almost certain that Piot had finally met his match in Greaser, a 20-year-old honorable mention All-American at North Carolina. Through 27 holes, Piot shot the equivalent of six over par—four over on the front nine of the afternoon 18 alone—leaving him 3 down with nine holes to play. That's when he turned to his caddie, Spartans assistant coach Dan Ellis, and uttered his latest audacious prediction: He said he was going to shoot four under on the back nine.
And what exactly made him think that he could do that?
"Just self-belief. I feel like that's one of the things … the golfer I am, I'm that guy who never has an extremely bad round," Piot said. "In my head on the day, I'm kind of doing a recap and I think I was like six over. I'm like, 'That's not me.' "
And then it happened. A perfect drive on the par-4 10th, setting up a 9-iron approach from 150 yards and his first birdie of the afternoon session. 2 down.
Another par, this time on the 603-yard 12th hole, tied up the match, as Greaser suddenly was struggling to find fairways he'd hit all week and having trouble adjusting to Oakmont's greens, which were getting faster as the day went on and the effects of a week's worth of rain were baking out.
When Greaser bogeyed the par-3 13th hole, Piot's 14-foot birdie try now conceded, Piot had his first lead since being 1 up after the morning 18.
They exchanged birdies on the 14th hole, but Piot got to 2 up when he won the par-4 15th with another par. Two holes later, he was staring at the Havemeyer. He had only played the back nine in three under, but it was good enough.
"I just didn't execute coming down the stretch," Greaser said. "I think it's pretty obvious. He won four holes in a row there and kind of tides changed, and that's how it goes."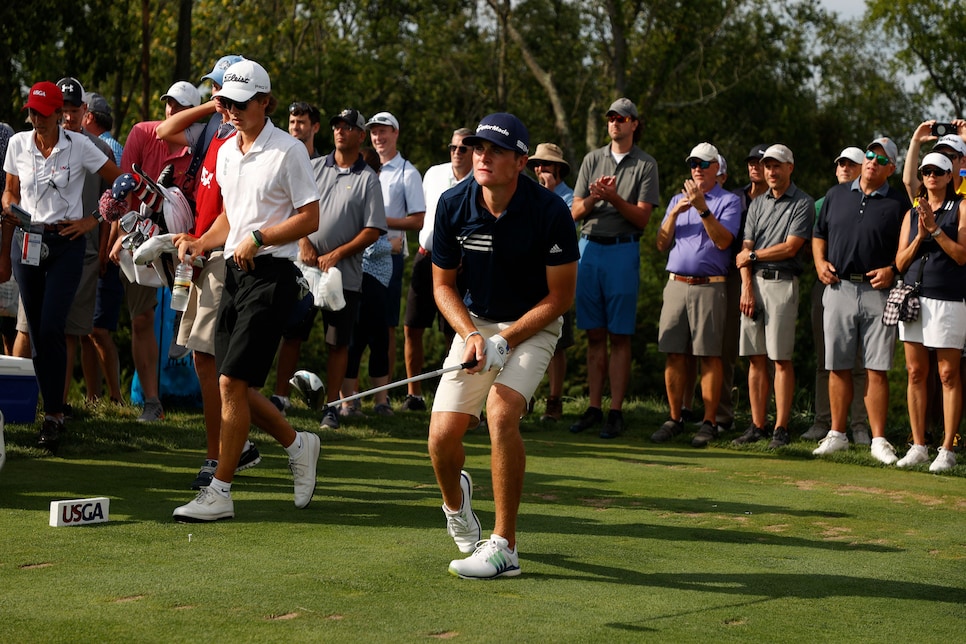 Austin Greaser had a 3-up lead with nine holes to play, but struggled finding fairways on the back nine.
Chris Keane
Piot's golf career began at a place unlikely to produce a future U.S. Amateur champion: Fox Hills Golf and Banquet Center in Plymouth, Mich. The facility had three courses and became Piot's Disneyland each summer, the place he'd go to hang with his brother and his buddies, gamble for just about anything on the putting greens, and learn how to play golf rather than golf swing.
While he developed a reputation as a stick within the state, winning the Michigan Junior Am and three high school titles, it didn't matter much outside the Wolverine State. So it was that Piot ended up staying home, following in his older brother's footsteps and playing at MSU for Lubahn. Since the fall of 2017, Piot has worked methodically on his game in relative anonymity with his Spartan teammates, a very real chip on his shoulder.
"Good golfers have long memories," Lubahn joked.
Piot had quick results in college and was Big Ten freshman of the year in 2018. He took his biggest leap in the 2020-21 season, earning honorable mention All-American honors with a win and six more top-10s in the spring, including at Big Tens and NCAA Regionals.
"It's hard to identify any one thing because it's just gradual improvement," says Lubahn when asked what's the biggest difference in Piot's game from when he first arrived in East Lansing. "He's picking up a 10th of a shot every day. And he's the best driver I've ever coached."
And not a bad putter, either. In preparation for the U.S. Amateur, Piot put back into his bag a Ping Piper H putter, a flat stick he'd fallen in and out of love with since the sixth grade, one he affectionately nicknamed "the garbage putter."
"My dad got that from a golf shop actually just down the road from our house, had to be 10 years ago," Piot said. "He used it for like two weeks and was like, 'This thing is not worth it.' I think he got it for $60 or $70 at the time. I picked it up in probably sixth or seventh grade and started rolling with it. I was like, 'This thing is actually awesome.' " The putter proved vital this week at Oakmont, Piot holing several clutch putts.
In the glow of victory, Piot could be allowed the chance to gloat. What did this win say about him and where he came from?
"It's kind of nice to show the guys out there that don't go to the big-time school that you can still do it," he said. "Coming from Michigan, it's a phenomenal feeling being able to grind from a guy who wasn't highly sought after to U.S. Am champ."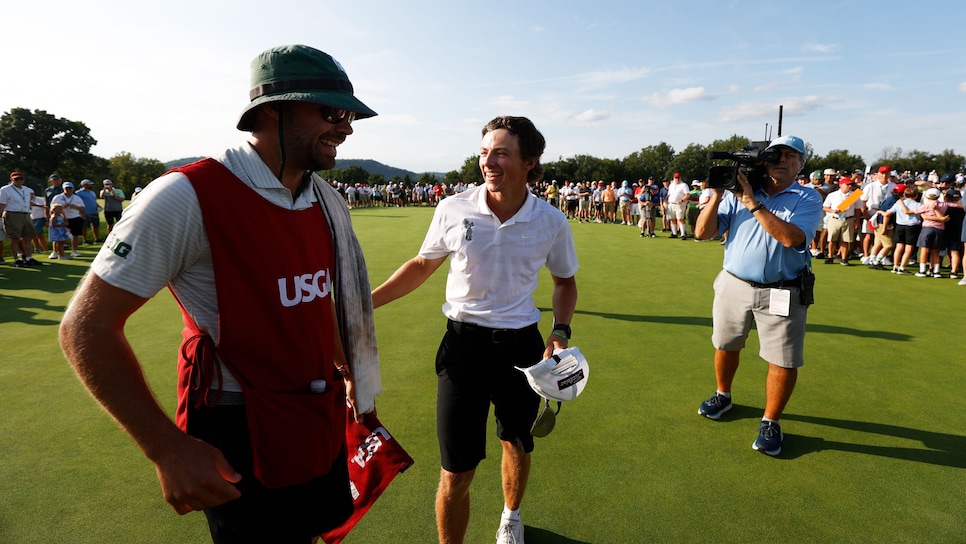 James Piot celebrates with his caddie/assistant coach Dan Ellis after winning the 2021 U.S. Amateur.
Chris Keane
It also proved something else: just how deep the amateur game is. All over the country, there are players like Piot, grinding day in and day out, aspiring for greatness with no guarantee that their efforts will be rewarded. Only the hope that the week will come when they get their chance to prove their mettle.
That week happened to be this one for the little man from Canton, the week James Piot finally became somebody you'd heard of.