Women's Scottish Open
On verge of possible retirement, Ryann O'Toole breaks through with first win in 228th start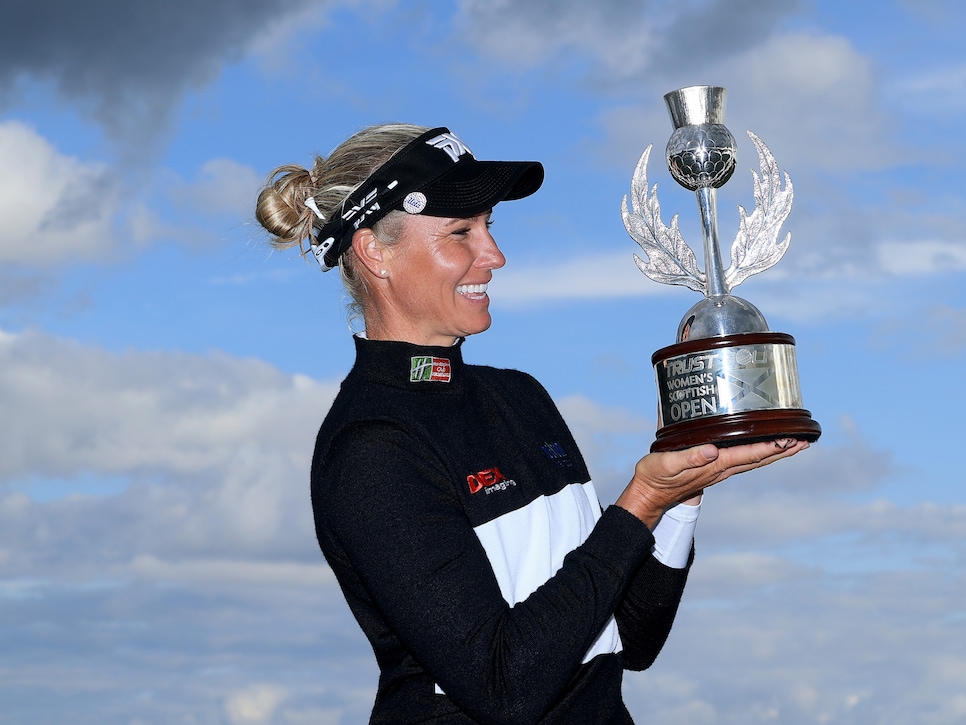 Ryann O'Toole poses with the trophy after her three-shot win in the final round of the Trust Golf Women's Scottish Open.
David Cannon
FIFE, Scotland — For more than a decade, it was never enough to say that Ryann O'Toole had never won on the LPGA Tour. Not quite. Surprisingly for someone who has played in a Solheim Cup, amassed more than $2 million in prize money and recorded 11 top-10s over the course of her 11-year pro career, the 34-year-old American had never managed even a runner-up finish in an LPGA event.
And she still hasn't. Finished second that is. But that first-place thing? Gone. In what was her 228th LPGA start, O'Toole's 72-hole aggregate of 17-under 271 was three shots better than anyone else and saw her claim the Trust Golf Women's Scottish Open title over the spectacular Dumbarnie Links on the northern shore of the Firth of Forth. It was a victory worth $225,000.
All of which was achieved with some aplomb, under more than a little pressure from a distinguished chasing pack and with a new caddie, Michael Curry, on the bag. No matter. O'Toole's closing 64 was bogey-free and comfortably good enough to see off a notable list of challengers. Lydia Ko—whose closing 63 equaled the course record set by Ally Ewing almost 90 minutes earlier—and the prodigious talent owned by 18-year-old Thai Atthaya Thitikul were joint runners-up. Former World No. 1 Ariya Jutanugarn was fourth on 13 under, and former European Solheim Cupper Charley Hull was another shot back. No one else was within six shots of an understandably emotional champion.
"I've been obviously working my whole life for this and dreaming about it since I was a kid," said O'Toole, who arrived in Scotland ranked 111th in the world and was actively considering retirement at the end of this year. "I tried to not look at the leader board. I tried to just trust in my caddie to guide me to whether we needed to lay-up or get aggressive, stay patient or whatnot. I still feel like I'm in shock and the tears are going to come later when things die down. I'm excited and happy. The hours and grind and heartache this sport brings, the constant travel, for this moment, I hope it only happens again and again."
If that is to happen, O'Toole will have to reconsider he plans beyond Dec. 31, a process that seemed to be underway almost from the moment she tapped in for a clinching par on the 72nd green. Again, understandably, her thoughts flowed randomly and without organization.
"I think you get to a point in your life where you're sitting here going, 'OK, I'm getting married in December,' and 'OK, my clock's ticking,'" she said. "I want to have kids. So how much longer am I going to be out here? I thought maybe this year would be my last year. I don't even know. I haven't even really announced that. I've been kind of playing it by ear. It's just accepting there's more to life. There's a future of other things. I'm Ryann in a lot of different ways rather than just Ryann the golfer."
Still, that label has perhaps never been more applicable that over the 18 holes that might just redefine O'Toole's future. Playing alongside the potentially intimidating presences of Jutanugarn and Hull, the three-time Symetra Tour winner and "Big Break" contestant showed no signs of her inexperience at this stage of an event.
"Links golf, especially when it's windy, challenges the ball-striker," she continued. "I feel like the best part of my game is my iron play. I think the biggest challenge for me this week was getting the speeds down on the greens. They were not running what we're used to. But I never had an issue getting a putt to the hole. I did leave a few in the jar, but I guess it worked out."
Clearly, a fact that did not go unnoticed by at least one of the unavailing challenger. As ever, Hull, succinctly summed up the prevailing mood amongst those relegated to the minor places on the podium.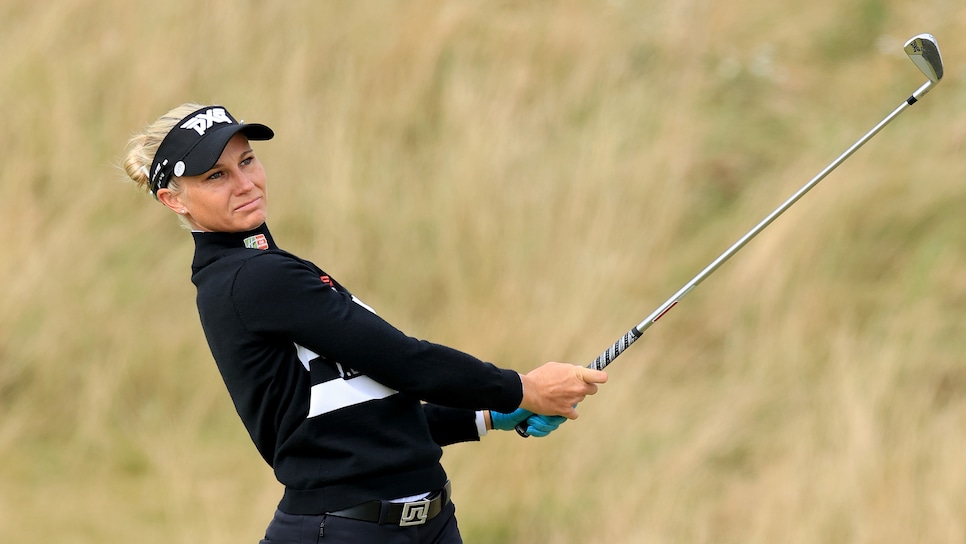 Ryann O'Toole plays her second shot on the 13th hole during the final round of the Trust Golf Women's Scottish Open.
David Cannon
"Ryann was just hard to beat," said the Englishwoman. "She didn't miss a putt."
Next week O'Toole will move a little farther north on Scotland's east coast, to Carnoustie and the Women's British Open. On paper, she will have little chance of success. Only twice in 40 major starts has O'Toole managed a top-10 finish. Her best is T-6 in the 2018 Evian Masters. But who knows what might be possible after what has gone on over the last four days?
"I want to go in with the same game plan as this week," she said. "Obviously expectations are going to be different. I don't see how they can't be. If I take the game that I had this week, there's no reason that I don't have a shot at Carnoustie. I always wanted to see what happens when I break the seal, what would happen to the future."
One last thing. Watched by a journalist, O'Toole played a few holes alongside compatriot Christina Kim and Australian Su Oh on the eve of the championship. On their final hole, the 157-yard par-3 eighth, Kim and Oh punched beautifully struck shots through the stiff breeze onto the green. In comparison, O'Toole's two efforts were high, weak and ultimately short of the putting surface.
"She'll miss the cut hitting shots like that," thought the lone spectator, who fancies himself a bit of a links connoisseur.
Five days later, Kim finished T-56, Oh pulled up in a tie for 34th place and O'Toole was a champion.
Memo to self: Never jump to golfing conclusions.