Wyndham Championship
Russell Henley once again has this putting mantra as his phone alert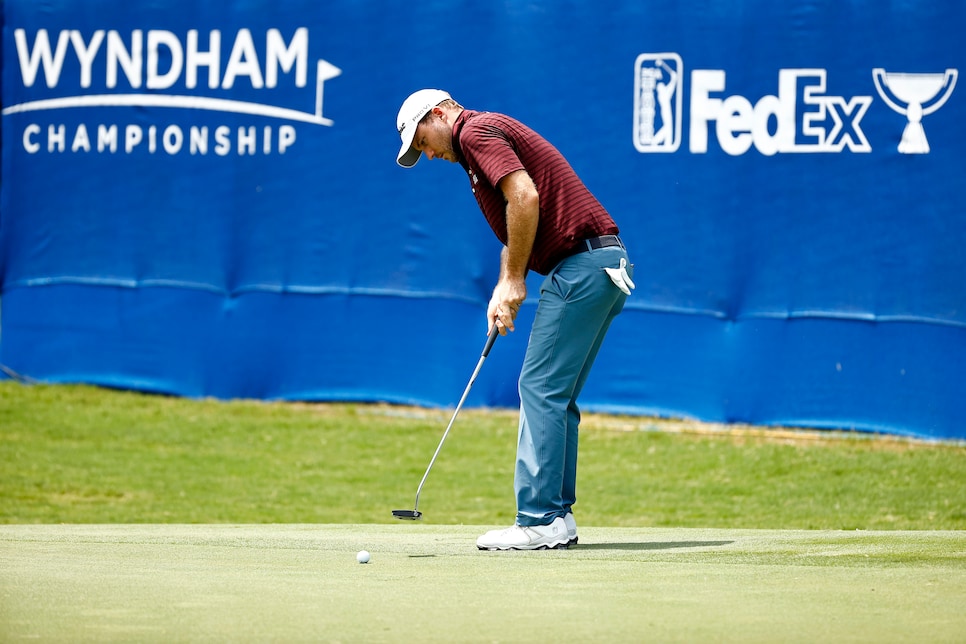 GREENSOBORO, N.C. — For years, an alert would pop up on Russell Henley's phone each morning to deliver a simple message: You are the best putter in the world. It was an affirmation, it was encouragement, and it was something he believed. For a long time, it was also true, or nearly so—in 2013 and 2015, he was in the top 10 on the PGA Tour in the strokes gained/putting category, and when he won, as he did at the 2013 Sony Open and the 2014 Honda Classic (where he out-dueled Rory McIlroy), his name would pop up in every discussion of the game's greatest putters. Then, at some point in the ensuing years, as his ball-striking improved, his putting dropped off, slowly and then precipitously, and the alert started to make him mad. He knew the message it broadcast on a daily basis was not remotely true, not anymore, and so he shut it off for years.
On Thursday at the Wyndham Championship, after a first-round 62 in intense North Carolina heat, he revealed that the alert is back. He's still trying to find his rhythm with the putter—his best skill these days, by far, is his approach game, which is fourth among all Tour players in 2021—but as he took the lead by two shots in the early afternoon, you could see the form on the greens that had once made him one of the sport's greats. It was especially apparent on 11, when he holed a 13-foot double breaker for birdie to kick off a stretch of four birdies in the last eight holes.
"It broke off the side of the fringe and then the grain at the hole was going the opposite way," Henley said, "so I saw it perfectly and broke both ways and went in. That was pretty cool."
More often, though, Henley's greatest asset on Sunday was his short game, and a series of par saves that left him wondering how good the round could have been if he'd struck his approach shots like usual.
"I feel like there's a couple holes where I got away with the ball-striking off the tee," he said. "I just think about a few shots that were a little bit off. You've got to stay in attack mode out here. Obviously shot eight under and a lot of things went my way, but I just feel like it could be a little better."
Henley hasn't won since the 2017 Houston Open, and that was also the last year he made the Tour Championship in Atlanta. Since then, he's hung around like a journeyman, finishing each year between 56th and 96th, always safe but never great. To put it mildly, this career stasis doesn't suit him.
"I want to make the Tour Championship and I want to win," he said. "I haven't won in years, so I feel like as well as I've been playing, I feel like I've underachieved a little bit...my mindset is I feel if I can play my game, play my normal game, then I can maybe give myself a chance."
In pursuit of his old putting form, he's started working with Ramon Bescansa, inventor of a training tool called "The Perfect Putter." It's already paid dividends—Henley has a positive SG: Putting number for the first time since 2018 (loosely, this means that he's now an above-average putter by PGA Tour standards), and it's reflected in his FedExCup ranking of 46.
His greatest battle now is remembering how to play under pressure. He's contended at several tournaments this season, but the most notable was the U.S. Open, where he was tied for the lead after 54 holes before shooting a 76 on Sunday as Jon Rahm took home his first major.
"From everything I've learned over all the golf I've played," he said on Thursday, "you've got to keep attacking out here and you've got to keep giving yourself a chance to do that. Keep attacking and keep trying to play a great round. I feel like at the U.S. Open I was not as committed to a few shots that really cost me...I felt like the nerves were kind of making me feel a little bit tentative."
He'll have a chance to practice that aggression and commitment in Greensboro this week, where if recent history is any indication, the winning score will be lower than 20 under, and his red-hot start is only that—a start. For Henley, he has to reckon with a truth he readily admits, which is that some tournaments recently have seemed a day too long.
"I can't count how many times I've teed it up on Sunday and I'm just like, I can't believe I have to play another round," he said. "I just feel like we play so much golf and you've just got to be patient, you've got to just stay rested and try to just stay confident in your game plan."
There's quite a bit up for grabs in Greensboro this weekend, from setting himself up for a spot in the Tour Championship, grabbing that elusive win, and perhaps even dreaming distantly of a Ryder Cup berth. He'll have to maintain a torrid pace to realize any of those goals, but if anybody's due, it's Russell Henley.