Halfway home
U.S. Open 2021: Russell Henley once swore off Torrey Pines, and now he's leading going into weekend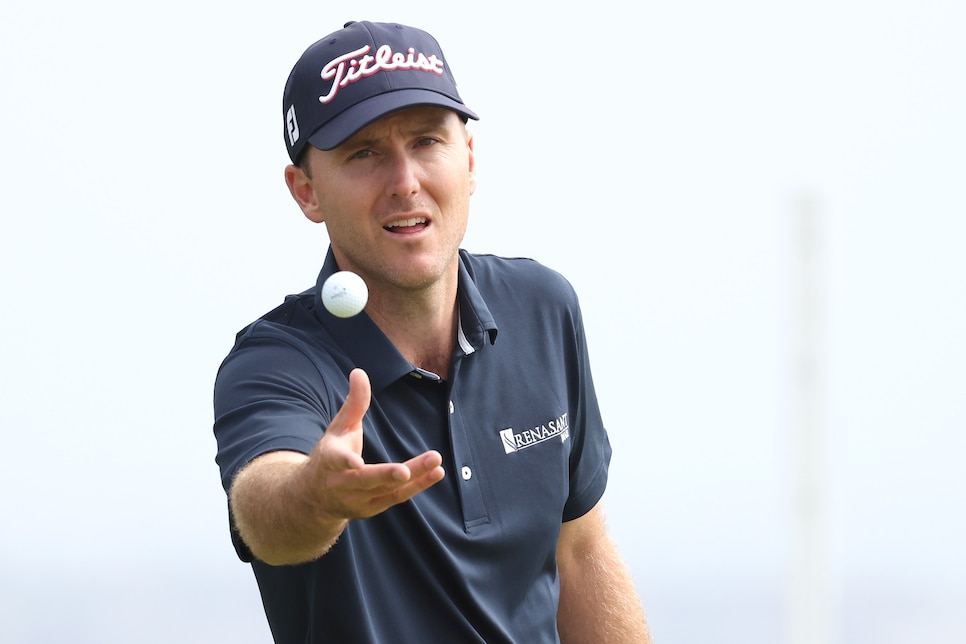 Russell Henley tosses his golf ball on the second hole during the second round of the 2021 U.S. Open.
Harry How
SAN DIEGO — Seventy-nine official strokes. That was all of the competitive experience that Russell Henley had on the Torrey Pines South Course before starting this week's U.S. Open. That's fairly surprising for a guy playing in his ninth season on the PGA Tour. It happens, of course. Players are creatures of habit and commerce, and they tend to not go to places they don't think suit them.
Henley had reason to believe that of Torrey Pines, though the sample size was miniscule. He entered the Farmers Insurance Open in 2014 in his second full year on tour. He drew the South Course for the first round. And he made only one birdie—on the 18th hole—that saved him from shooting 80.
A 71 followed on the North Course, but that was it. Henley had seen enough.
"I don't really remember, besides just leaving the course feeling like I just got beat up," said Henley, who continued to play a number of events on the West Coast Swing.
"I played in that one time and really struggled, and it was, like, Well, I'll just not play it from now on. Maybe that's not the best reason."
It would not appear to be the wisest approach if the first two rounds this week are any measure. Henley's opening scores—67-70—would be respectable in February in the Farmers. For this U.S. Open, they put him atop the board with another short-but-straight hitter, 48-year-old Englishman Richard Bland.
"I don't know what happened," Henley said of how his game turned around at Torrey Pines, though he then basically answered his own question when he added, "The course seems to be playing a little firmer, which is to my advantage."
Bland, who shot 67 on Friday, said the same thing. The shorter hitters are benefitting from the all-kikuyu fairways being firmer than they are in the cooler winter months. They're not has grabby and are giving enough roll to negate some of the bombers' advantage. Henley's ball-striking (he's gained over four strokes on the field in approach) and putting (4.14 strokes better) have been the key.
Henley, who is ranked 63rd in the world, was working on a classic U.S. Open round on Friday, with eight straight pars, then a birdie, followed by seven more pars. Henley birdied the par-3 eighth (his 17th hole) to take the solo lead at six under. But in his only real gaffe of the day, he three-putted at the par-5 ninth, watching his par roll from 3 feet spin off the lip.
"It's tough to swallow that last hole," Henley said. "I didn't feel like I hit that bad of a putt. … I made a lot of great putts today. I didn't myself as many good looks or birdie looks as I did in the first round, but I feel great with the putter in my hand."
This is untread territory in majors for Henley. In 26 previous starts, he's never had a top-10 finish. His best 36-hole standing in six previous U.S. Opens is being tied for ninth going into the weekend in 2018 at Shinnecock He ended up finishing T-25 that year—his best showing.
The last of Henley's three tour victories came more than four years ago, when he closed with a 65 to take the 2017 Shell Houston Open. This season, the 32-year-old Georgia native has two third-place finishes, though he was struggling a bit coming into the week. He'd missed two cuts in the last four starts and hadn't shot in the 60s since tying for ninth in the RBC Heritage in April.
He said after the first round that he feels like he's getting back to a level that could put him into the top 50 in the world.
"I feel like I've learned who I am as a player and what works for me," Henley said. "That's kind of what I've learned over the last year. Anywhere from how I practice and what I think and what works for me in the gym, you know, all of the above. So much goes into it behind the scenes, and just being comfortable with who I am as a player and not trying to be somebody else."
MORE U.S. OPEN 2021 STORIES FROM GOLF DIGEST: