PGA Tour
After an opening 65 at Pebble, Jordan Spieth has us wondering (again): Could this be the week?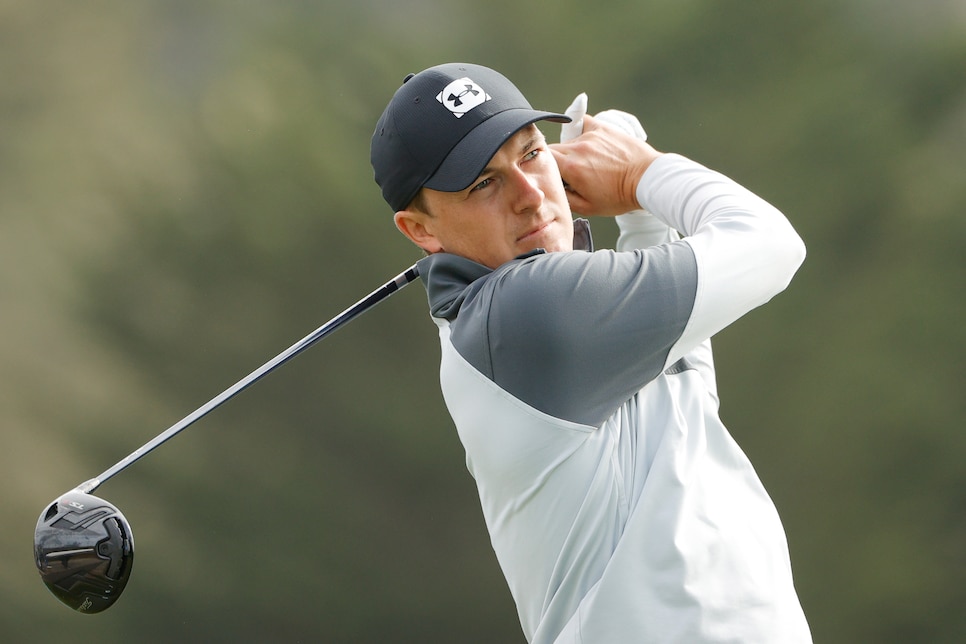 PEBBLE BEACH — Deep in the throes of his slump, which may or may not be over, Jordan Spieth offered a harrowing description of his relationship with golf.
"I almost feel the game is testing me a little bit right now," he said at the 2020 PGA Championship, "because I feel really good about the progress I've been making. And then it seems like I'll really have one brewing, and then where I used to hit a tree and go in the fairway, it'll hit a tree and go off the cart path out-of-bounds."
Any golfer can relate to feeling like nothing can go your way. The Golf Gods kick you when you're down, but they're also a fair-weathered bunch—the guys playing well always seem to get the good bounces.
Jordan Spieth is finally playing well, and the bounces are starting to go his way.
Take the approach he hit into Pebble Beach's par-4 10th on Thursday. A wedge from 113 was right on line, but he was worried it might not carry the false front. Back in August, maybe that ball lands on the upslope and rips back well off the green. Maybe he bungles the up-and-down and makes bogey. This time? One bounce past the hole, zip backwards, into the bottom for an eagle 2.
"Once I saw where it landed, I knew it would be close," Spieth said. "It was a bonus for it to go in, obviously."
Spieth followed up his T-4 in last week's Waste Management Phoenix Open with a seven-under 65 at the AT&T Pebble Beach Pro-Am, an ideal start in his quest to end a three-plus year winless drought. He is three back of leader Patrick Cantlay, who made 10 birdies in shooting a course-record tying 62.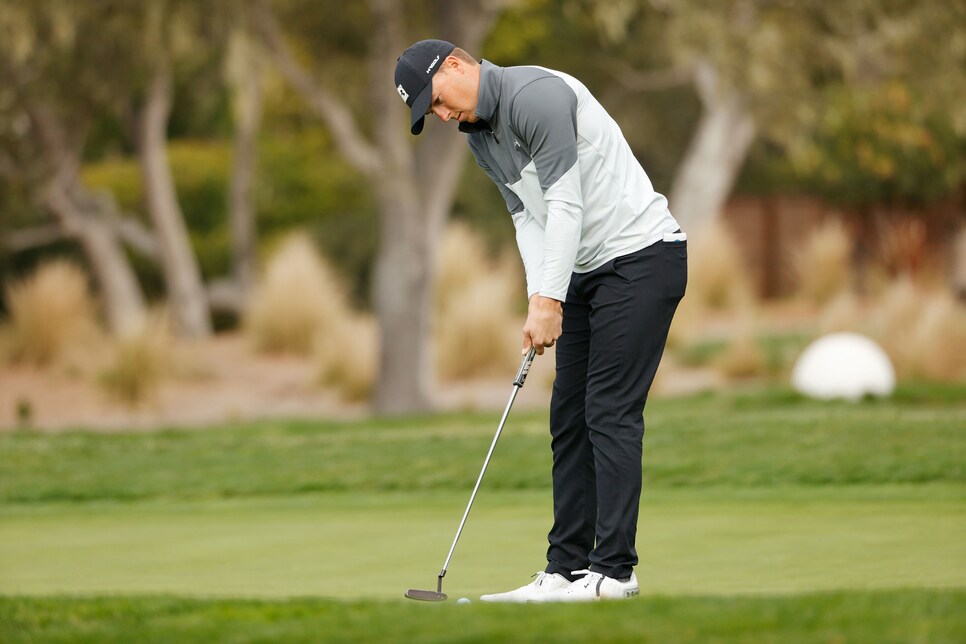 Jordan Spieth putts during the first round of the 2021 AT&T Pebble Beach Pro-Am.
Ezra Shaw
Spieth's week in Phoenix felt a bit unsustainable, ball-striking wise. He did the majority of his damage with a 10-under 61 on Saturday that included a chip-in and multiple 20-plus-footers down the stretch. Particularly encouraging, then, was the manner in which he shot 65 on Thursday, making just under 62 total feet of putts over the 18 holes.
"Maybe the best sign," Spieth said. "Yeah, maybe the best sign of good things to come of any stat. It's also hard to have a lot of feet of putts at Pebble. I mean, you don't really have a long putts because the greens are so small. But I hit a lot of greens in regulation, only really got into trouble on one hole."
And yet, he remains realistic in his expectations. Spieth is relentlessly honest, perhaps even to a fault—despite holding the 54-hole lead last week for the first time since the 2018 Open Championship, he insisted he didn't have his best stuff. He felt he had enough to win, but that he's still a ways off from the feels he had a half-dozen years ago, when he emerged as golf's golden boy.
He knows that one good week does not a comeback make, because he's had plenty of solid weeks throughout the last three years. Since his last win, Spieth has 17 top-10 finishes and even strung together three in a row in the summer of 2019. He also knows that top-10s won't do anything for his legacy, nor is his bank account wanting for anything; he's in the win-or-bust tier. The golf world is desperate for Spieth, one the game's good guys, to win again. And the golf world sees what it wants to see, so any time Spieth tantalizes us with some display of form, the mind races to places it shouldn't.
All that said, you can't help but wonder if this is the week. He's clearly playing better. He's won here before, back in 2017. It's a relatively weak field, with no top-10 player teeing it up. And with no amateurs nor fans on the ground this week, perhaps the subdued atmosphere will play into his hands—there won't be quite the same pressure coming down the back nine on Sunday.
Here's the part where we drop the obligatory, you can't win a tournament on Thursday. Nor can you complete a comeback on Thursday. But all signs, from Spieth and the Golf Gods, suggest something special could be in the cards this weekend.