PGA Tour Takeaways
Tournament favorite Patrick Cantlay did tournament favorite things on Day 1 at Pebble Beach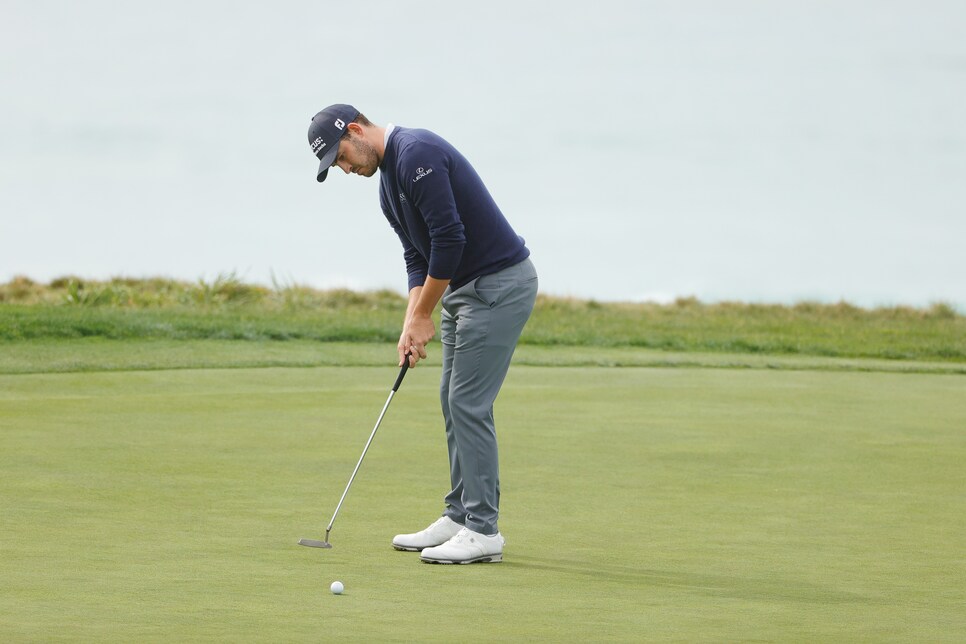 The 2021 AT&T Pebble Beach Pro-Am (or lack thereof) doesn't have the strongest field in tournament history, nor does it have the overall energy that both the fans and celebrities bring to the event each year. But Pebble is still Pebble. For those of us staring out the window and seeing nothing but snow, that's good enough.
Even with a dearth of star power, the handful of top players who did make the trip to the Monterey Peninsula showed up on Thursday. If they show up the next three days, too, this AT&T could end up being a damn good one after all.
Here are four takeaways from Day 1 at Pebble.
Patrick Cantlay is a robot (in a good way)
When pre-tournament favorite Dustin Johnson withdrew on Monday, Patrick Cantlay became the lone favorite at single-digit odds. He showed why he was the favorite on Thursday, shooting a first-round 62 at Pebble, matching the course record. As it often looks, Cantlay played in an almost robotic fashion, the former No. 1 amateur in the world looking to get back inside the Official World Golf Ranking top 10 with another high finish this week. His last three rounds on the PGA Tour read a little something like this: 65-61-62. If not for a sloppy 71 on Friday at The American Express, he likely would have won his second tournament in four starts (he wound up losing by one to Si Woo Kim). Remember his poor stretch between late July and late September, when he … GASP … made five of six cuts, but failed to post a single top-10? That's the standard of consistency he had set for all of 2019 and the first half of 2020, where Cantlay not top-10ing every week was cause for concern. He seems to be back to that level already, which will have the whole world on the Cantlay bandwagon as we inch closer to the Masters (only 60 days away, if you can believe it).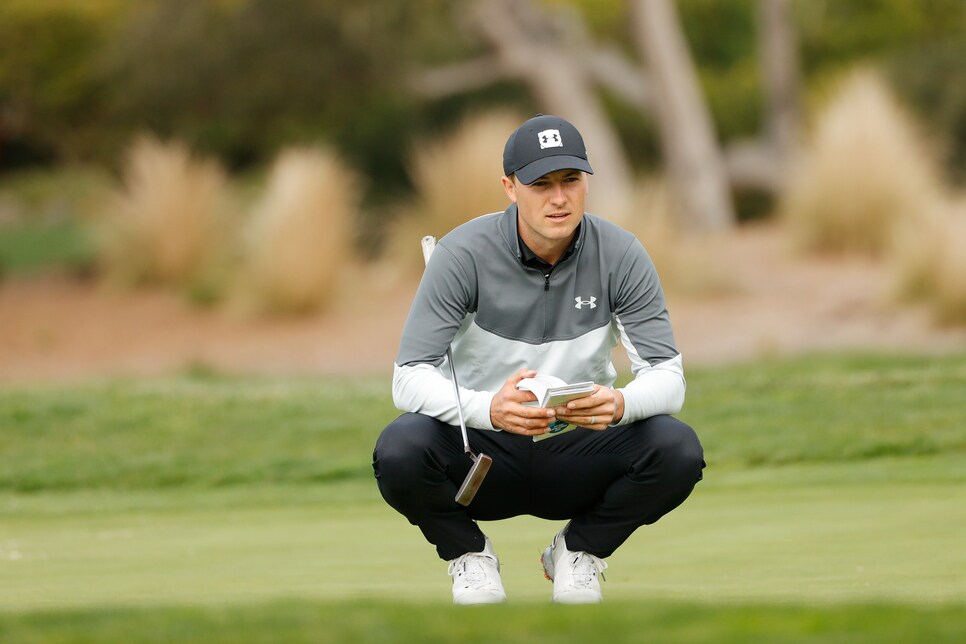 We will not declare Jordan Spieth back. We will not declare Jordan Spieth back. We will n-
After the letdown of all letdown final rounds from Spieth last Sunday at the Waste Management Phoenix Open, it was extremely fair to wonder if Saturday was just a flash of brilliance for the three-time major champion. Hey, he's shown those flashes since 2017 before, and it's amounted to zero wins. Maybe he wasn't back. Maybe he just had a Steph Curry-like day from long range with the putter. Maybe he got some really lucky breaks and was able to term them all into birdies. Maybe we all jumped the gun.
Thursday's first-round 65 at Pebble, which has Spieth just three off the lead, has us thinking that maybe we didn't. Maybe he did really find something last Saturday at TPC Scottsdale, and even though he didn't finish the job off, he gained a ton of confidence from the weekend as a whole. That sure seemed to be the case in his opening round, which included a hole-out for eagle on the par-4 10th, plus six birdies and just one bogey. The approach game was strong again (eighth in the field in strokes-gained/APP), the driving was serviceable, and his putting and around-the-green play was as good as ever. No, we're not declaring him fully back, but this was another huge step in the proverbial "process."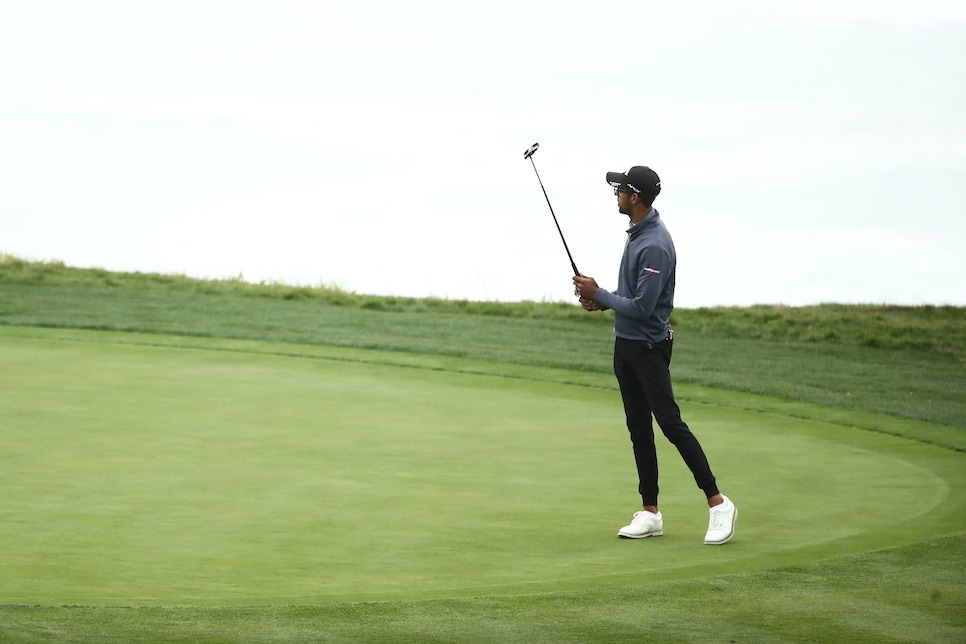 Our Daniel Rapaport, who is on site this week, has the full Akshay Bhatia story from Thursday, but it'd be disrespectful to not tip our cap to this young king here. The 19-year-old (yes, 19) threw up an eight-under 64 at Pebble, giving him a share of T-2 with Henrik Norlander. He gained more than 2.5 strokes on approach, which ranks him third in the field, and gained a silly 3.201 strokes putting. "It's the first time I've ever putted this well," said Bhatia, who switched to a short putter after using the arm-lock technique for "awhile." Most impressively, hit all 18 greens, something that had only been done three times in the last 25 years at Pebble Beach, the last coming in 2008, when Ryan Palmer accomplished the feat. The kid is an S-T-U-D stud, and is quickly becoming a welcome addition to this crop of young stars on tour.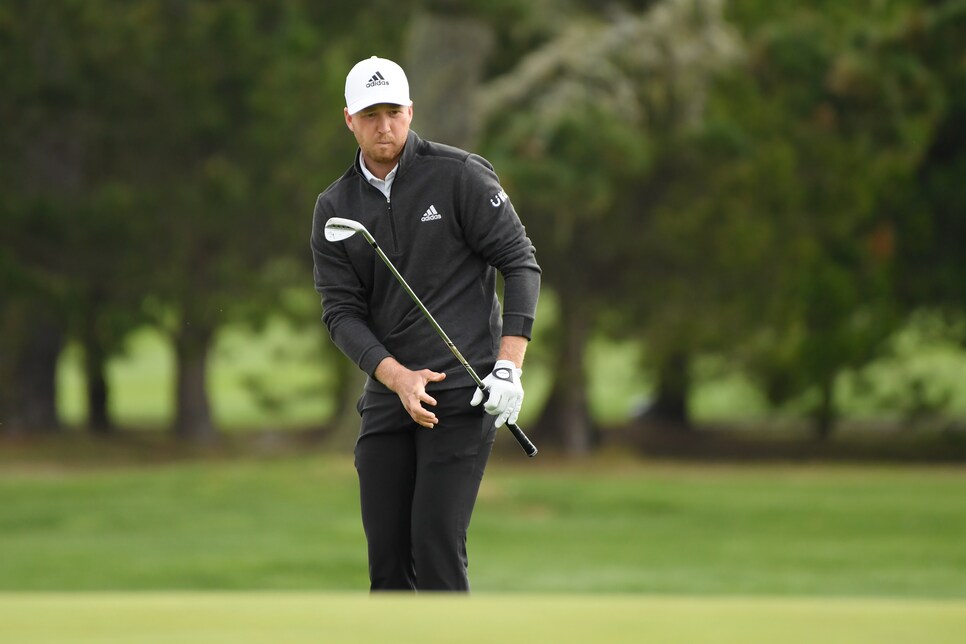 Daniel Berger and Will Gordon should be feeling very good about their chances
At the end of Round 1, Gordon is four back and Berger five back, but they probably both feel like they are right near the top. Why? Well, these two went low at Spyglass Hill, the far more difficult of the two courses players will face this week. Six under and five under there is getting a huge head start, and if they do something similar on Friday at Pebble, one of them could very well end up with the 36-hole lead. One thing working against them, though, is that there are 10-to-20 mph winds in the forecast, so Pebble Beach won't play nearly as easy as it did Friday. But posting a low one on Spyglass is still a win. As it stands, these two are the only players in the top 21 who played Spyglass on Thursday.