PGA Tour
Pebble Beach blues: Why there aren't more top-ranked tour pros playing in this iconic event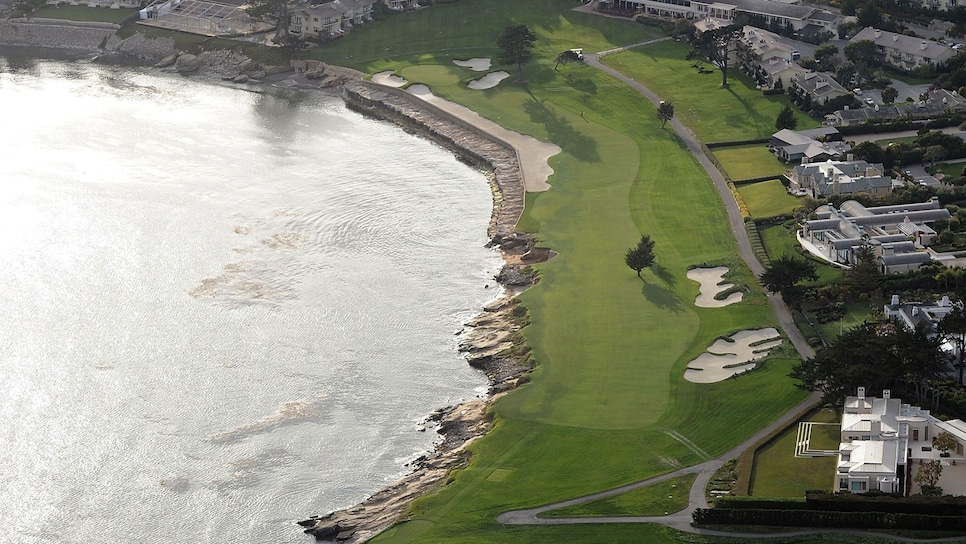 PEBBLE BEACH — COVID-19 has been a headache for each and every PGA Tour event, but some have had it better than others. Take the first tournament after last year's three-month hiatus, the Charles Schwab Challenge at Colonial, which attracted the strongest field in its history with players anxious to return to competition. And last week's Waste Management Phoenix Open saw some semblance of normalcy, with 5,000 fans in attendance making just enough noise to heighten the back-nine drama on Sunday.
This week's AT&T Pebble Beach Pro-Am, however, has drawn the shortest end of the COVID stick. With no amateur competition on tap, no fans on the property, no-nonsense health-and-safety restrictions in California, no sun in the forecast and no let-up in the tour schedule, what is normally a week-long party by the sea has taken on a rather subdued atmosphere.
After Dustin Johnson's withdrawal on Monday night—the World No. 1 cited jetlag after winning the Saudi International more than 8,000 miles away a day earlier—there is not a single golfer in the top 10 of the World Ranking teeing it up at Pebble Beach and Spyglass Hill. (Monterey Peninsula's Shore Course, normally the third—and easiest—course in the rotation, is no longer needed this year given the lack of amateurs.) Patrick Cantlay (No. 11), Daniel Berger (No. 15) and Paul Casey (No. 17) are the only top-20 players in the field, with Jason Day and Will Zalatoris coming in as the only other top-50 golfers. Three of the bigger draws—Phil Mickelson (No. 86), Jordan Spieth (No. 69) and Francesco Molinari (No. 103)—fall outside the top 50.
As a result, just 30 World Ranking points will be awarded to the winner, the same sum as last fall's Sanderson Farms Championship. That's down from the 42 points Nick Taylor got for his win in 2020, 46 for Mickelson in 2019 and 54 for Ted Potter Jr. in 2018. It's a disappointing development for a tournament with a rich history and a who's who of past champions: Tiger Woods, Jack Nicklaus, Sam Snead, Ben Hogan, Byron Nelson and Tom Watson, to name a few.
The reasons, as mentioned previously, are multiple. The amateur portion of the tournament has been an integral part of this event since its inception as the Bing Crosby Pro-Am in 1937, and the opportunity to play three world-class courses alongside the best in the world routinely draws celebrities, athletes and CEOs. Last year's Pro-Am drew NFL legend Peyton Manning, hip-hop star Macklemore, tech billionaire Jerry Yang, finance icon Charles Schwab—and, of course, unofficial tournament mascot Bill Murray.
Sure, some tour pros roll their eyes at the prospect of playing a five-plus-hour round with a 15-handicap, but plenty relish the opportunity to mingle and develop relationships with ultra-successful people in other walks of life.
"It is a change of pace. I feel like the rounds are obviously slower and you can take that as a negative if you want, but I feel like it's easier to relax," Taylor said on Tuesday. "It's easy to get uptight in certain tournaments, especially if you're kind of either playing well or not great. But I enjoy it. [Golf Digest Editor-in-Chief] Jerry Tarde [Taylor's amateur partner in 2020] and I got along great last year. I feel like we have similar personalities, kind of mellow and low key out there, and playing well obviously helps that, but I felt like we just had a good kind of mojo going and got along really well."
In normal years, this week typically doubles as a networking event for golf's power figures, and players frequently make appearances at sponsor events—dinners, or cocktails, or meet-and-greets—throughout the week. With no Pro-Am this week, those obligations disappear, and players who otherwise wouldn't play this event no longer have a fiscal responsibility to do so.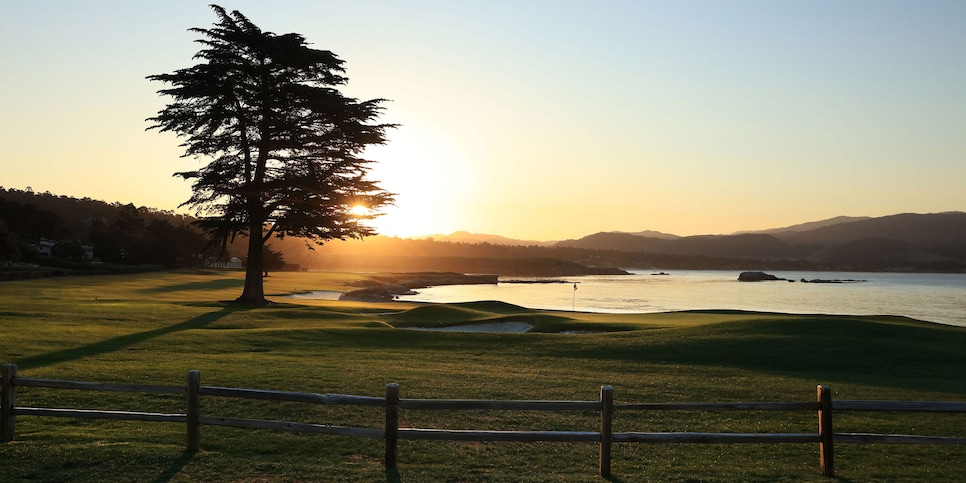 A view from behind the green on the par-5 18th hole.
David Cannon
The overall lack of buzz on the Monterey Peninsula certainly isn't helping matters, either. California, which in recent weeks emerged as a global epicenter of the pandemic, has deemed it necessary to prohibit crowds from any of the tournaments held in the state—January's American Express and the Farmers Insurance Open were played without spectators, as will next week's Genesis Invitational. Players have discussed the difficulty in playing without the interaction from crowds, and many were vocal about how pleased they were to have at least some lining the fairways at TPC Scottsdale last week.
In addition, indoor dining is prohibited in the areas surrounding Pebble Beach, and temperatures drop into the 40s in the evening this time of year. Normally, during Pro-Am week, neighboring restaurants are teeming with golfers and celebrities. This week, the streets are eerily quiet.
Speaking of the weather—if you're in search of the California sunshine from the movies, this ain't your place. At least not in February. It rarely reaches 60 degrees this time of year, and rain is forecasted for each day of competition. It's quite a difference from the desert of Phoenix, the warmth of Southern California and the humidity of the upcoming Florida swing.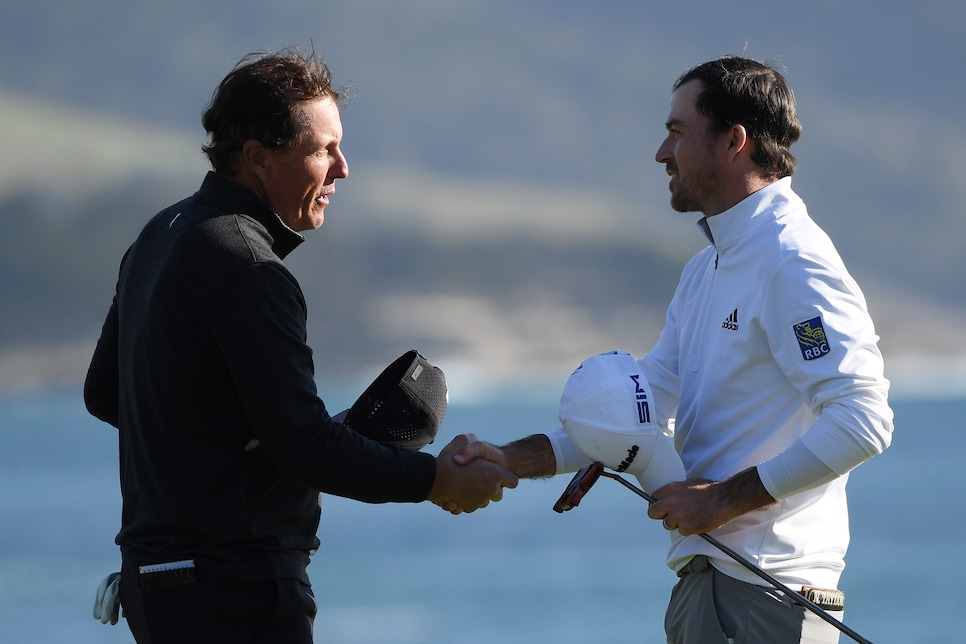 Nick Taylor held off Phil Mickelson to claim the title at Pebble Beach in 2020.
Harry How
"The ball goes shorter, so you can put the same amount of force into the golf ball and it goes shorter," Cantlay said. "Then, it's so cold that it's hard to move your body as fast or as big or make your swing as long. So you're actually putting less force into the golf ball.
"If I'm on the East Coast and it's the summer, I could hit a 7-iron 185 or 190, and I hit 7-iron from 157 today in my practice round at Spyglass. So it's a considerable difference."
But the main culprit for the relatively weak field is the heavily front-loaded PGA Tour schedule. Simply put, there are several popular tournaments close to this one. Two weeks before this event was the Farmers at Torrey Pines, which also happens to be hosting the U.S. Open in June. Ten of the top 20 in the world teed it up just outside San Diego. Next came the WMPO, which has done a terrific job emerging as a fan- and player-favorite event, and thus has drawn increasingly strong fields in recent years. And plenty of U.S.-based players, surely lured by lucrative appearance fees, made the trip to Saudi Arabia last week to play in the European Tour event there. To then hop on a plane for close to a full day, then adjust to an 11-hour time difference, proved too much for the likes of DJ—although 50-year-old Mickelson is indeed doing the cross-world double.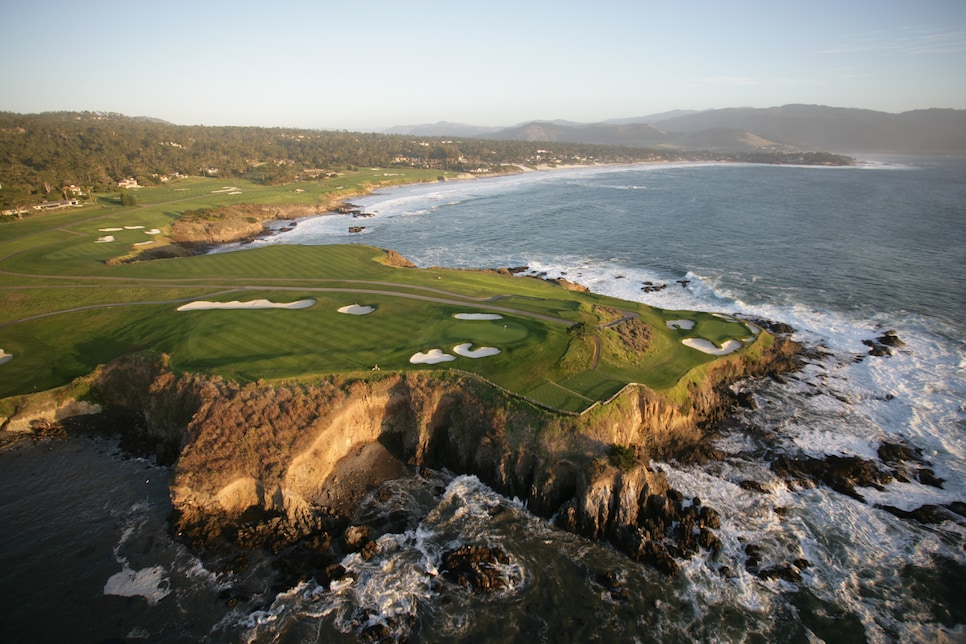 An overhead view of the sixth, seventh and eighth holes at Pebble Beach.
Stephen Szurlej
The tournament after this one is the Genesis Invitational—a prestigious event with additional FedEx Cup points at stake—at a player-favorite course in Riviera, and hosted by Tiger Woods. It is expected to draw the strongest field of any tour event thus far in 2021. After Riviera comes the World Golf Championships event at The Concession Golf Club in Florida, moved from Mexico for 2021 due to the pandemic. WGCs have limited fields, no cut, guaranteed paychecks and huge World Ranking points at stake. Having that event in Florida, where so many tour pros live and kicking off a four-event Florida swing, makes playing in that tournament something of a no-brainer for many of the world's best. Next comes the Arnold Palmer Invitational at Bay Hill, which has the same status as the Genesis, and then the Players Championship.
"Those are four big tournaments in a row, and you just can't play all of them," Cantlay said. "So for me, I decided to play here and I'm not going to play Bay Hill, so it worked in my schedule for that reason. But if I was going to pay Bay Hill, it probably wouldn't make sense for me to play here."
As Cantlay alluded to, it is highly unusual for a player to play more than four events in a row as athletes place greater emphasis on rest and recovery. And in the jam-packed stretch from the Farmers through the Players, for tour pros with the privilege of hand-picking their schedules, an amateur-less Pebble Beach Pro-Am becomes optional.