voices
Diary of a Jordan Spieth fan: So much hope, too much reality in final round of Phoenix Open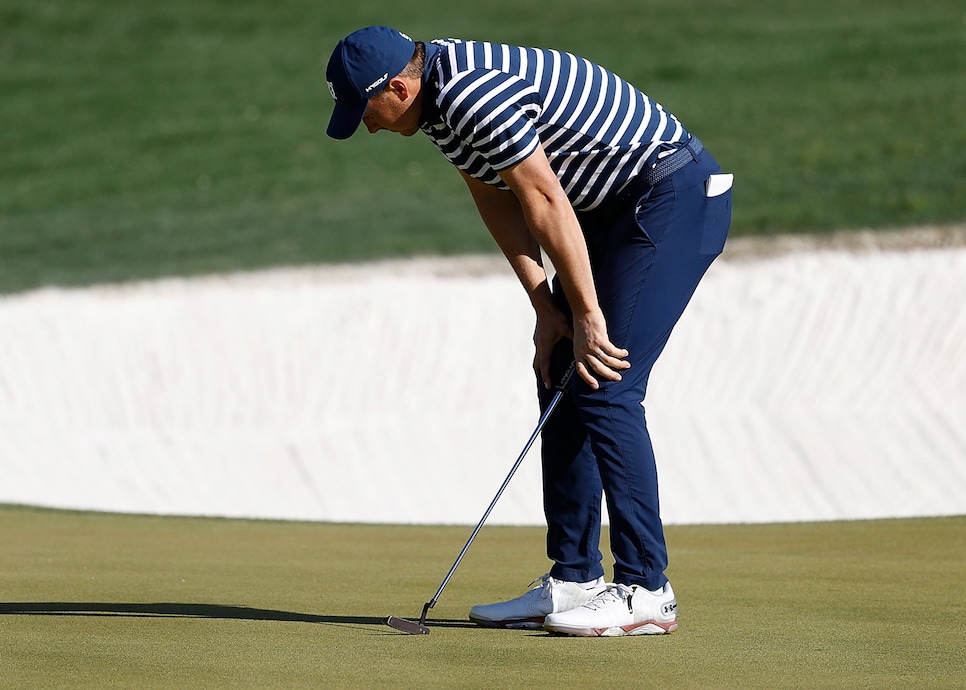 Photo By: Christian Petersen
The "My God, Jordan Spieth's in contention!" Sunday diary (blow by brutal blow)
1:00 p.m.: Hello. Deep breaths. Count to 10.
If you told me last week that Jordan Spieth would be tied for the lead heading into the final round of the Waste Management Phoenix Open, I'd have raised an eyebrow, maybe, but whatever I felt at the idea of it couldn't compare to the imminent reality. He's ranked 92nd in the world, he hasn't won since 2017, and yet he's about to walk among the saguaros with an honest-to-god chance to win. I am beside myself. The fact that he lit up the desert with a Saturday 61 makes it all the more compelling; all the fits and starts of the past four years might actually be paying off. I've been writing in the Spieth-on-the-verge genre for years now, which gives me something in common with literally every other golf writer on the planet, but now we might actually be on the longed-for brink.
The only way for me to handle this is to write this live diary, to be consumed by the masses in all its flaws and hysteria after the round is done, because otherwise I'll get kicked off Twitter for tweeting 900 times in the first hour. As fate has it, Spieth will be paired with two guys who are also extremely eager to win. Xander Schauffele hasn't rung the bell in more than two years, despite a slew of high finishes, and Scottie Scheffler is the reigning rookie of the year looking for his maiden PGA Tour win. Let's do this.
1:20: Here. We. GO! Blue pants, striped blue and white shirt, co-leading for the first time in god knows when, with a chance for his first win since the 2017 Open Championship. This is invigorating.
The opening shot? Less invigorating. "It just needs to avoid the cart path," says Jim "Bones" Mackay on the mic, and, uh, it did not avoid the cart path. "That is a bad place to be," comes the follow-up, and we're off to the races. Please don't let this be an omen, golf gods.
1:27: We have our first rattlesnake scaremongering of the day, even though they aren't awake in the winter, but Spieth has problems of his own in a bush. He manages to poke it out and get it greenside, which is a very good result from an ugly position. Still, I'm getting 2014 Masters vibes, where he was all over the place for nine holes but managed to keep it together until collapsing to Bubba Watson on the back. This thought came to me seven minutes into the round. I may be a little over-excited.
1:33: Oof, rough third shot that races well past the hole. It feels like starting this shindig with a bogey would be a downer, but that's where we are as the putt dies to the right. He looks a little frustrated early.
We have an interesting situation early that feels like Schauffele and Spieth have the initiative—at least by the scoreboard—and if they put together a strong front and get to 20 under or so, it could quickly become a two-man affair. At the same time, Spieth proved Saturday how gettable this course can be, so if there's any faltering, there are about 20 guys who could seize the moment and at least get close to a win.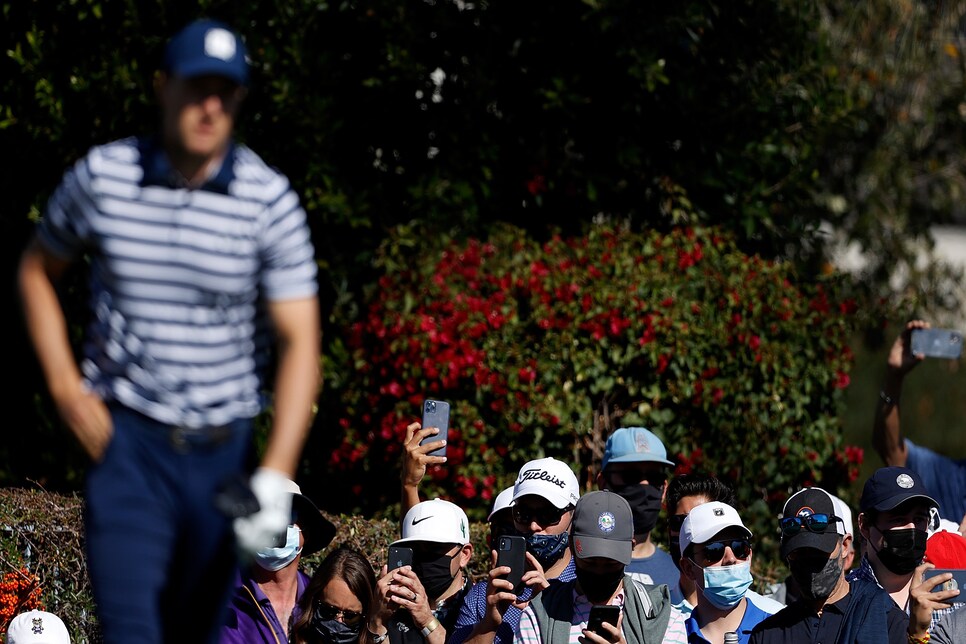 Fans watch as Jordan Spieth leaves the second tee during the final round of the Waste Management Phoenix Open.
Christian Petersen
1:38: FIRST DRIVER OF THE DAY IS A BEAUT! FIRST DRIVER OF THE DAY IS A BEAUT! FIRST DRIVER OF THE DAY IS A BEAUT! FIRST DRIVER—
Sorry, I blacked out. Did I say something? Was it embarrassing? Did I humiliate myself? Why am I sweating?
1:43: I decided to have a beer, but because I have two young children and no time to drink, there is no beer in the house and probably hasn't been in months. However, my mother-in-law is in town and I bought her some pinot grigio, so now I'm drinking a glass of pinot grigio. Not sure why I'm admitting this to you.
1:45: More and more, you see pro golfers who look convincingly like a pro in another, more physical sport, but I think Scheffler belongs in the upper echelon. If you saw him at a bar, and somebody told you he was an NFL quarterback, you'd believe them. For me, it's him, DJ and Tony Finau. And I guess Bryson now.
1:50: After a good approach, Spieth takes a timid line for the second hole in a row, and it never really had a chance. He's righted the ship with a par, but already you can see the field creeping up on him and Schauffele. For those two, it's like being in a breakaway of a bike race, but with the nagging feeling that they made their move way too early, and at any moment they'll look over their shoulder and see the peloton bearing down. A 69/70-type score just won't cut it today.
1:55: Spieth's in the left bunker on the par-3 third, a hole he's birdied twice and eagled once so far this week. Meanwhile, K.H. Lee, James Hahn, and Oosthuizen are all a shot back of him at 16 under. I promised myself I wouldn't panic in the first hour today, but if he doesn't scramble for a birdie here, I'll probably do something rash like call the fire department.
Update: He has a miserable lie, so even luck is against him early.
2:11: Scheffler has his first birdie after coming very close on the first two holes, but it's another par for Spieth. Meanwhile, they just cut to Matt Kuchar on 18 just to show him hit into the water. Feels sadistic, and I'm OK with that.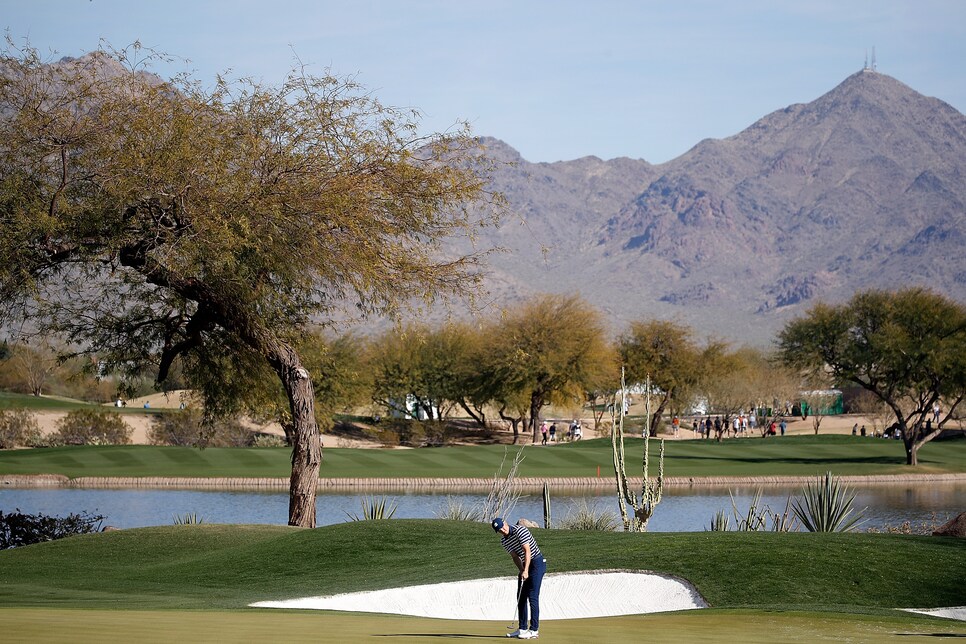 Jordan Spieth putts on the 12th hole during the final round of the Waste Management Phoenix Open.
Christian Petersen
2:13: Since Spieth is playing with Scheffler and Schauffele, I'm listening intently for the announcers to accidentally say "Schpieth." They've passed the test so far, but I'm on them like a hawk.
2:19: The only good news for Spieth is that Schauffele is running in place after four holes. Otherwise, it's a lot of mediocrity so far, including his first really aggressive putt of the day on No. 4 for birdie, which runs by and leaves him a trickier par putt than he wanted. He makes it to stay in solo second, but it doesn't feel like he's solo second.
2:26: Brief candy review: Sour Patch Kids Valentine's Day Conversation Hearts—they go fine with pinot grigio.
2:30: After a monster 336-yard drive on 5, Spieth's approach is average, but off the club it looked worse than average. Schauffele's own approach after an even better drive is worse, and right now these guys are just begging somebody to take the tournament from them. That said, we're not seeing any huge moves right now. It's early but not that early, and there seems to be a concrete ceiling at 16 under for the rest of the field. It's given the two leaders a little forgiveness for stumbling out of the gate, and they really, really needed it. With a surge by someone like Oosthuizen/Thomas/Koepka, the balloon might have been popped very early.
2:36: As Spieth comes up short on another long birdie putt, I find myself thinking how you'd describe being a Spieth fan these last four years in terms of a romantic relationship. Being a Rory fan is like constantly thinking it's going to work out, but nothing is never quite as perfect as it felt at the start, and you're starting to think it never will be. Rooting for Finau is like adoring the person you're with, but every time you bring them out in public they get really nervous and make things awkward. But Spieth? Spieth is like meeting the love of your life, and then after two years that person completely ghosts you with no explanation, but you still see them in a grocery-store parking lot once a year for a painful reminder of what you've lost.
2:47: Project "Pace Myself" is going poorly. We're already at 1,200 words through six holes, so with Spieth on track for another par and the field holding steady, I'm going to show some discipline and, uh, not work for a few minutes. I think the paragraph above proves I need a break anyway.
2:51: OK, I have to return quickly to say this: Spieth is once again tied for the lead, but it's only because Schauffele is at the start of what feels like a tailspin.
3:13: The concrete ceiling at 16 under has shattered, and the first man through the breach is James Hahn. Someone was bound to get hot in the chase pack, and he's the man right now. With two birdies to close the front nine, he's five under on the day and—here's the very sad part—Spieth and Schauffele each bogeyed seven, so they went from extremely tenuous co-leaders to trailing by two. This one's far from over, at least re: Hahn, but you have to at least wonder if it's over for Spieth. The demons are feeling a little too front-and-center at the moment. Hopefully everyone laughs at me for this prediction later …
3:19: Just realized Hahn is paired with Stricker today. If I were him, I'd be in Stricker's ear for the entire back nine, going, "if I win, can I get a captain's pick?" Stricker is so nice that I think he'd eventually say yes.
3:26: OK, maybe it's over re: Hahn too. He just made birdie on 10 and now leads by three, with very little sign that anybody's coming to get him. I already feel like 19 under, his current score, would win. Not comfortably, and my confidence is only around 62 percent, but anyway, he's one more birdie max from being in the "only a collapse can take this away from him" zone. For what it's worth, Hahn hasn't won since 2016.
3:31: Just going to throw this out there: Justin Leonard looks how I imagine F. Scott Fitzgerald thought Jay Gatsby looked.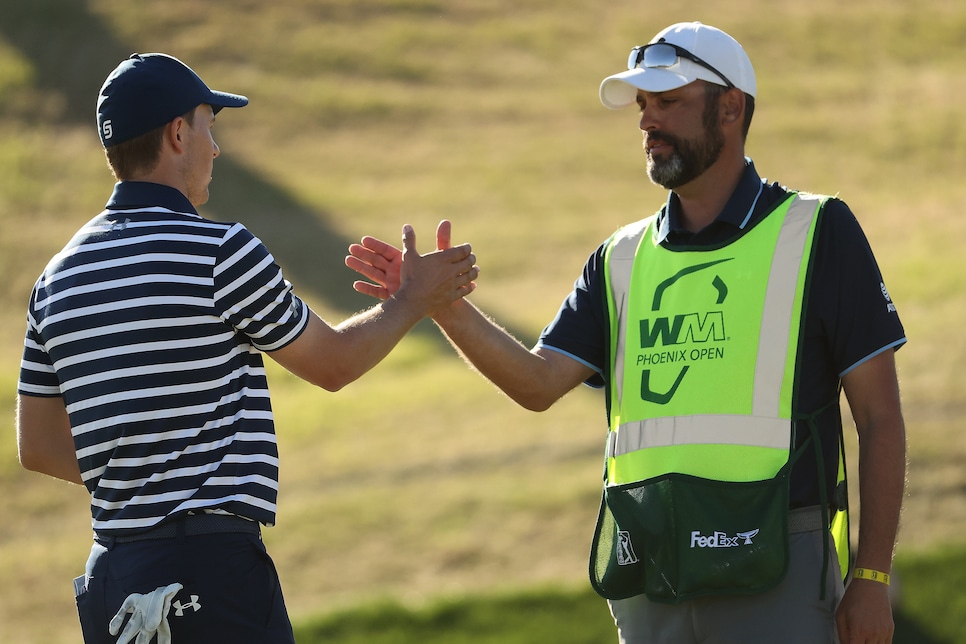 Jordan Spieth shakes hands with this caddie, Michael Greller, after his final putt in the final round of the Waste Management Phoenix Open.
abbie parr
3:38: Just an agonizing birdie miss for Spieth to end the front nine, but there's a glimmer of hope for him still as Hahn barely avoided the water at 11 and will almost certainly make bogey (at best).
3:46: The phrase "gross display" was just used in reference to Spieth and Schauffele on the broadcast, and harsh as it may sound, it's kindaaa hard to disagree.
3:54: THAT SAID, Hahn did indeed bogey 10, looks to be in more trouble on 11, and Spieth is still just two shots off the lead. He and Xander make another par on 10, and Hahn's par putt . . . goes down. That's a huge one, because it looked before that like he was coming down with a serious case of leader board gravity.
4:01: On one hand, this is not going at all like Spieth fans would have drawn it up, but on the other the sloppiness is kind of fun, and it's kind of a miracle—I write this as his tee shot on 11 flies into the dreaded native area—that he still has a shot at all. Who's to say he won't make a late run? The clock has struck four, and this is still worth watching. Could be worse!
4:05: When I called this "sloppy," I swear to you it was before Hahn just rocketed his second shot on 13 into the hill in front of him. That's followed quickly by Spieth hitting a rescue shot into the rough. This is getting hilarious.
4:09: For any historians reading this, I have to emphasize that I'm not joking: Hahn just got poked by a cactus. I don't even know what to think anymore. (Huge kudos to David Feherty for distinguishing between the jumping cholla and prickly bear. That's the kind of cactus expertise we need.) He's going to bogey again.
Unfortunately, Spieth just can't buy a putt. Another bogey on 11 and even for someone who really wants to believe—pardon me if I sound like Steve Kornacki for a moment—it's hard to see his path to victory.
4:16: A good metaphor for the day: Spieth is now losing to his lookalike, Carlos Ortiz.
4:21: Spieth just lipped out a 65-footer, proving that absolutely nothing about this day makes sense. We're two-thirds of the way through, and it's pure chaos. As if to punctuate the point, Feherty just said that watching Steph Curry is like "watching a dolphin play basketball." I can't begin to speculate what that means, and I refuse to try.
4:27: I'm not the first person to say this, but Ortiz is genuinely indistinguishable from Spieth when he's wearing a hat. Also, he might win—he just stuck his approach on 18 and will finish at 17 under, co-leader with Hahn and Schauffele. (I'm old enough to remember when I thought 19 under would win this thing.)
4:42: I have resisted saying his name until now, afraid that if I speak it he would be invoke, but I'm here to tell you that Brooks Koepka is officially IN THE MIX. As in, he just left himself an eagle putt that would take him to 18 under, and we have an honest-to-goodness situation on our hands.
4:43: So much is happening. Hahn? In the water on 15. Spieth? Birdie to reach 16 under. Schauffele? Failed to go up and down to take the outright lead, sitting at 17 under still. Feherty? Used the term "blunder-fest," which makes me hope he caught the chess bug after watching "The Queen's Gambit" just like the rest of America.
4:48: Koepka's eagle putt on 15 sails shockingly wide, but he makes the birdie. In hindsight, this tournament was obviously screaming for someone like him to execute a hostile takeover, but even thoughit feels appropriate, there are still just three holes left for him, and one mistake means lights out. Chaos still has a grip on this narrative.
4:54: It's a shame we have a scaled-down stadium at 16, because based on what's happened so far today, I absolutely believe that in a COVID-free year, we'd see a naked drunk fall out of the stands on top of a player.
4:55: Barely have the energy say this: Stricker could still win.
4:59: (Gasping for air) Spieth ... 14 ... birdie ... putt ... weak ... short ...
5:01: And just like that, he follows up another poor putt by driving into the water at 15. Ooof.
5:17: I'm losing steam here, but it is my duty to report that after a very good tee shot at the circus hole, Spieth missed another birdie chance. We're officially in disaster mode, and at this point it's starting to feel gratuitous. And by the way, Koepka pitched in for eagle on 17 to take a two-shot lead. At this point, the standard bearer should just follow him with a giant neon sign that says "ALPHA."
5:30: Anddddd more water on 17 for Spieth. "How does that go in the water?!" he says, incredulously. Arguably, he didn't deserve that one, but the ball kept rolling and rolling and rolling. Miraculously, he still makes par, just like he did after getting wet on 15. But par isn't good enough, and with Koepka in at 19 under, we can officially call this one over.
5:39: Call it a controversial move, but at 5:39 p.m. I'm calling an end to the live blog. As far as Spieth goes, the dream is most definitely over, and I'd rather come to terms with that immediately—rip the ol' band-aid off—than drag this out for another painful hour.
This is the point at which I should try to draw profound conclusions, but the truth is that aside from the comedy that showed its grotesque face here and there—for the whole field, mind you—this was a sad day for Spieth. It's definitely a good sign that he shot a 61 on Saturday, but we'd be fooling ourselves if we said that the final round was anything but negative. It reinforces the idea that he's not quite ready to handle the pressure the way he once could, and while his game may be resurrected, there's a still perilous bridge to cross between that and actually winning. He's not there yet, and while his diehards would like to believe this is a step in the right direction, it's just as easy to argue that the failure could set him back psychologically. We won't know until the next time, and that's the ultimate takeaway here: something new, but also more of the same. A great big shoulder shrug, again.