AT&T Pebble Beach
Former junior phenom Akshay Bhatia, still just 19, is starting to feel like he belongs as a pro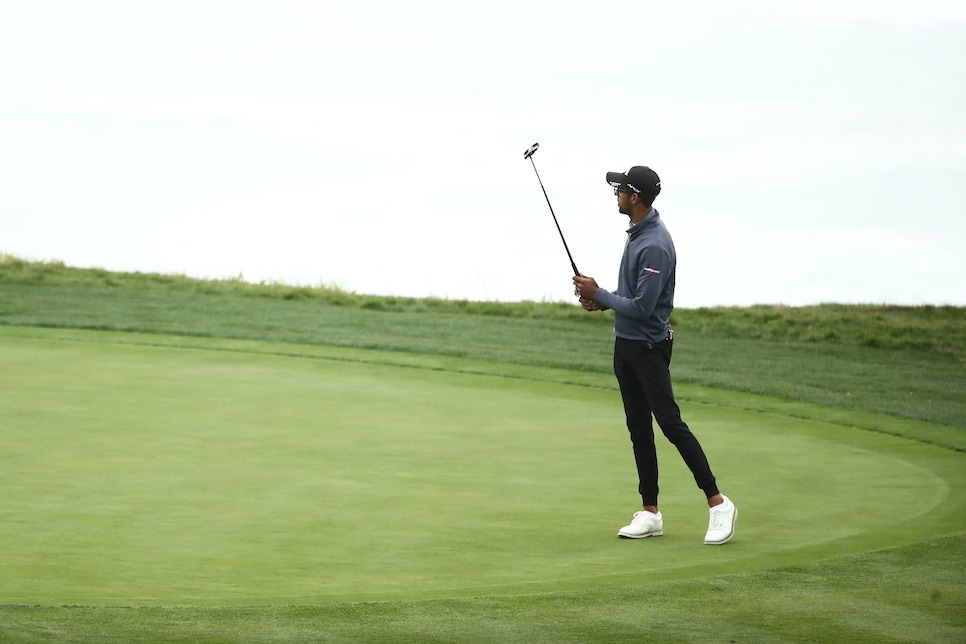 Akshay Bhatia putts on the ninth green during the first round of the 2021 AT&T Pebble Beach Pro-Am. He shot a 64 after hitting all 18 greens on the day.
Ezra Shaw
PEBBLE BEACH — One does not simply hit all 18 greens at Pebble Beach. They are the smallest putting surfaces on the PGA Tour, and a full seven of them are completely exposed to wind whipping off Stillwater Cove. No one has done it in the AT&T Pebble Beach Pro-Am since the last year of the George W. Bush Administration. Again, just not something that you do.
But Akshay Bhatia does not remember the Bush administration, nor is he burdened by age-old axioms about golf courses he's never competed at as a professional before.
The 19-year-old did indeed hit all 18 of 18 greens at Pebble on Thursday, a remarkable ball-striking display that saw him post eight-under 64, the lowest round of his nascent professional career and two back of leader Patrick Cantlay. He's also the youngest player to shoot 64 or lower on the PGA Tour since Joaquin Niemann did it at the 2019 Greenbrier Classic. And he's the first player to go 18-for-18 in greens hit at Pebble since Ryan Palmer in 2008.
Now that is how you make the most of a sponsor's exemption.
"It was a good day" Bhatia said. "I hit a good amount of fairways and that's relatively easy to do out here just because it's pretty wide. And, yeah, 18 greens gave me a lot of good looks today."
Bhatia is playing in just his 11th PGA Tour event after he spurned college golf to turn professional as a 17-year-old shortly after the 2019 Walker Cup. It was a controversial choice, as virtually every great American player spent at least some time on a college campus—Jordan Spieth played a year-plus at Texas, Justin Thomas did two at Alabama, Matt Wolff did two at Oklahoma State, Collin Morikawa stayed a full four at Cal-Berkeley. And despite a decorated junior career that saw him emerge as the consensus top junior in the country, many felt Bhatia would be well-served by the increasingly competitive college game.
His results last year seemed to support the conclusion that he had made the jump a tad too early. He missed the cut in all six of his starts in the 2019-20 season and had middling success on the mini tours. Last August, however, proved to be something of a turning point—he won his first professional event, a modest two-day event on the Swing Thought Tour. But winning is still winning, and on the heels of that victory, he picked up his first top-10 on the PGA Tour, a T-9 at the Safeway Open last fall that netted him $166,650.
"I just gained a lot of confidence playing mini-tour events. I won my first one and that was a huge stepping stone for me. Then I made my first cut, finished top-10, which was great. Just doing that over the course of a year was really big for me, and I just know that I'm progressing every time I'm teeing it up."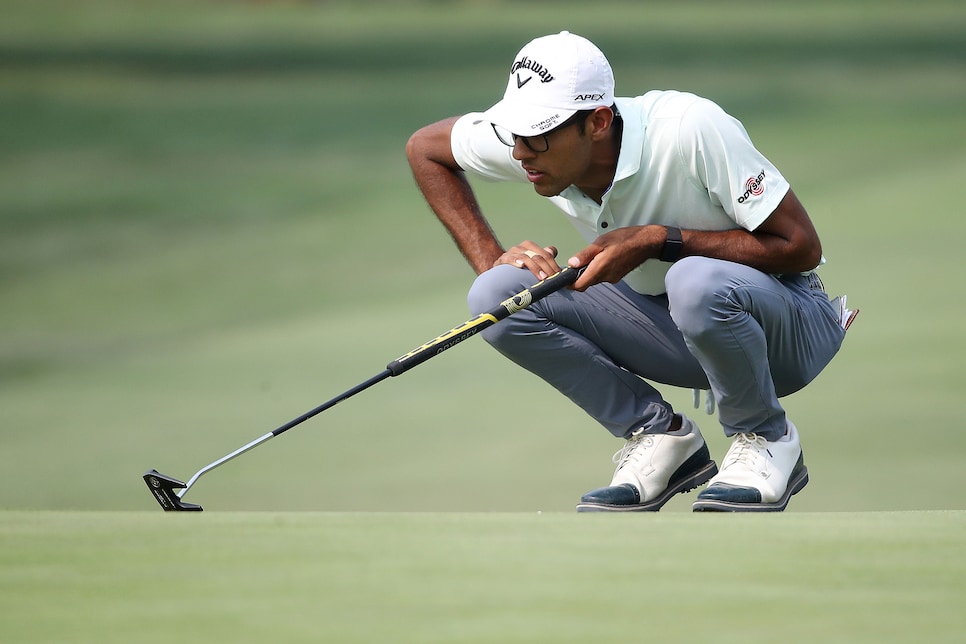 Bhatia says a victory in a mini-tour start last summer and his first top-10 in a PGA Tour event last fall helped him feel more comfortable as a pro.
Sean M. Haffey
Some teenagers have bodies like a 28-year-old; Bhatia is not one of them. He was, and is, breathtakingly thin, listed at 6 feet, 130 pounds. The golf ball, however, has no idea who hit it, and Bhatia's long arms and powerful move allow the lefty to fly it 300-plus yards with driver. He is coached by Chase Duncan and speed guru George Gankas, who also coaches Wolff, and Gankas has been steadfast in his belief that Bhatia will become one of the best players in the world.
He certainly played like one Thursday. Beginning on the more difficult back nine, birdied his first hole of the day and added two more on 14 and 18 to make the turn in three-under 33. On windless days at Pebble, you absolutely have to take advantage of holes 1-7 if you're going to keep pace with the leaders. Bhatia did exactly that, birdieing Nos. 2, 3 6 and 7 to get to seven under for the day. The shot of the day came at the treacherous par-4 eighth, where he launched a gorgeous long iron that trickled out to within three feet.
Asked about that shot, he and gave an answer only a teenager could: "Honestly, I was peeling and orange and it was so bad that I was just thinking about the orange and my caddie goes, 'OK, we got 207.' I said, "OK, I got to go.' And I don't know, just kind of a hit-and-see kind of thing."