News
It's a confusing time to be a young pro golfer. Just ask Akshay Bhatia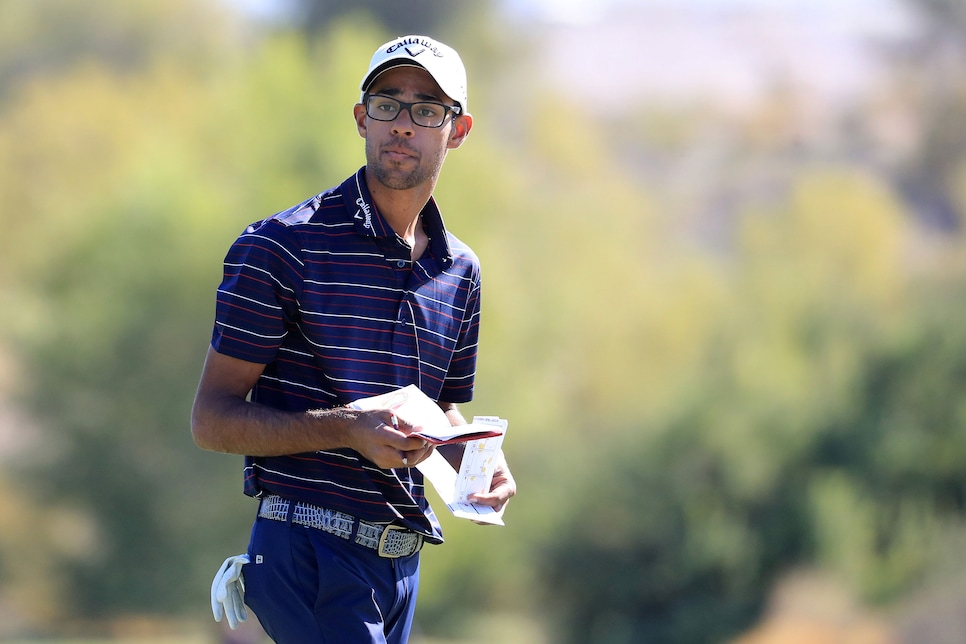 MIAMI — It was late January and Akshay Bhatia, the former top-ranked junior who skipped college to turn pro last fall at age 17, was cruising the friendly skies in Phil Mickelson's $40 million Gulfstream V, the two lefties on their way to the European Tour's Saudi International. Bhatia, whose agent is from the same firm that represents Mickelson (explaining the lift), missed the cut with a pair of two-over 72s, while Mickelson tied for third. But it was the stories from the sojourn and nightly dinners that the gangly teen with the trendy big-rimmed glasses remembers most.
Among the printable ones was the time Mickelson was playing in a college tournament for Arizona State, trailing a teammate by one coming to the last hole, and hit a banana cut driver out of a fairway bunker, over water, to set up eagle and a one-shot win. There was also the one when Lefty hit through the trees and skipped a shot across the water on his way to winning the Tucson Open as an amateur in 1991.
"Twenty hours in a plane with Phil Mickelson was frickin' sick," Bhatia says. "The shots he's able to pull off or even think about are extraordinary."
So, too, are Bhatia's abilities. At 6-feet tall and a buck-thirty, he's got only a few pounds on Gisele Bundchen and is more Gumby than Brooks Koepka. And yet his long limbs and rubber-band elasticity allows him to generate a swing speed teetering on 125 mph (the high 120s is among the fastest on the PGA Tour). His ball-striking is also attention-getting. "I've never seen someone hit the ball as well as he does, and I've seen a lot," says swing coach George Gankas, who has worked with Bhatia since he was 13 and counts another hyper-talented and unique young star, Matthew Wolff, among his pupils. "He's got a gift. His work ethic is also off the charts, and he loves the game."
Both traits are handy these days.
Before the COVID-19 pandemic shut down most of the world, including professional golf, Bhatia, who turned 18 at the end of January, was a phenom trying to scrap his way onto the PGA Tour. Using the first of seven sponsor's exemptions in his pro debut at the Sanderson Farms Championship last September, he missed the cut. He did the same in each of his next four PGA Tour starts, too, with a T-42 in a Korn Ferry Tour event sandwiched in between, before jetting halfway across the world with Lefty.
In March, Bhatia finished in the top 40 of qualifying for Canada's Mackenzie Tour to earn conditional status, but the start of that circuit's season was postponed and a restart date has yet to be announced. He also was scheduled to play in the Hero Indian Open in March on a sponsor's invite before the European Tour nixed that tournament.
All of which explains why Bhatia, along with his girlfriend and his 22-year-old sister, made the 820-mile drive last late last week from his parents' home in Wake Forest, N.C.—with a stop in Sea Island, Ga., for a round of golf along the way—to Melreese Country Club in Miami for a 36-hole tournament Monday and Tuesday on the Minor League Golf Tour. The method of transport wasn't as glamorous as it was heading to the Middle East (Bhatia's white Acura MDX SUV), the accommodations not as plush (Holiday Inn) and the purse nowhere near as rich ($11,200) but none of that seemed to matter.
"I love traveling, especially to Florida," said Bhatia, who got to Miami on Saturday and spent most nights holed up at the hotel, Netflixing "Outer Banks" as most of the magic city, including its beaches, are still shut down because of coronavirus. "Anytime I'm able to come down here, it's a blessing."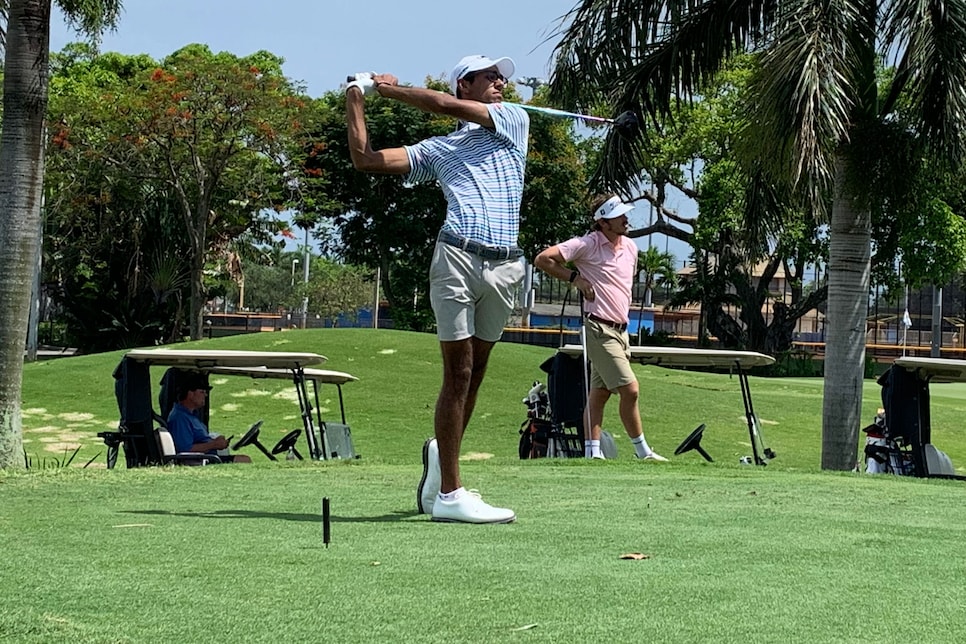 Bhatia competed this week in his first tournament since trying to Monday qualify for the Honda Classic in March, finishing fourth in a 36-hole event on the Minor League Golf Tour in Miami.
Unfortunately, the trip didn't have a happy ending. On Monday, in his first competitive round since failing to Monday qualify for the Honda Classic in March, Bhatia shot a bogey-free five-under 66 (see photo above) that included three birdies over his final nine holes to jump into the lead. But he couldn't keep it up in Tuesday's second round, shooting a three-over 74 to finish four shots back of former PGA Tour pro Brad Adamonis in fourth place, earning $915.
The field at Melreese was small (46 players) and nowhere near the quality of a PGA Tour event, but it did include some recognizable names, among them 2014 U.S. Open runner-up and hometown favorite Erik Compton, tour veteran Gonzalo Fernandez-Castano, as well as a handful of Korn Ferry Tour players.
The venue was no pushover, either. A classic South Florida course, five lakes snake through the property and water comes into play on half the holes of the Dick Wilson design, which is also dotted with live oaks and tall palm trees. The site of Monday qualifying for the Puerto Rico Open earlier this year and previously home to PGA Tour Latinoamerica's season-ending championship, its fairways are tight, greens large and undulating and the property breezy and noisy as it sits next to a major highway and is adjacent one of the world's busiest airports. But it's also a ball-striker's paradise—Compton and Cristie Kerr honed their skills as kids at the 'Reese and still play it regularly—and Bhatia is unmistakably a high-level ball-striker.
That much was evident throughout his junior career, during which he won the 2017 Junior PGA Championship at 22 under before successfully defending his title a year later, won the 2018 Dustin Johnson World Junior and the Jones Cup the following year. He also took home two silver medals at the 2018 Summer Youth Olympics, in the boys individual and in the mixed team event partnering with Lucy Li, and finished runner-up at that year's U.S. Junior Amateur.
Home-schooled and without much interest (or the academics) for college, Bhatia eschewed the traditional route and turned pro in 2019 just after becoming the first high schooler to make the U.S. Walker Cup team (see photos below). Then there was the time he played Mickelson to a draw in a recent round at Phil's home club in Rancho Santa Fe, Calif. He hasn't looked back, despite his early struggles.
"I never doubted it," Bhatia says of the decision. "I know my game is certainly good enough to play with a lot of guys [on Tour]. It's just being comfortable in certain situations and allowing myself to not play well and not care. I cared so much about playing well that it was hard for me sometimes. But seeing Wolff and Collin Morikawa [do well]—those guys were top five players in the world [as amateurs], so was I.
"A lot of people are gonna hate on my decision. But in the long run, this is my college."
It helps, too, when your professors are Mickelson and Wolff, along with Harris English and Patton Kizzire, among many other tour players who have been outgoing toward Bhatia.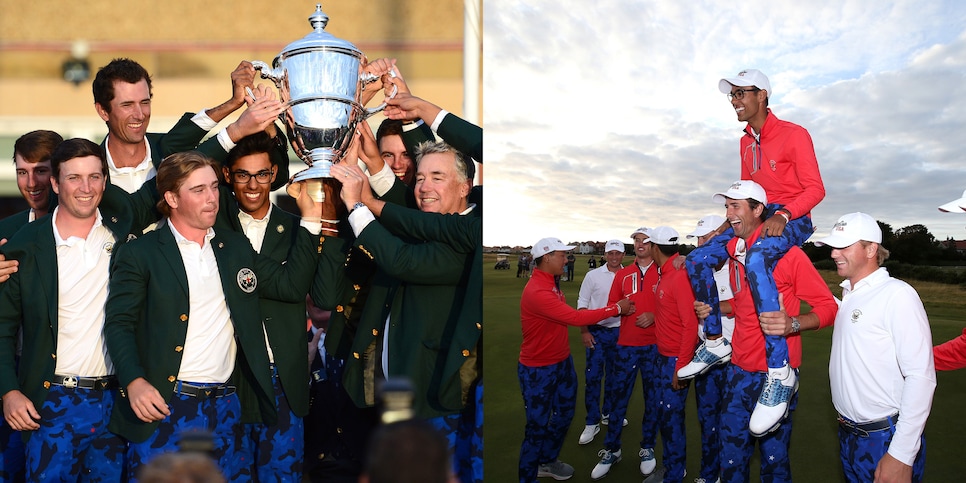 Bhatia capped his amateur career by becoming the first high schooler to make the U.S. Walker Cup team, helping the Americans win last September at Royal Liverpool.
The time off because of the pandemic has been helpful, in as much as it gave Bhatia time to iron out some kinks in his game. He is, after all, still just 18.
With golf courses in North Carolina staying open throughout, the teen spent the last two months dialing in his backswing and downswing with his local coach, Chase Duncan. Habitually, his club face would come open during the latter, and he'd have to rely on his hands and timing. Now, says Gankas, who still works with him from afar, Bhatia's downward move features a more forward lean from the handle and a lead arm that doesn't get trapped behind him as much. That's led to increased distance and instead of bleeder cuts that flared out to the left Bhatia is now blasting his 7-iron 195 yards and with more consistency, too.
"His speed didn't change, the dynamic loft did," Gankas said. "[The changes] were something that had to happen in an offseason. They couldn't happen while he was trying to play tournaments."
Bhatia also recently began working with a mental coach, who reminded him that it was OK to fail early. "It's going to be a process," Bhatia says. "That's how golf is."
With two PGA Tour exemptions still remaining and professional golf slowly returning, Bhatia is hopeful he'll be able to use one of them in his home state at the Wyndham Championship in August. There are other possibilities, too, in the truncated PGA Tour schedule, as well as another Korn Ferry Tour event or two and, of course, the Mackenzie Tour should it resume its season.
That said, Bhatia's future is a far more uncertain than it was only a few months ago. Whereas before he would have been satsified trying to Monday qualify into PGA Tour events, the number of spots available from these is dropping from four to two for the rest of the season. And with this fall's Korn Ferry Tour Qualifying School already canceled, improving his status in the pro ranks for 2021 has become exponentially more difficult.
Even so, wherever the road leads, Bhatia is happy to be on it. And happy to be playing in a tournament again.
"I'm a professional golfer playing in a professional event this week," he said with a smile. "I haven't thought about that in a long time."