Voices
Just how 'back' Brooks Koepka and Jordan Spieth are all depends on your perspective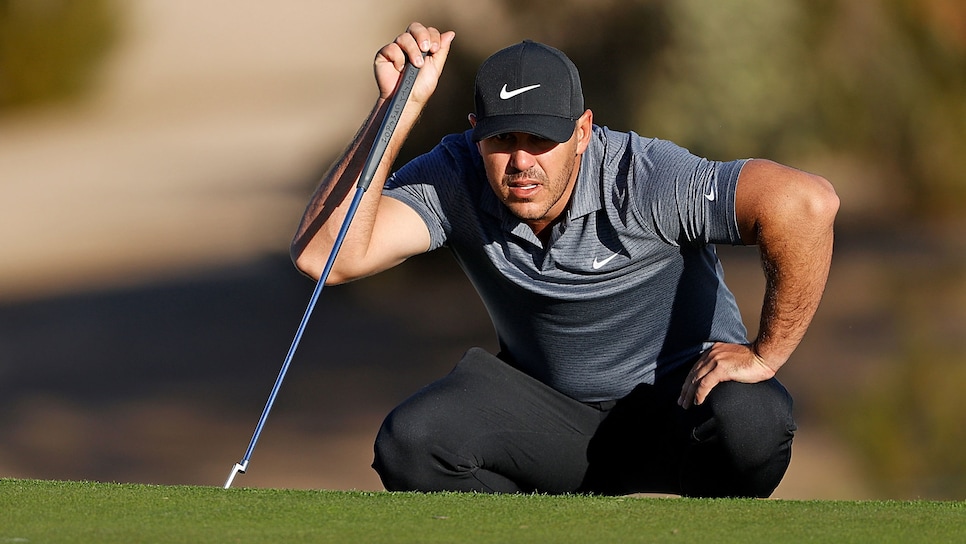 Photo By: Christian Petersen
During the week of the 2019 PGA Championship at Bethpage Black, I was working on a story on players "finding something" that allowed them to break out of a slump or get their golf swing back to a place where they felt comfortable walking onto the first tee. The idea had come to me after recalling a conversation with Tom Watson, who once mentioned that a 9-iron shot he hit during a tournament in Japan in 1976 was a turning point in his career.
"I remember thinking, That's it, that's exactly what I'm trying to do," Watson told me. The next year, he out-dueled Jack Nicklaus at the Masters and the Open Championship and became the No. 1 player in the world. Watson insisted it all started with that one swing in Japan the previous year.
So, I went to ask players about whether they had ever had a "Watson moment." One of them was Jordan Spieth, who had won two major titles in 2015 at age 21 and a third in 2017 just prior to turning 24. Spieth had played solidly—without winning—in 2018 but was seriously struggling going into the 2019 PGA. He had played 12 stroke-play events since the start of the 2018-19 season the previous fall and his best finish had been a T-21 at the Masters.
"It's funny you ask that question," Spieth said, "because I honestly think I found something last week on the range. I can't be sure about it—you can never be sure until you take it to the golf course—but I honestly think I've figured something out. I really think I'm going to play well this week. I know I've said, 'I'm close,' a bunch of times in the last year or so, but I honestly feel better with my swing right now than I have in a while."
Spieth finished T-3, beaten only by Brooks Koepka and Dustin Johnson. It was his first top-five finish anywhere since he had finished third at the Masters a little more than a year earlier, after shooting a final-round 64. Spieth followed his performance at Bethpage with a T-8 at Colonial and a T-7 at the Memorial. Three top-10s in a row. Progress.
And then he fell to earth again. Spieth managed a T-6 at The Northern Trust in August and then failed to finish higher than T-9 throughout 2020. The start of the 2020-21 season was even worse. As he walked away after missing the cut two weeks ago at the Farmers Insurance Open, he had made seven starts and missed four cuts, his highest finish a T-38. He was so discouraged he almost withdrew from the Waste Management Phoenix Open to go home for a week.
Spieth is now glad he didn't go home. And so is the golf world.
On Saturday, after two solid rounds (67-67) Spieth became Spieth circa 2015—at least for one afternoon. He hit one solid iron after another to set up short birdie putts. And when he didn't get the ball close to the hole at 16 and 17, he rolled in long birdie putts, the kind he made look routine once upon a time. When he just missed a birdie putt at 18, he signed for a 10-under-par 61 and was tied for the lead.
Suddenly, Phoenix had become the fifth major—at least for one day.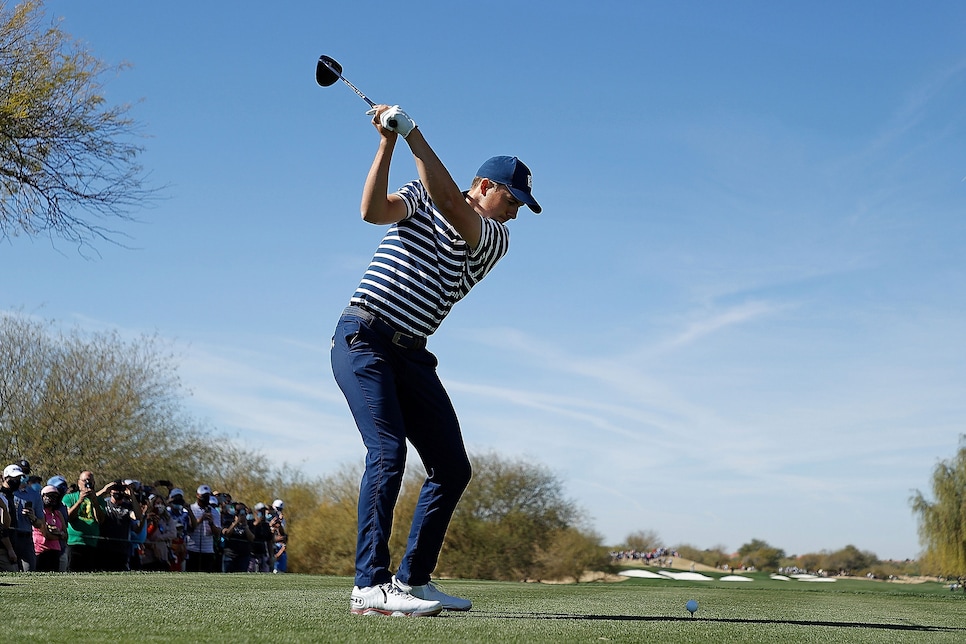 Jordan Spieth tied his career-low round when he shot a 10-under 61 on Saturday at the Waste Management Phoenix Open.
Christian Petersen
With his win at Royal Birkdale, Spieth had 11 PGA Tour titles. He had not won since and had dropped to 92nd in the World Ranking. Now, suddenly he was "back"—at least according to the NBC announcers, who were understandably thrilled by Spieth's Saturday heroics. Like everyone who cares about golf, they know that Spieth returning to anything resembling his younger self (he's still just 27) is good for the game—and for ratings.
You know what happened next. Playing in the final threesome on Sunday, Spieth couldn't maintain his Saturday brilliance. He was wild off the tee, and the putts that went dead center the previous afternoon slid left or right. In many ways, his closing 72 wasn't surprising. Following up a brilliant round is a tough task at any time, let alone when you're trying to get out of a slump.
As Spieth—and most of the leaders—back-pedaled, it was that guy he was chasing at Bethpage Black who, coincidentally, came charging from behind. A guy who like Spieth has been struggling of late to find his way again.
You remember Koepka? He was the best player in the world for a while, beginning with his win at the U.S. Open in 2017, culminating with that dominant win at the PGA Championship almost two years later. At that point, he'd won four of eight majors (missing the 2018 Masters injured) and looked like he might win a dozen before he was through.
Then injuries began to intervene, notably last summer when, after missing the cut at the Wyndham Championship, he decided to skip the FedEx Cup playoffs and the U.S. Open to rest and rehab his knee and his hip—which he had injured trying to play on the injured knee earlier in the year. He returned in October to finish T-5 at Houston and T-7 at the Masters, but then missed three straight cuts for the first time in his career.
Koepka was five shots behind Spieth and Xander Schauffele to start the final round at TPC Scottsdale but pieced together a superb six-under-par 65, highlighted by a chip-in for eagle at the short par-4 17th. That gave him the lead for good. He ended up winning by a shot over K.H. Lee and Schauffele. Spieth birdied 18 to finish T-4, two shots back.
Koepka's personality is a lot different than Spieth's. He can be painfully honest about issues and he speaks confidently about how good a player he believes himself to be. Some people don't like that; they prefer the comfortably pabulum most golfers dish out nowadays.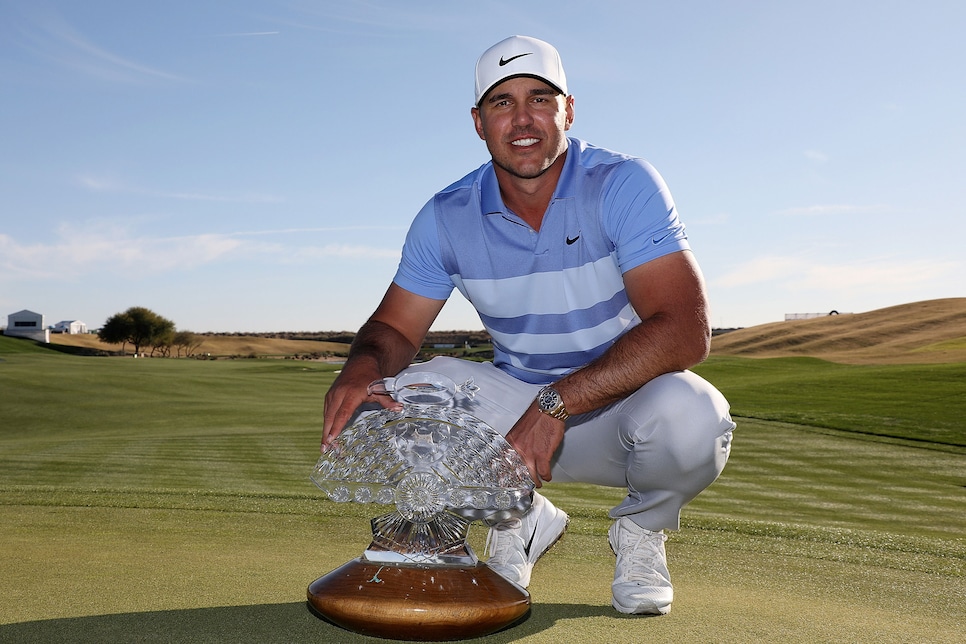 Brooks Koepka's win at TPC Scottsdale was the eighth of his PGA Tour career, but the first in 18 months.
Christian Petersen
Koepka talked Sunday after this victory about the "dark places" he'd been while dealing with his injuries and admitted he wondered at times if his left knee would ever be healthy again. Having him back on leader boards is good for golf because he's a great player and refreshing to talk to, especially one-on-one.
The same is true of Spieth, albeit in a different way. He's so honest that he'll admit that "at times I hand out politically correct answers because it's usually easier that way."
But no one knows better than he does—as he said Sunday evening—that he's still got a lot of work to do, especially driving the ball, to get anywhere close to where he was six years ago or, for that matter, four years ago.
It isn't at all surprising that most of the NBC crew spent the last hour of Sunday's telecast giving Spieth a collective pep talk as the tournament slipped away. The weekend at TPC Scottsdale would be "nothing but good for him … should give him new confidence" and there was "no reason to be discouraged at all" by Sunday's failures.
Time will tell. But the bottom line on the week in the Arizona desert is this: Two of golf's best young players showed the world just how good they can be all over again. Koepka is 30 and Spieth is 27. They've already won seven majors between them and you can bet Steve Stricker—who played superbly himself to finish T-4 with Spieth and Carlos Ortiz—would love to see them both on his Ryder Cup team this fall.
Koepka IS back; Spieth is still working in that direction. We'll find out in the next few months if he's really found something or if the first 54 holes in the desert were just a mirage. The golf world clearly hopes he's found something.