Takeaways
Brooks Koepka seizes the day, while Xander Schauffele and James Hahn see title hopes slip away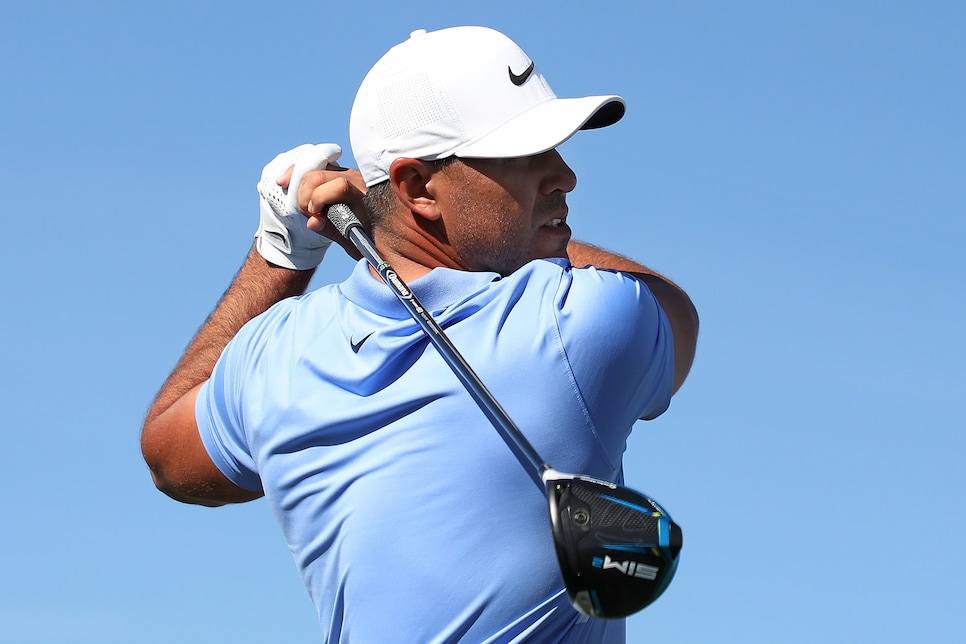 Brooks Koepka hits his tee shot on the 14th hole during the final round of the Waste Management Phoenix Open.
Christian Petersen
"Who could lose this the least?" asked NBC's David Feherty on Sunday as he assessed the proceedings in the final round of what was turning out to be the Wasted Shots Phoenix Open.
Then Brooks Koepka stepped up and said, "Hold my Mic Ultra."
With two eagles in the final round, including a chip-in from 97 feet at the short par-4 17th hole, Koepka established a measure of order to what had been an inexplicably chaotic final day in the Waste Management Phoenix Open (the proper name) at TPC Scottsdale. The four-time major winner, who had missed his last three cuts (a first in his career), re-established his competitive bona fides with a six-under 65 for his first victory in more than 18 months.
After battling through a nagging knee and hip injuries and just weeks after parting with his swing coach, Claude Harmon III, Koepka captured his eighth PGA Tour title and first since he outdueled Rory McIlroy to win the 2019 WGC-Fed Ex St. Jude Invitational, also shooting 65 in the final round at TPC Southwind.
"This is probably my favorite win to date, just because of everything I've had to go through," he said after his rally from five strokes back, which tied for the largest comeback in the last three seasons.
Koepka, who led the field in greens in regulation, became only the fourth player to win at TPC Scottsdale after beginning the final round outside the top five on the leader board. He completed 72 holes in 19-under 265, one stroke ahead of Xander Schauffele and K.H. Lee. Schauffele, who began the day tied with Jordan Spieth and three ahead of the rest of the field, was relegated to his eighth runner-up finish since his last win at the 2019 Sentry Tournament of Champions.
The measure of Koepka as a stone-cold hard-ass was evident not with his chip-in for the lead, but for his second shot into the green at the par-5 15th hole. Playing partner James Hahn, who held a three-stroke lead with eight to go, had just hooked his second shot into the water. Hitting next, Koepka blistered a 6-iron from 239 yards just over the flag, setting up an 18-footer for eagle. Ruthless stuff. He two-putted for birdie to climb into a share of the lead.
"I live for those moments where you've got to close, you got to hit some quality shots, quality putts," said Koepka, who admitted that the limited number of fans in attendance still made a big difference to his demeanor. "I don't know, I just like showing off, I guess."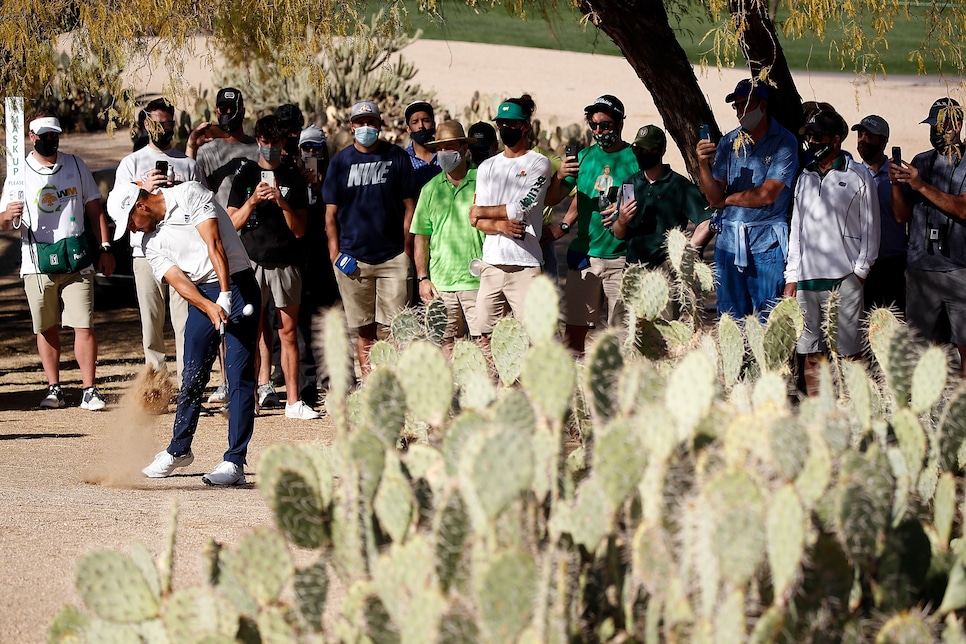 Xander Schauffele hits his approach shot on the 14th hole during the final round of the Waste Management Phoenix Open.
Christian Petersen
The win came at the site of his first tour title in 2015. The first win is monumental for any player And, yet, this one obviously meant more. Koepka admitted that he'd gone through some dark places and wondered if he'd ever be "the same competitor."
"A lot of hard work has gone into this, and I'm actually really proud of myself," he said.
Xander seconds that (crummy) emotion
When you have more second-place finishes than any other player since the start of the 2017-18 season, of course the first emotion that comes to mind when you fall just short again is "frustration," which Schauffele expressed after losing to Koepka by one stroke.
For those keeping track, that's 10 runner-up finishes in the last three-plus seasons for the California native, including three already this season and his second in a row. Second place in that category is World No. 1 Dustin Johnson with seven, but he has collected quite a few wins in that span, including the 2020 Masters in November.
A four-time tour winner, Schauffele is seeking answers, but he seemed to identify where to look after shooting an even-par 71 on Sunday.
"He's a great example," Schauffele, ranked fourth in the world, said of Koepka. "Won four majors, true champion and it shows. Hasn't been in great form, comes out here, and wins a tournament. There is a lot to be said for him and his recipe for winning. Me and my team are trying to figure it out ourself. Another example is Dustin Johnson, where he said he hit some of the worst shots he's hit in his career and walks out of there with a two-shot win [in Saudi Arabia]."
"Overall, I'm playing good golf," he added. "I'm disappointed. I heard Jordan [Spieth] say that me and him could have made it a two-man race. If you told me I would shoot two under par out here to win the golf tournament, you know, it's very doable after the first three rounds that I played.
"Winning is tough. I'll lick my wounds and come back."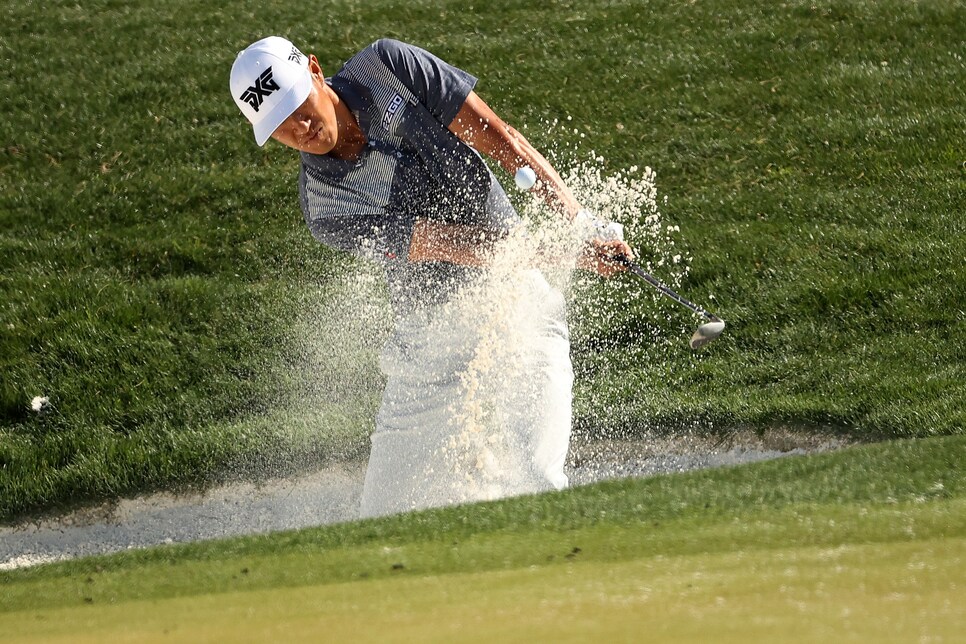 James Hahn hits from a greenside bunker on the 12th hole during the final round of the Waste Management Phoenix Open.
abbie parr
Speaking of wounds, James Hahn has a few
Hahn had a dream start to the final round followed by the most dispiriting finish for a guy playing on a major medical extension and is scratching for every FedEx Cup point he can get.
Hahn, who missed eight months in 2019 because of an elbow injury, birdied six of his first 10 holes for a three-stroke lead and then twice hit into the water on the final eight holes while playing them in four over par. Making matters worse was falling apart while paired with U.S. Ryder Cup captain Steve Stricker, who surged over that same stretch to end up T-4.
The silver lining: Hahn, who was seeking his third tour title, gathered 75 points for 10th place, and after his fourth top-10 of the season he has 382 points, more than enough to retain his card for the rest of the year. He closed with a two-under 69 and 15-under 269 total.
Not exactly worth doing another Gangnam Style dance, like he displayed on the 16th hole in 2013, but clearly the 39-year-old South Korea native from Northern California is moving in the right direction, notwithstanding his finish Sunday.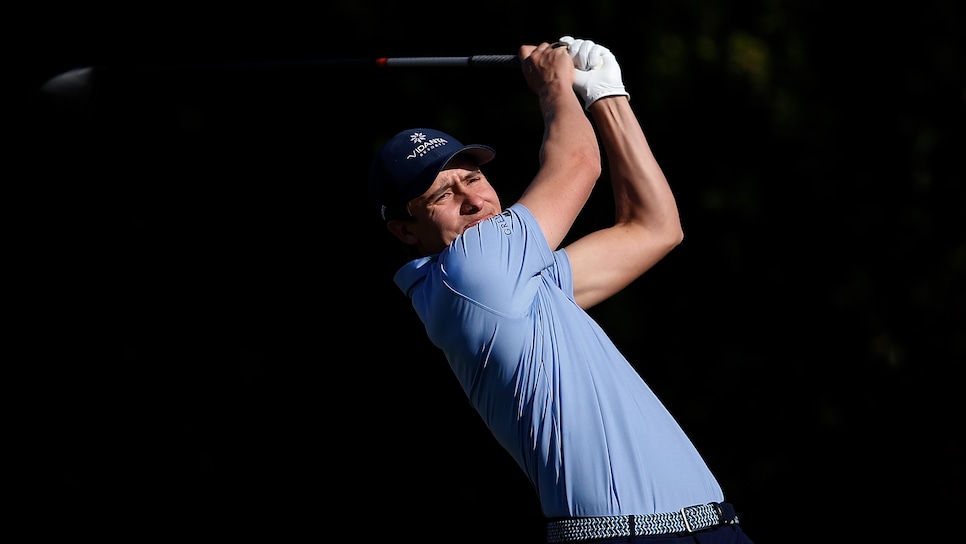 Carlos Ortiz hits his tee shot on the second hole during the final round of the Waste Management Phoenix Open.
Christian Petersen
Gotta give some props to Carlos Ortiz, who posted a final-round 64 and sat around for some 90 minutes until someone usurped his clubhouse lead of 17 under par. Which happened to be Koepka.
The native of Mexico, who won his first PGA Tour event in November at the Vivint Houston Open, held a share of the 54-hole lead with eventual winner Patrick Reed at last week's Farmer's Insurance Open but dropped all the way to T-29 after skying to a 78. That's not easy to shake off, but the sixth-year tour player tied for lowest score of the day (with Rory McIlroy) thanks to an eagle-par-birdie-birdie closing stretch.
"I'm trying to, you know, let things go, don't let bad shots affect me," said Ortiz, 29, who ended up T-4. "I think I'm way clearer the way I'm thinking around the golf course. I think that's reflecting on the score, too."
That 78 at Torrey Pines actually was out of character for Ortiz on Sundays of late. Starting with his closing 65 in Houston, Ortiz's final-round cards read 65-66-74-64-78-64. Keep that up and more wins are surely coming. "It's just weird; golf is weird sometimes," he said. "Probably today I didn't hit it the best. I don't know, just somehow I just scored and made some good putts."