Masters
Masters 2021: Jordan Spieth is contending, and it's not even a little bit fluky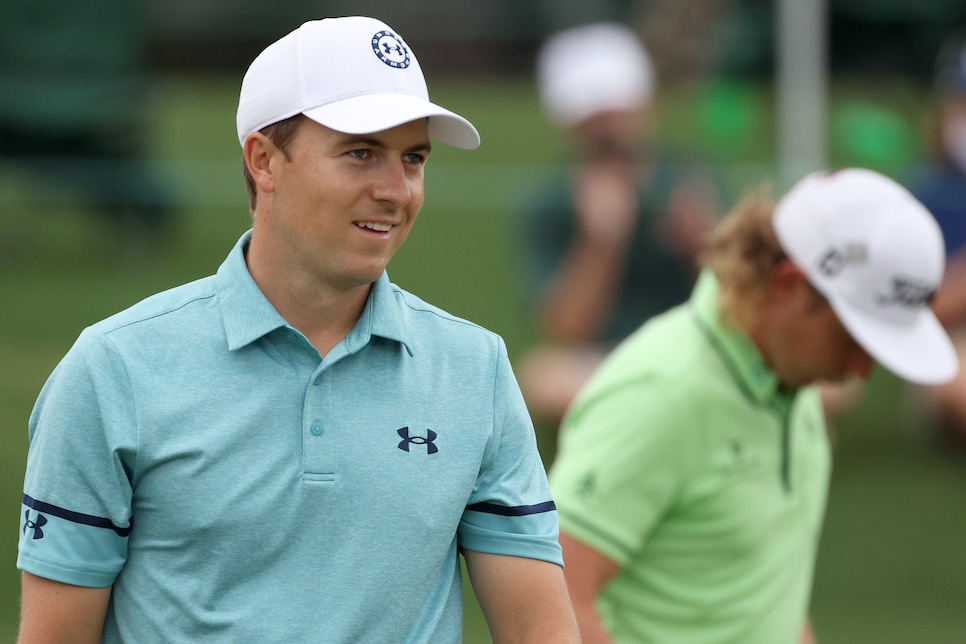 Jordan Spieth of the United States reacts on the 18th green during the second round of the Masters.
Kevin C. Cox
AUGUSTA, Ga. — The funny part is it's not even surprising anymore. Jordan Spieth trudged through the golfing wilderness for nearly four years, and two months of good play is all the proof we needed. After a second-round 68 that has him at five under total, only a handful of guys are beating him through 36 holes at the Masters, and that sounds about right. It doesn't feel fluky or unsustainable. It feels … normal.
Take what happened on the ninth hole on Thursday. He'd played a solid front nine, one under through eight, nothing crazy but exactly what you're looking for to kick off a major. Then he block-slices his tee shot into the trees and caddie Michael Greller goes quiet in the worst possible moment. Spieth tries a shot that we're still not sure is possible, clangs a tree dead-on, knocks one by the green, hits a solid pitch and three-jacks from five feet. Triple bogey.
Two months ago, that'd torpedo his chances of contending. It'd be a war against the cut line. And, for the rest of us watching, it'd feel like water finding its level. That's the player he'd become.
This time? Spieth walked stone-faced to the 10th tee, deep in thought. When he arrived, he locked eyes with an Augusta member he recognized. The steely-eyed stare turned into a warm smile. "Hey, man! How are you?" A few whispers back and forth, and the debacle had been banished to the past. He then roasted a 3-wood, knocked his approach to the fat side of the green, and canned the 17-footer for birdie. He played the remaining eight holes in two under to get in the house under par, a hugely important psychological boost.
"Having made a triple and having five over-par holes through two rounds, I feel pretty good about being at five under," Spieth said. "That's, what, eight birdies and an eagle on a very difficult golf course. I'd probably sign up for a similar score for the next few days."
Friday's round was devoid of anything quite so volatile—five birdies and a lone bogey. The most electric moment came on the 17th green, where he poured in a 30-footer and punctuated it with a fist pump. A cynic might call the round boring, but boring works on the weekdays of major weeks. He's hit 30 of 36 greens thus far, giving himself look after look after look. Tap-in pars galore, which is just what the doctor ordered. There's plenty of time for fireworks, and Spieth would be the perfect man to bring them.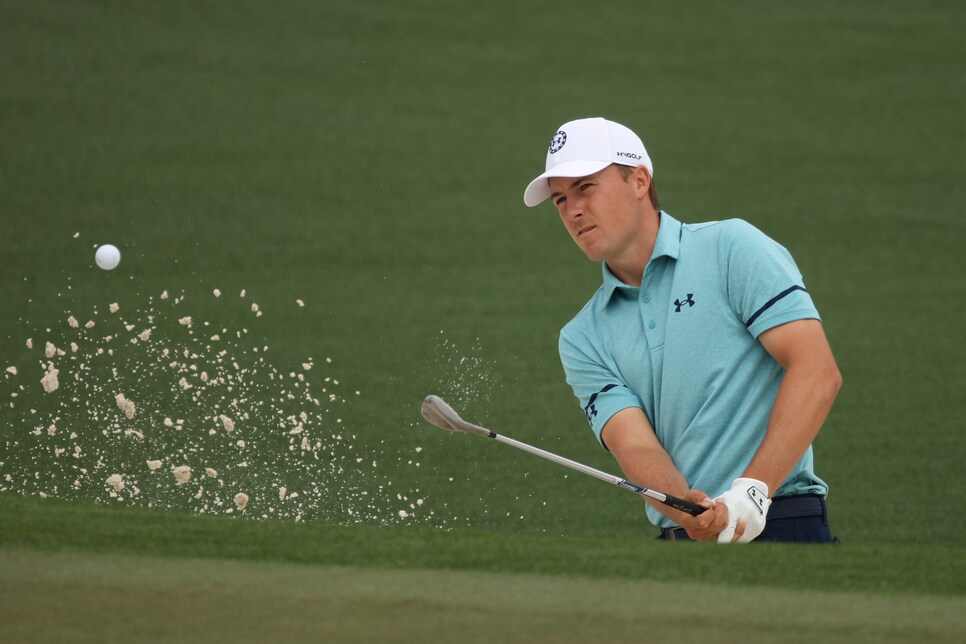 Jordan Spieth plays a shot from a bunker on the second hole during the second round of the Masters.
Kevin C. Cox
Yes, the World No. 38 will be the center of attention this weekend, the main attraction in this Tiger-less void. And it's all been building toward this weekend—starting in Phoenix, where shot 61 on Saturday to grab the 54-hole lead. Then it was up to Pebble Beach, where he played in the final group yet again and failed to win yet again. Down to L.A., another solid finish at the Genesis Invitational. A T-4 at Bay Hill, a T-9 at the Match Play and then finally, finally, a return to glory in his home state.
The win at the Valero Texas Open bumped him to borderline-favorite status coming into this tournament, which sounded crazy at first until you thought about it for a second. The dude finished second, first, second in his first three Masters. He had three majors before his 24th birthday. He's Jordan Freakin' Spieth, and this is Augusta National.
"Almost regardless of form, regardless of if you just won or if you've missed the previous cut, it really makes no difference to me in my confidence level when I pull into Magnolia Lane," he said last week. "It's just such a unique golf course in that it's a lot of shot-making versus what you get in a lot of other places. And then the greens require just so much imagination, it almost feels like a totally different game sometimes there."
Ehhhh. It's a nice sentiment heading into your last start before the Masters. Downside protection, if you will—had he missed the cut, he'd be able to tell himself that it doesn't matter. But he didn't miss the cut. He won, and the swagger has returned. And now he's back at Augusta National, confident as hell, firmly in the mix heading into the weekend. His comfort zone.