The Grind
Jon Rahm's amazing Masters prediction, Patrick Cantlay's brutal pace of play, and Brandel Chamblee's brilliant turn of phrase
Welcome to another edition of The Grind, where we are happy to report that rumors of the demise of the Georgia peach ice cream sandwich were greatly exaggerated. Not only was this traditional Masters treat back, but it was better than ever with fewer peach chunks in the ice cream and even softer cookies: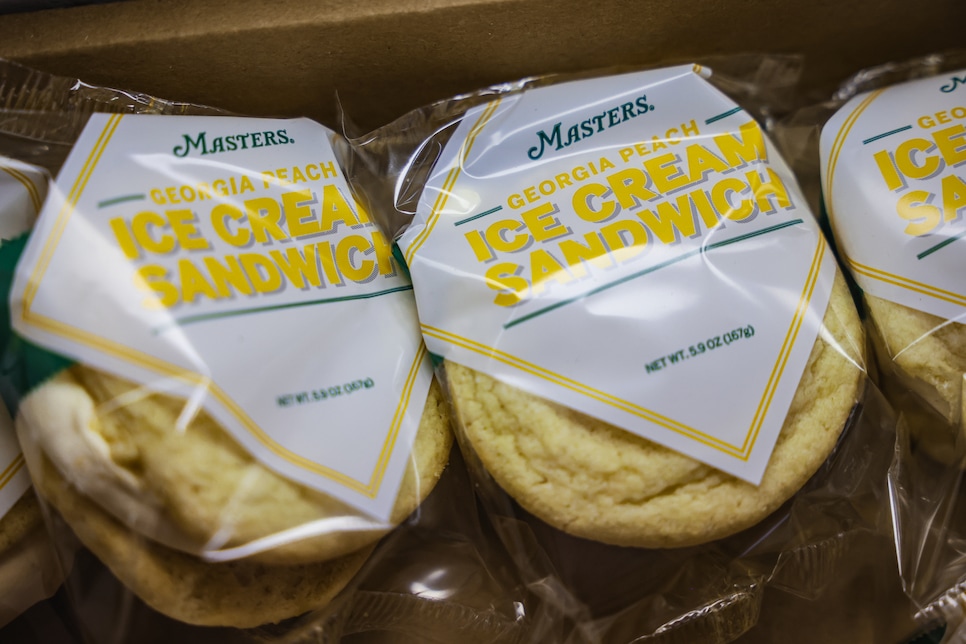 How Augusta National—and whatever vendor they use for this glorious creation—keeps those cookies so soft while keeping the ice cream frozen is truly a marvel of science. Anyway, there's obviously plenty of non-food-related Masters stuff to talk about as well, so let's get to it.
Jon Rahm: What an impressive, and special, win for the Spaniard. If you were playing a Masters drinking game involving "Seve," you might have passed out before the final putt dropped, but seriously, Rahm winning on what would have been his hero's 66th birthday was a huge deal to him. Seve sure would have been proud of that ridiculous recovery shot Rahm hit around a tree on No. 14 to four feet, which set up a birdie that all but clinched his second major title and first green jacket.
Speaking of four, the guy FOUR-putted his first hole for an opening double—causing him to refer to Seve's famous "I miss, I miss, I miss, I make" quote—and still won by four shots. Remarkable. Talk about a victory that was written in the stars. Or, rather, in a fortune cookie. Rahm called that he would win a green jacket—after possibly scarfing down some orange chicken from Panda Express—while an undergrad at Arizona State in a tweet directed at then coach, Tim Mickelson (yes, Phil's brother):
It just goes to show that if you believe in something enough, it will happen for you. Kinda like how I have long believed Rahm would be a Masters champ so I decided I would pick him every year until it happened. And, well, the sixth time's the charm! Anyway, congrats, Jon, and be careful with that green jacket. Nice clothes and young kids don't mix.
Brooks Koepka: It certainly wasn't the Sunday he—or wife Jena Sims and her all-green outfit—hoped for, but it was still a very positive week for a player who looked completely lost and depressed in that episode of "Full Swing." The Netflix documentary captured Koepka struggling like we've never seen, and provided more context as to why he would leave for LIV.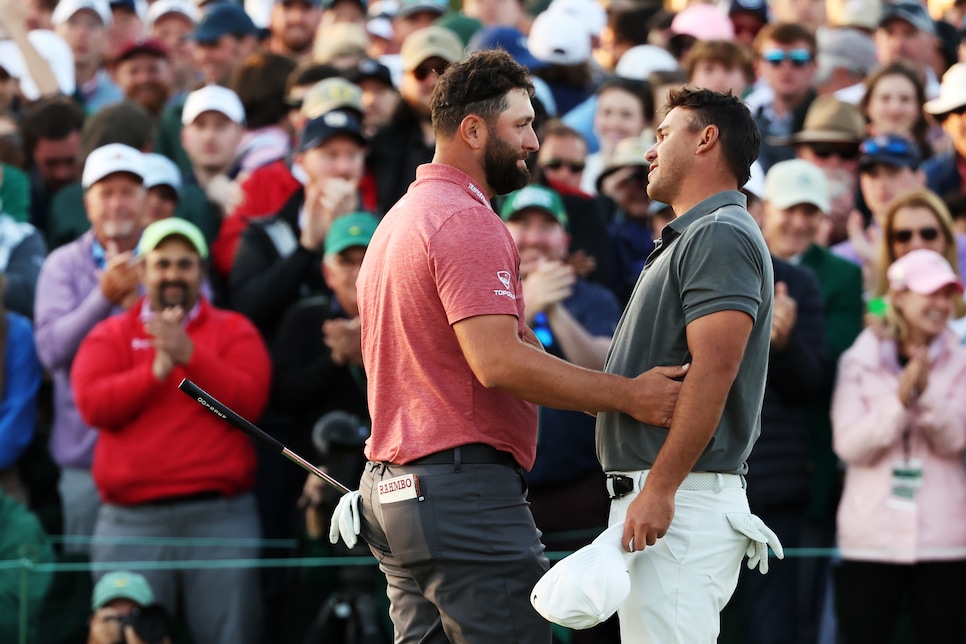 Regardless of what tour he plays going forward, though, this major championship machine seems back to his old ways.
Phil Mickelson: There were plenty of patrons holding back effusive cheering for this guy all week, but the roars were clearly there as the six-time major champ finished a Sunday back-nine 31 in style with a birdie on 18. No matter what you think about Mickelson, that was a legendary performance by one of the greatest golfers of this or any era. A runner-up at the Masters? At 52? When he's barely beaten anyone in LIV fields of 48 for the past year?
What happened Sunday afternoon was nearly as shocking as what happened Sunday night on "Succession." OK, so nothing was as shocking as that. NO SPOILERS, but seriously, WTF?
Sam Bennett: What a magical week for the amateur, from being upgraded from the Crow's Nest to Butler Cabin to contending for a green jacket. Of course, the latter didn't continue over the weekend, but Bennett still walked away with the low-amateur title, and he walked into a hero's welcome upon returning to Texas A&M:
And while he didn't get the quarter-of-a-million bucks he would have made as a pro for that T-16, the dude is raking it in through NIL deals while clearly flying private. A green jacket tour on a college campus would have been fun, but this guy still has plenty of beer money for his final semester at school.
Tiger Woods: On the bright side, Woods made the cut again, making it four out of five times he's played the weekend since returning from his car crash. Unfortunately, it's the actually playing on the weekend that's clearly a huge problem as he's only finished two of those tournaments. The freezing wet conditions and additional holes didn't help on Saturday, but Woods looked particularly bad walking even on Friday:
That's tough to watch. Before the tournament, Tiger continued to make golf cart jokes in reference to playing the senior tour in a couple years. I never thought Woods would even play the PGA Tour Champions, but it seems like he might need it now to scratch his competitive itch. Anyway, at least he made the cut. Unlike this guy . . .
Rory McIlroy: On a week where virtually every big name in the game did something, Rory made no noise other than his private jet pulling out early on Friday after putting the MC in MCilroy for a second time in three years. And this after 81 prep holes at Augusta National recently, including a round in which he only needed 19 putts.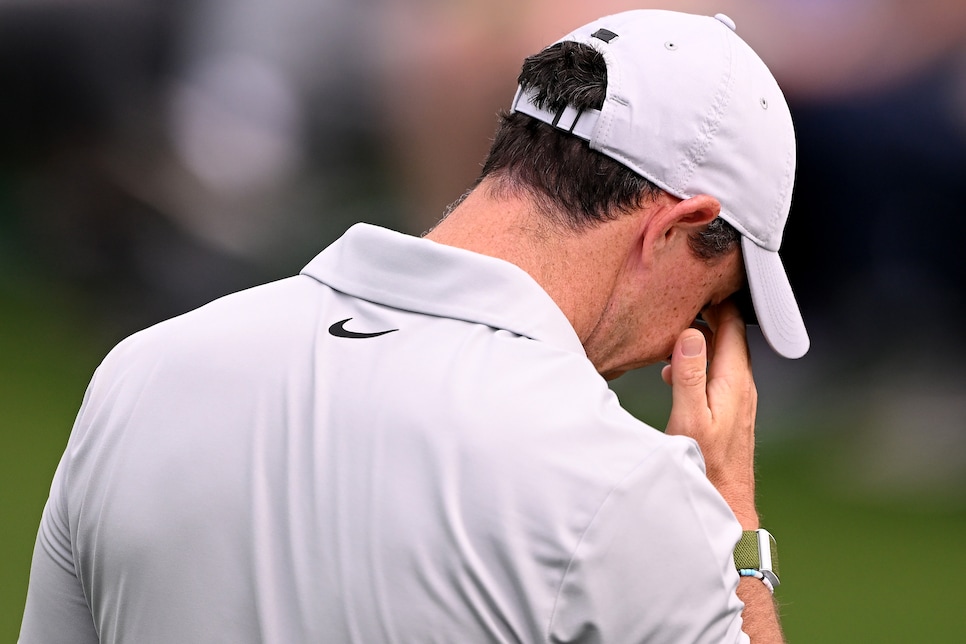 Maybe he should just show up on Thursday morning next year. What a disappointing performance from a guy who needs to wait another year to complete that career Grand Slam and whose major championship drought is closing in on nine years.
Patrick Cantlay's pace of play: It certainly wasn't all Cantlay's fault, but the fact that the final pairing on Masters Sunday had to wait on the tee for extended amounts of time multiple times was embarrassing. And it appeared Patty Shuffle was the main culprit—although we've got our eyes on Sam Bennett as well.
We know the PGA Tour never polices this, but the Masters once slapped a slow-play penalty on a 14-year-old. In this case, it would have been much more deserved.
Will Zalatoris' back: Just days after sounding so positive about his health at his pre-tournament press conference, Zalatoris announced he underwent succesful microdiscectomy surgery on Saturday and will be out for the remainder of the season.
What a tough turn of events for a guy who hurt his back in August after finally breaking through for his first PGA Tour title the week before. Look, he's 26 so hopefully he can bounce (all the way) back from this, but the only reason why I know what a microdiscectomy is—and how to spell it—is because Tiger had a few of these procedures. And he still had to get his back fused eventually. Anyway, I wish my fellow Demon Deacon a speedy recovery.
The PGA Tour heads to Hilton Head for the RBC Heritage, AKA that one at Harbour Town, AKA that one with the lighthouse. And this year it's going to be a banger as one of the tour's DESIGNATED events. Tough timing with it being the week after the Masters—dads everywhere used up all their weekend capital for the next month after last weekend—but it should be fun, in particular for Jon Rahm who should be strutting around South Carolina with his green jacket. In a related note, Rory McIlroy is NOT playing, meaning he's now skipped two of the first six designated events. Plus, he started his year in Dubai on the DP World Tour. Interesting decisions by the unofficial spokesman of the PGA Tour, especially since the reported PIP requirement is that you can only skip one of these. Stay tuned.
Random tournament fact: Jordan Spieth is the defending champ in an event that kicked off—and was really built up—during the first episode of "Full Swing." Spieth hasn't won since and I haven't hit a huge outright bet since. Let's change that this week—especially because I went a bit nuts on Masters merch!
RANDOM PROP BETS OF THE WEEK
—Rory McIlroy will spend his week off watching a 2023 Masters replay: 1 MILLION-to-1 odds
—Jordan Spieth will win again this year: 20-to-1 odds (Actual odds, co-favorite)
—Jon Rahm will be smiling no matter how he plays: LOCK
TWEET OF THE WEEK (PRE-TOURNAMENT DIVISION)
As if I couldn't love Caitlin Clark anymore, apparently she's a golf fan!
My new goal in life is to play a round of golf with her.
TWEET OF THE WEEK (MID-TOURNAMENT DIVISION)
You can't nail it any better than that, folks.
TWEET OF THE WEEK (POST-TOURNAMENT DIVISION)
Not only did Tom Hoge not win the Masters after winning the Par 3 contest, he missed the cut by one thanks to a bogey on his final hole of the second round. And then he discovered this:
Still think that "Par 3 Curse" isn't real? Looks like it's getting even stronger to me.
CLUB PRO GUY TWEET OF THE WEEK
Really more of a video, but enjoy:
This had me in actual tears.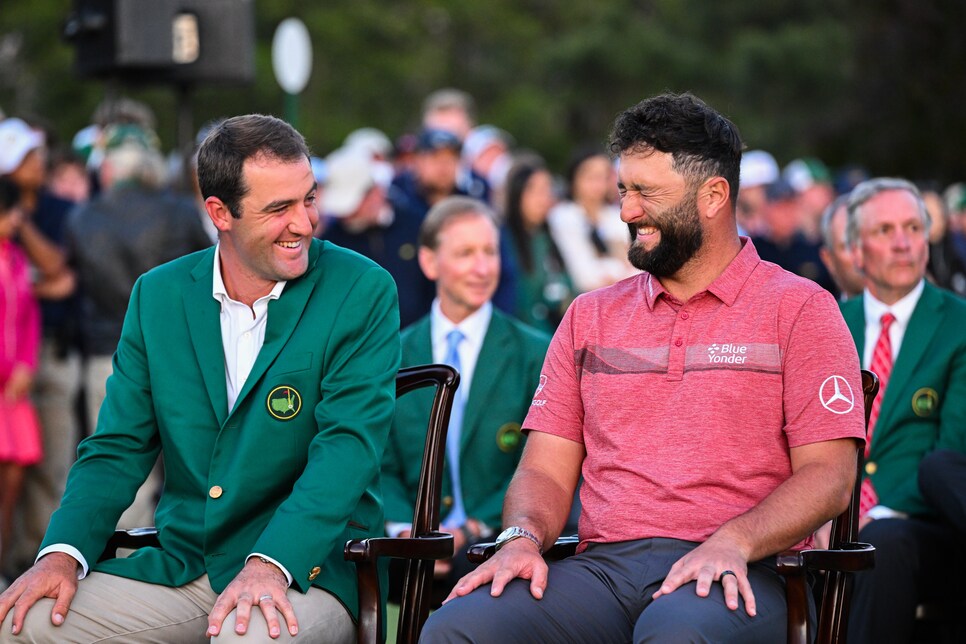 OK, so this one didn't really go viral, but it deserved to. Golf Channel's Brandel Chamblee used the phrase "Sensory blitzkrieg" three times in about 30 seconds, and it was amazing. Especially because we're pretty sure no one has ever used that phrase before:
Brandel is the best. And "LIVE FROM" during the Masters just hits differently. That one's a keeper. By the way, I also filmed Chris filming this. Yep, this is what golf writers do at night during major championships. We are not cool.
THIS WEEK IN PUBLIC DISPLAYS OF AFFECTION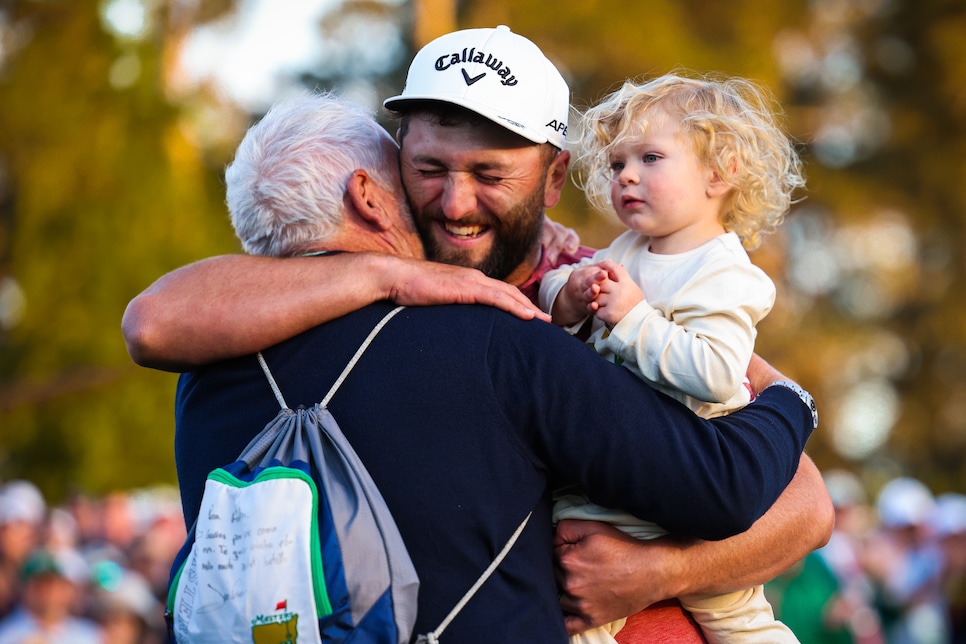 Aww. Three generations of Rahm boys. Talk about sensory blitzkrieg! Not sure how Rahm didn't cry. What a tough guy.
THIS WEEK IN PUBLIC DISPLAYS OF AFFECTION AWESOMENESS
Two of my colleagues and co-hosts on The Loop podcast, Steve Hennessey and Chris Powers, had the good fortune of winning the Masters Monday media lottery. For Chris, it was his first year entering! So cool. Thrilled for them both. And get a load of their wild scorecard:
Big props to CP on the 90. And to Steve for that bounceback birdie on No. 2 and an all-time par on 12 despite chunking one short of Rae's Creek off the tee. Most importantly, they had a great time. And I'm happy for them. Very happy for them. OK, did I say enough nice things yet, golf gods?
"The group in front of us was brutally slow. Jon went to the bathroom like seven times during the round, and we were still waiting." —Brooks Koepka. Yeah, that was brutal. And Jon might want to see a urologist.
Sunday's final round on CBS drew an average of 12.06 viewers, making it the most-watched golf telecast in five years and increasing 19 percent from last year. Is this the beginning of a "Netflix bump"? . . . The Jeff Knox Era as Masters marker officially came to an end, and I was there to document the 60-year-old Augusta National legend passing the torch to 48-year-old Michael McDermott. Doesn't Augusta National have any younger members? Anyway, Jeff will be missed on Golf Twitter. . . . With his $1.584 million for tying for second, Phil Mickelson jumped past Tiger Woods on the all-time Masters money list. Of course, at this rate and with purses increased, Rahm will probably jump all of them in a couple years. . . . And, finally, after retiring from the bucket hat game about two decades ago, I'm back, baby!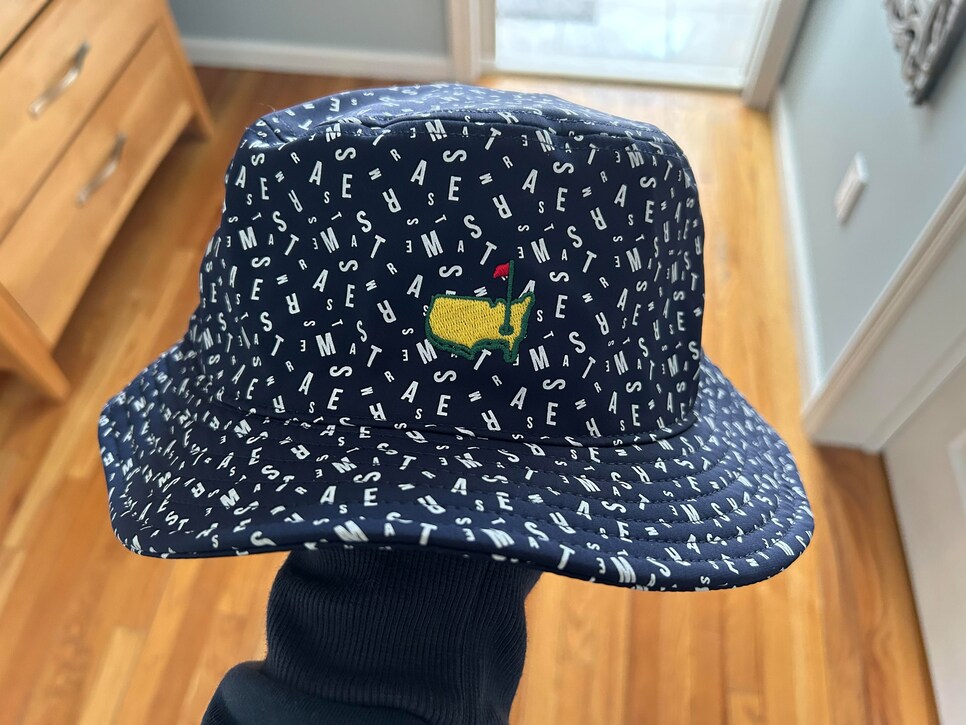 That and the navy sweatshirt I bought might be the two favorite purchases of my life. Well, non-food purchases, that is.
RANDOM QUESTIONS TO PONDER
How many majors will Jon Rahm win?
How many calories did I intake last week?
How can I get my hands on more Georgia peach ice cream sandwiches?