Money Matters
Phil Mickelson's surprise runner-up jumps him past Tiger Woods in this coveted Masters money milestone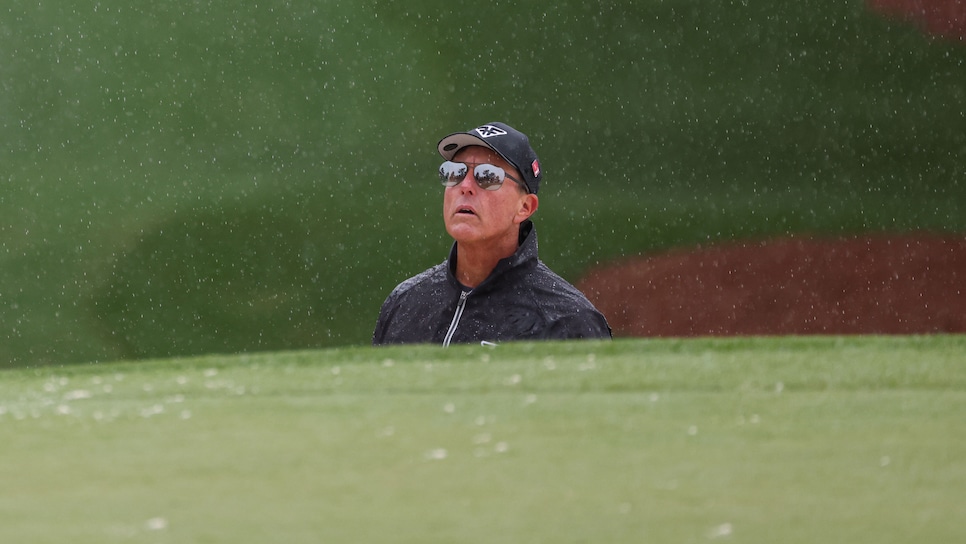 As the birdies started to fall and his name started to rise on the Masters leaderboard on Sunday afternoon, the shock that Phil Mickelson was in the mix for another green jacket was palpable. The 52-year-old LIV golfer hadn't had a top-five finish in any event anywhere since winning the PGA Championship in May 2021. And yes he had a standout history at Augusta National, winning three times and finishing in the top five 11 times. But in his last six Masters starts his best finish was a T-18.
But a historic, come-from-behind victory a la Jack Nicklaus in 1986 did not come to pass. Mickelson's closing 65—his lowest final-round score at Augusta—to get him to eight under total wasn't a scary enough clubhouse lead for Jon Rahm to stumble. The Spaniard finished four ahead of Mickelson, with Brooks Koepka also matching Phil's 72-hole score for a share of second.
There is solace in the wake of Sunday's final outcome: With his T-2 finish and the $1.584 million Mickelson earned, he claimed an underappreciated record at the Masters: he became the tournament's all-time money leader jumping Tiger Woods. Mickelson now has $9,773,317 in 30 starts compared to Woods' $9,588,236 in 25 starts. Woods made the cut and played the start of the third round on Saturday afternoon but withdrew on Sunday morning before the third-round restart.
Mickelson was asked after the round what he'd learned this week at August and had an interesting response:
"I think it's not so much what I learned, but I certainly have a lot of gratitude to be able to be here, be part of this tournament, play well, play good golf and take advantage of a unique opportunity that I have, which is to play golf at a very high level at a later stage in life, given that I have not had any physical injuries and I'm able to swing the club the way I want to and, with a little bit of work and dedication, to compete against some of the best players in the world on some of the biggest stages. That's really what's driving me, and today was a very encouraging day."
Here's the new top 10 in Masters money earned:
1: Phil Mickelson, $9,773,317 (30 starts)
2: Tiger Woods, $9,588,236 (25)
3: Jordan Spieth, $6,015,828 (10)
4: Jon Rahm, $5,063,017 (7)
5: Dustin Johnson, $4,627,235 (13)
6: Justin Rose, $4,403,765 (18)
7: Rory McIlroy, $4,157,521 (15)
8: Bubba Watson, $4,111,765 (15)
9: Adam Scott, $3,858,307 (22)
10: Lee Westwood, $3,687,748 (21)
11: Patrick Reed, $3,627,851 (10)
12: Ángel Cabrera, $3,528,357 (20)
13: Sergio Garcia, $3,426,530 (24)
14: Scottie Scheffler, $3,276,325 (4)
15: Brooks Koepka, $3,224,284 (8)
16: Charl Schwartzel, $2,998,281 (14)
17: Fred Couples, $2,850,601 (38)
18: Vijay Singh, $2,627,895 (30)
19: José María Olazábal, $2,620,518 (34)
20: Ernie Els, $2,553,343 (23)