Phil Being Phil
Masters 2023: Phil Mickelson drops the cockiest quote of the year, might be back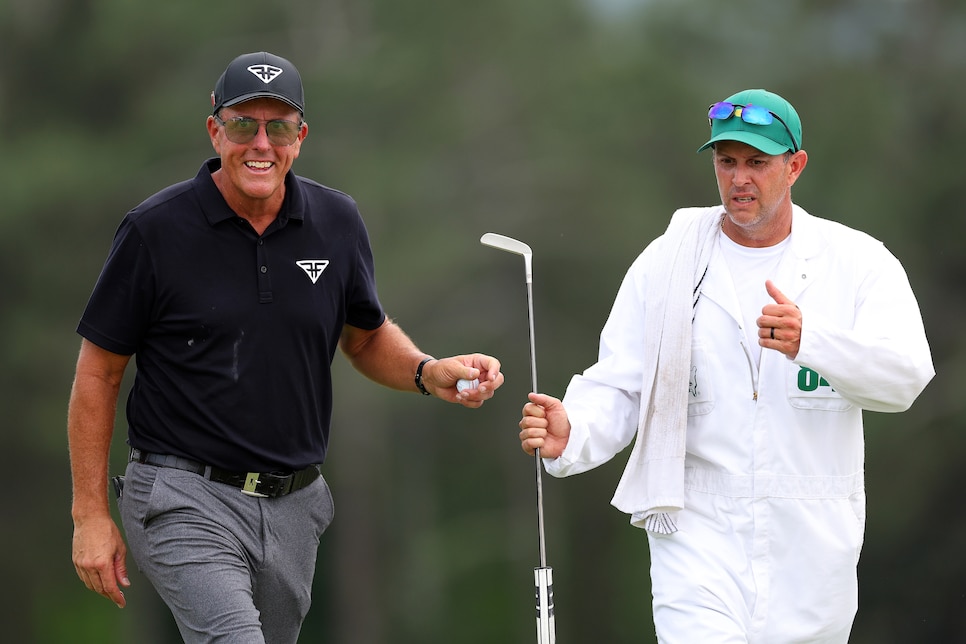 AUGUSTA, Ga. — There's been a lot of talk about Phil Mickelson hasn't been himself since leaving the PGA Tour for LIV. He sounds miserable! Maybe. He looks too skinny! Perhaps. He's playing like crap! Definitely. But on Friday afternoon at Augusta National, all seemed well—and normal—with the six-time major champ.
That's because Phil Mickelson—once a staple on Masters leaderboards—was back in contention at Augusta National. And, boy, was he feeling himself.
"I'm going to go on a tear pretty soon," a beaming Mickelson told reporters following his second-round 69. "You wouldn't think it. You look at the scores. But I've been playing exactly how I played yesterday, hitting the ball great, turning 65s, 66s into 77s. I'm ready to go on a tear."
Yeah, he might be back. At least when it comes to his post-round banter. That is some cocky talk right there. Even for Phil. We're talking about a dude who has played in 10 LIV events in the past year and only finished in the top 10 (a T-8) in a single one.
Meanwhile, he's finished outside the top 30 seven times. Against fields of 48 players.
But throw up a couple good rounds at Augusta National—really one good round—and suddenly he's "going to go on a tear"? What a wild thing to say. He's even got the crazy eyes working in that photo.
That being said, it's reminiscent of how Mickelson was talking leading into the 2021 PGA Championship at Kiawah. And look what happened that week.
Anyway, Mickelson attributed part of his turnaround this week to his HyFlyers teammate, Brendan Steele, who has been helping him with his driver. And since Phil is the captain and GM, what a great pickup that was. And now, the crafty veteran is playing great. Although, again, it's a small sample size.
"So I'm close to going on a tear," Mickelson said. "Even though the scores haven't shown it, like I'm hitting so many good shots, pretty soon I'm going to have a really low one. When that happens and it clicks, then the game feels easy again. Then I stop putting pressure on myself, and the scores just start to fall into place."
"Like you wouldn't think that at 52," Mickelson said. "You'd say, oh, well, what a great couple of days. Really all it is, it's just on the precipice of playing as well as I played 15, 20 years ago because I'm seeing that when I'm at home, I'm seeing that in practice. I'm just not quite letting it happen when I'm out in the tournaments yet."
TEAR! PRECIPICE! So good. We'll have to wait and see how this actually plays out. In the meantime, it's at least fun to hear Phil talk about it.