John Daly Being John Daly
John Daly says he actually would have led the PGA Tour in driving distance 12 straight seasons if not for a pesky suspension (or two)
You can argue who the longest hitter on the PGA Tour is these days, but there was no debate when John Daly broke onto the scene three decades ago. The mullet-rocking, chain-smoking Arkansas product was a power-hitting phenomenon. And the stats back that up.
From 1991 to 2002, Daly led the tour in driving distance 11 times. The accomplishment makes for an incredible graphic, which the Golf Digest social media team shared on Wednesday:
That's quite a run of distance dominance right there. So how the heck did Davis Love III lead in 1994? Well, Daly responded to the post with the real story: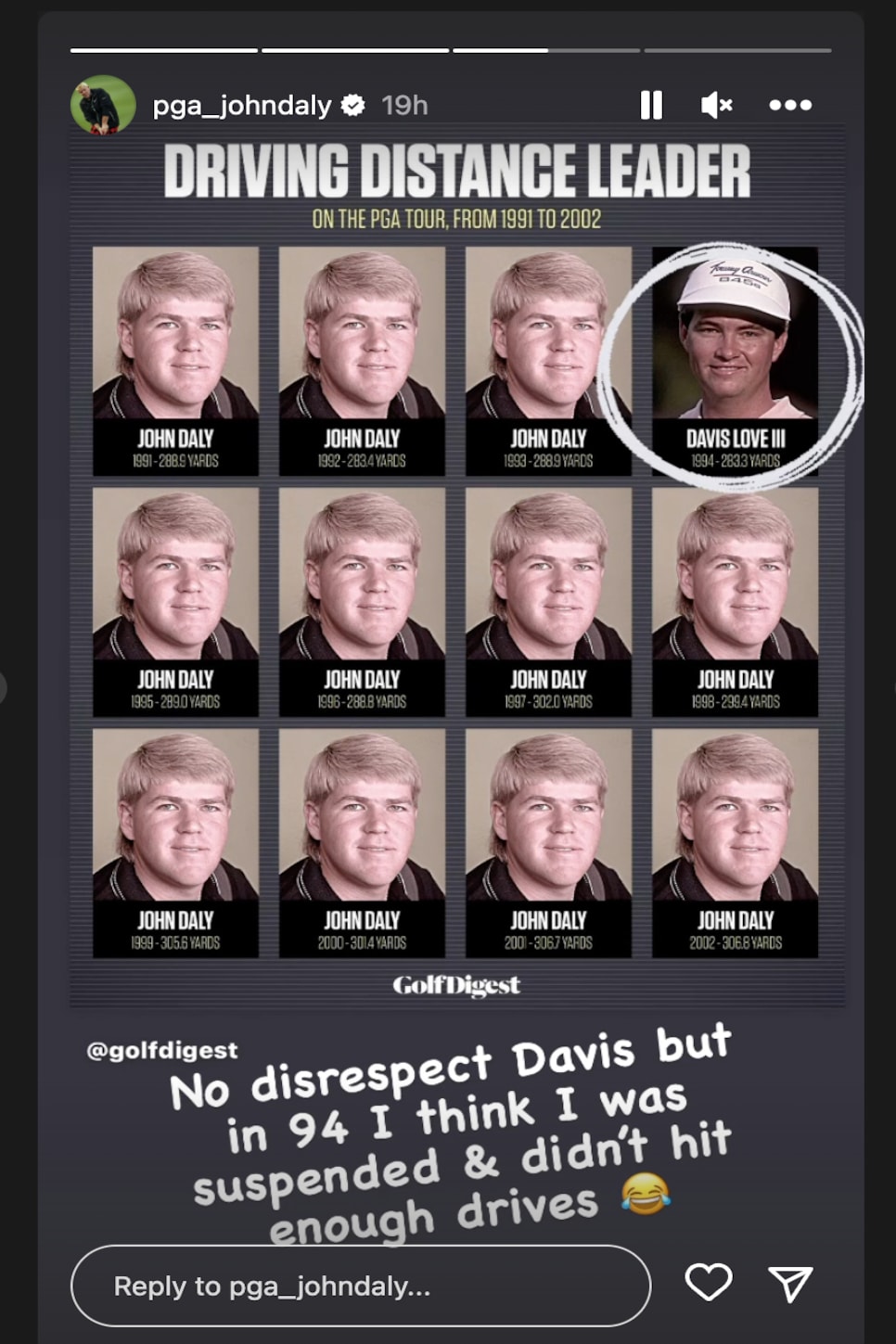 Ah, those pesky suspensions. Daly has had a few of them throughout his checkered career, but he's right to remember being forced to sit out in 1994. In fact, he was suspended a couple months at both the beginning and the end of that year for different transgressions. He really kept the PGA Tour disciplinarians on their toes back in those days!
So although he averaged 290.2 yards off the tee that year—6.4 yards more than Love—in the 17 events and 51 rounds he played that year, Daly's name is not included among the official stats leaders. Tough.
Oddly enough, Fred Couples, who also played 51 rounds that year, is included on the list at No. 3 with a 279.9 average. Hmm.
Anyway, had Daly not been suspended (twice), clearly he would have had led the tour in distance for a dozen consecutive years. Thanks for letting us know, John. It's been noted.