Courses
Former major champ Geoff Ogilvy is more than just playing golf at the Australian PGA Championship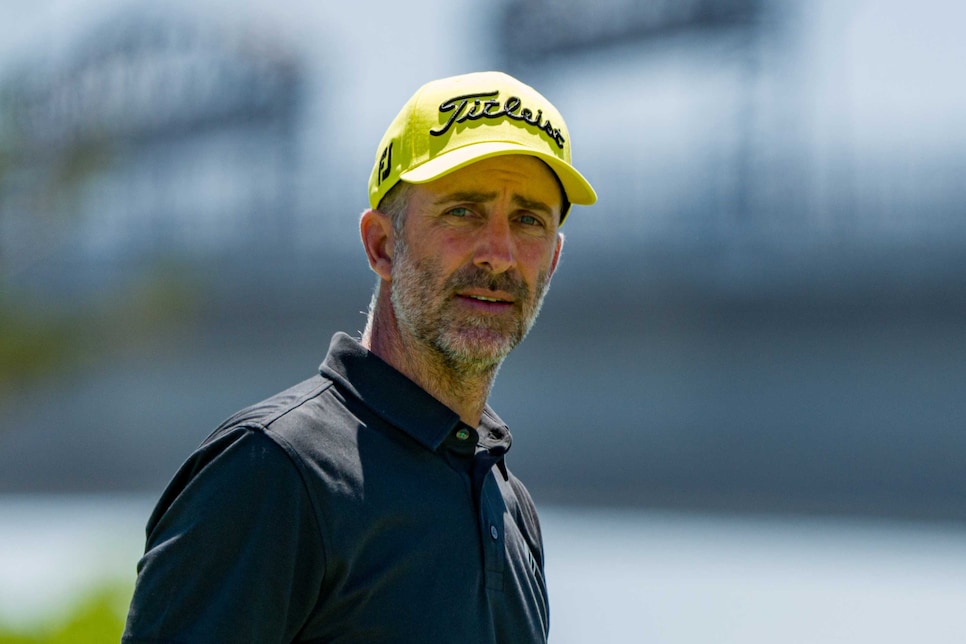 BRISBANE, Australia — Geoff Ogilvy is wearing two hats at the Australian PGA Championship, and wearing them well. These days, the 2006 U.S. Open winner is at most a part-time tour player. But you wouldn't know it based on his two-under-par score [68, 72] after 36 holes at Royal Queensland G.C.. He's eight shots behind 36-hole leader Jason Scrivener, who leads Cameron Smith by one at the DP World Tour co-sanctioned event.
"It's nice to be under [par] before you're over, isn't it?" Ogilvy joked to Golf Digest.
Ogilvy, who reached as high as No. 4 on the Official World Golf Ranking in his mid-2000s prime, is doing his best to juggle life after stepping away from playing the PGA Tour full-time in 2019. The 45-year-old only played in six tournaments this year, most recently at the DP World Tour's Alfred Dunhill Links in Scotland, which came after two sponsor's invitations to the PGA Tour's Rocket Mortgage Classic and Barracuda Championship during the summer. (He also served as an assistant captain for the International team at the Presidents Cup.)
It's unclear how many tournaments Ogilvy will play next year, but one thing is clear: He still enjoys competing.
"I'm up to all sorts of stuff these days; I'm trying to play golf, but other stuff gets in the way," Ogilvy said. "OCM is pretty busy with the golf course building and architectural endeavours so plenty of stuff fills my time. Hopefully there'll be a bit more golf next year."
Ogilvy is a partner in Ogilvy Cocking Mead (OCM), a design firm appointed as resident architects at Royal Queensland for the lead up to the Brisbane 2032 Olympics. Brisbane will stage the Summer Games in a decade, following host cities of Paris (2024) and Los Angeles (2028). Royal Queensland has been confirmed as Brisbane's Olympic golf course. Some of the other notable projects OCM has in its portfolio include the redesign of Chicago's famed Medinah Country Club and Shady Oaks in Fort Worth.
OCM plans to construct a short course on a parcel of land at Royal Queensland that sits east of Brisbane's enormous Gateway Motorway Bridge, which acts as a backdrop to the flat, links-inspired course. Practice facilities also may be upgraded before the 2032 games.
"We're the architects here. There's the eastern land on the other side of the bridge that the [club] can build on now again, and there's the whole run up to the Olympics," Ogilvy said. "[The course] is in that, 'Is there anything we should do [phase]?' Are there any tees that should be move back? Any greens or bunkers to fix? I wouldn't say there are any wholesale changes coming here, but there's going to be a fair bit of attention to the course of the next 10 years.
"It's a really good tournament course, and the Olympics is a golf tournament so I assume it'll be great. There's a lot of space for all [Olympic golf tournament infrastructure]. It'll be close to the city. It's on the river. It's picturesque. It's a strong enough golf course. It hosts good tournaments."
There's another hat Ogilvy wears, too—tournament organizer. Along with former pro-turned architect Mike Clayton, Ogilvy is co-creator of the Sandbelt Invitational; a unique tournament which is gearing up for a second edition, Dec. 19-22. It's part of the Geoff Ogilvy Foundation's concept of bringing together top players—experienced and young, men and women—to play a relaxed, fan-friendly tournament on the famed Melbourne Sandbelt. The four rounds will be held at Kingston Heath, Royal Melbourne (West), Yarra Yarra and Peninsula Kingswood (North).
"It's going really well; the first edition [last year] was a massive success and now it has been confirmed it's back for another year."
This week, though, Ogilvy's focus is on doing what he's always done—shoot low scores in a tournament featuring Open Championship winner Smith, former Masters winner Adam Scott, and DP World Tour stars Min Woo Lee, Adrian Meronk, and Rasmus and Nicolai Hojgaard in the field.
"There's a lot of really good players who play every week at the moment," he said. "It's a really strong field. I'd have to play really well, but I just want to get in the mix and see how I go."