Course Design
Geoff Ogilvy secures Medinah No. 3 renovation at cost of $23.5 million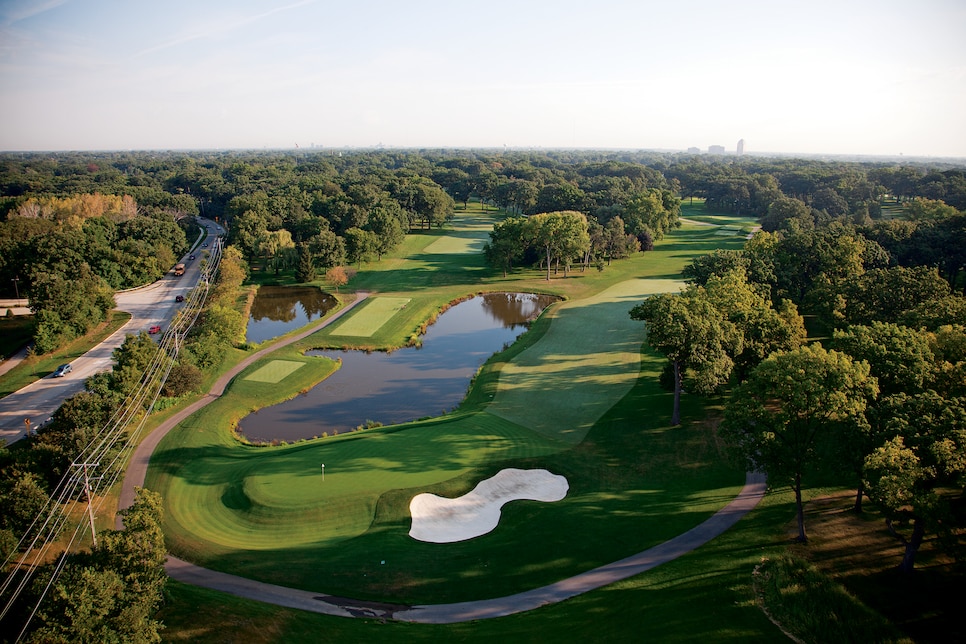 Geoff Ogilvy has quietly built an impressive portfolio of course design work across Australia and Asia. Now he and his firm of Ogilvy, Cocking and Mead have secured a large-scale project at one of golf's well-known tournament courses to preserve its status as a sought-out venue for major championships.
Medinah Country Club announced on Tuesday its members had approved a master plan by Ogilvy's team to perform a full-scale renovation of its No. 3 course. The project, which includes the creation of three new holes in addition to work on the entire routing, is budgeted at $23.5 million, the club said. Construction will begin at the end of 2022, and the No. 3 course will reopen in 2024. The news was first reported by The Fried Egg's Andy Johnson on Monday.
Ogilvy, the 2006 U.S. Open champion, first got into golf course design in 2010 with fellow Australian Michael Clayton and later partnered with Michael Cocking and Ashley Mead to form OCM. Previously, the bulk of the firm's work had been in Australia and New Zealand, but OCM completed a full-scale renovation of Texas' Shady Oaks in Fort Worth last year. Golf Digest recognized their work in 2021, ranking Shady Oaks as a top-10 renovation.
Approval of the master plan at Medinah No. 3 gives Ogilvy, Cocking and Mead its first high-profile project in the U.S., as Medinah looks to remain a viable venue to host future major championships. No. 3 has held five majors (the 1949, 1975 and 1990 U.S. Opens and the 1999 and 2005 PGA Championships) as well as the 2012 Ryder Cup. It is scheduled to host the 2026 Presidents Cup.
"We feel incredibly humbled and honored that the Medinah Country Club membership voted in favor of our plan," Ogilvy said. "It's a huge sign of confidence that the members are as excited with our concept as we are, and we can't wait to get planning started in 2022."
Watch Golf Digest's latest "Every Hole At" course videos below:
Medinah No. 3 has slowly slipped in Golf Digest's America's 100 Greatest rankings each year since 2007-2008, when it ranked 11th in the U.S. The Chicagoland design ranked 60th in our last ranking. The club and OCM agreed to a design partnership in December 2020, resulting in the approval of the plan by members on Saturday.
The plan includes the reimagining of Medinah's closing stretch, aiming to reduce the repetition of par-3 shots across Lake Kadijah (currently three one-shotters occupy the proximity to the water). The OCM redesign calls for a rerouting of the final six holes, including a short par 4 that would have four of the final six holes playing along the water. A putting course is also included in the plans.
"It is with great excitement that I can announce that the members voted with overwhelming approval of the Course No. 3 Master Plan," said club president William R. Kuehn. "This renovation encapsulates a continuing vision to provide compelling tournament play and a world-class golf experience for members, guests, and the professional tournament player."
Here's a look at some renderings of OCM's plans, courtesy of Medinah Country Club: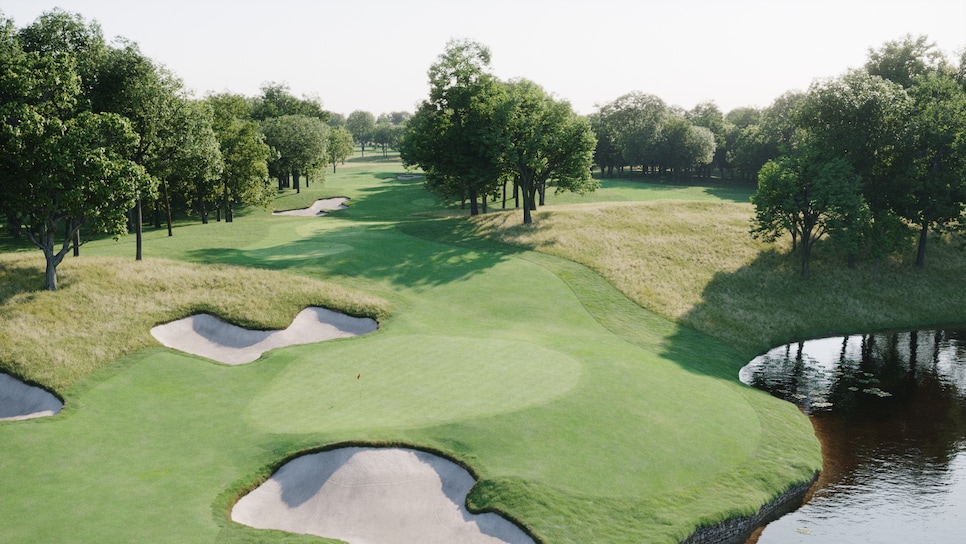 The proposed new look of the 13th hole and up the 14th.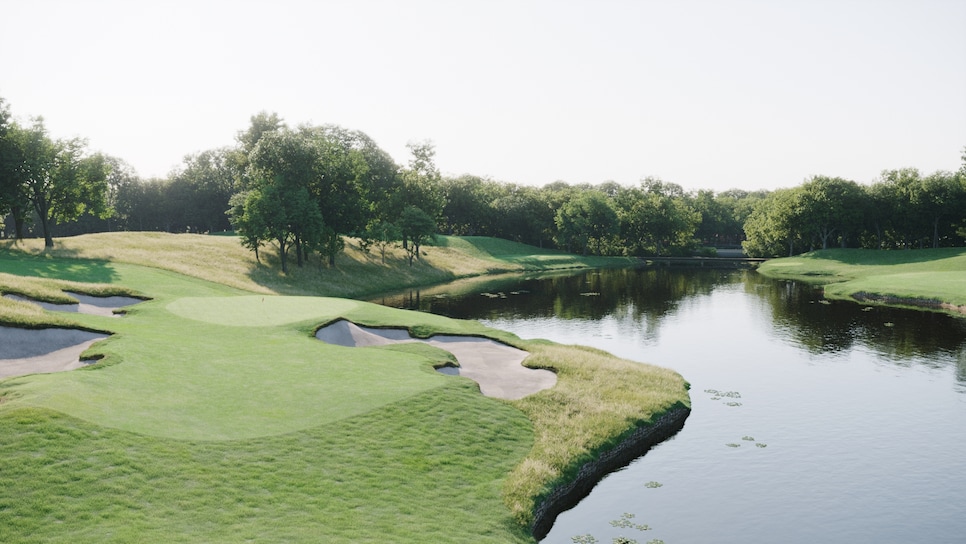 A straighter view of the proposed new 13th hole.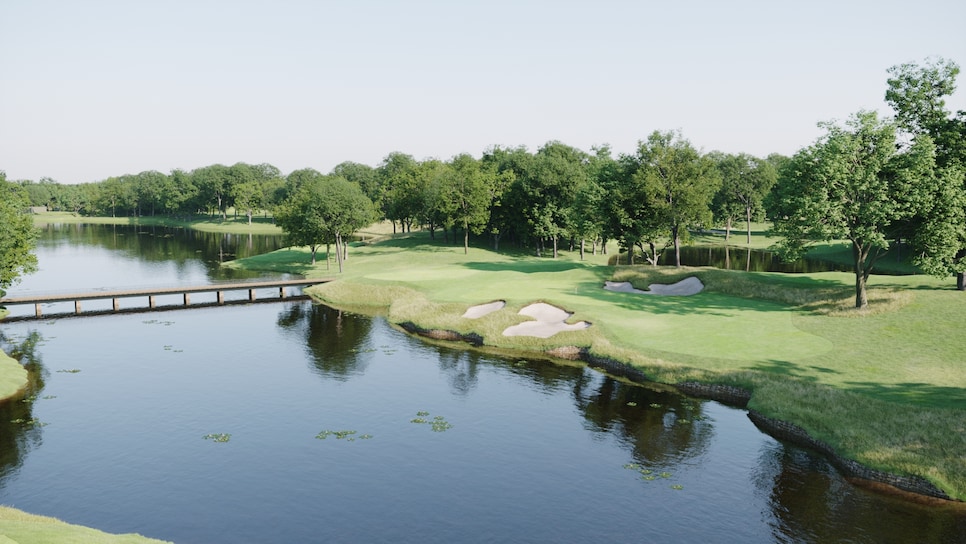 A rendering of the renovated 17th hole.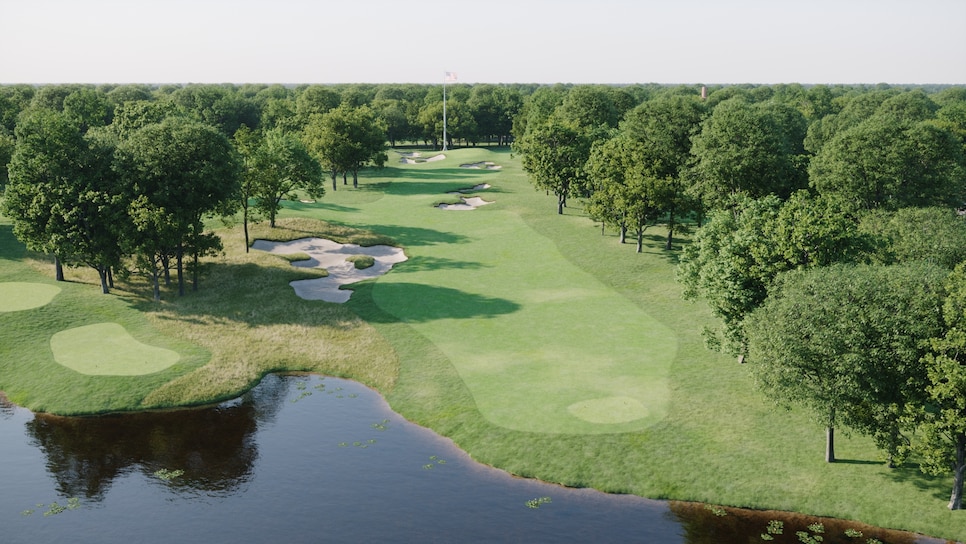 Looking down at the new 18th.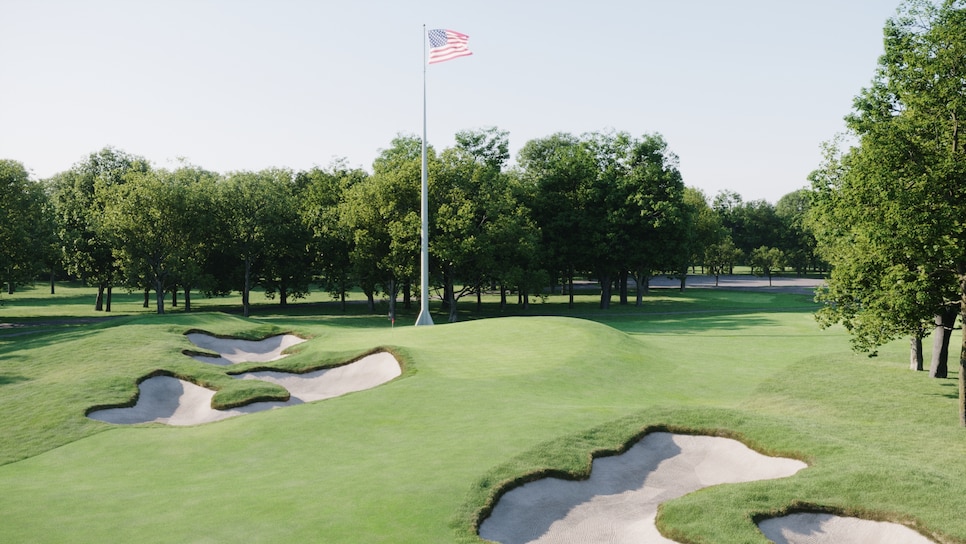 The proposed new 18th green.