G'Day
Former pro and cancer survivor Daniel Beckmann hits $100k ace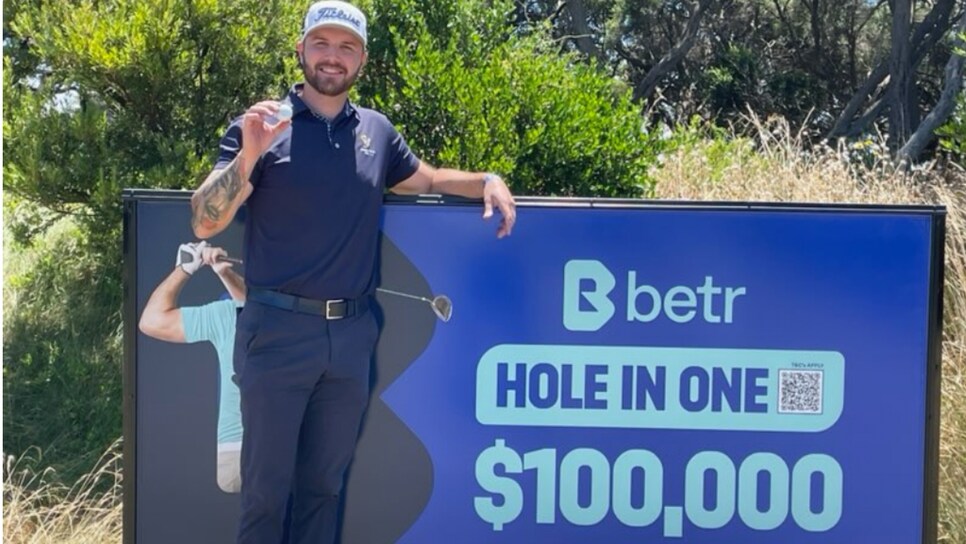 The Peninsula Sotheby's Portsea Pro-Am in Australia consisted of 48 golfers competing for a share of $50,000. On one shot, Daniel Beckmann doubled that pot just for himself.
The former pro and cancer survivor hit a "perfect, flat, drawing 6-iron" on the par-3 seventh, which landed six feet short of the flag, eventually rolling right into the cup. It was the sixth ace of his career, first in a professional event and the most important one of his life.
"I had no idea there was even a prize when I hit the shot. I had no idea there was anything up for grabs," Beckmann said. "One of my playing partners said to me, 'That's gone in!' "He came up and gave me a hug and I was like, 'Really? Did it really go in?' And he said, 'Yeah, that's 100 grand. You've just won a hundred grand.'"
"Once I found out that it actually did go in, I got really shaky," Beckmann added.
The micro-betting app, betr, put up the extra reward for a hole-in-one at the event, and it's one of a few recent jaw-dropping prizes for an ace in recent years. Wade Ormsby received 204 bottles of Glengoyne Highland Single Malt Scotch whisky at the 2021 Scottish Open and Deyen Lawson took home a $250,000 BMW 850 M at the 2018 Alfred Dunhill Championship.
The Australian didn't see the shot go in—he initially thought it landed behind the hole—but that certainly won't stop Beckmann from using the vast majority of the money to fund his pursuit of a career in professional golf. He also alluded to new jewelry for his partner, Kara, which is a pro move for sure.
Back in 2009, Beckmann's attempt at a pro career was put on pause due to a cancer battle that hospitalized him for two years. Now in his fourth year of remission, he certainly has the funds to make another go of it.
"Playing out here, all you really think about is how am I going to fund my next event or my next three events. How am I going to fly to this event? How much is my hire car going to cost? You think about that stuff every day so this will make all of that a lot easier to deal with," Beckmann said. "I don't think it's sunk in yet. And I don't think it will for a while. Not until I see the number in my bank account. I don't think I'll really process it until that point."