U.S. Open
U.S. Open 2022: Co-leader Collin Morikawa is not to be trusted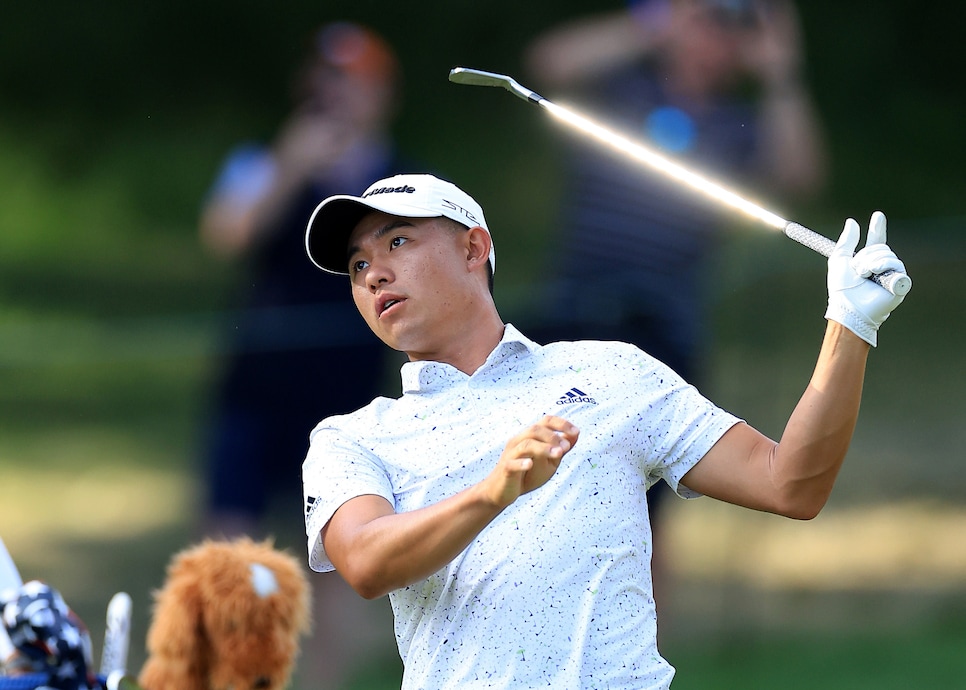 Collin Morikawa plays his second shot on the ninth hole as the sun reflects off his club's shaft during the second round of the 2022 U.S.Open.
David Cannon
BROOKLINE, Mass. — Collin Morikawa is a nice guy. Polite guy. Thoughtful, observant, humble. So it pains us to say the following: The man is not to be trusted.
That is not an aspersion made lightly and one any gambler will second, for earlier in the week Morikawa told anyone who would listen that his game was in an uncomfortable spot. His go-to cut was not cutting, and he had no appetite for the draw. He understood what was happening—the face was closed at impact—but for the life of him he's been unable to correct it.
"As of two weeks ago, probably pretty bad," Morikawa said when assessing his game on Tuesday. "This entire year has been weird. I've been known for my irons and known to hit cuts. That shot just hasn't been there."
Turns out that alleged confession was a deception, because it is Friday night and Morikawa, he of little faith, is tied for the lead at the U.S. Open.
"I think it was a continuation of yesterday," Morikawa said, turning in a second-round 66 to complement his opening-day 69, atop the board with Joel Dahmen at five under. "I just didn't let off steam on the back nine. It was stalling a little bit throughout the back nine. Got a fortunate break and a shot on 8, and unfortunately, missed the putt, but that kind of kept the round going."
Perhaps we should have known better. After all, Morikawa said last July that links golf threw him for a loop at the Scottish Open, only to proceed to win the Open Championship the following week. He is either a quick, quick learner or a cunning little rascal.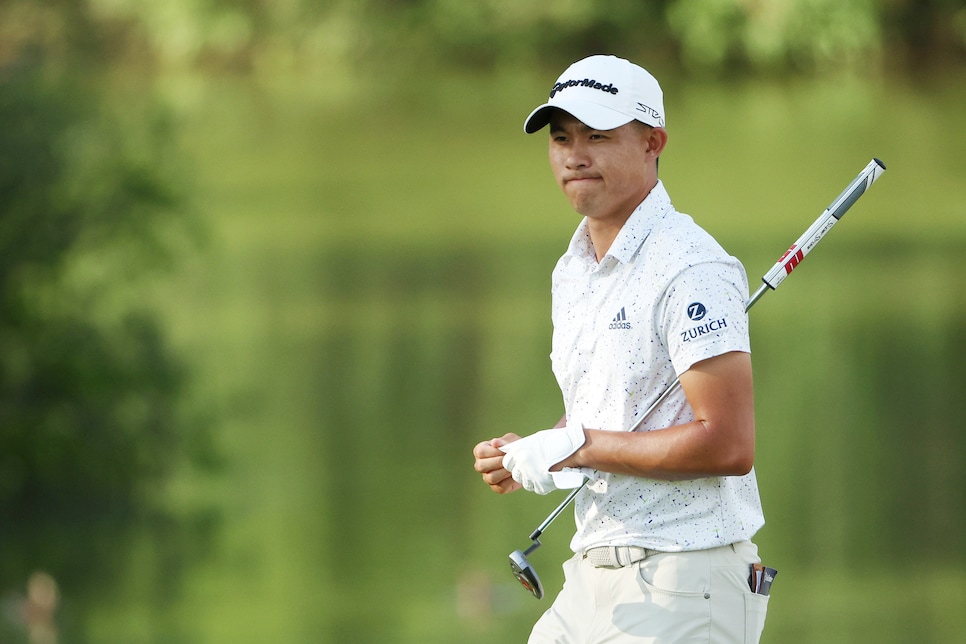 Collin Morikawa reacts on the ninth green during the second round.
Patrick Smith
In Morikawa's defense, at least here in Brookline, he was not fibbing: The cut remains absent, and Morikawa's indignation that it has not returned is real. But turns out the draw can be lethal, too. Entering the week ranked fifth in SG/approach, Morikawa gained over two-and-a-half strokes on the field in this category Friday afternoon. After his round Morikawa said the draw has not only grown on him, but ultimately could unlock his potential.
"I think what it proves is just you can play this game with many shots," Morikawa said. "I remember the first time I played with Tiger, and he hit every shot that called for it. Pin is on the right; you hit a little cut. Pin is on the left; you hit a little draw. I think this is just going to hopefully make my iron play and make my game a little bit more well-rounded rather than just hitting a cut. But this week we're just going to work with what we have, and right now it's a little baby draw."
His day was not without its blemishes. No U.S. Open card is. He bogeyed the fourth and parred the fifth, and though par is usually your friend at the national championship the fifth is a driveable par 4 that played as the second-easiest hole on Friday. He hit his second shot at the par-5 eighth from 208 yards to four feet, yet could not convert the eagle, staring at his putter as though if it betrayed him.
Of course, we are nitpicking the player who has bettered 154 others and is tied with another through 36 holes, and that putter—one that has often been Morikawa's foe—has been his friend in Boston, gaining over three strokes against his competitors on the dance floors. Anytime he has been average on the greens in his nascent career he has been a tough out. When the flat stick has been a weapon … good night, doctor.
Yes, it's only 36 holes, and yes, this leaderboard has the likes of Rory McIlroy, Jon Rahm and Scottie Scheffler, a frisky Aaron Wise and better-than-he'll-let-you-believe Dahmen, and a whole bunch of other formidable guys more than worthy of taking this crown. Conversely, Morikawa has a habit of bringing his best to the best events. He owns the Wanamaker Trophy and claret jug, but also a T-8 at the 2021 PGA, a T-4 at the 2021 U.S. Open and a fifth-place finish at this year's Masters. Should he win this week it would be his third major championship in just his 11th major appearance, and if that sounds ridiculous you are right: No player in the Masters era has won three majors in fewer starts.
Morikawa did not want to discuss what could be, instead focusing on what he needs to do to get to that point. "Yeah, it's a major championship. It's the U.S. Open. No one has taken it deep so far and kind of run away, but you know what, right now my game feels really good," Morikawa said. "The last few days is a huge confidence booster for me heading into this weekend, and hopefully we can kind of make some separation somehow."
Confidence. That is a prerequisite at the national open. Through two days, Morikawa seems like a confident man. Wait. Confidence … man … con man. Figures. Like we said, Collin Morikawa is not to be trusted.