The Grind
Chris Kirk's new celebratory beverage, Dustin Johnson's most Dustin Johnson quote ever and LIV's embarrassing "loss"
Welcome to another edition of The Grind, where we are feeling pretty bummed about our children's professional golf prospects after learning about Eric Cole's background. If the son of a PGA Tour winner AND an LPGA star can't make it to the tour until he's 34, then what chances do the daughters of a single-digit handicap dad have?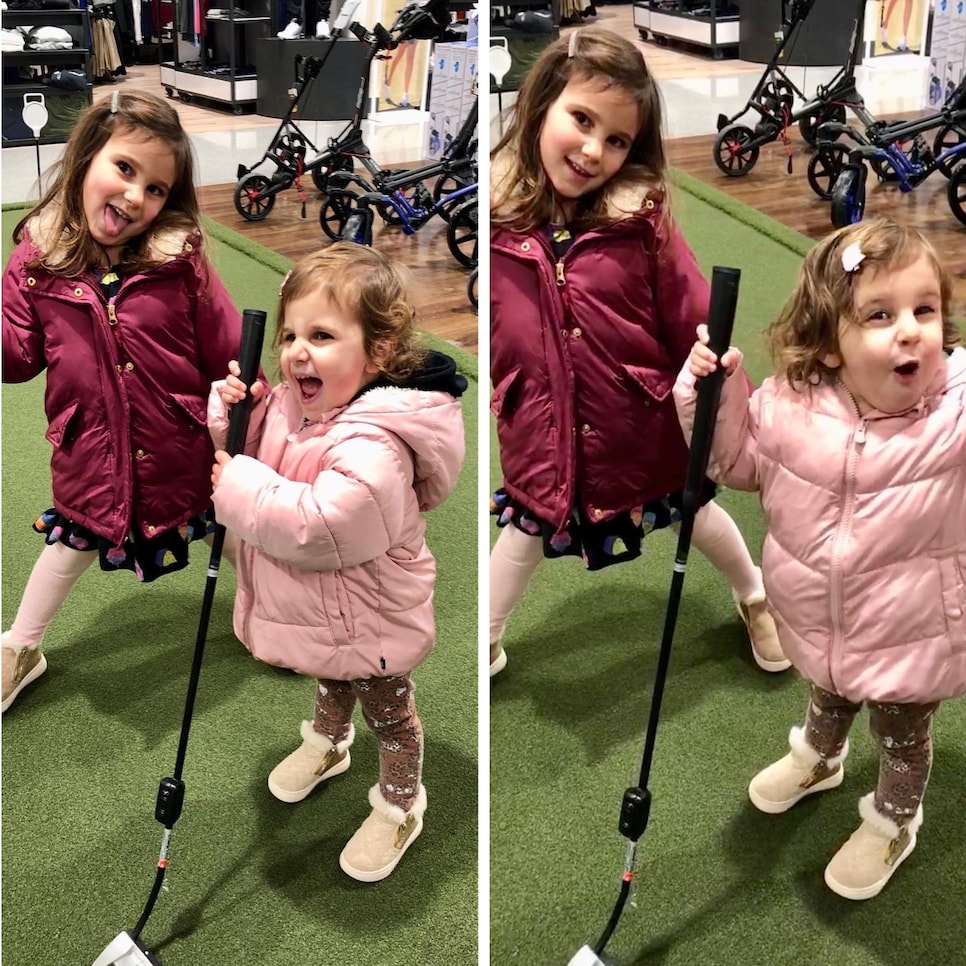 Sorry, girls. In any event, this is a safe space for everyone to talk about golf no matter what your ability is. Let's get to it.
Chris Kirk: A four-time PGA Tour winner who had to take a break from golf in 2019 to get himself right after realizing he had a problem with alcohol getting back into the winner's circle after eight years? What a great story. Instead of getting into it more, we'll let Kirk talk about it:
Well said, Chris. Not that winning the Honda Classic came easy, either. It was a finish that included one of the dumbest—and most unintentionally funny—shots in golf history on the 72nd hole when Kirk nearly hit a Honda in the middle of a lake.
Crazy. Anyway, after pulling out the playoff win over Eric Cole, Kirk said the Honda Classic victory party would feature a certain celebratory beverage for a second straight year. "Sepp [Straka] who won last year is known for his very high Diet Coke consumption, and I'm probably pretty close to him actually. I remember last year we ended up back at his house together that night, and that was the first thing he did is poured a bunch of Diet Cokes in there. I'll probably do the same." Like I said after Sepp won last year—and as a huge soda guy myself—I don't know how anyone chooses Diet Coke over Coke Zero, but you do you, Chris. It certainly seems to be working.
Marcel Siem: First of all, look at that hair and that shirt!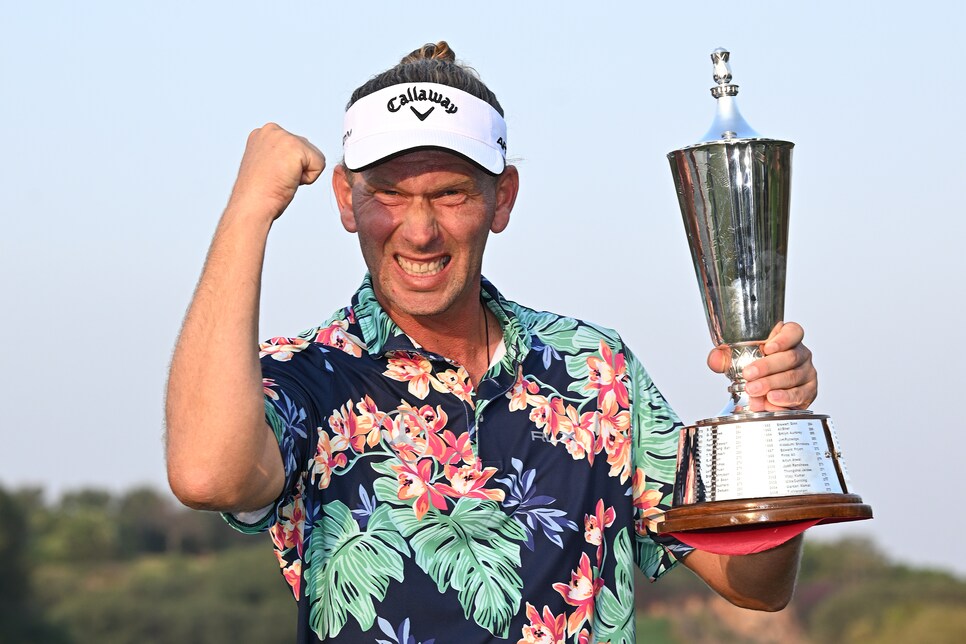 Spectacular. But as if that wasn't enough to root for, consider it had been more than eight years (It was a tough week for eight-year winless droughts, huh?) since his last victory on the DP World Tour. But the 42-year-old German got back in the winner's circle at the Hero Indian Open, taking down the rest of the field and successfully navigating bunkers that look more like something you'd see at a Pirate's Cove mini-golf course:
"This means a lot because two years ago I wasn't even sure if I could still compete ... and now I'm a winner again, come on," the man with golf's most recognizable man bun said. Good for you, Marcel.
Lilia Vu: Let's keep the redemption train going! The American is only 25, but three years ago she nearly quit after making just one cut in nine starts as a rookie. Now she might be a rookie on the U.S. Solheim Cup squad after earning her first LPGA victory in Thailand thanks to a final-round 64.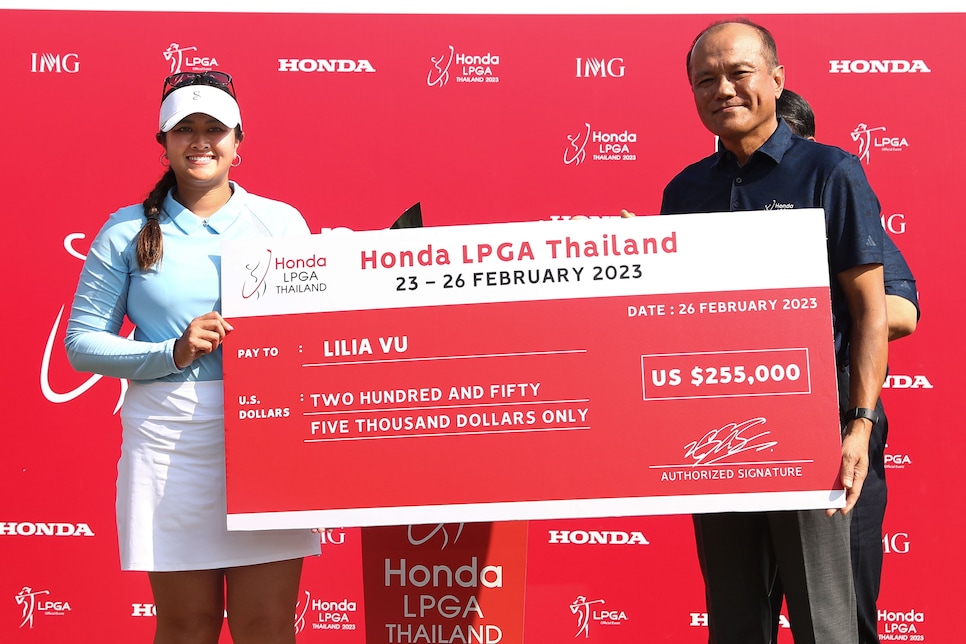 "I was in a really negative mindset, even my rookie year out here," Vu said. "I didn't feel like I belonged. Felt like every shot was life or death. I would look at the ball and set up and wouldn't know where I was going to go because I was so nervous." Well, you definitely belong now, Lilia. And, hopefully, you don't ever have to deal with an eight-year winless drought like the dudes above.
Joggers: I hate to keep harping on these things, but this is not just me sounding like an old man this time, I swear. As with Sam Ryder at Torrey Pines, Eric Cole became the latest person wearing these late on Sunday at PGA National. And the latest to not win while wearing them.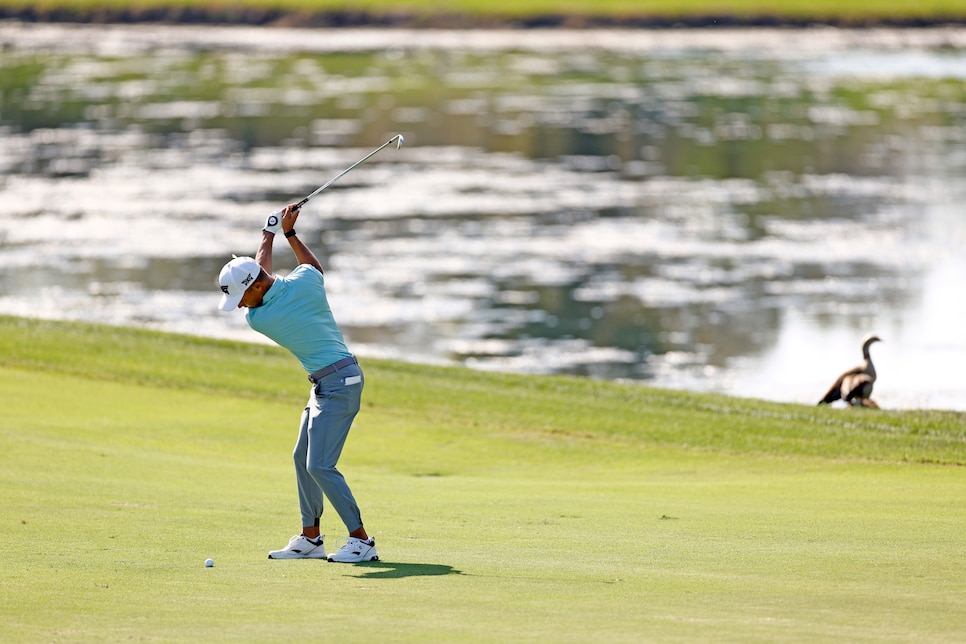 Make no mistake, it was still an incredible performance for the PGA Tour rookie, but people wearing joggers just don't win on the PGA Tour. Look it up. Winning your maiden PGA Tour title is tough enough. So it's probably best that you don't try to make golf (fashion) history in the process as well. And it's probably best to keep betting against guys wearing these short pants until this trend is broken.
The 4 Aces losing: So I did the "LIV team picker" on the league's website last week and would you look at who I got: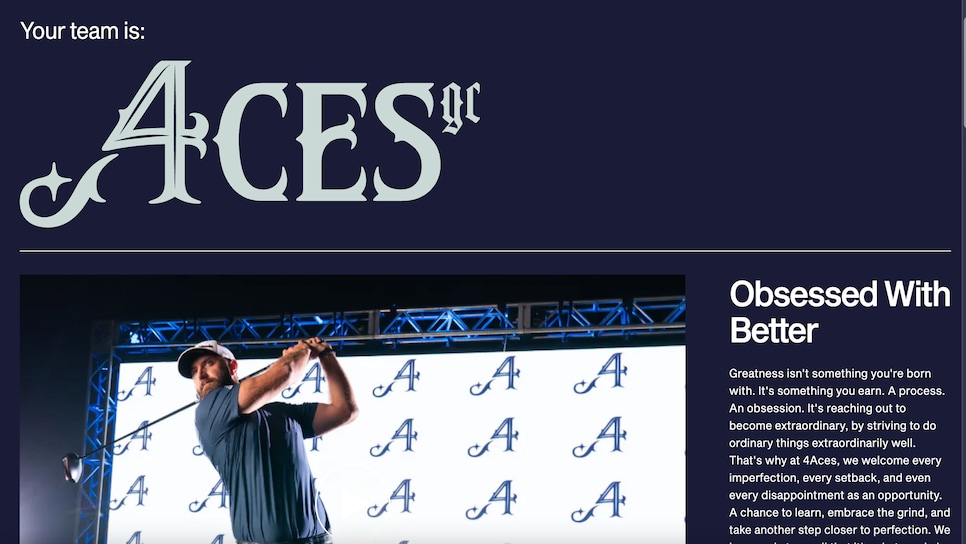 I'm not sure if it's because I said the animal I most closely identify with is a wolf or my 19th-hole order was an ice cream sandwich (truly, I wanted to order all the options), but apparently, I'm a 4 Aces guy. And everybody knows the Aces. But they lost so I'm bummed. Seems like my pro sports team rooting (bad) luck has carried over to golf, and I've already cursed this seemingly unbeatable franchise and budding dynasty with the Crushers winning LIV's season-opening event. Rough.
LIV's TV ratings: But not as rough as LIV's first-reported TV ratings. That would be a 0.2. Yep, zero point two. Even if you know nothing about TV ratings, you would know that is not good.
And this type of blatant, ridiculous propaganda isn't helping:
Look, Greg Norman was a big deal, but bigger than Michael Jordan? It's laughably preposterous. Not to mention a bunch of other athletes. I tried to watch some of the tournament on TV this weekend, I really did. But it's tough when the announcers are constantly saying stuff like that. Now to be fair—in regards to the rating, that is—this was the first time CW Network was airing LIV golf so there were probably people who didn't realize it was on, and, hey, you have to start somewhere. But even the Shark can't be happy about losing to "World's Funniest Animals."
The PGA Tour stays in the Sunshine State for the Arnold Palmer Invitational, AKA the one they play at Bay Hill each year, AKA the one where all the stars are returning this year with it being a designated event. That includes last year's winner, Scottie Scheffler, an old soul who seemed destined to rock the winning Arnie red cardigan: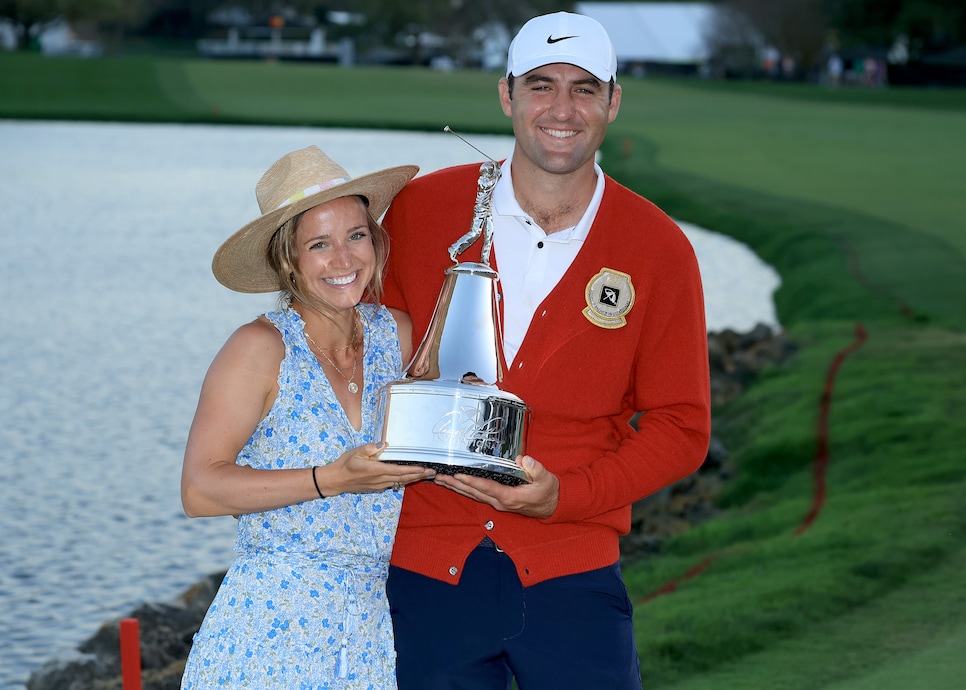 That special prize is even more of a reason for those in contention this week to NOT wear joggers.
Random tournament fact: Tiger Woods is NOT one of the stars returning this year, but that doesn't mean we still can't reminisce about the EIGHT times he won this event in a 14-year span. Wait, that can't be right, can it? Yep. It can.
RANDOM PROP BETS OF THE WEEK
—Another golfer will win this event eight times in a 14-year-span: 1 MILLION-to-1 odds
—The API won't do better than a 0.2 rating this weekend: 10 MILLION-to-1 odds
—"World's Funniest Animals" is going to get a small ratings bump this weekend: LOCK
Good lord is golf expensive these days:
Forget about my girls being pro golfers, maybe it's better they don't get into the sport at all. Kidding. Sort of.
CLUB PRO GUY TWEET OF THE WEEK
Playing off a Golf Digest post, CPG nails it yet again:
We just hope he doesn't get subpoenaed on Christmas Eve.
Rising star Akshay Bhatia stripped down: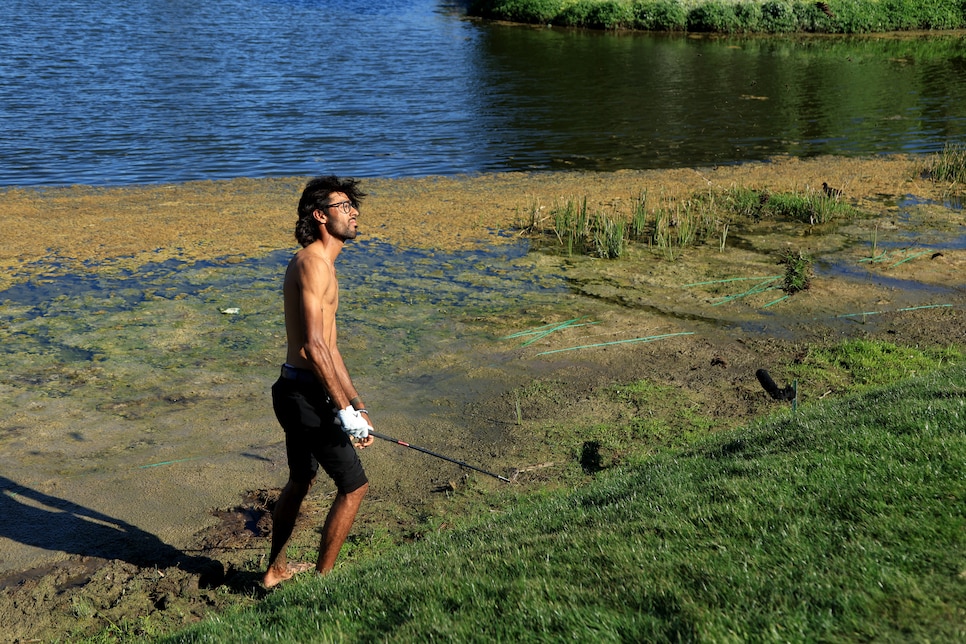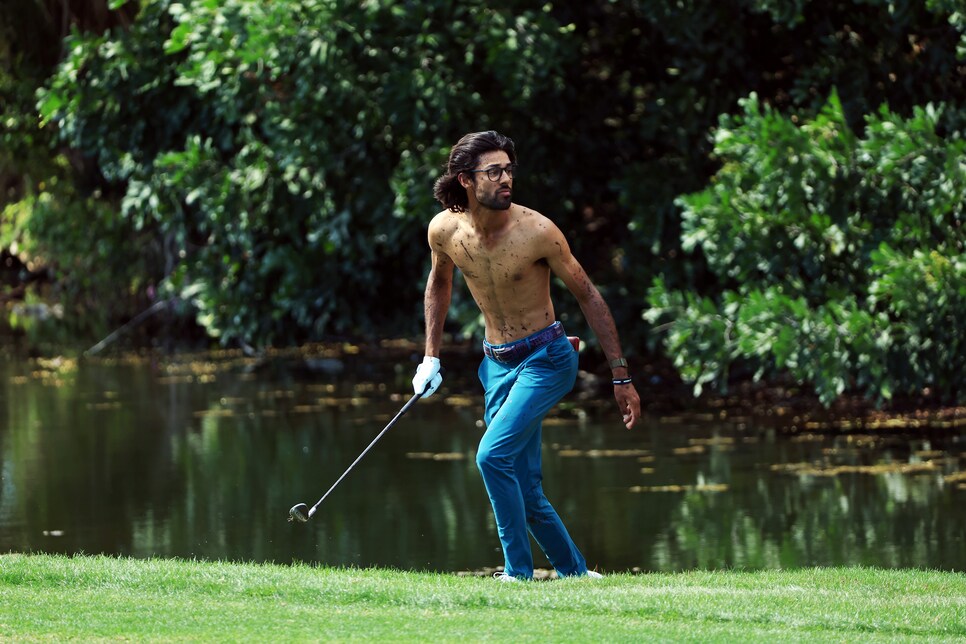 Talk about skinny-dipping, am I right, Akshay? "I feel like my body looks good, and hopefully on TV it makes it look a little bigger." Good stuff, Akshay. But also good luck to you (and NBC) on avoiding an FCC fine.
VIRAL VIDEO(S) OF THE WEEK
Conditions got (Cue Conor Moore's classic Tiger Woods impression) "really tough" during a college golf tournament:
But these conditions were even scarier:
THIS WEEK IN PUBLIC DISPLAYS OF AFFECTION
OK then. Looks like we already have a winner for Chris Powers' annual "Screengrabs of the Year" collection. It also looks like LIV is pulling out all the stops to try to pump up those TV ratings.
"I watched them film me, so I don't need to watch the episode." —Dustin Johnson on whether he'll watch the episode of Netflix's "Full Swing" in which he's featured. Good to see DJ still has his (press conference) fastball. I mean, that is just peak DJ being DJ right there. A T-35 at Mayakoba, however, was not peak DJ on the golf course. We'll assume he's still in spring training mode. And we'll also assume DJ won't be checking out any of our "Full Swing" recaps, either. But that doesn't mean you shouldn't!
Congrats to Justin Thomas and playing partner Mike Walrath for winning the Seminole pro-member, which had a better field than both the Honda Classic and LIV Mayakoba. But Club Pro Guy will be more proud of Brendon Todd and Jim Davis for winning the net portion … Charles Howell won $4 million in Mayakoba, or almost $1 million more than he'd earned in his previous three seasons on the PGA Tour. Combined. But yeah, "money was not a factor." Sure thing, Charles! … Brooks Koepka says he's cool with Bryson DeChambeau and Dustin Johnson now. The golfers that get $100 million guaranteed contracts together, stay together, I guess. … And, finally, congrats to my colleague Joel Beall on absolutely cleaning up with this year's GWAA Awards. Just look at this headline!

Jeez, Joel. Save some for the rest of us. But seriously, that's some strong company.
RANDOM QUESTIONS TO PONDER
What's the most you've ever paid for a round of golf?
What's the total net worth of those playing in the Seminole pro-member?
Does Dustin Johnson watch "World's Funniest Animals"?