Intuition being an invaluable tool in golf, Chris Kirk opted to skip the more lucrative Genesis Invitational last week in favor of the Honda Classic in Palm Beach Gardens, Fla., figuring his game was more suited to the Champion Course at PGA National Resort. Execution being paramount, Kirk had to make the decision pay off, which he did—barely—by fending off rookie and local favorite Eric Cole on Sunday for his first PGA Tour title in nearly eight years.
Recovering from a pair of poor swings on the par-5 18th hole, once in regulation and again in a sudden-death playoff, Kirk stuffed a wedge to inside a foot for a tap-in birdie on the first extra hole to escape with his fifth career PGA Tour victory. Cole, packing a prominent golf pedigree and a hot putter, nearly extended the playoff, but his 11-foot birdie putt burned the left edge of the hole and spun out. It was just his second miss from inside 20 feet all day.
"I just have so much to be thankful for," said Kirk, 37, of Athens, Ga., who has battled back from alcoholism and depression in recent years. "I'm so grateful. I'm grateful for my sobriety. I'm so grateful for my family. I'm grateful for everyone that's supported me throughout the past three or four years. Especially, thank you so much to my wife Tahnee. I have not been the easiest person to be married to always. And my boys, Sawyer, Foster and Wilder … I love them so much. Can't wait to see them.
"Yeah, I owe everything that I have in my entire life to my sobriety," Kirk added. "I wouldn't be doing this for a living anymore. I probably wouldn't have the family that I have currently anymore. I came really close to losing everything that I cared about."
He came really close to losing this tournament, the last in which Honda served as title sponsor after 42 years. Kirk, whose last win came at the 2015 Crowne Plaza Invitational at Colonial, nearly gave it away on the 72nd hole when, clinging to a one-stroke lead, he came up short of the green on 18. The ball caromed off rocks just in front of the putting surface and into the lake. He held the club over his head in disbelief and went on to make bogey. However, he was given a second chance when Cole couldn't get up and down from left of the green and settled for par.
"I was in a great position on 18 and just made a bad swing at the wrong time," Kirk said of his approach from 249 yards. "I was trying to stay aggressive and hit it in the middle of the green, but in hindsight it would have been better to hit it over to the left somewhere. Thank God it worked out."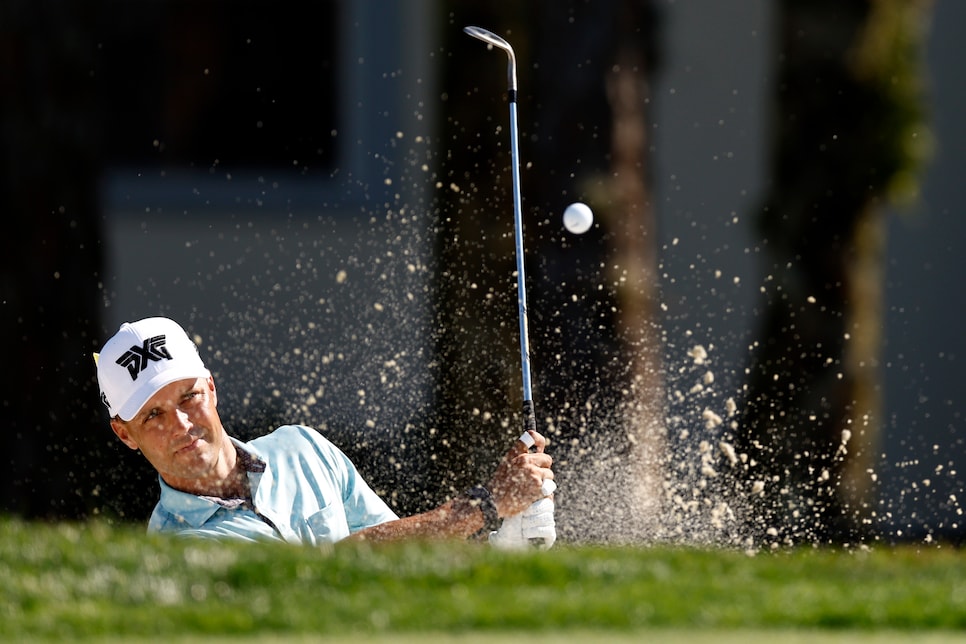 Eric Cole blasts from a bunker on the seventh hole during the final round of the Honda Classic.
Douglas P. DeFelice
The two finished at 14-under 266, two strokes better than any previous winning score at PGA National. Kirk closed with a one-under 69 and Cole, the son of former LPGA star Laura Baugh and past PGA Tour winner Bobby Cole, had a 67.
In the playoff, Kirk put himself in a different predicament when pushed his tee shot behind a tree and had to lay up, but his third, from 100 yards, was nearly perfect. Cole found the back bunker from the fairway and splashed to 11 feet before watching his ball spin out.
With his mother in the gallery, Cole, 34, who lives in nearby Delray Beach, Fla., did not play like a rookie ranked 330th in the world in battling the far more experienced Kirk. He continually sank crucial putts—including a 70-footer for birdie at the par-3 fifth that briefly forged his first tie with Kirk—and even nosed ahead at the 13th hole from seven feet while Kirk bogeyed the same hole from the right fairway bunker.
Cole, whose best previous finish in 14 tour career starts came three weeks ago at the AT&T Pebble Beach Pro-Am, where he tied for 15th place, bogeyed the par-3 15th hole when he needed two strokes to escape the left greenside bunker, and Kirk regained the lead on the next when he holed a 19-foot birdie putt that barely crawled in.
The victory was worth $1.512 million for Kirk out of a purse of $8.4 million. Last week at the Genesis Invitational at Riviera Country Club near Los Angeles, the purse was $20 million.
Money isn't everything, though he did have green on his mind. And Kirk, who last month posted third-place finishes at the Sony Open in Hawaii and The American Express, confirmed that when he further explained his reasoning for opting for the opening event of the Florida Swing.
Had something to do with a certain invitational tournament in his native state.
"I'm not going to lie to you," he began. "I came into this week at 47th in the world golf ranking, and that's usually not something I care a whole lot about, but I have not played the Masters since 2016, I think, and growing up in Georgia, that kind of means everything to me. So I've been watching that World Ranking closely, trying to stay in the top 50. To take care of it this week, that's going to be something that's incredibly special."
It proved to be the right call. Intuitive, you might say.