PGA Tour
Jack Nicklaus hints at 2024 PGA Tour schedule changes that he says will leave South Florida event 'just fine'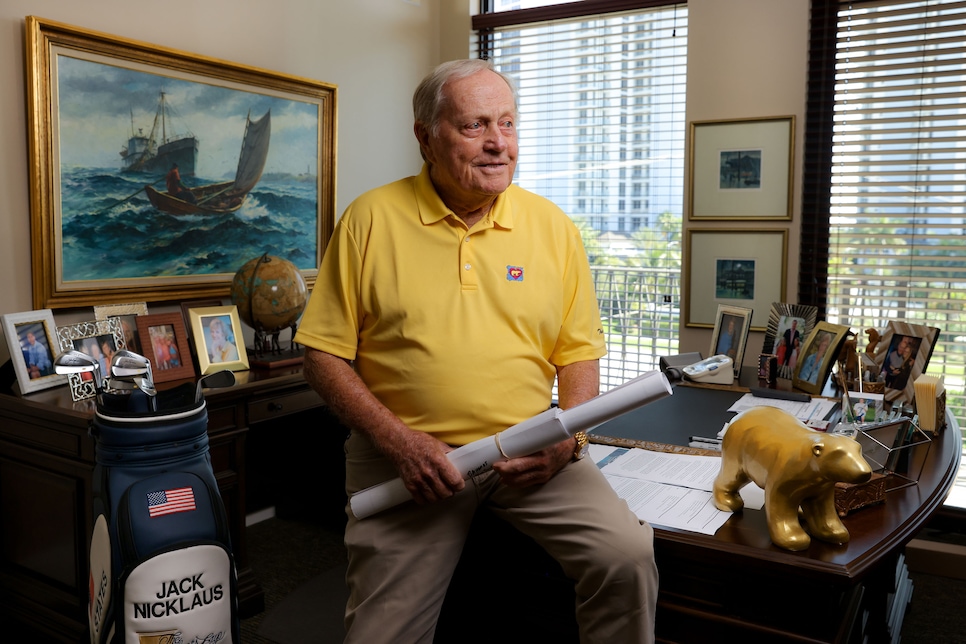 Jack Nicklaus poses for a portrait at the Nicklaus Family Office in North Palm Beach, Fla., in 2022.
Jamie Squire
In talking to local reporters on Sunday, Jack Nicklaus shed a little light regarding what he believes the future holds for the Honda Classic at PGA National, which is losing Honda as its title sponsor after a 42-year relationship with the PGA Tour event.
Nicklaus and his wife Barbara live in the Palm Beach Gardens, Fla., area and have long had ties to the tournament as the Nicklaus Children's Health Care Foundation has been a charitable beneficiary of the tournament for the last 16 years.
Some in the South Florida area are concerned about the long-term prospects for the event as none of the top 17 players in the Official World Golf Ranking were in this week's field. That was largely due to the fact that the two tournaments proceeding Honda on the schedule were among the tour's "designated" events (with lucrative $20 million prize money payouts), and the two events that follow it—the Arnold Palmer Invitational and the Players Championship—also come with the new moniker. So it was that several top players skipped this week to get some rest.
Still, the Golden Bear thinks there is a chance for the PGA National stop to eventually become as strong as ever. And it may not take as long as some have predicted, as Nicklaus relayed what he says the PGA Tour has told him about changes to the 2024 schedule that will give his beloved event a chance at attracting a better field.
"Next year's schedule … Pebble and L.A. are their elevated tournaments," Nicklaus said. "Phoenix is not. Then they go to Mexico, then they come here. So, we will have players next year. And then they've got Bay Hill and Players.
"The tournament's going to be just fine. The tournament's just fine anyway. Look at how this town has supported this event without having a great field. They stayed with it, supported it. I think they've done great."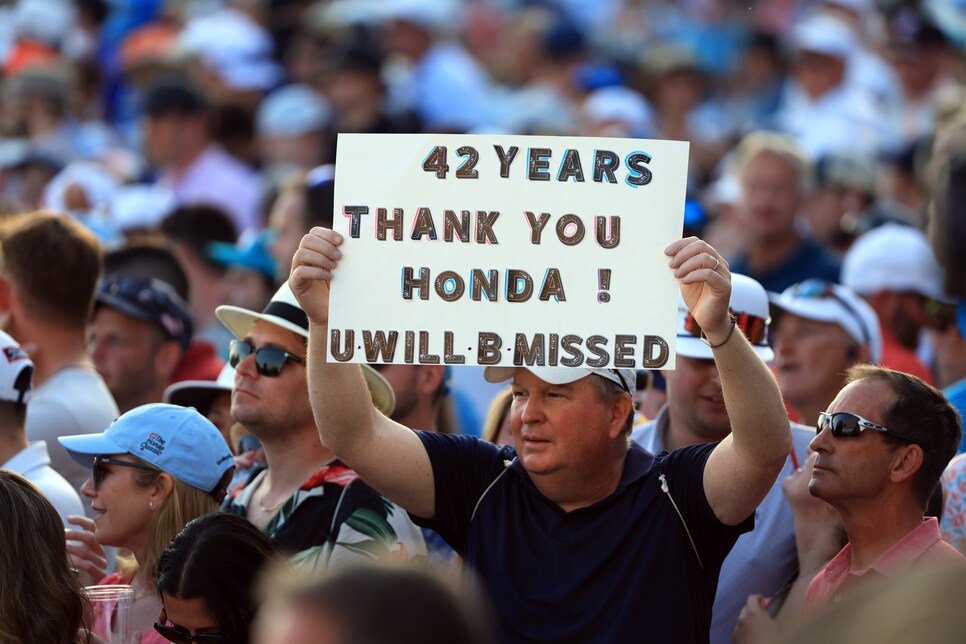 Aa patron holds a sign during Sunday's final round of he Honda Classic at PGA National. Honda is ending its title sponsorship of the event in 2024 after 42 years.
Sam Greenwood
If the schedule changes next year, as Nicklaus suggests, top players will have the option to take a week off before the Genesis Invitational at Riviera, then there will be an event in Mexico before the tour comes to the Honda Classic—with a new name—followed by the Arnold Palmer Invitational and the Players Championship.
PGA Tour officials, however, are reportedly still working out details of the schedule and are not expected to officially announce their plans until later in the summer.