CLOSE CALL AT HONDA
Eric Cole's roller-coaster stretch, which includes both tragedy and engagement, continues with best tour finish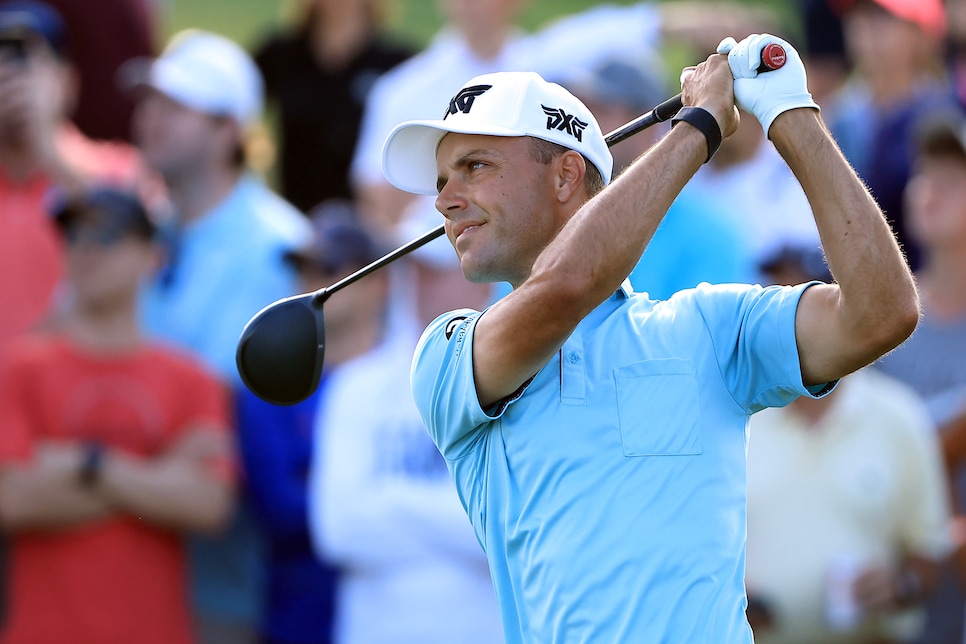 Eric Cole hits his drive on the 13th hole during the final round of the Honda Classic. He tied Chris Kirk after regulation but lost on the first playoff hole.
Sam Greenwood
PGA Tour rookie Eric Cole has enjoyed quite an eventful series of events in his last two starts on the PGA Tour. Three weeks ago he proposed to his longtime girlfriend Stephanie Williams at Pebble Beach Golf Links prior to the AT&T Pebble Beach Pro-Am. On Sunday at PGA National in Palm Beach Gardens, Fla., he engaged veteran Chris Kirk in a duel that didn't result in a victory but further brightened his future.
Fourteen years after he turned pro and in just his 15th PGA Tour start, Cole showed enough game and grit to take Kirk into overtime at the Honda Classic before falling on the first hole of a sudden-death playoff. Kirk stuffed a wedge to six inches for a kick-in birdie at the par-5 home hole on the Champion Course, and Cole, whose putter was nearly magical all day, couldn't answer, watching his equalizer from 11 feet lip out.
It might have been a disappointing conclusion, but Cole, 34, earned $915,600 with the runner-up finish and rose to 34th in the FedEx Cup standings, putting himself in great position to keep his card for next season. He also has a sponsor's exemption into the Arnold Palmer Invitational this week at Bay Hill.
"It was a great week overall," said Cole, who has more than 50 wins on various minor tours but had never been in that kind of pressure-filled environment. "I played three really good days of good ball-striking and then today, especially on the front nine, my ball-striking wasn't where it needed to be. I felt like I hung pretty tough, and I was really proud of that. I played as hard as I could. I can't wait to get back in that environment again. It was a lot of fun."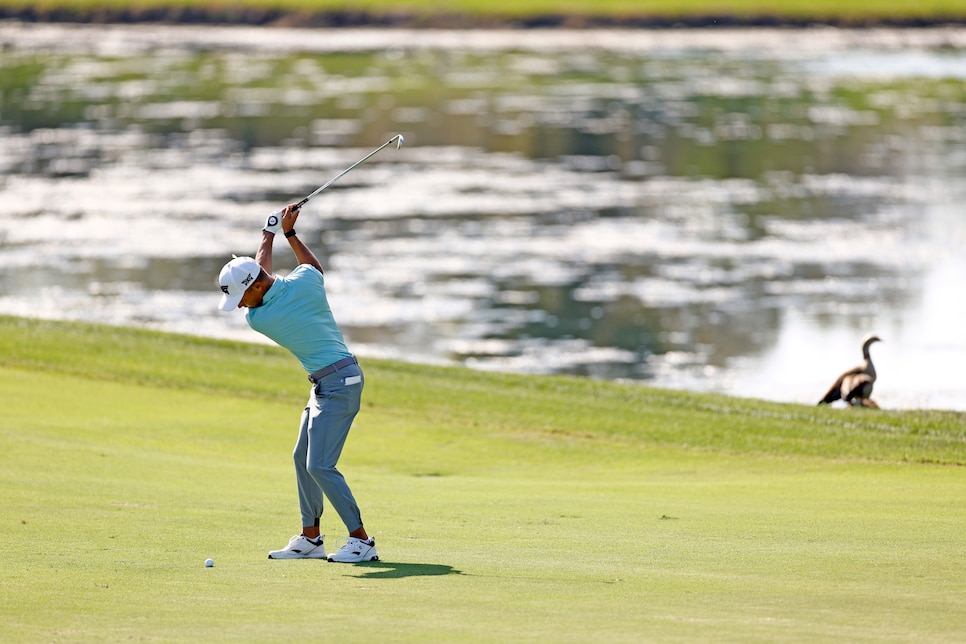 Eric Cole hits his second shot on the sixth hole during the final round of the Honda Classic.
Douglas P. DeFelice
Cole, who lives in nearby Delray Beach, Fla., was making his debut in the event, sort of. He previously caddied twice at PGA National for his close friend, Sam Saunders, the grandson of Arnold Palmer. This time, he was hitting the shots, and he posted four rounds in the 60s (67-66-66-67) in what was the last edition of the tournament sponsored by Honda. Cole, ranked 330th in the world, closed with a three-under 67 to tie Kirk at the end of regulation at 14-under 266.
Beginning the final round with a two-stroke lead, Kirk, 37, carded a final-round 69 that included a bogey on the final hole when he bounced his approach off the rocks in front of the green and watched it find the water hazard. That gave Cole, trailing by a stroke, an opening for an outright victory, but he couldn't get up and down for birdie from left of the green.
"If you would have given me a chance to win the tournament in a playoff on Wednesday night, I think I would have taken that, obviously," he said. "It's overall a positive. There's a lot that I can learn from it."
Cole is the son of famous pro golf parents. His mother is Laura Baugh, a former star on the LPGA and U.S. Women's Amateur champion, while his father Bobby Cole is a standout player from South Africa who won the 1977 Buick Open. With his mother in the gallery, Eric was attempting to join his dad as the 11th father-son tandem to win on the PGA Tour.
Pedigree aside, Cole hasn't had an easy road to the tour. A Korn Ferry Tour graduate, Eric was hit hard emotionally last May when his brother, Michael, one of his six siblings, died suddenly. Eric took it hard. Then there's his battle with Addison's Disease, an adrenal disorder that, among other things, can stunt growth. Eric is just 5 feet 9 and 150 pounds, though his talent and technique still allow him to generate sufficient power. He averaged 303 yards off the tee at PGA National, 29th in the field.
But it was his putting that proved most consequential. He ranked second in strokes gained/putting and made 407 feet of putts for the week—including 163 feet in the final round—to lead the field. He never missed inside five feet.
If anything, that proved his tenacity. And he was proud of that. "I think that's a good quality in somebody, so I'd like to think that I grind pretty hard and I try really hard," he said. "I'd like it if people said that about me."
There are a lot of things to say about Eric Cole after his performance Sunday. All good. And there is probably much more to come.