The Loop
Bryson DeChambeau's odd victory drink, Ian Poulter's jab at the USGA, and the dumbest golf bet on record
Welcome to another edition of The Grind, where we aren't quite as impressed with Bryson DeChambeau's night range sessions after going through our first two weeks of late-night feeding sessions. That's right, baby No. 2 is here, and she seems to have Bryson's appetite. Unfortunately, mom won't let me switch from formula to protein shakes yet, but we're going to have to soon just to keep up. At this rate, can you imagine what driving distance averages are going to look like by the time my Madison is trying to make it on the LPGA Tour? Anyway, it was weird being home while the best golfers in the world teed it up 15 minutes away at Winged Foot, but it also had its perks including getting to hear "In Celebration of Man" non-stop and cuddling on the couch with this little fan: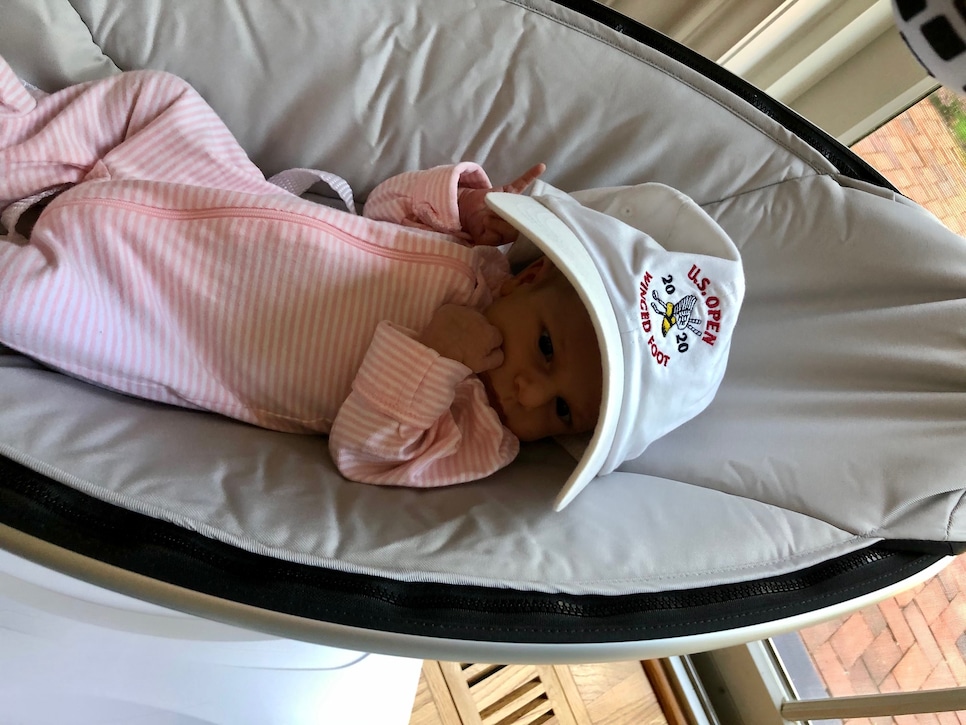 And while I should be catching up on some sleep right now, I wanted to catch up with you on everything happening in golf. Let's dive in.
Bryson DeChambeau: Following a dominating performance at the U.S. Open, Bryson has gone from golf's content king to its actual king. And while I understand the concerns that DeChambeau's distance experiment may have changed the game, you don't win a major by six shots by just wailing away off the tee.
Keep in mind, Bryson was one of the best players on the planet before becoming one of the biggest hitters. He led the field in scrambling at Winged Foot, and he finished 10th on the PGA Tour in strokes gained/putting last season, which is even more amazing when you recall he tried putting side-saddle just a few years ago. Side-saddle! Say what you will about the guy, but he's willing to try anything to get better. And he has worked incredibly hard in the gym/range/lab/dining room to get to this point.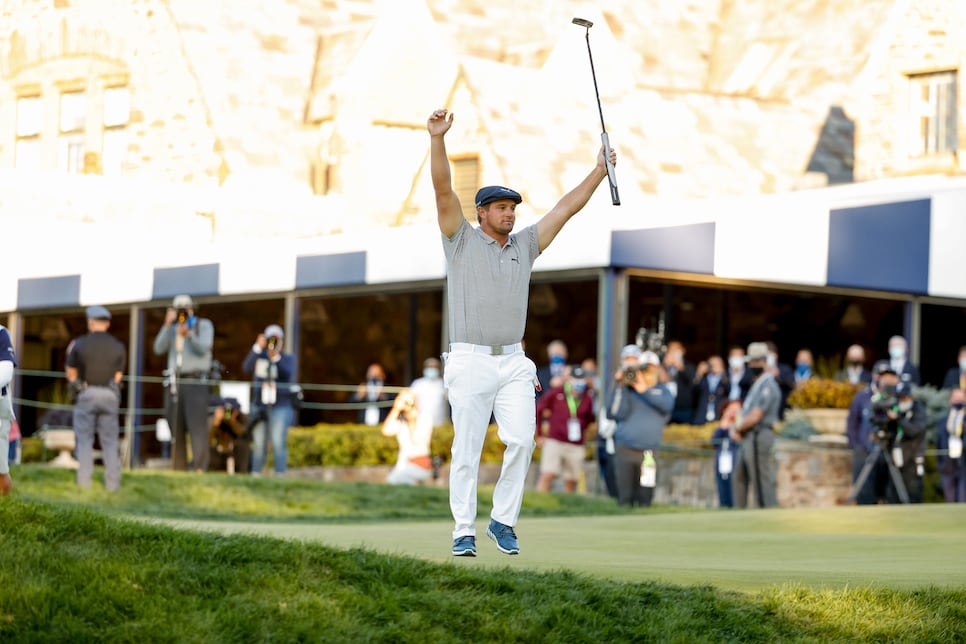 Oh, and the 27-year-old is going to keep tinkering and working hard. "Next week, I'm going to be trying a 48-inch driver," he said shortly after winning at Winged Foot. "We're going to be messing with some head designs and do some amazing things with Cobra to make it feasible to hit these drives maybe 360 [yards], 370, maybe even farther. I don't know." Oh boy. Pray for all the old golf writers around the world.
Matthew Wolff: It wasn't the Sunday he hoped for, but golf fans will be talking about his Saturday 65 for a long time as the 21-year-old became one of the youngest 54-hole leaders in U.S. Open history. Combined with last month's PGA Championship and Wolff has now finished tied for fourth and solo second in his first two major championships. Pretty, pretty, pretty good.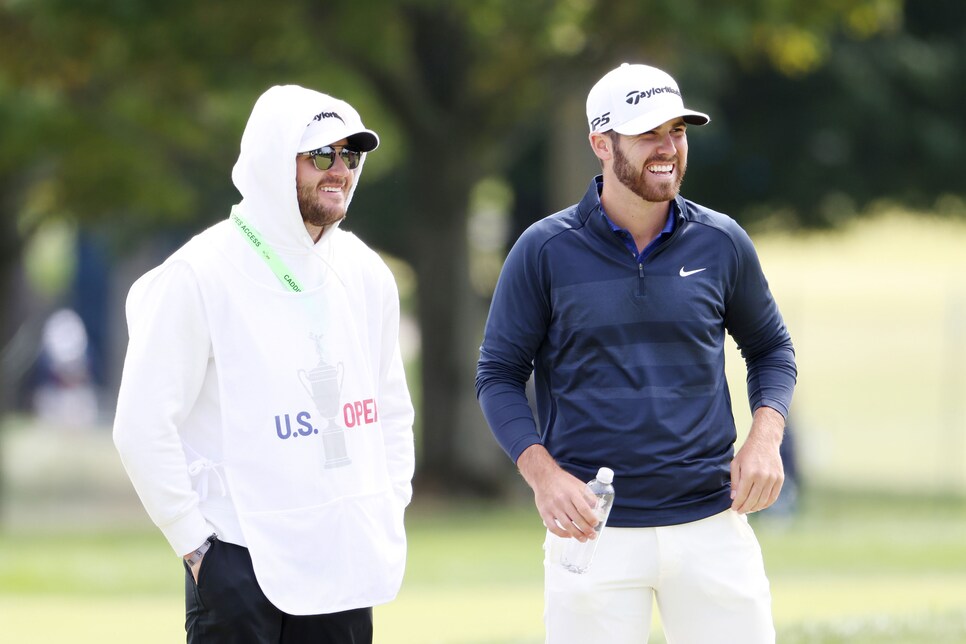 As I've mentioned before, I'm happy I can say I was there for the start of the Matthew Wolff Era last year because this dude is just getting going. And as we saw on Sunday, he was poking it past Bryson. Imagine if he ever gets on the DeChambeau diet?
Will Zalatoris: Shout-out to my fellow Wake Forest Demon Deacon for the incredible run he's on. Not only does he currently have a Korn Ferry Tour record of 11 consecutive top-20 finishes (and that includes the PGA Tour's developmental circuit through all its name changes), but he added another high finish at the U.S. Open with a T-6. That tied him with World No. 1 Dustin Johnson as the 24-year-old climbed to No. 76 in the OWGR. He also earned more money in one week ($424,040) than he has during his entire stellar Korn Ferry campaign ($403,978). Bryson won't be the only golfer treating himself to a few steaks this week.
Betting 45K on Phil to win the U.S. Open: What in the world was James Adducci thinking? The same guy who brilliantly bet 85K on Tiger Woods to win the Masters last year—winning a cool $1.2 MILLION—was looking for an even bigger payday on Mickelson by betting 45K, but he may as well have lit that money on fire as Mickelson missed the cut by seven shots. What a wild man. But Adducci wasn't alone. According to William Hill, nearly one third of money wagered on the tournament before it started was placed on Phil, so there were a lot of suckers out there. No wonder the house always wins.
Thomas Pieters' putting: Speaking of bets, I had $10 at 180-to-1 odds on this Belgian who had the solo lead at one point during the second round and who was the only player other than Bryson to get to six under at Winged Foot. He didn't stay there, though, thanks in large part to one of the poorest putting performances in history.
Sigh. I mean, even my boss, Sam Weinman, putted Winged Foot's greens better. And we used to refer to him as "Sammy Decel" around the old office putting green. Oh well. At least I didn't waste my money betting on Phil Mickelson.
"The Great Wall of Dinah": Yeah, yeah, this happened a couple weeks back at the ANA Inspiration when I was out, but it's too ridiculous not to point out. I mean, WTF?
And it wound up factoring into the finish! What's next? Walls down the sides of the fairways like bumpers on a bowling alley?
The PGA Tour heads to the Dominican Republic for the Corales Puntacana Resort and Club Championship, AKA that tournament that Tony Romo plays in every year. But with the event moving to September this year, that made things a bit trickier for the former Dallas Cowboys quarterback turned CBS football analyst. Apparently, he's used up all his allotted vacation time this year, because he'll be in the booth this week instead of on the course.
Random tournament fact: With the scheduling change, this event will actually be played twice within the same PGA Tour season. Mind. Blown.
RANDOM PROP BETS OF THE WEEK
—That was Phil Mickelson's final U.S. Open appearance: 1 MILLION-to-1 odds
—Will Zalatoris will win in the DR: 14-to-1 odds (Actual odds, co-favorite!)
—Tony Romo will be back on the PGA Tour at some point: LOCK
Well played, Poults. Although, if Davis really wants to be inspired, he could just pop up I-684 to my house to look at my hair right now. Talk about rough.
Caddie Geno Bonnalie gave a hilarious tour of his crappy hotel room for U.S. Open week after his Airbnb canceled at the last minute:
So if there was a silver lining to his boss, Joel Dahmen, missing the cut, it's that he didn't have to spend the weekend in that dump.
THIS WEEK IN TOUR PRO PUBLIC DISPLAYS OF AFFECTION
Not in the U.S. Open field, PGA Tour pro Maverick McNealy spent the week filming girlfriend Danielle Kang as she played on the LPGA Tour.
Looks like Mav just earned a lot of brownie points. Well done, young man.
THIS WEEK IN TOUR PROS ARE JUST LIKE US
Mark Hubbard topped a tee shot on Winged Foot's famed 10th hole during a practice round. And then had a delightful reaction on Twitter.
But yeah, it wasn't too surprising to see him miss the cut after seeing that.
THIS WEEK IN CELEBRITY GOLFERS
Apparently, iron covers still exist. And Luke Donald wasn't about to pass up an opportunity to dagger someone for using them. Even if that someone is boxer Anthony Joshua:
Bold move. But seriously, get rid of those, big guy.
"I'll party, but I won't drink. Not my style. I'll drink all the chocolate milk there is, though." —Bryson DeChambeau.
What an interesting cat. Forget about changing how the game is played, Bryson is trying to change how wins are celebrated. What a trailblazer. And again, he's onto something. Thanks, Bryson, for making it acceptable for adults to order chocolate milk. That stuff is delicious.
Congrats to Matteo Manassero for ending a seven-year winless drought. It came on the Alps Tour, but regardless, it's nice to see the once can't-miss future star playing well again. Not a lot of 27-year-olds can say they've had a seven-year pro winless drought. . . . Congrats to Georgia Hall for picking up her first U.S. win at the LPGA's Cambia Portland Classic. Of course, that's not quite as big of a deal when you've already won a British Open. . . . Jim Furyk made it two-for-two on the PGA Tour Champions with a playoff win at Pebble Beach. Your turn, Phil. . . . There are plenty of cool Tiger-related auction items to bid on with proceeds benefitting TGR Foundation, but none cooler than this golf cart from The Match II:
That is one sweet ride. . . . And finally, I ate chicken francese for nine consecutive meals this past week (Shout-out to my brother-in-law for sending a huge tray of the stuff when my wife and I returned from the hospital). NINE! I didn't think I could ever top my streak of eating at Chili's for 35 straight nights while covering the Players Championship (over seven years), but, well, I did. Of course, Bryson probably could have eaten the entire tray in one sitting.
RANDOM QUESTIONS TO PONDER
How many majors will Bryson wind up winning?
How much chocolate milk fits into the U.S. Open trophy?
Will I ever feel like eating chicken francese again?