News
Jim Furyk wins in a playoff, while Ernie Els' Pebble Beach disappointments mount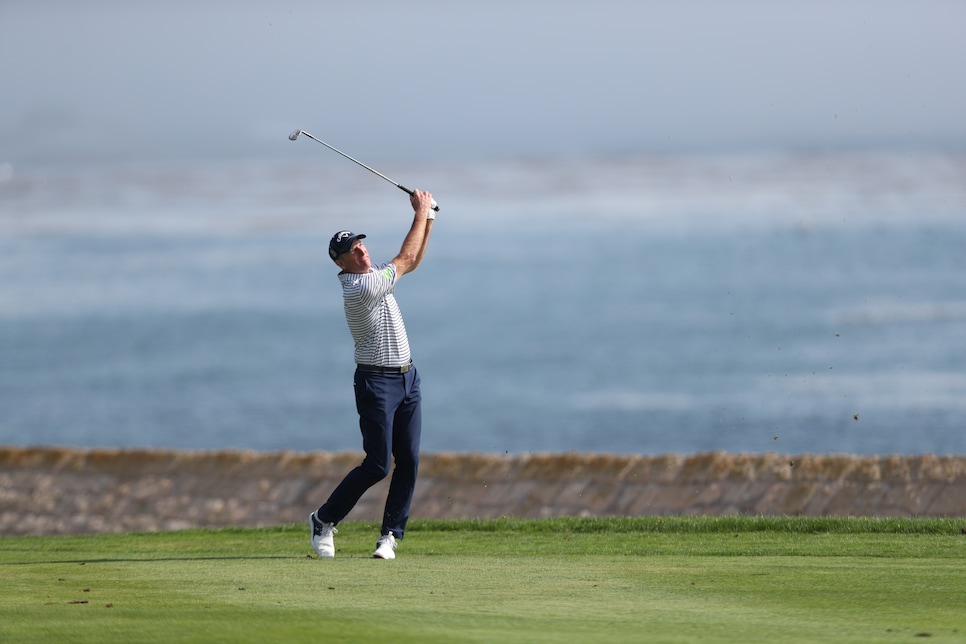 The game never really owes anyone, though Ernie Els would be forgiven had he thought Pebble Beach was indebted to him. Once more, he left the Monterey Peninsula in disappointment.
For the record, Jim Furyk won the PURE Insurance Championship with a birdie on the first playoff hole, the iconic 18th at Pebble Beach, on Sunday, defeating Jerry Kelly for his second PGA Tour Champions victory in his only two starts.
Furyk, who turned 50 in May, joins Arnold Palmer and Bruce Fleisher as the only players to win their first two senior starts.
"I feel very fortunate," Furyk said. "It means a lot. When I won at [the] Ally [Championship], I hadn't won in over five years. It's why we play the game, it's why you work so hard, it's to have this feeling.
"I feel honored to be mentioned with AP. I look at the hard work I put in a lot of this year, through our break. I wasn't really seeing a lot of results on the PGA Tour, but kind of kept plugging away, working hard and now I've seen some results out here."
Furyk has not fully committed to playing the senior tour, unlike Els, who has played nine senior events this year, winning once and finishing in the top 10 in seven of them.
But he let this one slip away. The 36-hole leader and still tied for the lead going to the par-5 18th, Els made a mess of the hole, ultimately missing a three-foot par putt to join the playoff.
"I just missed the putt," Els said. "Kind of misread it. You know, I battled hard, I didn't quite have my swing."
Adding, he might have noted, to his history of disappointment at Pebble Beach. Twenty years ago, Els played well enough to win a U.S. Open, only to have been steamrollered by Tiger Woods, who won by 15 shots. Els tied for second. Ten years later, Els finished third in the U.S. Open at Pebble Beach and last year he missed the cut in the Open there.
Els and Furyk were tied for the lead for most of the back nine, with Kelly joining the tie with an 18th-hole birdie to get to 12-under par 276. Kelly had the best round of the day, a seven-under 65.
Furyk, playing behind Kelly, shot a five-under 67, but was unable to make a birdie after the sixth hole. Els, in the group following Furyk, shot a 70.
On the playoff hole, Furyk hit an excellent third shot, his ball spinning back to four feet below the hole. After Kelly missed his own birdie attempt, Furyk holed his.