The Grind
Brooks and Jena's big island wedding, Aaron Rodgers' clutchest moment yet and the world's best ball-striker dominates
Welcome to another edition of The Grind, where we have never felt more like a dad than this past Saturday. There was a pre-6 a.m. wakeup with no alarm, a trip to the range, a quick run, a shower, and a dishwasher unload all before the kids woke up at 8 (Yes, I know I'm lucky my kids sleep that late). Then there was taking them to drama, soccer, the doctor, on a walk, a freaking carnival, etc. Good times, but I don't think I've ever been more exhausted. Anyway, after a couple recovery days I'm back and ready to talk some golf. And I need all the energy I can muster because from a major championship to a major wedding to the potential end of pro golf as we know it, there's a lot to talk about. Let's get to it.
Minjee Lee: We recently shared Lee's stunning ball-striking stats (basically, she leads the LPGA Tour in every one), so it makes sense that if she had a great putting week she would dominate. And that's exactly what happened at Pine Needles, as the Aussie holed nearly half of her 10- to 20-foot putts and cruised to a four-shot victory that felt like an even bigger rout as she broke the U.S. Women's Open 72-hole scoring record.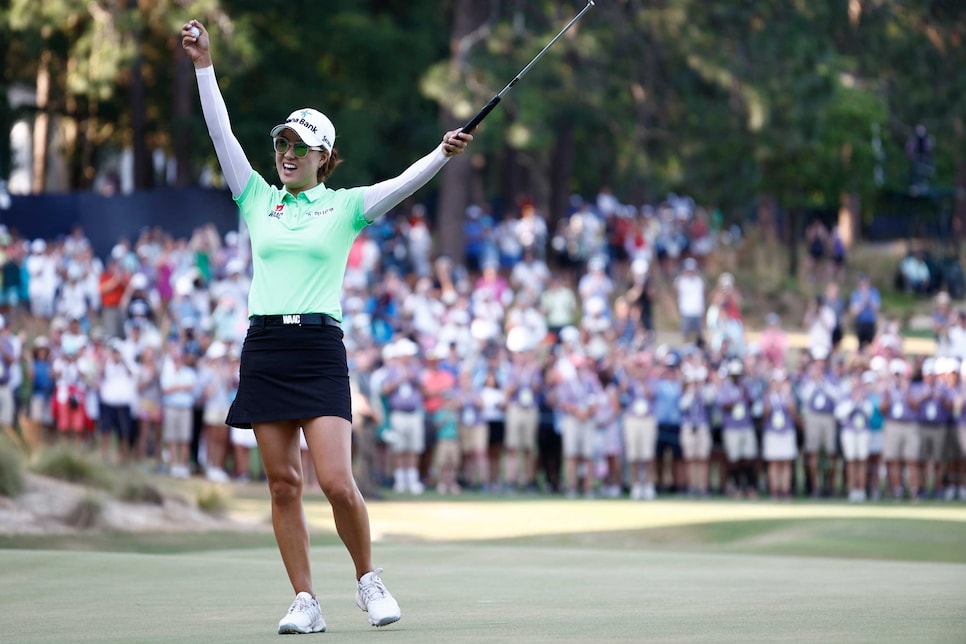 What a performance. And what a golf swing. Seriously, just look at this thing:
The answer to the question is "PERFECT!" How does she ever lose with that silky-smooth action? I must have spent about an hour watching that on loop over the weekend. The 26-year-old now has eight LPGA Tour titles and two majors. And after picking up a lot of added distance thanks to an offseason fitness regime, those numbers are only going up for the best ball-striker on the planet right now. And speaking of numbers, Lee picked a great week to turn in her best performance as she earned a record $1.8 million payday. Great stuff, although that may have just been the alcohol budget for Brooks Koepka's wedding. More on that in a bit …
Billy Horschel: Few people look better playing the game of golf than Billy Ho, who is in great shape, has a beautiful swing and is a stylish dresser. And now there are nearly as few who are better at the game as Horschel moves up to a career-high No. 11 in the Official World Golf Ranking following his seventh career PGA Tour victory at the Memorial. It's also his third worldwide win in the past 15 months, and most importantly to him, his first with his entire family in attendance.
Aww. You love to see it. He also referred to tournament host Jack Nicklaus as "Big Man" and "Buddy" following the win. That's a confident man right there.
Pine Needles: What a spectacular venue situated in an incredible part of the country. As Sandhills region resident Jaime Diaz told me recently, "The holes look like perfect postcards." I was fortunate enough to play Pine Needles a couple years back and I'm already pushing hard to return to the area next year. Between Pine Needles, Mid Pines, the newly restored Southern Pines (they love their pines down there), and Mike Strantz's legendary Tobacco Road, that's one helluva golf trip.
Oh, yeah, Pinehurst is nearby too. What an amazing area.
Aaron Rodgers: How about the legendary QB draining a walk-off birdie in the sixth iteration of "The Match"? Who says this guy isn't clutch?!
Also, shout-out to all four NFL stars for putting on a good show. These made-for-TV exhibitions have all had their moments, but there was something about watching a foursome of regular golfers.
Well, regular, if you forget for a moment who they are.
PGA Tour resignations: Guys like Dustin Johnson, Sergio Garcia, Louis Oosthuizen and Kevin Na had been rumored to be joining forces with LIV Golf for awhile, but it was still a shock to the system to hear them actually "resign" from the PGA Tour. I get that there's probably a legal reason for this and it involves giving them the best shot at still competing in major championships, but what if the courts allow players to earn a living from both tours? What if LIV folds quickly? What if these guys ever want to play on the senior tour? In any event, Grayson Murray was there for a parting shot at Na.
If it's any consolation, Kevin, we'll miss watching you on the PGA Tour. Oh, and leave it to Max Homa to lighten the mood in perfect fashion:
Being a golf course superintendent: Especially the week after the PGA Tour comes to town. Just look at the damage these guys did to Muirfield Village's driving range!
These seats: I thought this must have been some delayed April Fools' joke at first by RBC, but nope! It's real! Fans can actually watch this week's PGA Tour event while hanging from a crane:
The PGA Tour heads to the Great White North for the RBC Canadian Open for the first time in three years, while LIV Golf heads to England for the first time ever. RIP Rory's "dead in the water" statement regarding LIV. This thing is actually happening, and the PGA Tour has a big problem on its hands. Oh, and LOL to anyone surprised that Phil Mickelson didn't bail on it. There was a better chance of Bryson being invited to Brooks' wedding.
Random tournament fact: For the LIV event? There are none. There is no history. And the PGA Tour is hoping that's enough to overcome the mountains of money being thrown at its members. Good luck.
RANDOM PROP BETS OF THE WEEK
—This week's LIV winner will regret playing in the event: 4 MILLION-to-1 odds
—Bryson sent Brooks a wedding gift: 1 MILLION-to-1 odds
—Phil Mickelson's Tuesday (big) money matches won't stop: LOCK
OMG! What's happening to Augusta National's Par 3 course?!
Pretty jarring. Of course, golf fans have nothing to worry about because whatever it is, the place will be even better by next April.
VIRAL VIDEO OF THE WEEK (ON-COURSE DIVISION)
With more talk about money in golf than ever before, it was nice to be reminded during U.S. Open final qualifying that there are golfers who play for more than that. Heck, even rich players like Rickie Fowler were out there grinding to try to make it. He didn't, but a guy like Keith Greene did. And check out this emotional video:
VIRAL VIDEO OF THE WEEK (OFF-COURSE DIVISION)
A couple days before the start of the NBA Finals, Steph Curry was spotted leaving a sporting goods store after getting his golf clubs regripped:
And I've never loved Steph Curry more. Then again, this is the same guy who has posted scores to GHIN during the NBA Finals, so I'm not surprised.
THIS WEEK IN PUBLIC DISPLAYS OF AFFECTION
The PGA Tour Player of the Year race isn't much of a race at all thanks to Scottie Scheffler, but we may have a dead heat when it comes to the PGA Tour Wedding of the Year race. I didn't think anything could rival golf's Royal Wedding between Dustin and Paulina, but Brooks Koepka and Jena Sims had quite the shindig of their own in Turks and Caicos. Or, rather, "Turks and Koepkas":
Get it? Hey, judging by their wedding budget, they probably could have afforded their own chain of islands instead. The highlights? The outfits adorned with images of each other:
This sparkly firework thing on the beach:
And having Ludacris as the entertainment:
Looks like everyone was really getting jiggy with it. Sorry, I'm a very old millennial. I also prefer the wedding band we hired, but to each their own. Anyway, congrats to the lovely couple. And to any other golfers planning a wedding this year, good luck topping that.
THIS WEEK IN JOHN DALY BEING JOHN DALY
Daly literally risked life and limb to teach some dude an important life lesson. In belly-flopping:
Like we said a couple weeks ago, never change, JD. Not that we have to say that. No one has ever been more unlikely to change than John Daly.
"I'm the black Loren Roberts." —Charles Barkley on his putting prowess. Chuck must be really rolling the rock of late!
According to Greg Norman, Tiger Woods turned down a "mind-blowingly enormous ç high-nine digits" figure from the Saudi golf league. Of course, it helps when you're already a 10-digits guy, but still, wow. … Speaking of big money, as part of that record U.S. Women's Open purse, runner-up Mina Harigae earned more than $1 million. OK, time to really start pushing golf on my little girls. … According to Justin Ray, C.T. Pan became the first player in 25 years on the PGA Tour to record a 10 on a hole in the first or second round of a tournament and still make the cut. From now on, the C.T. stands for Course Toughness. … And, finally, I can report the COVID golf boom has not slowed down in my neck of the woods. Tried getting a foursome seven days in advance of next Sunday and here's what popped up: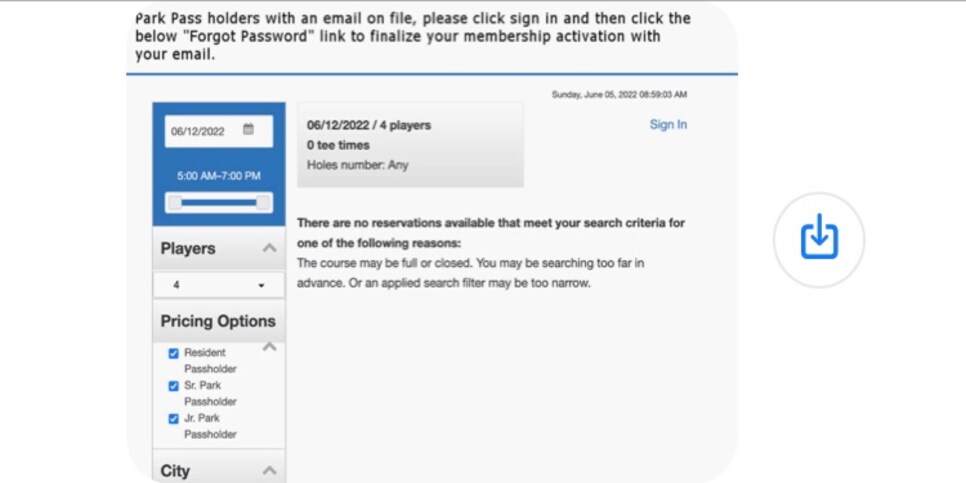 That's 0 tee times. ZERO! A week in advance! At six different public courses! I think it's time to stop growing the game. Kidding. Sort of.
RANDOM QUESTIONS TO PONDER
Will DJ and Phil ever play the PGA Tour again?
Did either send Brooks a wedding present?
Is anyone looking for a fourth this weekend?