The Match
Mahomes shines, Rodgers comes up clutch (again) and four other takeaways from the best "The Match" yet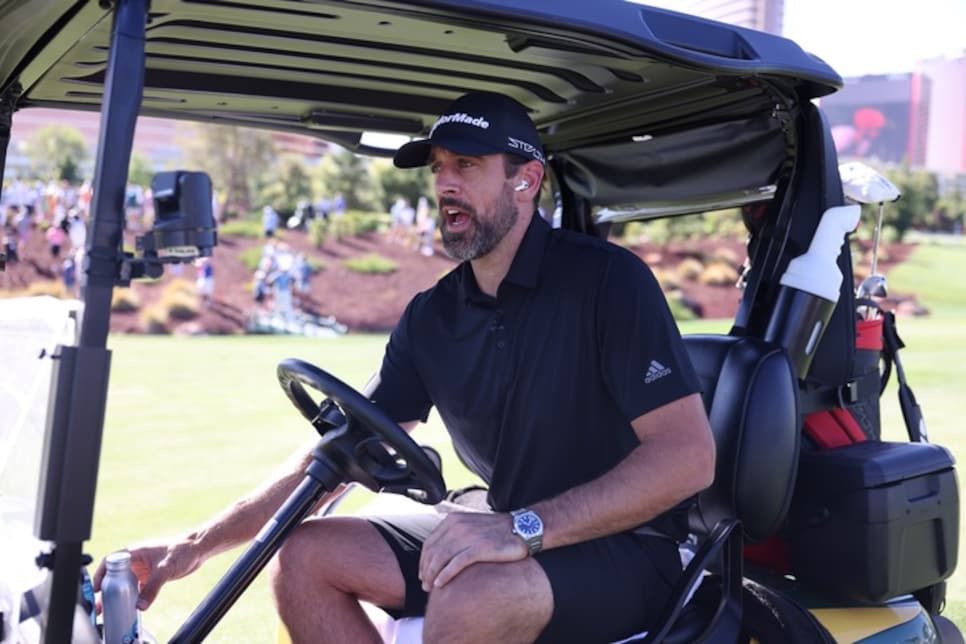 LAS VEGAS — It's not unfair to say that the first five iterations of "The Match" were a bit … underwhelming. Which is not to say that each didn't have its moments. Tiger and Phil going 22 holes at Shadow Creek over Thanksgiving weekend in 2018. Tom Brady ripping his pants and holing out from the fairway at Medalist in 2020. Charles Barkley actually winning in a golf event a few months later. Aaron Rodgers shining in Montana in 2021. Brooks and Bryson finally putting an end to whatever it was they wanted to put an end to last fall.
But each of the previous made-for-TV events all lacked a little something all the best sporting events have: juice. Juice is unquantifiable. It doesn't spit out in a statistical model. It's just one of those things you know exists when you actually feel it.
Make no mistake, the sixth edition of Capital One's The Match, this one featuring Brady and Rodgers again (on the same team, this time) against Patrick Mahomes and Josh Allen, had plenty of juice. This was glaringly evident when, after missing a rather lengthy putt that Brady knew he needed to halve a hole, he let out a gutteral "OH NO" that you would expect to only hear after a backbreaking pick six on a sultry Monday night in Miami. It was equally evident when his teammate walked in the winning birdie putt on the 12th hole and celebrated like he just clinched his billionth NFC North division title.
It also helped, immensely, that there were real, live, actual fans at the Wynn Golf Club, a feature the prior five matches did not have due to either limited, VIP-type invitations and/or COVID restrictions. The Match VI faced neither of those challenges, and it made for an unforgettable atmosphere in Las Vegas.
Here are six takeaways from by far the best THE MATCH yet.
Patrick Mahomes was stunningly good
Keep in mind when we say "stunningly," what we mean is we thought Mahomes would definitely be the worst of the four, and possibly downright bad. Yes, he's an athletic freak of nature who has had some solid swing videos make the social-media rounds before, and he had teed it up in Tahoe last year, but this was going to be an entirely different arena. The shamble format alleviates some of the pressure, but once you select the better of the tee shots it's on you from there. There's no hiding, and you better be good throughout your bag, especially considering he wasn't getting any shots.
Mahomes was plenty good throughout his bag, displaying the ability to mash the driver, showing off some deft touch around the greens and making multiple clutch putts that kept he and Josh Allen in it. It quickly became clear we'd all underestimated Mahomes' recent work with former PGA Tour player Hank Kuehne and his brother Trip down in Texas. During a Zoom call with a number of media members last week, Mahomes credited the Kuehne brothers with helping him rein in the big stick and with helping him dial it in on the greens. Whatever he's paying them (we have no idea if he's paying them) it ain't enough. That man CARRIED Allen around the golf course Wednesday, when the prevailing thought was that the exact opposite would occur.
Oh, yeah, the swing juice may have been a key factor, too:
The fans added an entirely new element
This was mentioned in the opening but bears repeating: each of the first five matches were seriously underwhelming in the buzz department, mostly a product of COVID. That was not the case for Brady/Rodgers vs. Mahomes/Allen, who obviously brought out the exact type of fan needed to give these events some much-needed pop: NFL fans.
Right from the moment all four gunslingers arrived at the makeshift range at the Wynn, you could feel this was going to be different. Bills Mafia was out in full force (those people travel well), and they serenaded Brady with a "Let's go Buffalo!" song (to the tune of "Shout") while he made his way to the practice area. Everywhere you looked someone had on one of the four QB's jerseys. And because this was golf and not an NFL stadium, fans could get extremely close to their heroes, and many times the fan reaction to being that close was what I'd imagine the reaction was to Elvis Presley simply existing back in his day. These four dudes are absolute rockstars and are treated as such, though they received their fair share of sh-t talk as well. The type of sh-t talk that most PGA Tour pros would hear and promptly call security to have the culprits removed from the premises. Brady? He's heard much worse over the last two decades as king. Rodgers? He welcomed that type of vitriol in Chicago last season by screaming "I OWN YOU" to Bears fans after a touchdown scamper. Allen and Mahomes are probably still getting used to it, but they handled it just fine. It was a mini-NFL environment in a golf setting, and it was electric.
Tom Brady is the ultimate salesman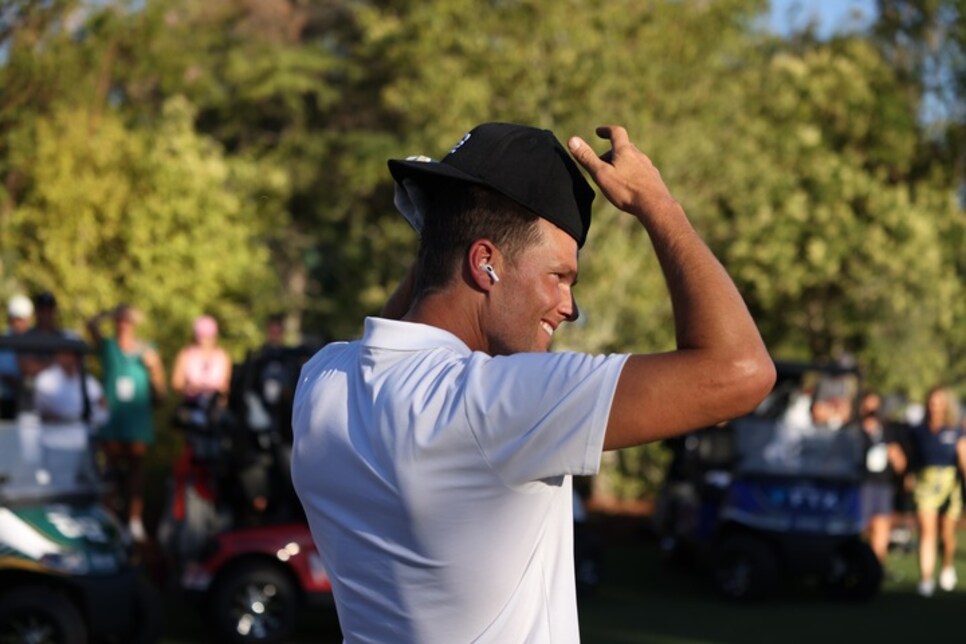 No athlete has ever reminded me as much of Phil Mickelson as TB12 did on Wednesday. Constantly smiling and thumbs-upping people to death. "Thanks for coming out," to everyone that screamed his name. Just the word "BRADY" on his golf shirt. TB12 logo in plain sight at all times, be it on his gigantic Yeti water bottle or the front of his hat, which he wore backwards for about three holes up until the final hole when it turned it back forward knowing there would be maximum eyeballs on the tense par-3 tee that decided the match. It makes sense given his entire social-media presence revolves around selling product, but it's still so wild to see in person. It's hard to tell if he's a real human at times, but he reminds you that he very much is when he's hitting bad golf shots. Brady hates nothing more than hitting bad golf shots, because hitting bad golf shots means you are losing, and losing is not something Brady does all that often and when he does he does not handle it well. It's at his lowest points when he's the most relatable, and those points usually only come when he's holding a golf club in his hands.
People are not afraid to get hit by a golf ball, apparently
Nowhere was the phrase "common sense is not common" more apparent than at the Wynn Golf Club on Wednesday evening. Because people with common sense would understand that these professional quarterbacks are not professional golfers, meaning you are in the line of fire basically anywhere that isn't behind them when they are addressing a golf ball. All four guys can move it well on their best swings, but their bad swings are just like the rest of ours, which leads us to the question: Would you stand two yards off the fairway just 20 yards ahead if you or your buddy were on the tee box? The answer (I hope) is no. Brady knows this, and he implored the fans to spread out on the second tee, telling them "guys, that's really dangerous" multiple times, to no avail. Then, he promptly line-drived one down the left side that could have killed someone but fortunately did not. Turns out, that was one of the few tee shots that didn't hit someone. It was an absolute shooting gallery, though most folks didn't care. In fact, I actually heard multiple people wish they were the ones who got struck by the Aaron Rodgers block fade. With the right mix of Vegas sun and alcohol, it's probably a pain-free experience anyway.
That Aaron Rodgers is quite clutch after all
The haters will tell you Rodgers has shrunk in many a big moment since his lone Super Bowl victory, but there was no such shrinking on the golf course. The now four-time MVP was the sneaky MVP on Wednesday, making a birdie on the first to go 1 up and picking up an insanely clutch birdie at the ninth that was just to halve the hole. And finally, with the match on the line, draining a birdie to avoid a closest to the pin playoff and walking it in in style:
It's not fair to say he dragged Brady to victory, because Brady did make a huge birdie late in the match that tied it back up, but Rodgers was the steadying force the entire day. He pounds the ball with his driver and consistently strikes his irons well, while Brady has trouble avoiding some big misses and the odd shank or chunk. Rodgers does nothing of that sort, and he expects to make the shot or the putt, just like he expects to fit the ball into that tight window that only he can fit it into. As a result, he's 2-0 in these matches and has seemingly played a massive role in both victories. He likes to play down just how good he is, which is clearly by design.
The Match was really fun and there should (will) be more just like it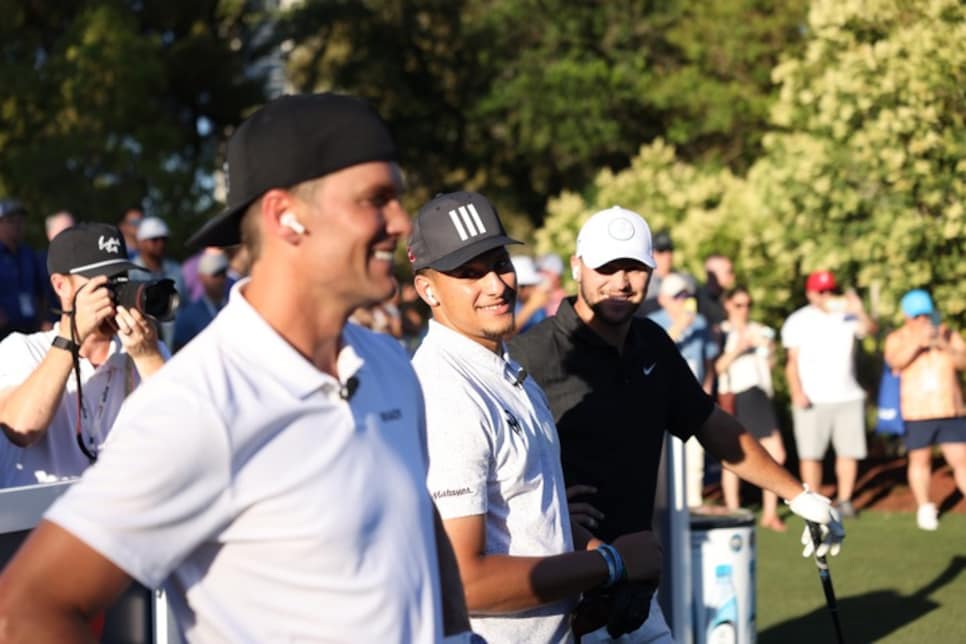 At the risk of repeating everything I've already written, I'll just keep it simple: this match, the one without any PGA Tour professionals, was by far the most fun one yet. It still has some work to do in the format/organization department, but that matters little when you get the right mix of personalities like this one had and the addition of some rabid fans who would have no idea how to act at an actual professional golf event but can get away with acting like that in this setting. Vegas seems to be the ideal location for these, as fans will have no issue making a trip out of it to see their guys up close and personal, not to mention the fact that Vegas is pretty good at hosting this type of stuff. The hardo golf fan may continue to resist, but maybe these just aren't for the hardo golf fan. Judging by the social-media reaction, this one attracted the exact crowd that golf doesn't have and so desperately needs, so there's no other way to view it than as a positive.