News & Tours
Dustin Johnson joins Sergio Garcia, Louis Oosthuizen as latest to resign PGA Tour membership after joining LIV Golf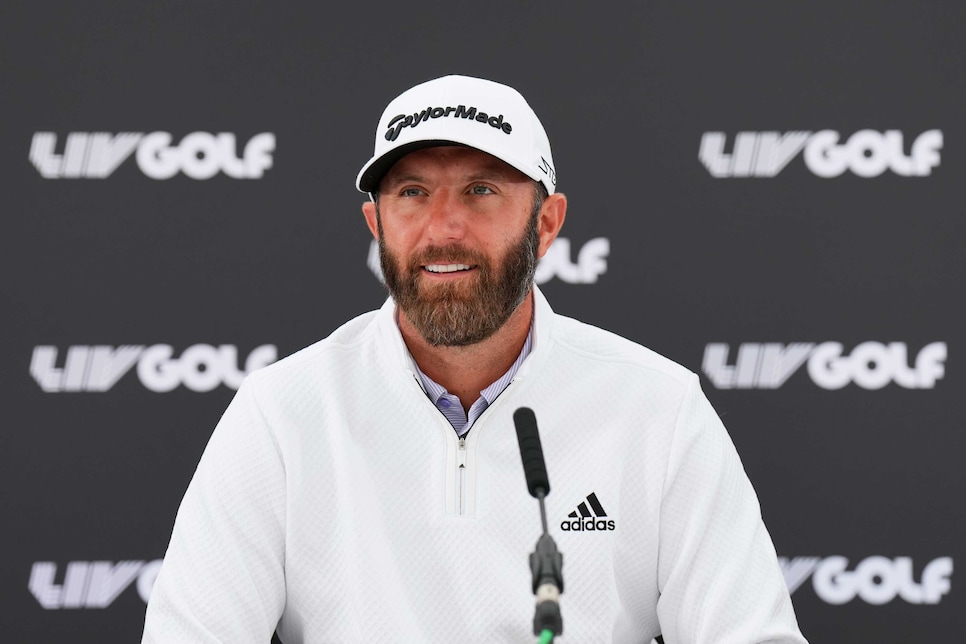 Dustin Johnson attends his press conference prior to the LIV Golf Invitational - London event.
Aitor Alcalde/LIV Golf
HEMEL HEMPSTEAD, England — The opening press conference at the first edition of the LIV Golf Invitational Series was going along smoothly enough when Dustin Johnson detonated his bomb. Almost casually, the two-time major champion dropped into the conversation that he has joined Kevin Na, Louis Oosthuizen (who also resigned from the DP World Tour), Branden Grace, Charl Schwartzel and Sergio Garcia in resigning his membership of the PGA Tour.
Immediately, that makes Johnson, who emerged from the last Ryder Cup at Whistling Straits with a 5-0-0 record, ineligible for the next playing of the biennial contest between the United States and Europe, as well as the upcoming Presidents Cup at Quail Hollow in September. But his decision also seemingly takes the 37-year-old South Carolinian outside the jurisdiction of the PGA Tour if and when possible sanctions are brought against those players who have made the decision to play on the Saudi-sponsored circuit that kicks off at The Centurion Club just north of London on Thursday. In turn, if the PGA Tour can't/hasn't sanctioned a player, it is unlikely the USGA or another governing body overseeing a major would take any action to prohibit a golfer from competing in their championships.
"I've resigned my membership of the PGA Tour and I'm going to play here for now, that's the plan," said Johnson. "It was a difficult decision. The Ryder Cup is unbelievable and is something that has definitely meant a lot to me. I'm proud to say that I've played and represented my country. Hopefully, I'll get the chance to do that again. I don't make the rules, but all things are things that are subject to change, and hopefully at some point they will. Ultimately, I decided to come do this and play out here. I'm excited about it."
Asked if he was worried that some observers might see his move as putting money before patriotism, Johnson's response was typically short and to the point.
"I chose what's best for me and my family," he said.