DUBLIN, Ohio — The third round of a 72-hole tournament, otherwise known as Moving Day, usually has a significant impact on the outcome. Usually. But in the case of the 47th edition of the Memorial Tournament, the third round pretty much was everything to Billy Horschel, who won on Sunday but, in reality, wrapped up Jack Nicklaus' prized event on Saturday.
Horschel cobbled together a final-round even-par 72 at Muirfield Village Golf Club and was hardly pressed in winning the Memorial by four strokes over Aaron Wise. But the fidgety Florida native, self-admittedly inclined to impatience, confessing to be too much of a perfectionist for his own good, knew that he didn't need heroics to win his seventh PGA Tour title after his roundhouse knockout of the field the previous day when a punctilious 65 afforded him a five-stroke lead.
"I've watched Tiger and how he closes out events. And I wasn't born yet in Jack's heyday when he was winning, but I watched old footage, you watched how he plotted his way around the golf course," said Horschel, 35, who moved to a career-high 11th in the Official World Golf Ranking. "You took a lead and you made sure he was never giving up shots back to the guys. I have a very good understanding of how to win golf tournaments. Have I put myself there, a lot? No, but I think my record's pretty good when I do have a chance to win and closing out events."
Though he was coming off a missed cut at last week's Charles Schwab Challenge, Horschel arrived at Muirfield Village with confidence in his game and a renewed sense of commitment to giving a few more seconds to his thought process before pulling the trigger. He and caddie Mark Fulcher put their heads together before they left Fort Worth and agreed they had eschewed a proven method for good play.
"Very pleased with the work Fooch and I have done, not only today but over the last three days," Horschel said on Saturday. "I think just going through our process, making sure we have a number where we're trying to land the ball, talking about the shot, the club selection, the wind. When we do that, it allows me to have a clearer picture and have a little bit more of a higher acceptance level over the golf shot."
Why had they gotten away from a tried-and-true formula?
"I'm sure I'm going to shock everyone when I say this. I move very quick, and I'm impatient, and so I'm ready to go without always being clear on everything. Sometimes I just want to get the golf shot over with," he admitted. "Am I an idiot for not doing what I know works every time? Yes. But I need to do a better job of it. If I'm going to win the golf tournaments … then I need to do a better job of it on a daily, weekly basis, especially when it comes to the bigger events."
The Memorial is a big event, with rewards that include a first prize of $2.16 million and a three-year tour exemption, not to mention a job-well-done handshake from the tournament host. Horschel, who finished at 13-under 275, won for the third time in the last 15 months, and they are quality victories. Last year he won the WGC-Dell Technologies Match Play and the BMW PGA Championship at Wentworth on the DP World Tour.
"What it does for my confidence, it shows what we're doing at home and what we're doing on a weekly basis, we're doing the right things," he said.
Horschel entered the final round having not made a bogey for 44 holes and extended that streak five more before he overshot the green at the sixth and missed a 10-footer. Wise, who finished runner-up after a 71, got within two shots when he birdied the 11th and Horschel saved bogey from five feet at the 12th, but Wise missed the fairway at 13, dropped a shot, and Horschel never led by fewer than those three strokes the rest of the way, though there were a few stomach-churning moments, like his par saves from 12 and eight feet, respectively, on holes 13 and 14.
He ended any doubt about the outcome on the par-5 15th, answering Wise's kick-in birdie at the par-5 15th with an eagle from 53 feet. Horschel raised both arms in triumph, which he secured officially with two pars wrapped around a bogey at 17.
"Yeah, the last four or five feet, you could tell it took a turn right for the cup," Wise said. "Looked like it was perfect speed the whole time. That's one of those things, that's what you do when you win a tournament."
"If I had to do something special, I was ready for it. Making that was huge," Horschel said, smiling about the most dramatic shot on what was an otherwise uneventful day.
Not that there wasn't upheaval in the final round. You have to peruse the lower levels of the leaderboard. Even with little wind on a brilliant late-spring day, Muirfield Village turned mean, and it meted out plus-score punishment to some notable names.
Cameron Smith 77
Abraham Ancer 77
Keegan Bradley 77
Rickie Fowler 77
Francesco Molinari 78
Adam Scott 80
K.H. Lee 82
Cameron Young 84
The field scoring average was 74.214, which isn't out of the norm. Only once in the last 10 years has final-round scoring dipped below par, in 2018 when the boys got it around in 71.274. The low score for the day was three-under 69. It was tough, especially for those who veered off the fairway and into lush bluegrass rough that might have been every bit the equal of what players will find in two weeks at the U.S. Open at The Country Club in Brookline, Mass.
Horschel spoke repeatedly the last two days about his readiness to win "bigger" events, meaning majors, but he knows he will have to overcome his own history—just one top-10 finish in 34 starts, that coming in the 2013 U.S. Open when he finished T-4 at Merion. "Obviously my major record is pretty abysmal. But I feel very confident with what we've done over the last two years. And, like I said, results don't always show."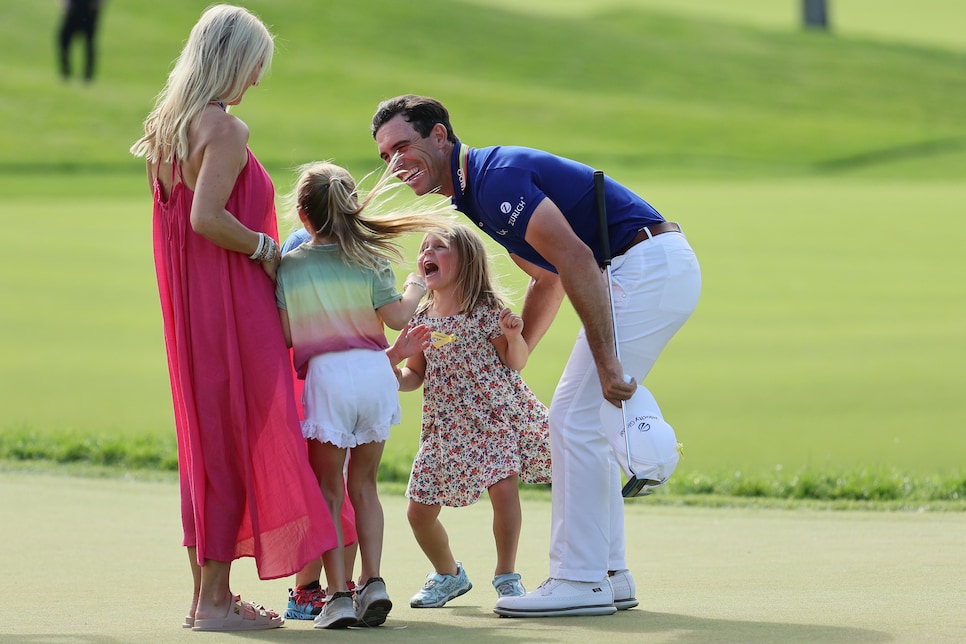 Billy Horschel celebrates on the 18th green at Muirfield Village with wife Brittany and their three children.
That said, the Memorial was a major triumph, a wholly satisfying result that checked a personal box of accomplishment; it represented the first time Horschel had won with his wife Brittany and their three children present. The handshake from the Golden Bear was nice, but the hugs from his family are going to be emblazoned in his memory no matter what he does from here.
"It's sort of a running joke in our family that my wife and my kids have never been at victory," Horschel said with a smile that exuded genuine satisfaction. "My wife has never wanted to fly in on a Saturday night when I've had a chance to win. So she feels like she may be bringing bad luck or something.
"I've just always wanted that one moment where my family runs out, the kids run out, that I can always look back for many years to come and they can look back at for their entire life of being on the green and congratulating their father for a victory. So, it's special to have that video and those photos for the rest of our lives."