The Loop
Behind the camera: Welcome to one man's "office in the sky"
We're spending the week embedded with NBC/Golf Channel at the Players. Here's Part 6 in our series.
What have I gotten myself into?
A harness is being put on me, and I'm about to step onto a small platform that's going to be raised by a huge crane high above TPC Sawgrass' 17th hole. One hundred and 20 feet above, to be exact.
"Don't worry, this is my second show," crane operator Joe LaForce jokes.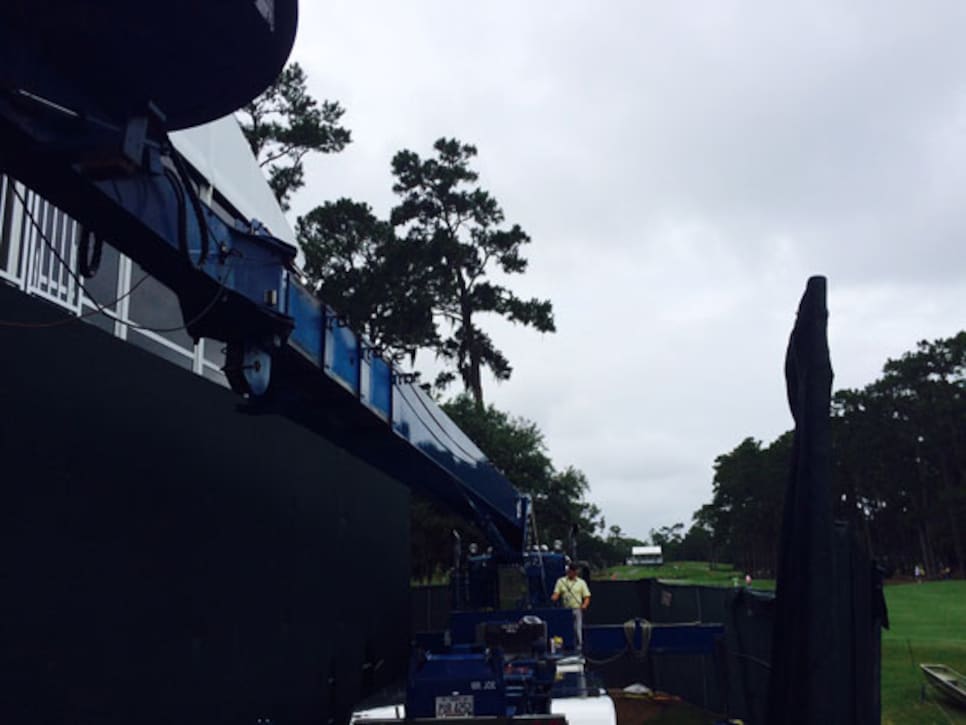 Cameraman John Boeddeker and I both get strapped in and it's time to go up. I grab hold of the circular railing that surrounds us, but I'm horrified to find out it moves.
"Why don't you just hold onto the camera," Boeddeker says.
Sold. I grip it tightly with both hands as we begin the slow ascent. We pause for a moment at one point and I think, this isn't so bad. Then we keep going up. Way up.
We get to the top and. . . it's terrifying. But it's also stunning. The view is phenomenal, and you can see for miles in any direction. Well, if you're bold enough to turn around.
"This is my office -- and it's a great office," Boeddeker says. "There's nothing I don't like about it."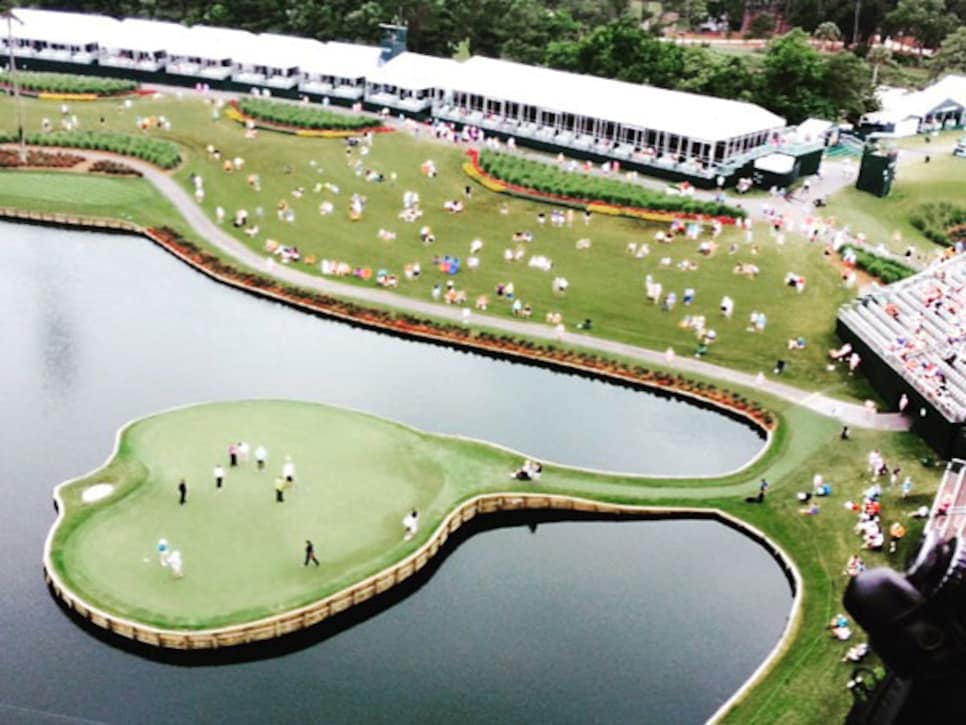 Two decades of spending time at the top of similar cranes on golf courses across the country has numbed any fear Boeddeker might have. He admits it wasn't that way initially when he jumped at the opportunity to get away from being an on-course cameraman for NBC. The first time he filmed from on high (in a particularly tall tower at Bay Hill), Boeddeker kissed the ground when he came down.
"Once you get past the fear factor, it's really cool," Boeddeker says.
Yeah, and once I get past the fear factor of alligators, I'll go swimming with them.
Actually, Boeddeker feels safer atop a crane than he does when he works in a TV tower. Speaking of towers, Gary Koch's tower on 17 looks like a Monopoly house it's so far below us.
When Boeddeker goes up, he doesn't come down unless there's a thunderstorm. And the shifts are long. At the 2013 U.S. Open, Boeddeker recalls hanging above Merion for 13 hours straight. That leads to the obvious question. How does. . . well, you know. . .
"I go up with a bottle of water and I come down with a bottle of something else," he says with a laugh.
Only once in all those years did Boeddeker ever get scared enough by wind to come down. Boeddeker signaled to be lowered, then sat on the floor of his perch until he was back on the ground. He didn't go back up that day. He deserves a medal for bravery for ever going back up.
At about this point, the wind picks up and my grip on the camera tightens.
"This is pretty windy, right?" I ask.
"No, this is standard," Boeddeker says with a chuckle.
The view of No. 17 is the highlight of being up there, but with at least nine other cameras designated to showing the par 3 at all times, Boeddeker's main responsibility is getting speed shots (shots of the ball traveling from the side) of players hitting their approaches to the par-5 16th. We watch as Dustin Johnson -- at least, I think that's Dustin Johnson down there -- takes a crack at the green, and you'd be amazed by how well you can follow a ball traveling that fast from that perspective.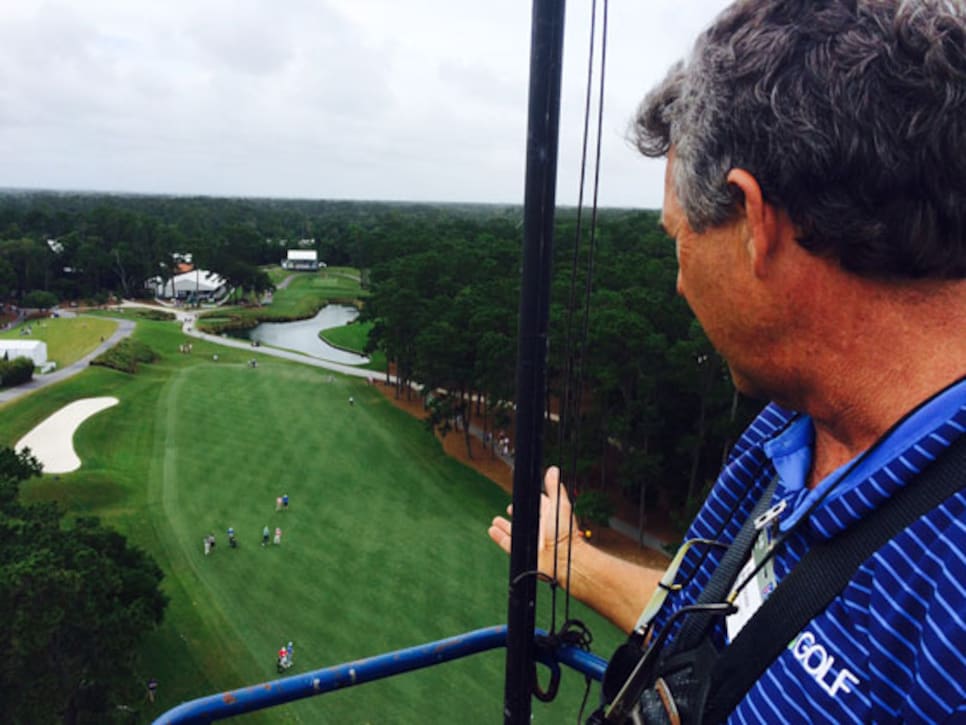 "This is the most picturesque spot in all of golf," Boeddeker says definitively.
And he should know. This spring, Boeddeker came out with a book of photos he's taken from his lofty perches at golf courses around the country. Check out the cover: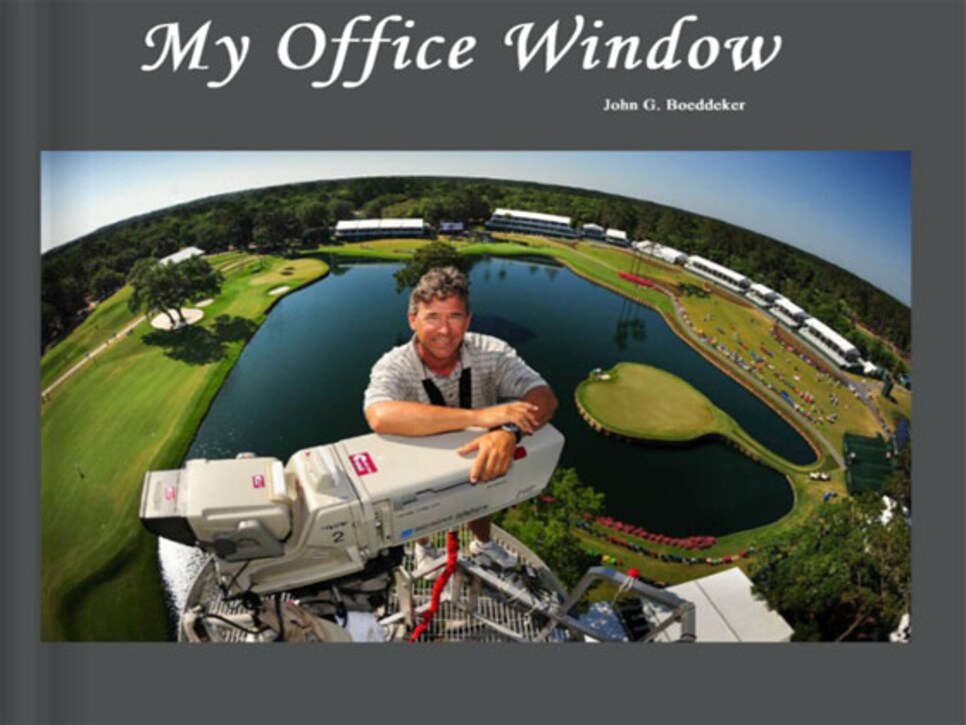 "My wife didn't dig it," he says of the daring picture.
I wasn't nearly as bold, but I did switch places with Boeddeker so he could get this shot.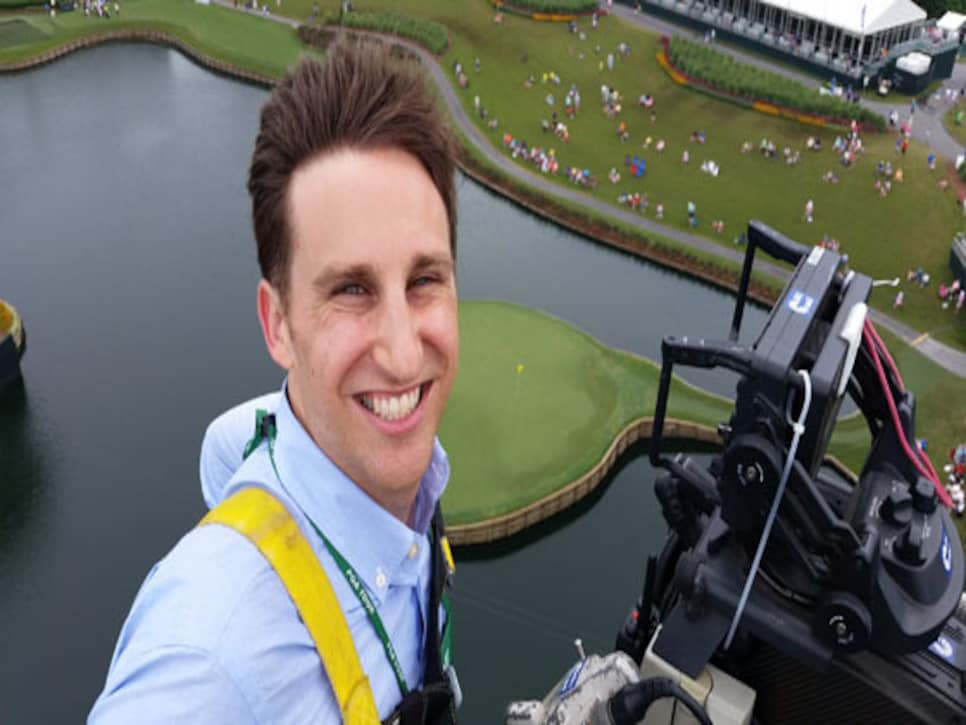 Funny, my fiancee didn't dig it, either.