USGA
U.S. Open Final Qualifying 2022: Who's in, who's out and everything you need to know from 'Golf's Longest Day'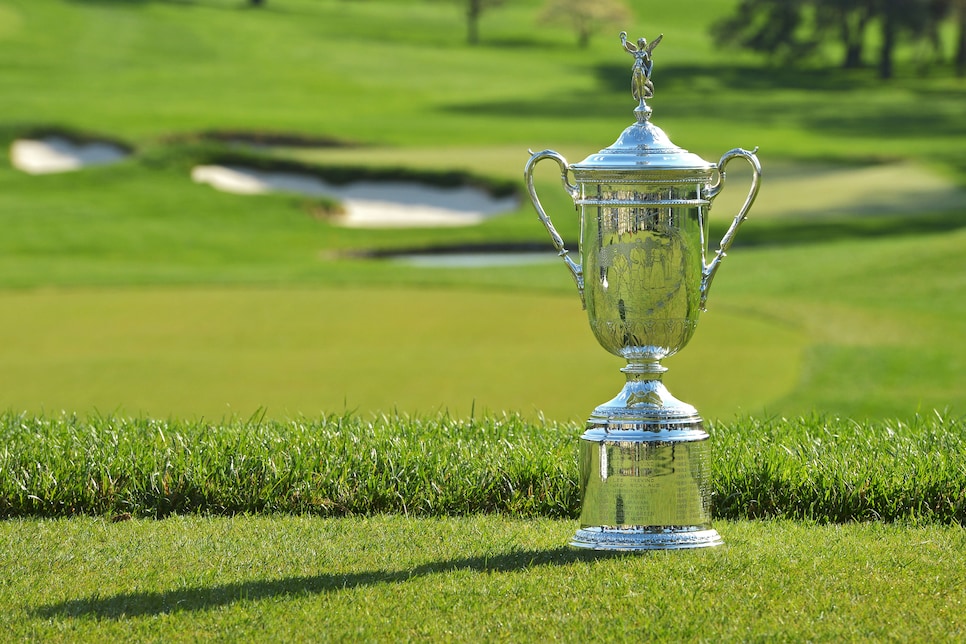 Nine locations, 12 courses, 36 holes (at least), 49 invitations to The Country Club in the balance. The USGA likes to describe the Monday prior to U.S. Open week—when it contests the nine remaining Final Qualifying events around the country (with one stop also in Canada)—as "Golf's Longest Day." The saying is a bit cliché, but it's not at all off base.
More than 660 golfers are competing to try to see if they can earn their way into the 122nd U.S. Open, being held next week in Brookline, Mass., the official rounds set for June 16-19. If form holds, those who emerge by day's end will be a mix of veteran PGA Tour players, journeymen tour pros and highly touted amateurs. It will be a diverse group with several unique stories, but likely all the same collective dream of somehow claiming the U.S. Open title.
Below is a list of the Final Qualifying locations. As the day progresses, we'll update the results here and share with you highlights of who has advanced, who just missed out and everything else you need know.
Century Country Club & Old Oaks Country Club
Purchase, N.Y. • 92 players for 5 spots
It could've been an ad for all that is right with Final Qualifying: an eight-for-three playoff for the U.S. Open. There was a former U.S. Amateur champion and current PGA Tour pro (Kelly Kraft). A former U.S. Junior Amateur champion and current stud at Stanford (Michael Thorbjornsen). There was a recent Korn Ferry Tour winner who flies it 340 yards (Brandon Matthews). And, in a golf-is-awesome moment, a 57-year-old journeyman pro named Fran Quinn.
Quinn, whose son was also in the qualifying field, parred his first playoff hole but was behind the eight-ball on the second, an uphill par 5 that plays at Old Oak's finisher. The other three players in his group had a crack at the green but Quinn fanned his tee ball well right and was forced to lay up. He then stuck a wedge to two feet for a birdie that qualifies him for his fourth U.S. Open and first since 2014.
Adding to the Hallmark vibes is the fact that Quinn was born in Worcester, Mass., about an hour from The Country Club at Brookline.
To be able to go play The Country Club, in our backyard," Quinn told Golf Digest minutes after Chandler Phillips missed a four-footer to extend the playoff. "It's the last one I'll ever play. Going to be fun."
Quinn has competed on the PGA Tour Champions regularly since 2015 but has played just two events on that tour in 2022, failing to break 70 in all six of his rounds. His career nearly ended when he fractured his glenoid, a bone in the shoulder, after stepping into a New York City pothole in 2019. Quinn had surgery that July but could only lift his arm to shoulder height until a second surgery in June 2020 threw his career a lifeline. Two years later, he's set to play in the U.S. Open.
Thorbjornsen two-putted for birdie, and Matthews holed a nervy downhill eight-footer to take the final two spots. All three players who advanced were in the first foursome of the eight-for-three playoff. (Kraft, the last member, failed to get up and down from a bunker and made a losing par).
In the second group, Phillips, Michael Sweeney, Haraldur Magnus and Ben James all had solid looks at birdie to extend the playoff but were unable to hole them. Recent Oklahoma graduate Chris Gotterup, who finished his senior season as the winner of the Fred Haskins and Jack Nicklaus Awards as national player of the year, was co-medalist at three under par, along with Caleb Manuel, who just finished his sophomore season at UConn. —Dan Rapaport
RattleSnake Point Golf Club (CopperHead Course)
Milton, Ontario • 25 players for 3 spots
Jonas Blixt might have spent the last decade on the PGA Tour, but he was an unlikely medalist out of Canada's lone Final Qualifying event. The 38-year-old Swede has been playing the 2021-22 season on a medical extension—and playing poorly. He's made just two cuts in 13 starts. In 2020-21, he made only three in eight starts after missing the entire 2019-20 season. His best finish in 2022 is a T-42 at the AT&T Pebble Beach Pro-Am, and he has just two more starts to earn enough points to keep his card through the rest of the season.
In the face of all those struggles, Blixt somehow strung together rounds of 67-65 (10 under), making two bogeys on a rainy day, to earn top honors just outside of Toronto.
Blixt finished one stroke clear of England's Callum Tarren and Japan's Satoshi Kodaira, who claimed the other two qualifying spots from RattleSnake Point with matching nine-under totals. Tarren, a 31-year-old PGA Tour rookie, will be playing in his second career major after qualifying for the 2019 U.S. Open (and missing the cut) as an amateur. Kodaira, 32, will be playing in his 11th career major and third U.S. Open, his best previous finish a T-46 at Erin Hills in 2017.
The best performance among the nine Canadian golfers in the field came from Jared du Toit, who shot a seven-under 135 to claim the first of two alternate spots. The other went to Derek Bard. —Ryan Herrington
Springfield, Ohio • 77 players for 8 spots
Brian Stuard cashed in his qualifying annuity, finishing as co-medalist at Springfield Country Club. Stuard, 39, of Jackson, Mich., advanced to the U.S. Open for the seventh time—all from this site—in nine tries. Stuard, who has one PGA Tour title, tied MJ Daffue, a Korn Ferry Tour player, at seven-under 133. Stuard, with rounds of 68-65, previously was medalist in 2013, '14 and '19. Daffue, currently third on the Korn Ferry Tour points list, shot 67-66.
"I just have a feel for the greens," Stuard said. "It's something I look forward to and coming here and doing it again and it's definitely satisfying."
There were 78 players for eight spots, and two amateurs made it through: Ohio State sophomore Maxwell Moldovan of Uniontown, Ohio, and Adrien Dumont de Chassart of Belgium. PGA Tour player Beau Hossler of Austin, Texas, tied Moldovan for third at five-under 135. Tour players Troy Merritt and Bo Hoag, another Ohio State product, and Korn Ferry player Sam Stevens were at 136 with de Chassart. Stevens' grandfather, Johnny, played in the 1969 U.S. Open.
Danny Woodhead, the former New England Patriots running back who made it through local qualifying, shot 77-73—150. —Dave Shedloski
Woodmont Country Club (North Course)

Rockville, Md. • 73 players for 4 spots
Controversial PGA Tour pro Grayson Murray grabbed one of the four qualifying spots with rounds of 66 and 72, which gave him a solo second-place finish. Murray, who attempted to reignite his Twitter feud with Kevin Na over the weekend, will be making only his second career U.S. Open appearance at Brookline, and his first since the 2013 U.S. Open at Merion, where he missed the cut. The 28-year-old has only played in one other major, the 2017 PGA Championship, where he made the cut and tied for 22nd.
Murray finished two shots behind Joseph Bramlett, whose rounds of 66 and 70 earned him medalist honors. Bramlett, the reigning Korn Ferry Tour Championship winner, will also be making his second career U.S. Open start (MC, 2010). Like Murray, this is also just his third major appearance. Kevin Chappell, a one-time winner on the PGA Tour, secured one of the last two remaining spots thanks to rounds of 69 and 72. Andrew Beckler, who just graduated from Washburn University in Kansas in 2021, tied Chappell at three under for the final spot.
Trick-shot-artist-turned-tour-winner Wesley Bryan finished one stroke out of an alternate spot. —Chris Powers
The Olympic Club (Ocean Course)

San Francisco • 90 players for 5 spots
There truly is an inspiring story for every golfer who makes it through Final Qualifying, but Jesse Mueller's achievement at The Olympic Club has to rank with the best of them.
Mueller, 39, quit the grind of mini-tour golf long ago and has worked as a pro, general manager and volunteer assistant coach at Grand Canyon University's golf course in Arizona. He'll now play in his second U.S. Open—and second straight major—after shooting 66-67 on the Ocean Course to earn one of five spots out of San Francisco.
Two current college players advanced, including medalist William Mouw (67-63), who just finished his junior season at Pepperdine. Mouw was in form, considering he'd posted five top-10s in his last six college starts, including a T-5 in the NCAA Championships individual competition.
The University of San Diego's Charlie Reiter (66-69), an upcoming senior, finished solo second. A trio tied for the final three spots: Mueller; Taylor Montgomery (67-69), who has three top-five finishes this season on the Korn Ferry and tied for 57th in last year's U.S. Open; and Luke Gannon (68-68), who has one career start on PGA Tour Canada. —Tod Leonard
The Club at Admiral's Cove (North and West Courses)

Jupiter, Fla. • 70 players for 4 spots
Despite a spirited charge, Rickie Fowler failed to qualify for the U.S. Open.
Fowler birdied four of his final eight holes at the Club at Admiral's Cove. But he got behind early with a 73 on the first 18, trailing the leaders by six shots. The opening nine in the afternoon wasn't much better, and though he turned it on at the end Fowler simply ran out of holes, missing out on the final spot by one shot.
This marks the second straight year Fowler has failed to qualify for the national championship, and after appearing in 41 straight majors, Fowler will now have missed four of the past seven. He competed in the U.S. Open 12 previous times, highlighted by a T-2 finish at the 2014 event.
As for those who did make it, Sean Jacklin—son of former U.S. Open and Open champion Tony Jacklin—earned a spot in the Brookline field, turning in an opening 66 then hanging on with a closing 71 to shared medalist honors with North Carolina's Ryan Gerard. Amateur Fred Biondi, who hails from Brazil and plays for the University of Florida, also will be making the trip to Boston, with Keith Greene rounding out the four available sports from the Admiral's Cove qualifier. Greene has no status on any significant professional tour but grinded it out on Monday to earn a shot at playing at Brookline. He was naturally emotional about his accomplishment:
Matthew Wolff, who led the 2020 U.S. Open after 54 holes and ultimately finished second at Winged Foot, withdrew midway through his second round. Wolff shot an opening-round 71 and was one under through eight holes when he pulled out of the tournament. Other notables that missed the cut include Matthias Schwab, Tom Lewis, Kevin Tway and Alex Fitzpatrick. —Joel Beall
Ansley Golf Club (Settindown Creek Course)

Roswell, Ga. • 70 players for 4 spots
Matt McCarty birdied two of the last three holes late Monday to get into a playoff, then made birdie on the first playoff hole to advance.
Chase Seiffert, Harry Hall, Erik Barnes and two-time PGA Tour winner Patton Kizzire appeared to have captured the four spots up for grabs at Ansley until McCarty's heroics late with darkness looming. McCarty followed his first-round 71 with a 67 and ended up in a three-for-one playoff with Barnes and Kizzire.
In the first playoff hole, in darkness, Barnes and McCarty made birdie and Kizzire was left out by making only par.
Seiffert (69-68) and Hall (71-66) tied for medalist honors at seven under. Seiffert has played in eight PGA Tour events this year with his best finish a tie for 22nd at the Corales Puntacana Championship. This will be his first major. Hall, an Englishman, just won the NV5 Invitational two weeks ago on the Korn Ferry Tour, his second victory on that tour in the last year.
Barnes (70-68) has made 14 straight cuts on the Korn Ferry Tour this year with six top-10 finishes. He tied for third place with McCarty, a 24-year-old who plays on the Korn Ferry Tour and only has one top-10 finish on that tour this year.
Aside from Kizzire, Brendon Todd, Jonathan Byrd, Keith Mitchell, Smylie Kaufman and Bill Haas were among other PGA Tour winners in the field who failed to qualify. —Jay Coffin
Kinsale Golf and Fitness Club & Wedgewood Golf and Country Club
Columbus, Ohio • 106 players for 4 spots
Chan Kim executed bounce back of the year, perhaps, when he opened the U.S. Open Final Qualifier with a nine-under 62 at Wedgewood Golf & Country Club on the way to co-medalist honors. Kim sank a 15-foot birdie in darkness for a 69 at Kinsale Golf and Fitness Club in to finish at 12-under 131 to share the top spot with fellow PGA Tour player Lanto Griffin of Blacksburg, Va.
Sunday during the final round of the Memorial Tournament, Kim skied to an 83 at Muirfield Village Golf Club. But the South Korean native, ranked 107th in the world, wasn't discouraged.
"To be honest, I think anything after playing Muirfield was going to be easier," said Kim, 32, who will play in his fifth U.S. Open. "Yeah, I hit my numbers. My putting was a lot better today than it was yesterday. I just got rid of expectations. In a qualifier you either make it or you don't. I just told myself to trust my game and give all I have.
"Finished with a birdie in the dark," Kim, one of 28 players in the Memorial field who competed in the qualifier, said with a laugh.
Despite two weather delays totaling 2 hours, 29 minutes, regulation play was completed, with the last groups trudging on for several holes more than 30 minutes after sunset at 8:59 p.m. A field of 106 players were vying for 13 spots.
Griffin, who shot an afternoon 62 at Wedgewood, qualified for his fourth U.S. Open. He tied for 35th last year at Torrey Pines.
Davis Riley, a tour rookie with six top-10 finishes this season, finished at 11 under after a second-round 63 at Wedgewood. Former Korn Ferry player Chris Naegel, of Wildwood, Mo., who has played only a few mini-tour events this year, was fourth at 134 to qualify for his second U.S. Open.
Amateur Sam Bennett, a Ping first-team All-American at Texas A&M, qualified for his first U.S. Open after finishing at 135, tied with tour players Adam Schenk and former U.S. Amateur champion Danny Lee. Bennett overcame a double-bogey on his penultimate hole at Kinsale when the horn blew for the second suspension during his swing on on the 195-yard par-3, causing him to mishit his tee shot into a penalty area. He had to play the same shot again and saved double-bogey with a five-footer.
Schenk played in 2013 U.S. Amateur at The Country Club, where he was knocked out in the first round of match play.
Denny McCarthy was next at 136, followed by Joel Dahmen, Patrick Rodgers, Wyndham Clark and Andrew Putnam all at 137. All five also competed at Muirfield Village with McCarthy finishing T-5.
A five-for-one playoff will begin at 7:30 a.m. Tuesday at Kinsale that includes former Memorial winner David Lingmerth, Sean McCarty, Hayden Buckley, Adam Svensson and Bob Sowards, who all came in at five-under 138. Sowards, 52, is the director of instruction at Kinsale and a four-time national PGA Professional of the Year.
Several tour players withdrew either after 18 holes or after before finishing 36 holes. Those included 2009 U.S. Open champion Lucas Glover, former PGA champion Jason Dufner, former world No. 1 Luke Donald and LIV Golf-bound Hudson Swafford. —Dave Shedloski
Pronghorn Resort (Nicklaus Resort)

Bend, Ore. • 66 players for 3 spots
Brady Calkins, a mini-tour player out of Chehalis, Wash., who has no starts in any PGA Tour-sanctioned events, shot 68-68 to be among the three qualifiers. Calkins turned pro at 19 and has been dominant on the Dakotas Tour, where he's a three-time Player of the Year.
Calkins tied for medalist honors at eight under with Isaiah Salinda (68-68), a Stanford product whose biggest achievement is reaching the semifinals of the 2018 U.S. Amateur. In a playoff for the third and final spot, Oklahoma junior Ben Lorenz (71-67) beat Boise State alum Ty Travis (70-68), a commerial insurance agent. —Tod Leonard