PGA Professional Championship
Jesse Mueller, a volunteer college assistant, rides the wind to a five-stroke victory and a PGA Championship exemption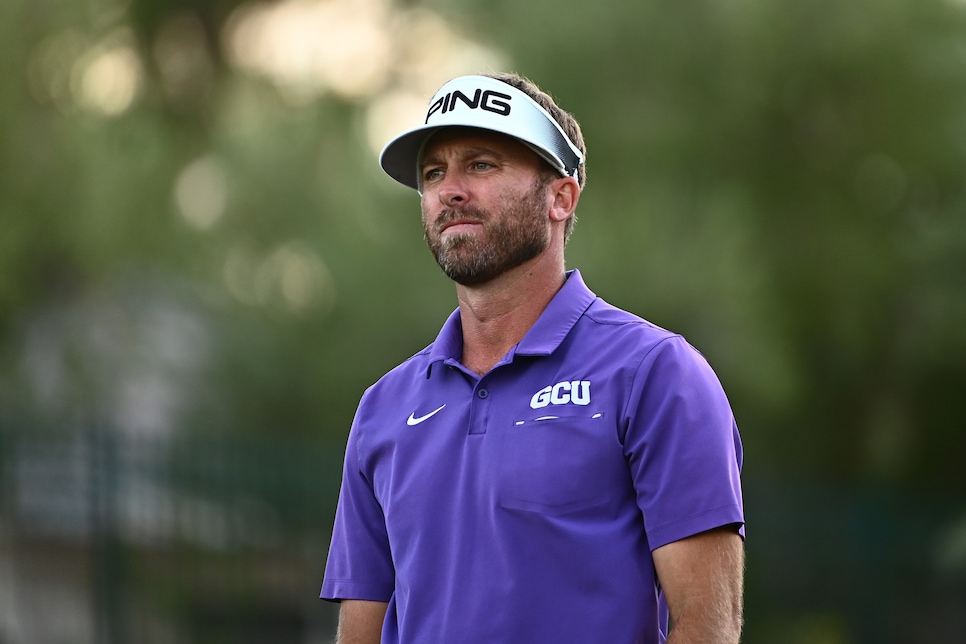 Strong winds took a toll on the field in the final round of the PGA Professional Championship on Wednesday, with one notable exception, Jesse Mueller, who accordingly won in a breeze.
Mueller, 39, the general manager of the Grand Canyon University Golf Course in Phoenix and a volunteer assistant coach at GCU, took a five-stroke lead into the final round on the Fazio Foothills Course at the Omni Barton Creek Resort in Austin, Texas, posted a three-over 74, and still won by five.
For the victory in what is known as the club pros' major, Mueller earned $60,000 and the prestigious Walter Hagen Cup, as well as a start in the PGA Championship next month at Southern Hills Country Club in Tulsa.
"It could have gone either way," Mueller said of his week. "The course played really difficult. The greens were in fantastic shape. But there are so many shots out here with hazards and out of bounds, so it can go either way. I got some good breaks, but my chipping was just fantastic. My chipping got me through. I had three chip-ins."
The PGA Championship will be Mueller's second start in a major. In 2012, he qualified for the U.S. Open at the Olympic Club, made the cut and tied for 51st. It was one of two cuts he made in five PGA Tour starts in his career.
The top 20 finishers in the PGA Professional Championship all receive exemptions into the PGA Championship. Among them were past champions Michael Block, Ryan Vermeer and Alex Beach.
Mueller staked himself to a five-shot lead through three rounds with scores of 66, 67 and 66, and in the final round handled the windy conditions to the extent it was necessary to safeguard his lead. He completed 72 holes in 10-under-par 273.
The winner was never in doubt, Mueller leading by seven at two points of the proceedings, but the battle for second was a spirited one. At one point, seven players were tied for second, seven strokes in arrears of Mueller.
Block, the head pro at Arroyo Trabuco Golf Club in Mission Viejo, Calif., and Jared Jones, director of instruction at River Oaks Country Club in Houston, ultimately tied for second. Jones closed with a 71 and Block with a 73.
There were only four sub-par scores recorded in the windy conditions in Austin's hill country. "Pars are like gold today," Jones said, describing the difficulty.
Shawn Warren and Brandon Bingaman had the rounds of the day, five-under 66s that allowed each of them to come from outside the top 20 to inside, earning PGA Championship exemptions.
Beach, meanwhile, qualified for his fifth PGA Championship by holing a birdie chip on the first hole of a four-man playoff vying for the final three spots among the top 20. He is a teaching professional at Westchester Country Club in Rye, N.Y.