The Loop
Brooks Koepka's lively Q&A with Jena Sims included a not-so-subtle shot at Bryson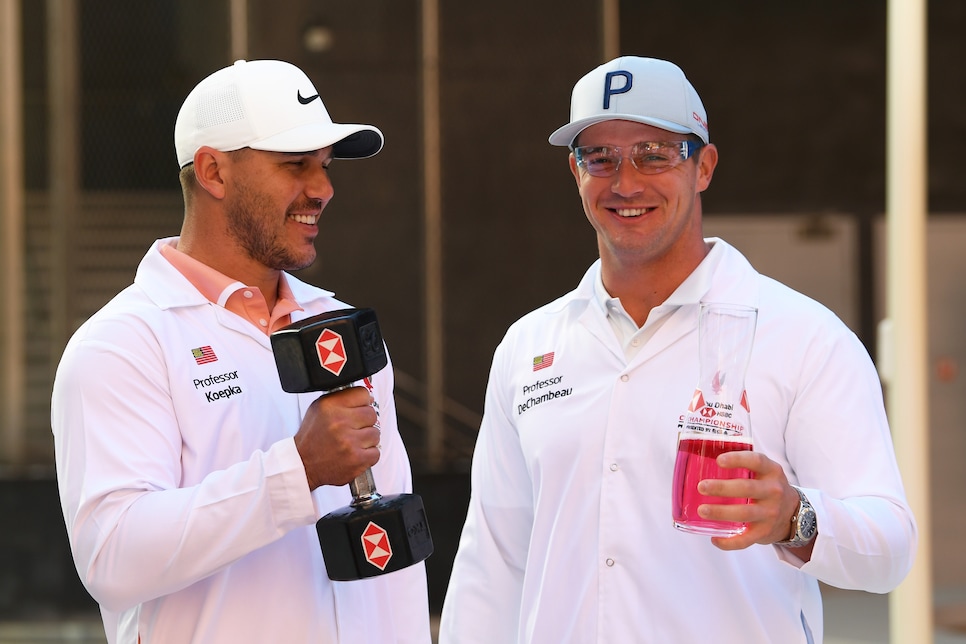 To Bryson's credit, he's kept Brooks' name out of his mouth, opting to focus on his own game rather than someone else's (it's working for him). It appears as though Koepka may finally start doing the same, sort of.
On Monday, Koepka and girlfriend Jena Sims conducted a lengthy, and lively, Q&A session on Sims' Instagram. Koepka answered a number of questions, though none about DeChambeau until the very end, when someone said "after watching all this, I'm sad no one asked about Bryson." Koepka took the bait, though he kept it as civil as he could.
"Yeah, there was a lot of them [questions about Bryson], I just chose not to talk about it," said Koepka. "If you've got nothing nice to say, don't say it at all."
Ahh, yes, the most classic mom saying in the game. The one that implies that you definitely have something mean to say but you're just going to keep it to yourself instead. Smart move, Brooksy.
The full Q&A can be viewed on Sims' Instagram story, which you can find here. Before it disappears, though, we jotted down some of the better highlights below. By the way, during this Q&A session Koepka played eight holes and was working on a seven under round before it got too dark.
On the great hoodie debate of 2020
"I don't see any issue with it. Why is everybody complaining? You can wear it off the golf course. Doesn't matter."
On why he has a "meathead, narcissistic persona"
"Just to f--- with you. That's why."
On why he doesn't have an equipment sponsor
"The freedom. I get to play whatever I want, whatever company might be the best. And I get to try everybody's new stuff and don't have to be tied down or locked down."
On what music he listens to while practicing
"I actually don't listen to music when I play golf for the fact that, hearing the contact, the sound of the ball, everything like plays a big part in it. So I don't listen to music. It's part of one of the senses you need."
On which major he partied harder after
"Probably the first one. I mean, we flew to Vegas right after. I'll let you guys figure out what happened."
On his advice for young golfers
"Honestly, just try to hit it as far as you can. When I started, I teed everything up just to hit it as far as I could. Once you get the distance down, you can start to bring it in."
"I honestly don't care. I know you guys are trying to win money on me, but I'm trying to win more money when I'm playing."
On the best athletes on tour
"Gary Woodland, Tony Finau, DJ, those are the best athletes I've seen on tour."