News
Brooks Koepka dismisses influence of Bryson DeChambeau: 'I don't need to keep up with anybody'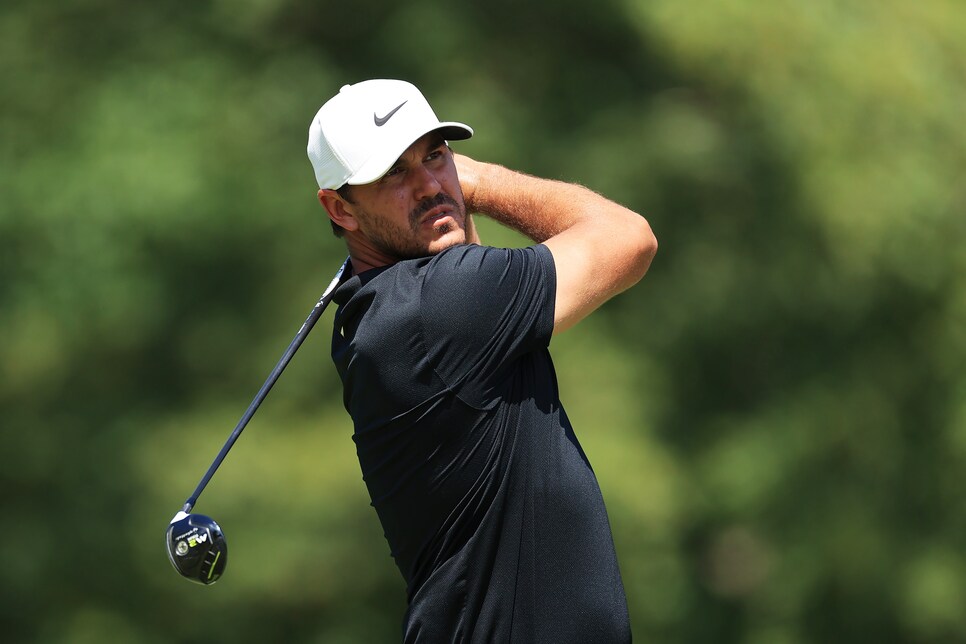 Brooks Koepka hits his drive on 18 during the third round of the Memorial.
Andy Lyons
The golf world remains infatuated with Bryson DeChambeau's pursuit [and attainment] of eye-popping distance gains. Well, most of the golf world.
In almost every pre-tournament interview since the PGA Tour's restart, players have been asked what they think about Bryson's endeavor and results, with the player in question usually responding with compliments or admiration. That included Tuesday at the 3M Open with Brooks Koepka. Save for the flattery, that is.
When asked if he has felt the need to raise his game to match DeChambeau's ever-growing power, Koepka was blunt in his assessment. "I don't need to keep up with anybody," Koepka said. "I'm good."
Perhaps we shouldn't be too surprised; Koepka has a history of needling the former U.S. Amateur and NCAA champion, which includes a not-so-subtle tweet two weeks back. Moreover, Koepka is not one short on conviction and confidence.
Still, the four-time major winner does have work to do over the final four weeks of the tour's regular season. Koepka sits 154th in the FedEx Cup standings, with the top 125 making the playoffs. Next week's WGC-FedEx St. Jude Invitational followed by the PGA Championship—both events where Koepka is the defending champ—offer point bonanzas, yet Koepka is cognizant of the hole he's in.
"I need to step it up and start playing well and get back to what I know I can do," Koepka said.
On the bright side, after remarking his injured knee remained a problem last week, Koepka reported Tuesday the pain has subsided.
"Sunday was the best my knee's felt in a really long time. I worked with my physio, Marc Wahl, quite a bit over the week," Koepka said. "I don't know. [Muirfield Village] was the first course we played where it's actually been hilly. Going downhill it bugged me a little bit, uphill's fine, and that was the hilliest golf course we played.
"So to have two weeks back to back, I didn't think it was that bad, but, you know, obviously having an MRI on Monday of Memorial we did just to kind of see where things were at and it really hasn't progressed. But it feels a lot better."