News
After sloppy 73, Brooks Koepka admits sore knee is not showing much improvement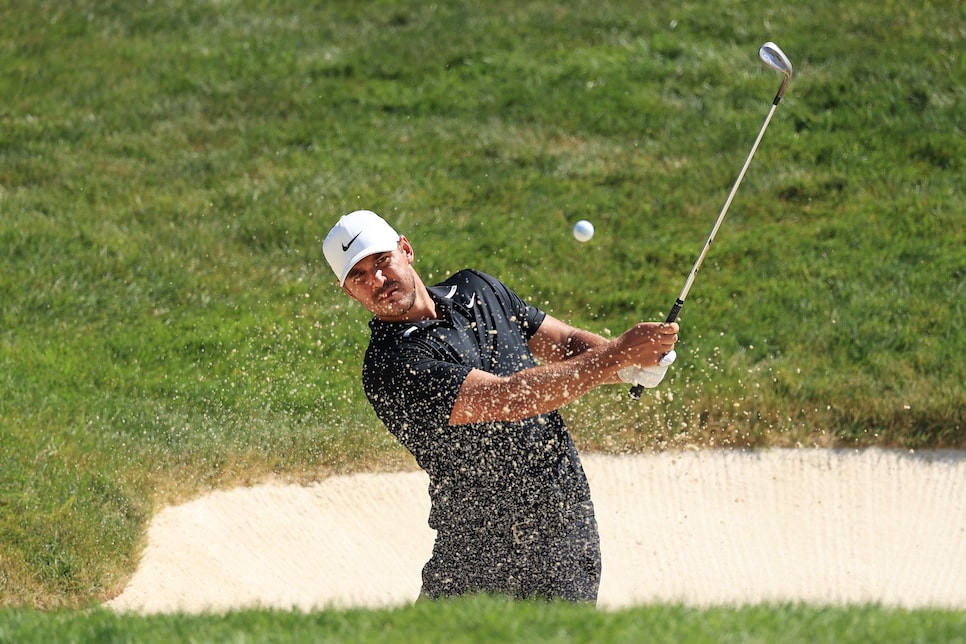 Brooks Koepka plays bunker shot on the 14th hole during the third round of Memorial.
Andy Lyons
Brooks Koepka admitted on Saturday at the Memorial Tournament that his left knee that has bothered him for more than a year still "has its moments." Perhaps that explains why his game continues to have moments that are equally troublesome.
Koepka started out saying that inconsistency was holding him back, and there was plenty of evidence of that during a third-round one-over 73 at Muirfield Village Golf Club. Playing alongside Tiger Woods for a third straight day under sunny skies, Koepka opened double bogey-bogey, ran off five birdies in seven holes in the middle of the round, then finished the remainder in three over that included another double bogey. He is tied for 56th at four over.
"Every once in a while a bit sloppy … but I feel it's not that far away," said Koepka, the two-time defending PGA champion who has fallen to No. 6 in the world.
Woods, he of the fused back, can tell his fellow Floridian that a reliable and repeatable swing requires optimum health, and Koepka eventually revealed that he isn't there. He underwent an MRI on Monday between the two starts in Dublin, Ohio, and he said that it showed that the knee, which he first injured last March, isn't much different than when he re-injured his patella tendon while slipping on concrete at the CJ Cup in South Korea, from which he subsequently withdrew.
Koepka underwent stem cell treatment on the knee in August after the Tour Championship.
"Just wanted to check on it, see where it's at," he said of the decision to have an MRI. "We got the results right after Korea, and then we just wanted to check, and nothing is improved, it's still the same. So we'll figure it out when we're done."
By "done" he must mean at the end of the season. Which might come sooner than he'd prefer if he can't post some better results. Koepka ranks 156th in the FedEx Cup standings and would miss the playoffs that include the top 125 players. His only top-10 of this truncated season came at the RBC Heritage when he finished seventh.
After the Memorial, he'll have four starts remaining in the regular season, including defense of his double PGA Championship titles at TPC Harding Park in San Francisco.
Koepka, 30, still ranks among the most effective drivers of the golf ball, but his approach-the-green stats are well off. He ranked 11th on the PGA Tour last year at +.646 strokes gained but stands 148th at -.201 strokes this season.
The 14th and 15th holes reflected his struggles coming into the green. He doubled the former when his wedge from 122 yards found a greenside bunker, leading to a difficult downhill shot that he put into the rough. At the par-5 15th, after a perfect drive, he pumped his fairway metal to right of the green and the ball skittered out of bounds. He did well to save bogey.
He blamed his recurring trouble with getting to his left side on uphill lies for the wayward shot at 15. Then he mentioned the MRI and the status of his knee in the next breath. So there's an issue of which only he knows the seriousness.
But he's going to play on and, undaunted, continue to work on his game. Tough young man.
"You've got to play your way into it," Koepka said. "When you don't have the results you want, you've got to go out here and find it. It's not like you're just going to sit at home and it's going to magically … you've got to work the put in, put the reps in and it will show eventually."