News
Brooks Koepka says he didn't watch Bryson DeChambeau's U.S. Open win and that injuries are the 'whole reason I played like crap'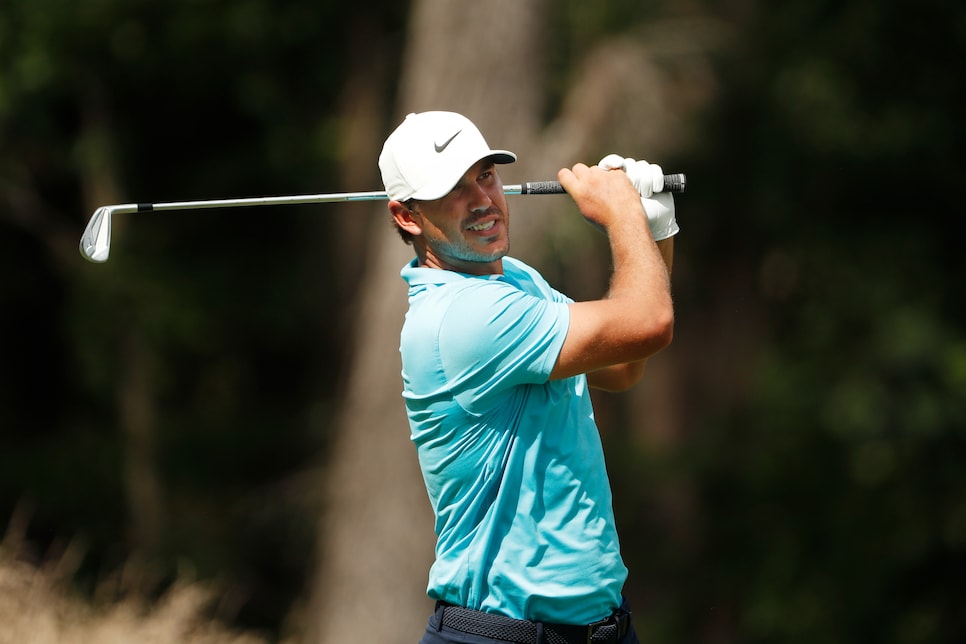 Brooks Koepka is making his first start in two months at this week's CJ Cup. The appearance is a marker of sorts; it was this tournament last year where Koepka slipped on wet concrete and aggregated his left knee, a knee that he had already undergone a painful stem-cell surgery on just weeks before. Koepka ultimately missed four months of action, including the Presidents Cup, and his return was marked by a performance nowhere near the play that produced four majors over the previous three seasons. Worse, Koepka then suffered a torn labrum in his left hip at the PGA Championship, forcing him to withdraw from the FedEx Cup Playoffs and U.S. Open.
Twelve months later, Koepka has fallen from No. 1 in the world to No. 11. Koepka has seesawed on the extent his injuries had on his game, but speaking to the media at Shadow Creek Tuesday, Koepka was blunt in his assessment.
"It's the whole reason I played like crap," Koepka said.
Koepka said he has spent the past two months rehabbing his hip in San Diego. Though the injury occurred at TPC Harding Park, Koepka isn't sure it happened at the golf course.
"I think it's just—I don't know when it actually happened," Koepka said. "I know I felt it at the PGA, or that's when it became the worst trying to manage it and play through it. Just one of those things where if you're not getting any weeks off to actually treat it, it's hard to treat it on the road and do everything you need to do."
The 30-year-old received a cortisone shot and opted for rest after withdrawing from The Northern Trust. "I didn't know how bad I felt until I actually feel good," Koepka said. He only begun hitting balls 10 days ago. Still, Koepka asserted his body is "squared away" and that he plans to play this week and the Houston Open before traveling to Augusta National in November.
As for what he missed about the tour in his sabbatical, Koepka said he wasn't watching golf. That includes the proceedings at Winged Foot, won by a certain player Koepka has enjoyed prodding over the past year.
However, lest one think that was another poke in their ongoing rivalry, Koepka did manage to compliment DeChambeau for his newfound length that spurred him to victory.
"He's using his, one of his skills to his advantage," Koepka said. "He's always had speed, but he's pushing it to that next level, finding the boundaries of how far he can actually hit it and play with it and he's done a good job of that. He's hitting it a mile.
"Yeah, I mean, the 48-inch driver, I don't know. Like is that the longest you can use? OK, it is the longest you can use. OK, if he uses it, there's a chance he gains even more yardage. Hey, it's something he's found that's working for him. It's cool to see just kind of as like a fan of the game. I don't see anything wrong with it. Hey, it's working for him."