The Grind
Brooks Koepka's delicious daggers, Tiger Woods' eye-opening update, and Charles Barkley's all-time golf quote
Welcome to another edition of The Grind where we are writing this from a work office for the first time in 630(!) days. Needless to say, a lot has changed since then. I now work in a completely new office building. There's now a new giant apartment complex and parking garage at the train station I use. And this is the longest I've gone without wearing sweatpants in those 630 days. I forgot how cold it is when you're waiting on that train platform early in the morning. I forgot how sweaty you get being bundled up on the Subway. And I also forgot a mask ($1 for a disposable one at a coffee shop!). But overall, it was a relatively smooth first commute back. And despite all that's changed in that time, we will continue to do exactly the same thing in this space. Let's get to it.
Brooks Koepka: This guy really has a knack for flipping the switch when he wants to. Obviously, that's been his reputation for major championships for years, but now we saw it again in the latest edition of The Match. Koepka arrived in Las Vegas fresh off two missed cuts, but he drubbed Bryson DeChambeau 5 & 3 in what turned out to be a tidy little nine-hole affair at the Wynn Golf Club. That didn't keep the four-time major champ from getting in a few delicious daggers. "It was fun to come out here and settle this," Koepka said. "I'm not going to lie. I just wanted to spank him."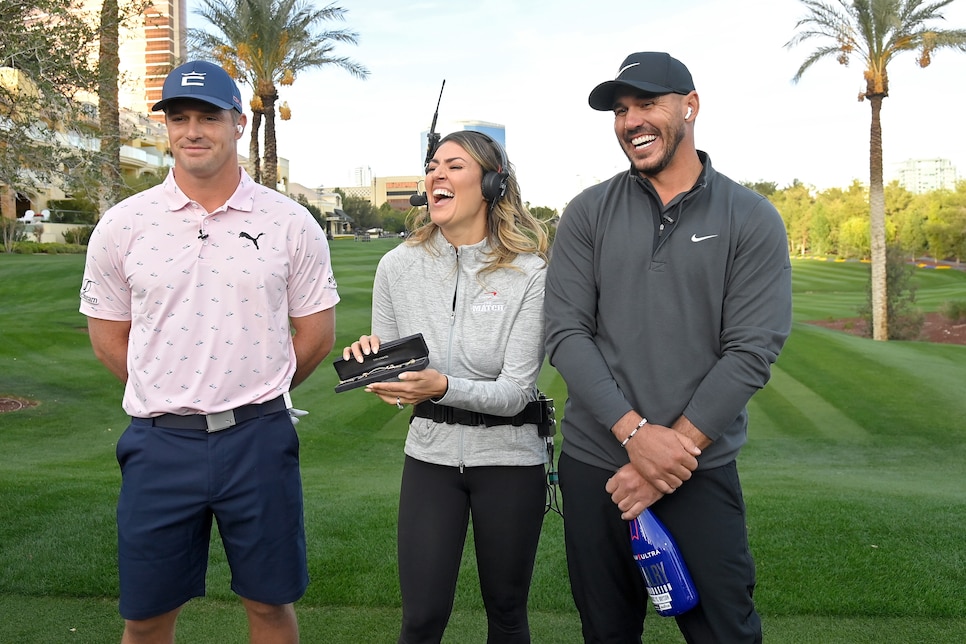 And when Amanda Balionis channeled "Step Brothers" by asking if they had just become best friends, Brooks responded, "No." There you have it.
Tiger Woods: Another week, another round of good Tiger news. This time, instead of a three-second video, the 15-time major champ did a 37-minute Zoom with Golf Digest (NBD) to discuss his current status, and he seemed pretty upbeat about his latest comeback. Chek it out for yourself. He even walked over to the interview chair pretty easily!
OK, so he said he doesn't think it's a "realistic expectation" that he gets all the way back to the top of the sport again and that he'll be playing a limited schedule like Ben Hogan after his car crash. HOWEVAH, Woods had already been moving into a limited golfer phase and he added, "If my leg gets OK, I can still click off a tournament here or there." Um, sign us up for that. Take your time, Tiger. Take. Your. Time.
Frank Sinatra and Dean Martin: Turns out, the legendary crooners were also legendary drinkers. OK, so you probably knew that already, but their want/need for a few rounds of cocktails during a round of golf apparently led to the invention of the beverage cart on the grounds where the Wynn Golf Club sits today. Here's an eye-opening history lesson from Balionis that ran during TNT's broadcast of The Match:
Brings a whole new meaning to "I did it my way," huh? Anyway, on behalf of weekend hackers all over the world, thank you.
Phil-Chuck: Not surprisingly, the highlight of The Match—other than that history lesson on the beverage cart—was the commentary from Phil Mickelson and Charles Barkley. With Brooks not providing much entertainment and Bryson not providing much competition, these guys really had to work to sell this thing, and they pulled it off. Phil immediately roasting the USGA after the opening tee shots and then asking Bryson if he feels "hot" for hitting bombs was classic, and Barkley delivered gems like this throughout: "Yoga is stretching. They just call it that so they can charge you more."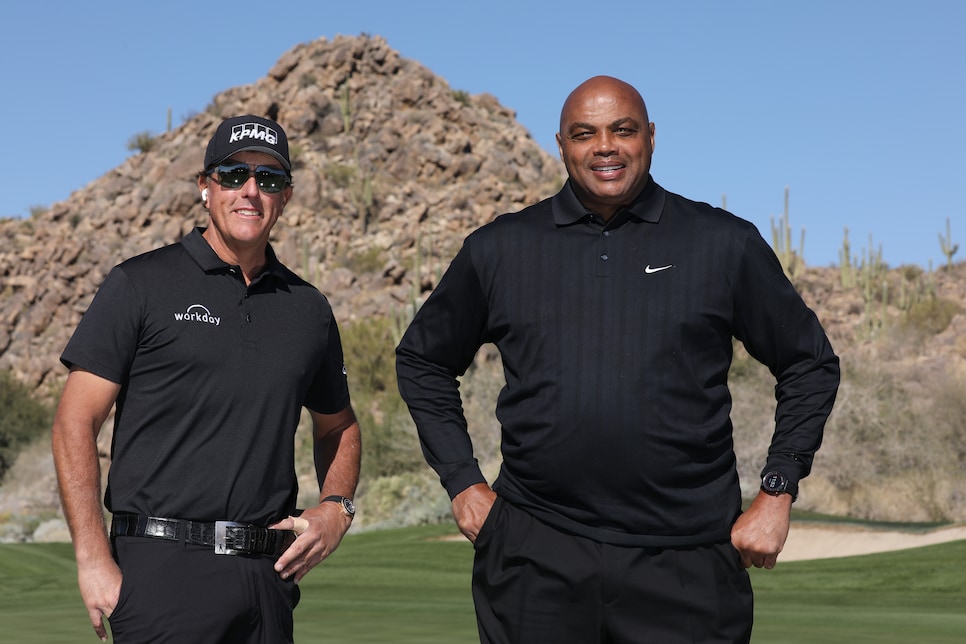 Please get these guys in the booth for normal PGA Tour events. Heck, give them their own show.
DP World Tour opener: The former European Tour's new era got off to quite the inauspicious start in South Africa as COVID concerns caused the Joburg Open to be cut to 36 holes. And before that conclusion, about one-sixth of the field, including most of the top talent, withdrew due to travel concerns. Rough. I'm also selling that three people earned Open Championship invites for their 36-hole finish. I know the R&A promised those spots at the beginning of the tournament, but c'mon, this wasn't a real tournament. Just like 12 holes isn't a real round of golf.
Wil Myers' lawsuit: The San Diego Padres All-Star has filed a countersuit against Carmel Country Club after the Charlotte private club took him to court for $64,000 in unpaid dues. It seems Myers (no relation to me, by the way) doesn't want to pay what he owes because he had trouble getting a tee time at the club's two courses and now he's seeking damages.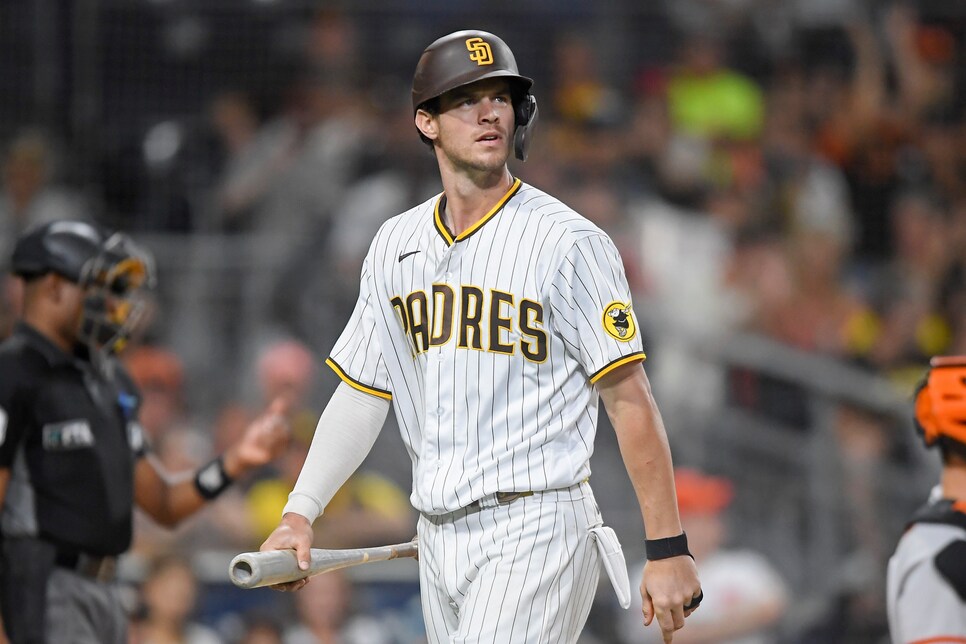 Welcome to the COVID Era, Wil. Golf is a hot ticket these days! And good luck winning that lawsuit with your $20 million yearly salary for playing baseball. Seems like you could really use the money.
2021's turkeys: Once again I made this list of golf's biggest gaffes and once again I braced for complaints from those involved. Instead, I got this reaffirming tweet from Marc Player, the son of Gary Player and the brother of Wayne, who made the list for his guerilla marketing stunt during the Masters ceremonial tee shot this past year:
Guess I made the right call putting him on the list! And I always get a kick out of these turkey graphics.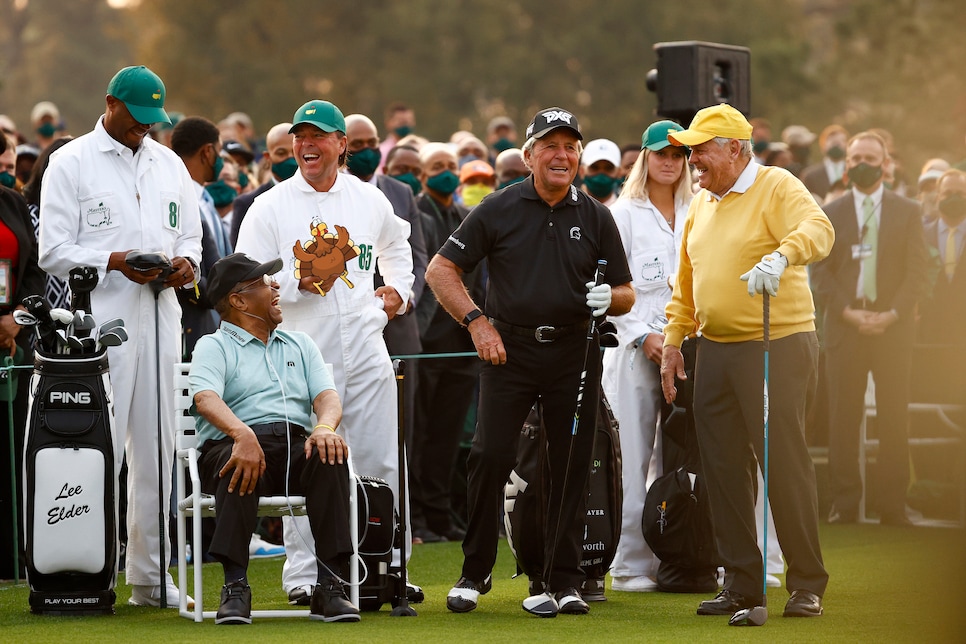 An ELITE crop of 18 players head to the Bahamas for the Hero World Challenge, AKA that one Tiger Woods hosts every year. Obviously, Woods won't be playing this year, but it's great to see him back at the event fulfilling his host duties. Or, at least, some of those host duties. Maybe his injuries will get him out of doing all those awkward motorcycle promo photos this year.
Random tournament fact: This event has been won by a major champion or a future major champion in all but two of the 21 years it's been held. Sorry, Rickie Fowler and Luke Donald.
RANDOM PROP BETS OF THE WEEK
—Bryson will be invited to Brooks' wedding: 1 MILLION-to-1 odds
—Tiger will play in next year's Hero World Challenge: 1-to-3 odds
—Phil will be involved in the next Match: LOCK
Golf beefs are pretty silly. And The Match was really silly.
But is there anything wrong with that? This was kinda fun. We just wish it had been more competitive.
PHOTO OF THE WEEK (NON-SHIRTS DIVISION)
Say what you will about Bryson DeChambeau, but the dude is pretty shredded: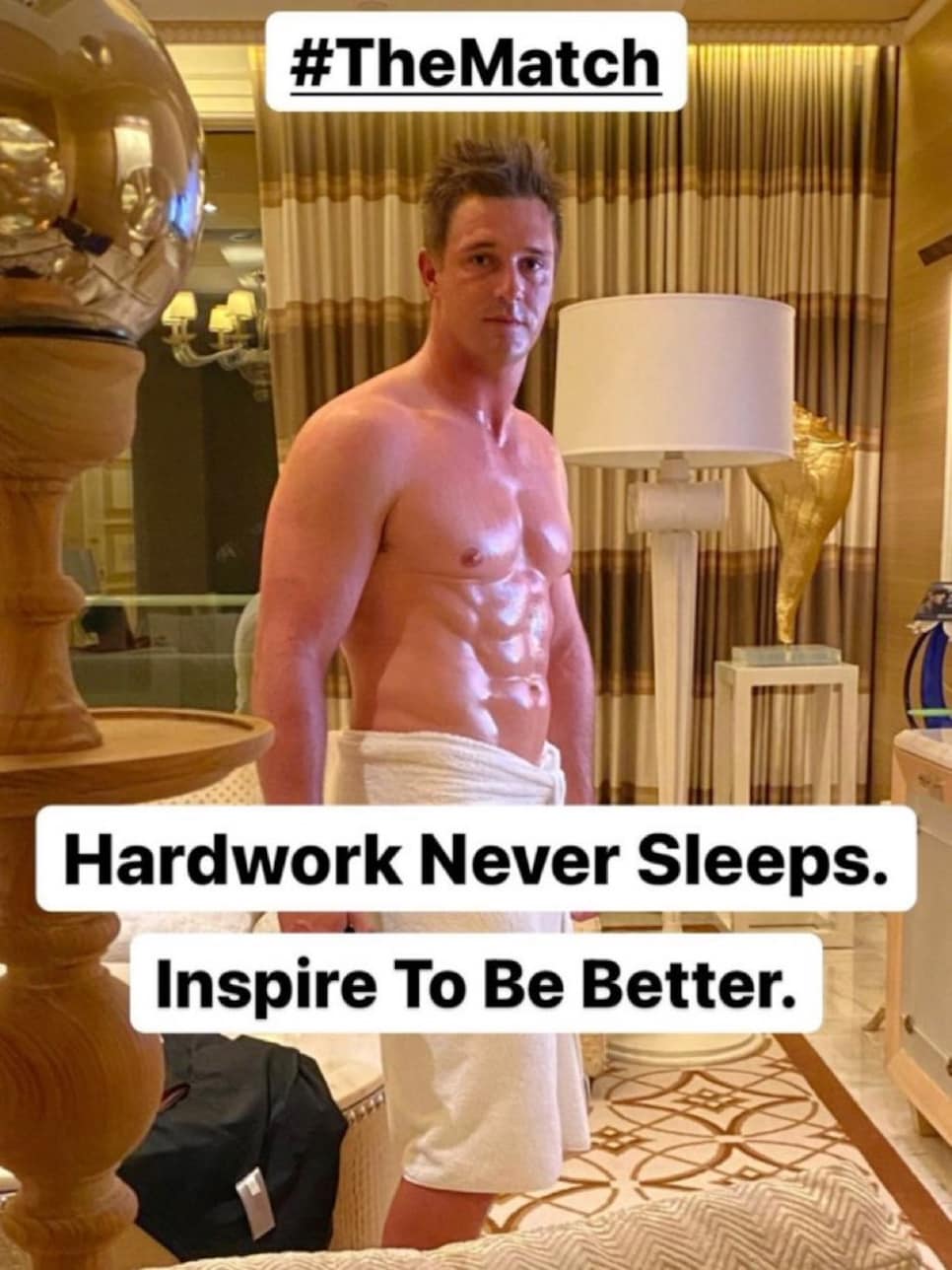 Not that Brooks is impressed.
PHOTO OF THE WEEK (NON-THE MATCH DIVISION)
You'd think you'd know how to spell the name of the man who has emceed your two green jacket ceremonies, but Bubba gonna Bubba. Anyway, imagine running into Jim Nantz at a random farmers market? Actually, that's exactly the kind of place where you'd expect to run into Jim Nantz.
Wow. Brooks really can't stand this guy.
THIS WEEK IN PUBLIC DISPLAYS OF AFFECTION (MONKEY DIVISION)
Not sure if Joacquin Niemann and his girlfriend have a pet now, but if they do, good luck with that.
THIS WEEK IN PUBLIC DISPLAYS OF AFFECTION (BABY DIVISION)
A week after the Spieths announced the birth of their first child, the Fowlers did the same:
We've officially moved on from #PIPszn into #PerspectiveSZN.
Pick a Charles Barkley quote. Pretty much any Charles Barkley quote. OK, we'll pick two. First, on gambling:
"Everybody knows I like to gamble. I want to be dead broke when I keel over. I don't want to leave all that money for my freeloading family."
Amazing. And second, on the greatness of golf: "Listen, you can't play golf and not drink. It's the only sport they let you drink while you are playing it. There's a reason why: it's the most unbeatable game in the world."
No arguments here, Chuck.
Now co-sanctioned with the Asian Tour, the Saudi International announced an impressive field including Phil Mickelson, Dustin Johnson, Bryson DeChambeau, Xander Schauffele, Sergio Garcia, and Adam Scott. Your move, PGA Tour. . . . Congrats to Thriston Lawrence for winning the first event of the DP World Tour Era. It was only 36 holes, but the Open Championship invite is real, and most importantly, the winner's check was too. . . . Yorkshire's Lightcliffe Golf Club is offering a free bacon sandwich to anyone who books a tee time online after two giant pigs recently got onto the course and injured a pair of golfers. Hat tip to my mom for finding that little nugget. . . . If you like musicals, and you haven't seen Tick Tick Boom yet, do yourself a favor and fire up Netflix. Just have the tissues ready. . . . And speaking of theater, my three-year-old made her "stage" debut in a town rec Pre-k "production" of Peter Pan.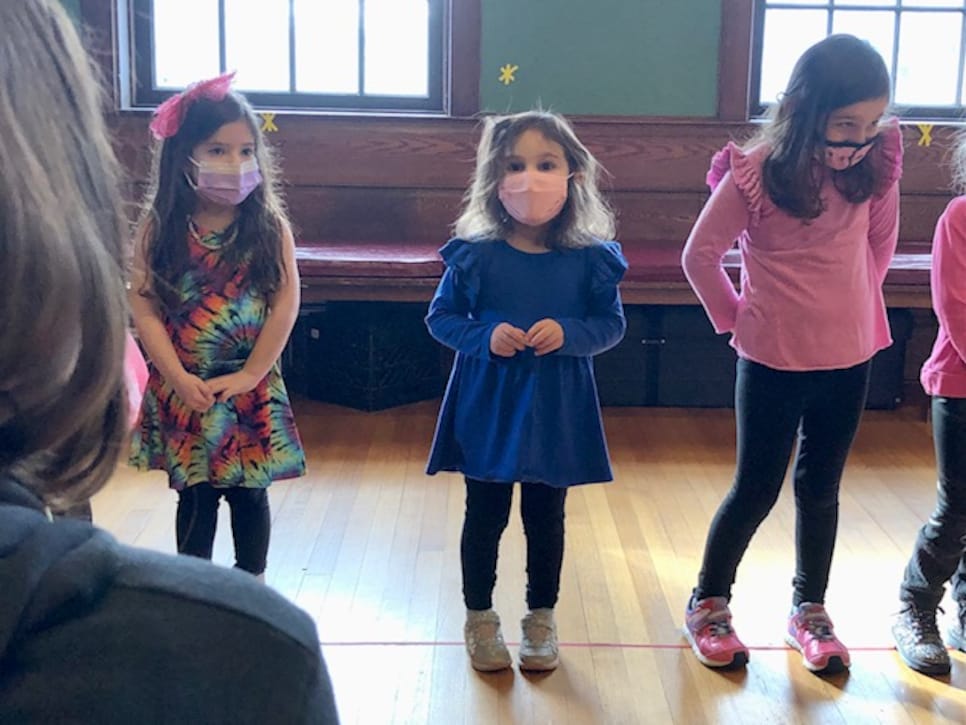 That's her in the blue, probably breaking character again. But seriously, a proud papa moment—especially for someone who played the role of Peter way back in sixth grade. Good times.
RANDOM QUESTIONS TO PONDER
How much did Phil lose betting on Bryson?
How much did Chuck lose being in Vegas?
Is it sweat pants-o'clock yet?