The Match
Brooks Koepka quite enjoyed destroying Bryson DeChambeau in The Match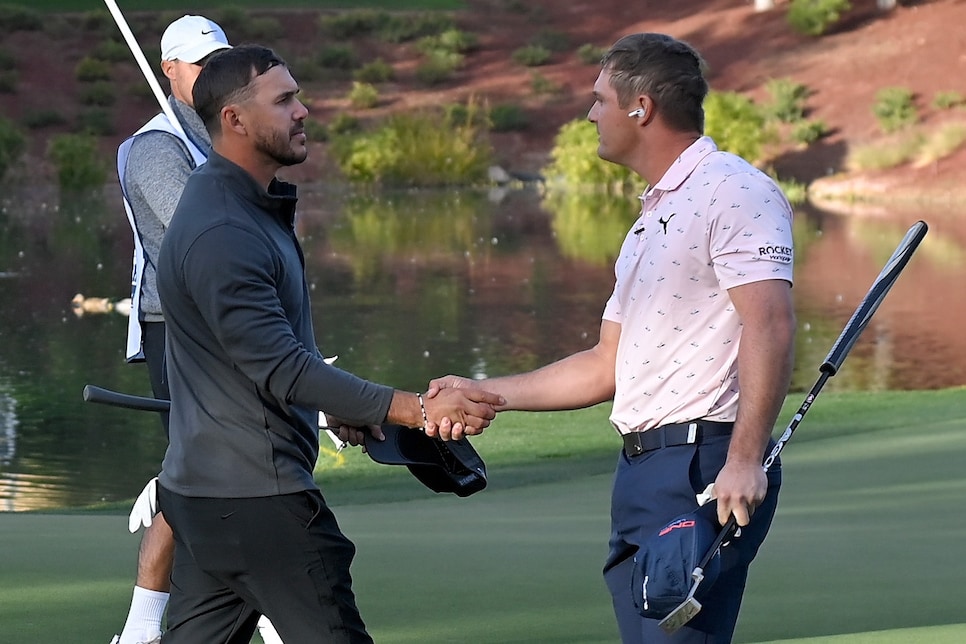 Brooks Koepka (left) and Bryson DeChambeau shake hands on the ninth green after Koepka won The Match.
David Becker
Advantage, Brooksy. If a sporting conflict can only be properly settled on the field of competition, we have no option but to deem Mr. Koepka the winner of the beef that dominated golf discourse in 2021. The four-time major winner—whose eye roll tweeted 'round the world threw gasoline on a simmering mutual disdain—embarrassed his rival with a 5-and-3 win over Bryson DeChambeau in the latest edition of The Match. Here are six takeways from a subdued affair that, if nothing else, provided some low-stakes entertainment for scores of Americans nursing a crippling food hangover.
Brooks enjoyed every single second of that
There's little doubt that both men played up this feud with an event like this in mind, and a 12-hole made-for-TV match in Las Vegas isn't exactly a championship test. But Koepka is freakishly competitive, and his dislike of DeChambeau is all real. All that to say: He surely relished the opportunity to absolutely bury his rival on the type of mano-y-mano stage you can't find on the PGA Tour.
Koepka got his nose in front with a birdie on 2—which Mickelson predicted perfectly—went 2 up when DeChambeau bungled a simple up-and-in on 5, birdied 6 to take full control, then put his foot to Bryson's throat with a birdie on 8. This was over rather quicky, which is exactly what Brooks wanted. "Not gonna lie," he said after stuffing a clinching approach into 9, "I just wanted to spank him."
The golfer who spoke most was neither Koepka nor DeChambeau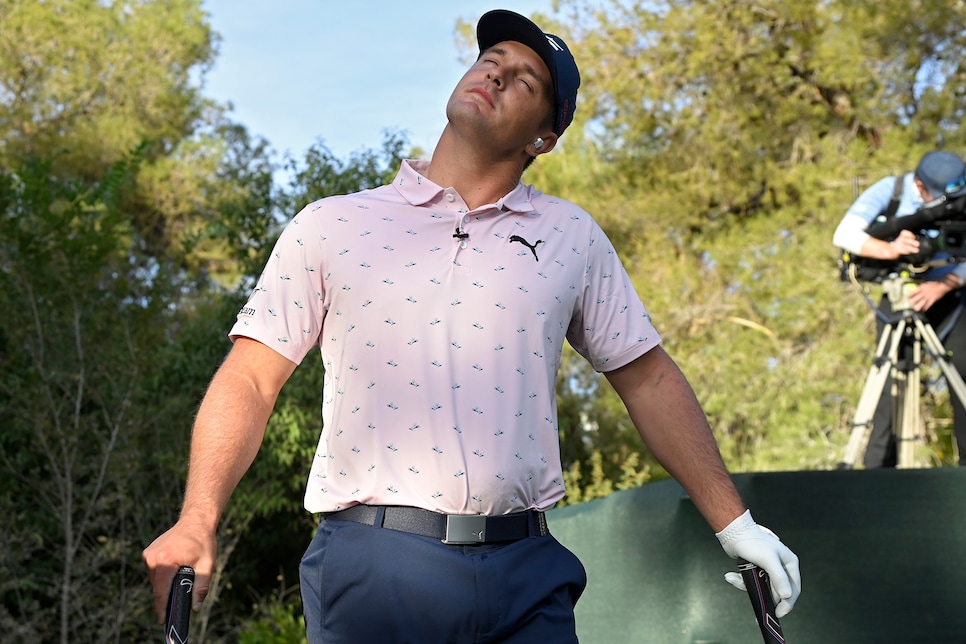 Bryson DeChambeau stands on the ninth tee during The Match.
David Becker
As soon as Turner announced that Phil Mickelson would be part of the broadcast crew, we knew this would be the Phil Show. Lefty is a professional scene stealer, and he clearly felt obligated to shepherd the broadcast from start to finish with a constant stream-of-consciousness dialogue. Mickelson's humor style carries over perfectly to this format—it's why organizers always want him involved in some capacity—and listening to him break down the intricacies of a bunker shot or why one hole sets up better for Brooks is a golf nerd's dream. Neither Bryson nor Brooks are particularly entertaining talkers, so Phil's presence was integral to the flow of the event.
Bryson claimed to not make excuses, but there's ample evidence to the contrary
Bryson got boat-raced and tried his best to take it on the chin, but he couldn't resist a couple of thinly veiled excuses. Early in the match, after misjudging a wedge shot badly, he claimed that he's hitting his irons farther—for what it's worth, he did look bigger than when we last saw him in competition—and thus has "no idea" how far the ball goes. He also said he hadn't played golf in two and a half months, which is the oldest excuse in the golf book and pretty rich coming from a literal professional golfer.
Charles Barkley remains the greatest
The guy's just a one-liner machine. Some highlights from today:
"I don't got a college degree, but a lotta people working for me got 'em."
"You can't play golf and not drink."
On the positive effect alcohol has on his game: "I need that liquid lube."
After Bryson and Phil riffed on brain waves and the power of a theta mindset: "That's just breathing. Beta? We in a sorority now?"
"Yoga is just stretching. They call it yoga to charge you more. Same as analytics. Analytics is when guys want to give their son-in-law a job, so they call it analytics. It's just statistics. They not good at sports."
Seemingly out of nowhere: "No disrespect to Kobe or LeBron, but Michael's the GOAT."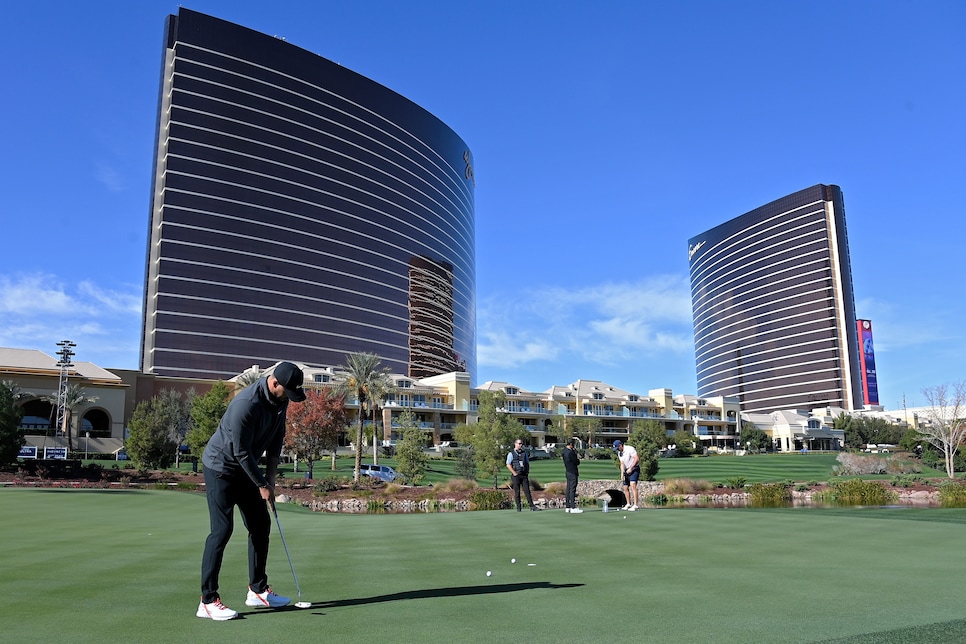 Brooks Koepka putts on the putting green before The Match.
David Becker
After Koepka sealed the deal: "Get me a jet to the Auburn game faster."
Would it be too much to ask to have him feature, for at least one segment, during the final round of a major? His humor would slice the tension in half.
The most compelling tidbits had nothing to do with the match
Two bits of the broadcast that were particularly interesting had nothing to do with the match. The first came courtesy of on-course reporter Amanda Balionis, who told the creation story for an all-time golf course favorite: the beverage cart. Apparently, Dean Martin and Frank Sinatra would frequently play the course now known as the Wynn Golf Course but refused to play a full 18 unless adult beverages were available. Necessity being the mother of invention, the idea for a portable bar was born. We're all better off for it. Thanks for your service, gents.
Koepka also told the tale of his post-Erin Hills escapades, when he, his brother, his caddie and his then-girlfriend flew to Vegas for a proper binge after his first major championship victory. In an image straight out of "The Hangover," the U.S. Open trophy somehow ended up in the hallway outside his hotel room. That's Rockstar stuff.
Another cool angle came when Mickelson delved into Koepka's psyche. His read: Brooks has a preternatural ability to harness energy, positive or negative, and use it in his favor. As such, he made a conscious effort not to cross Koepka when the two played alongside one another in the final round of the PGA Championship, which Mickelson won. Lefty was unflinchingly kind and deferential. At least, that's how he remembers it. Koepka's account differed slightly: "He slow-played everything. Went to the bathroom every three holes. Was doing the alpha-beta thing Bryson was talking about, closing his eyes before every shot." Whatever it was, it worked.
Let's hope this was the end of the (manufactured) beef
The back-and-forth was always going to lead to an event like this. Now that we've had this event, with an unmistakably clear winner, let's hope the very public slights are a thing of the past. It was bordering on corny before this match; continuing after they settled things on the course would be downright cringeworthy. That's not to say this can't blossom into a full-blown rivalry. But to do that, they must go head-to-head in a tournament of actual consequence. And the outcome can't be decided on the ninth green.