Golf & COVID-19
Joburn Open shortened to 54 holes amid player WDs, flight bans from South Africa due to COVID-19 variant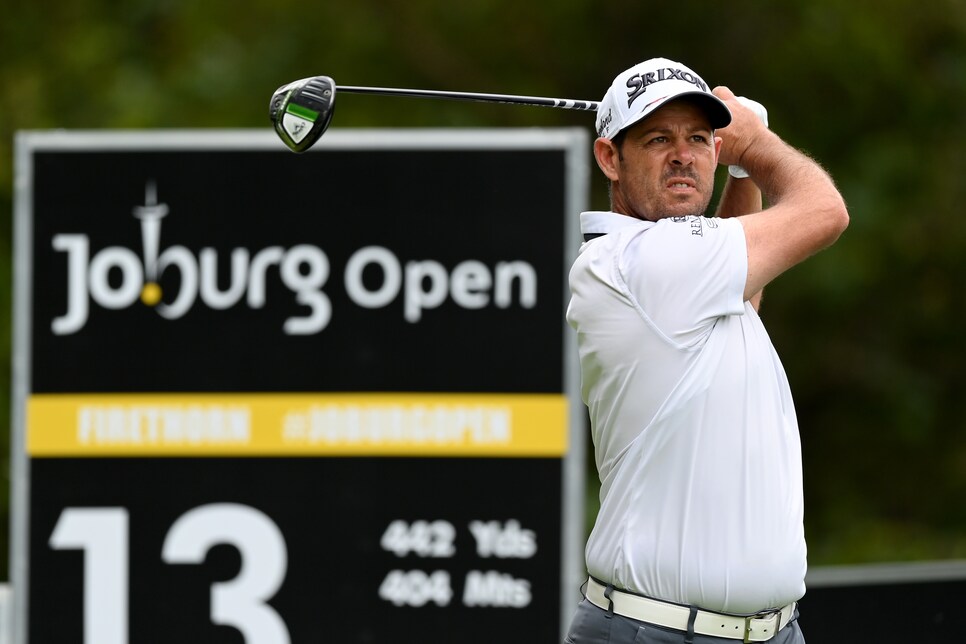 Jaco Van Zyl of South Africa tees off on the 13th hole during the second round of the Joburg Open.
STUART FRANKLIN
It has been among golfers', professional athletes' and the general public's worst nightmares during the COVID-19 pandemic: traveling to a far-off place and not being able to get home. That came closer to reality on Friday for the pros playing in the Joburg Open in South Africa.
The Associated Press in Johannesburg reported that more than a dozen players from Britain and Ireland pulled out of the season-opening tournament for the DP World Tour (formerly the European Tour) after the U.K. government announced it was banning flights from South Africa to prevent the spread of a new COVID-19 variant called Omicron.
The AP said the U.K. announced it was suspending flights from South Africa and five other southern African countries and making travelers from these countries self-isolate for 10 days effective from 1200 GMT Friday. From Sunday morning, travelers would have to go into hotel quarantine. Several hours later on Friday, the U.S. announced it would restrict travel from non-U.S. citizens from South Africa and seven other countries, starting on Monday.
U.K. Health Secretary Sajid Javid said there were concerns the new variant "may be more transmissible" than the Delta strain, and "the vaccines that we currently have may be less effective" against it.
Also, the European Union said Friday it plans to stop air travel from southern Africa because of the variant as the 27-nation group is seeing a large spike in cases.
In the wake of the governmental actions, officials with the DP World Tour announced that the tournament at Randpark G.C. in Johannesburg would be reduced to 54 holes, ending Saturday, "to help non-South African resident players, caddies and tournament support staff return to their home countries," according to a statement. Additionally, the tour has taken the next two week's events, also to be played in South Africa, off its schedule. The South African Open, set for Dec. 2-5, currently will only be a Sunshine Tour event, and the Alfred Dunhill Championship (Dec. 9-12) had been canceled entirely.
"Bit of a minefield at the minute," Irish golfer Paul Dunne told RTE radio. He had finished the delayed first round on Friday, withdrew and then planned to take a flight to Dubai.
"I'd three holes to finish in my first round, and when I came in I turned my phone on and I had messages from everyone asking me if I was going to go to the airport or stay and play. That's when I started to look into it," Dunne told the radio show.
"A few people are on the course without kind of a real idea of what's going on," Dunne said. "But some people are finding it hard. I've heard people can't get a flight until Sunday evening."
South Africa's Thirston Lawrence shot back-to-back 65s to take the clubhouse lead before second-round play was suspended for the day. England's Ashley Chesters (66-69) was five shots behind and had reportedly decided to stay and play.
Also on the line this week are qualifying spots into the 2022 Open Championship at St. Andrews, with the top three finishers not already qualified earning those exemptions.